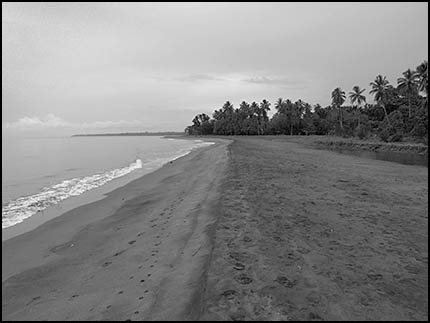 Just back this afternoon from a great trip into Torokina. I'm pretty sure I got right into where my Great-Uncle Don was stomping around during WW2… a little further research is required to confirm this, but my gut tells me I got as close to the exact spot as I have been over the last few trips there. Saw a few things and heard a few stories that narrowed it down somewhat.
The Pigu crew were a blast as always. Saw my good friends, wandered around, swam in the river and pointed my camera at 'nothing'. Best decribed by Larry Towell when he photographed the Menonites… just a lot of time without the sensational, just the wonderfully common and daily occurances that are a joy to see and photograph.
Saw Sylvester Minel as well, spent some time with him in Marawa. Readers may remember him as the young man who was badly injured when he was taking apart a WW2 artillery shell to use for dynamite fishing. He is doing very well, has gained more weight and seems quite up-beat. Never ceases to amaze me just how freakin tough this guy is.
One Response to Back from Torox