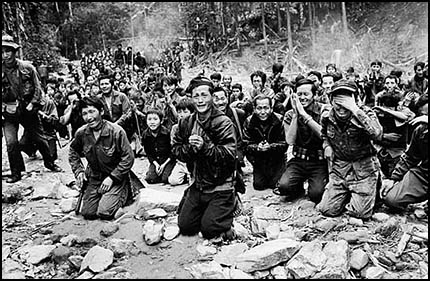 A recent short chat with JCJ brought up the work of Philip Blenkinsop. I think a tv show about some of his work had aired recently in Australia.
Blenkinsop is truly under-appreciated in Australia. He is incredibly committed and driven, mainly working in SE Asia as he has been based in Thailand for many years now. His work is so strong, and at one point Martin Parr of Magnum Photos sited him as an example of a photographer making pictures in conflict that show us the awful reality rather than the dramatic veneer that we are often exposed to.
The Hmong's involvement in the conflict through the Vietnam/Laos/Cambodian conflict is known but often ignored. Their work alongside US Special Forces and other interests has resulted in them being hunted down to this day by the 'victors'. Blenkinsop made some stunning pictures with these people, and then tried desperately to bring their plight a little more coverage… he came up against a lot of blank stares.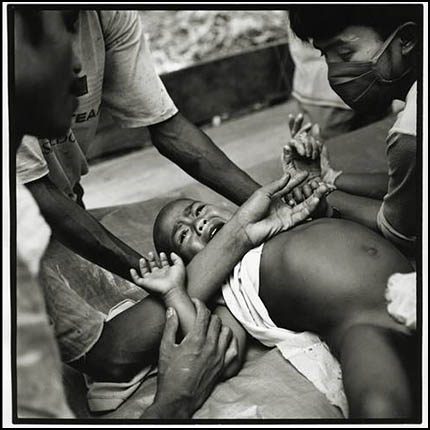 Every small snippet of him speaking, working or being interviewed has always re-enforced his passion and conviction. There is footage of Blenkinsop berating a Nepalese police officer after some of his men had beaten a youth (to death I believe) during the riots of a few years ago. It is a scene which raises questions of involvement and the need for a degree of distance, but at the same time makes it clear that the detached, unflappable correspondent might too often be far removed from the events they report on (and ultimately shape in the public's minds). It also makes it clear that Blenkinsop does not shy away from his core beliefs.
From the NOOR Images website:
Blenkinsop has been described as "a man of guerrillas and of resistances" (Herve Le Goff), and "one of the most essential photographers of his generation" (Christian Caujolle).
Since arriving in Asia in 1989, Blenkinsop's name has become synonymous with forgotten conflicts.
Blenkinsop is adamant that the photographer should never censor scenes through the camera. "Photographers are both witnesses and messengers. Our responsibility must always lie with the people we focus on, and with the accurate depiction of their plight, regardless of how unpalatable this might be for magazine readers."
His work, published in international arenas, has been the catalyst for much discussion and amongst other accolades was awarded Amnesty International's Photojournalism prize for excellence in human rights journalism.
Even a bomb in Bangkok can't keep him down for too long.
Blenkinsop is a member of the collective NOOR Images.