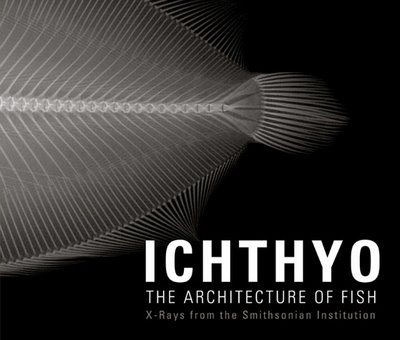 Edwina gave me a beautiful book today. Ichthyo (ISBN 978-0-8118-6192-2) is an awesome collection of x-rays from the Smithsonian Photography Project of… wait for it… fish.
There are a stack of different species shown, from the weird and wonderful like Sea Moths (the Pegasus Fish), flying fish and seahorses all the way through to stingrays, moray eels and jacks. The pages are left to bleed black to the edge, with only the ghostly fish to hold your attention (and a small subtle page number for reference to the plate descriptions in the back).
Essays by Stephanie Comer and Deborah Klochko, Jean Michel Cousteau, Dr Daniel Pauly and Dr Lynne R. Parenti are wonderful additions to the x-rays; brief and without pomp.
Great to see Dr Gerry Allen was associated with the project. He's done some great work throughout Papua New Guinea and Indonesia, and I was lucky to spend a brief bit of time in the water with him searching for a little dottyback in Bootless Bay (near Port Moresby). He is widely regarded as one of the leading ichthyologists working today.
Those of you who enjoy staring at fish should get a copy of this book. Fantastic.