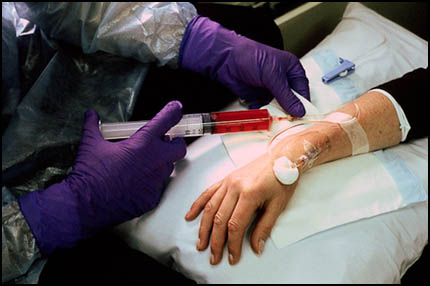 I need to point out to a few interesting sites (for those interested).
Tim J Veling is a brilliant young photographer from New Zealand. Truly brilliant. The photograph at the top of this entry (from his project These are the days) makes me stare at that bright red plunger. The scene reminds us of the gravity of what chemotherapy actually is. Maybe too often it is reduced in conversation to a few sessions of sitting around with a drip, rather than the aggressive infusion of dangerous substances. Veling photographed the difficult time of his mother's treatment and the function of family and friends. His website has a number of projects that can keep you busy for a long time. This guy is great.
Adam Ferguson is a member of VII Photo, and has had an incredibly busy last few years, with recognition and awards for his excellent work in India, Pakistan and Afghanistan. His slick website gives you a great look at his work. Great to see a NSW boy doing so well. Solid, strong pictures.
iO Wright works in a very  different vein to Veling and Ferguson, but it is enjoyable to dig through the website and its mix of original work and curated/collaborative work with others. Lots to see and a blog to scratch around in.
Serps Press is a fascinating small press based in Melbourne who have released some wonderful little books. The time of the small, dynamic private press has returned.
RAINOFF BOOKS is a Sydney based creative endevour that crosses a number of barriers. They are both publisher and performer.