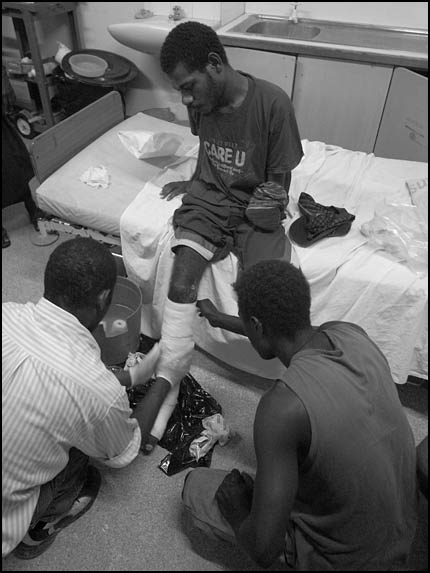 The few people who read this journal should remember Sylvester Minel, a young man from Marawa Village who was badly injured when the WW2 shell he was dismantling exploded (see here and here).
I was down at Buka General today, and looked across the car park to see a familiar face. Sylvester and his family had travelled back up to Buka to have the long cast on his right leg removed and replaced with a shorter cast. The tib and fib are still not strong enough, and when the leg was free from plaster it still flexed around the mid shin. Another few months in plaster will hopefully see it strengthen. The screws and metal brace that connected them have been removed and he seems in good spirits.
In fact he looks good, with a little more weight on and chatty. His brothers help him with mobility at present, and the wheelchair functions in the village (though he obviously has difficulty with grass/sand/mud…).
I spent a while with him, photographing the new cast being put on. I'll hopefully see him down in Marawa soon.
One Response to Sylvester