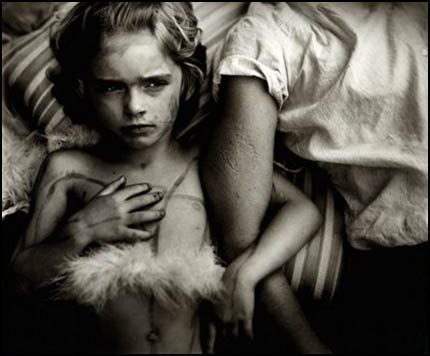 Rather than speak about the trials and tribulations that followed one of her projects (well, maybe two), I'll take this small space and bit of time to beg everyone to enjoy the pictures and look at the much broader body of work (and the fascinating rise of her daughter Jessie in more recent years).
I own a few of Sally Mann's books. Beautiful things. Edwina gave me one of the more recent efforts as a birthday present a while back, about the best gift you could get! Immediate Family is always on the book shelf, can't live anywhere without that small tome close at hand. So many of the photographs in that book stop me dead, and having been lucky enough to see a few original prints I can only imagine seeing the whole thing on the wall. It would be the most glorious thing, alive and glowing on the wall.
Films, countless articles, essays, debates and discussions surround what she has produced, and the concept of the model/muse/artist has been worked through in fascinating ways. You'll find plenty of references to the Charlie Rose interview, but please don't stop there. My connection does not allow me to watch video online, but I have fond school memories of watching the VCR slowly crank along with a doco or two.
Sally Mann has again turned the camera back into the family, pointing it at her husband who now suffers from muscular dystrophy.
Jessie Mann, who featured so dramatically in Immediate Family, has found herself in front of a number of different photographer's lenses following the infamy her mother's work handed her. She is described as an artist and writer, living within a stone throw of the family home in Virginia. Her writing has featured in Aperture and she has been part of numerous public discussions as a panel member. Some wonderful interviews were been done following the exhibition of Len Prince's pictures at the Danziger Gallery in New York. Her participation as artist and 'art' in the project is often visited, and she happily digs into the idea and speaks openly about her experiences.
A lengthy NY Times article on Sally Mann's Immediate Family, published at the time of its opening in the early 90's, can be found here.
The New Yorker has a Jessie Mann speaking about the Len Prince pictures (amongst other things) here.
Jessie also appears over on Eight Diagrams here.