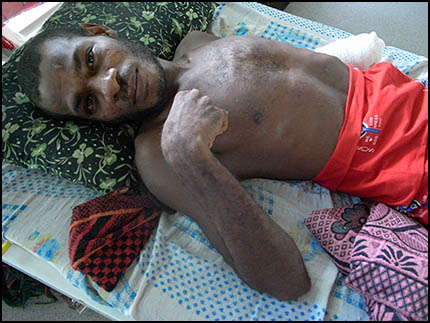 Jumped on a plane a little while ago for a short domestic hop, in transit at present waiting for the next leg.
The morning was full of shutting things down for the long weekend. The darkroom is edging its way back towards something resembling 'clean' and I have evil plans afoot for my return. A few visitors will be arriving for a holiday, and the election campaigning will be rolling along with interesting things to see.
Those of you who saw my entry about Sylvester Minel a fortnight ago will be pleased to know that he seems to be doing well, recovering slowly. I visited him today. A few more bags of blood have gone into Sylvester since I last saw him, and he is strong and alert. His wounds at the amputation points are now dry which is I assume means far less risk of infection. The screws are still in his lower right leg, and I assume they will be in there for some time yet, but the swelling in his right foot has gone down significantly which, again, I assume is a good sign.
I went to his place when I was down in Torokina and photographed the site of his accident, so we told stories for a little while during visiting hours.
A few days planned now just relaxing over the long weekend, snapping some pictures of fish and swimming about looking like shark bait.