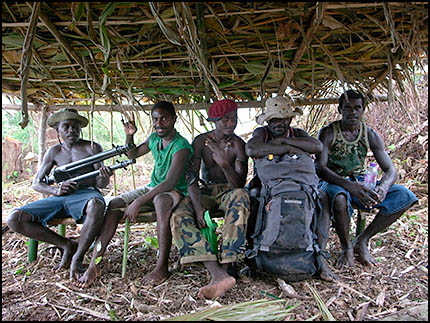 I got back in to Buka last night from Torokina on the west coast of Southern Bougainville. A shorter trip than originally planned so I could make it back to Buka in time for another possible trip out to the north.
It is a remote part of the Autonomous Region, without road access and lacking in many of the basic services. In a submission of photographs last year (which unfortunately failed to go anywhere), this short statement was included to provide an introduction and a little background to the pictures sent.
Torokina, in Southern Bougainville, was the site of a large US and Australian World War II presence. When the Allied Forces left Torokina a large amount of weapons were dumped in the jungle.
During the Bougainville Crisis many of these guns and bombs were uncovered and used by groups such as the Bougainville Revolutionary Army.
Since the end to recent conflict on the island, the region surrounding Torokina has suffered through a lack of infrastructure and its geographic isolation. All goods are brought in via small boat and distributed on foot. Any commercial crops such as cocoa are returned to market in the same manner, generating little income. No working vehicles are left in the area.
The weapons and explosives are again starting to define Torokina, but now as a commercial crop harvested for sale. The children play 'armies' with home-made BB guns and cardboard box body armour.
The dumped munitions and weapons are certainly gaining a degree of attention from various media interests and government agencies (understandably so). There are some strong moves afoot to remove the left over hazards, and hopefully this will be accomplished in the near future. While these initiatives are interesting, my project lies on the periphery of those particular issues.
There is a working tractor now. The district tractor is hauled off the side of the road with some sort of problem, but a private one has been somehow put back together and is running, moving cocoa and other goods around. A motorcycle is also attached to the district office.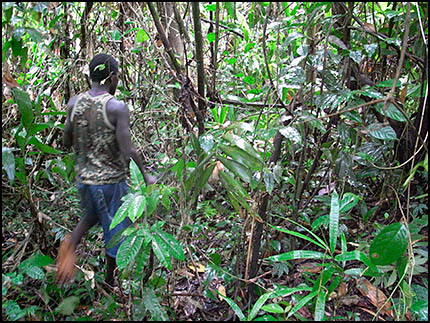 I had returned to follow some work from last year, and dug into a more formal approach. Nothing like the Dusseldorf nerds, but certainly a more static and gentle way of looking about than my previous effort in the area. The ten8 is wonderful to use again, and perfect for what I am trying to do. Maybe a little bit of a pain to haul through the jungle, and possibly limited in its 'responsiveness', it is still a joy to look at that big-arse ground glass while I figure out how to make another mundane picture. I will admit that sitting under the dark cloth in the steamy heat can be a bit of a test.
I probably spent most of my time up in some food gardens and the rest of it mooching around a few villages, just cruising about snapping a few portraits and details.
My great-uncle Don Knox was stationed in Torokina during the late stages of WW2, so it is fascinating to stomp around in places that he would have walked through over 60 years ago.
After a few hours in a small open boat along the west coast getting back to Buka, I'm now digging through the list of things to do.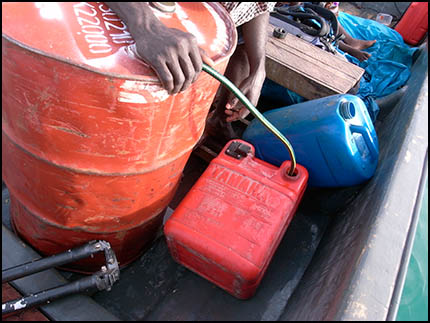 Three lessons learned:
–          The crown bolt bracket of the old aluminium Gitzo 400 series tripods is just right to wedge into the cap on a 44 gallon drum to get it open.
–          Friends who will hold up your darkcloth to stop the wind while you snap some silly picture are worth their weight in gold.
–          Solomon's ants are not to be taken lightly.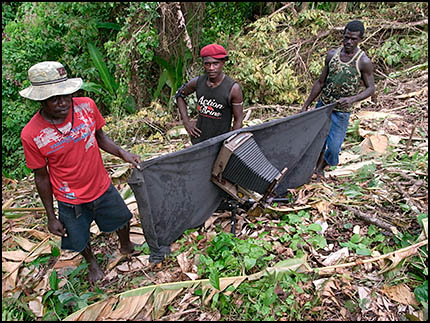 3 Responses to Back from Torokina