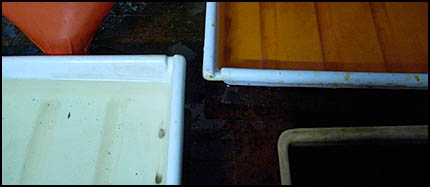 Rather than the dodgy 1980's Tom Hanks movie (though Doubilet did make a cameo in it, near the start… trust me), splash is the sound of a dropped tray full of print chemistry… cleaning up is never fun.
Still, it was a productive, if a little disjointed, day in the darkroom. The joy of a shining wet silver print sitting in your hands. I've gotta hang onto that (the joy, not the print).
I'll vomit if we have to go through the tired "seeing the print appear in the dev for the first time" line here, so rather let's just tip our collective hats to the darkened room, the tick-tock of a metronome and the discoveries made while knuckle deep in amidol.