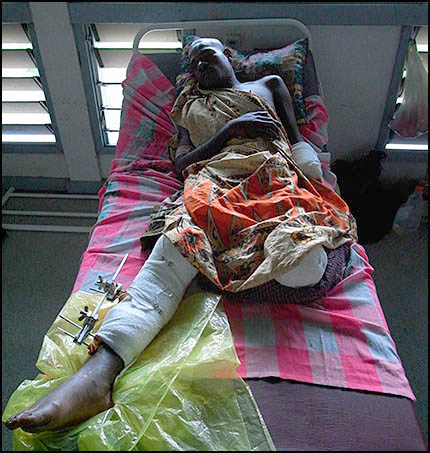 Sylvester Minel, a young man from Marawa Village in Southern Bougainville, was taking an old WW2 artillery shell apart so he could use the explosives for dynamite fishing. The charge went off as he was dismantling the shell. Not an uncommon thing here in the Autonomous Region of Bougainville, let alone the wider Pacific.
Another young man, from Sivuna in Central Bougainville, was badly hurt last year when a salvaged explosive went off in the boat as he and a friend prepared to harvest fish. He somehow made it all the way from the Solomons border to Buka, but died from his injuries in hospital. Sylvester is a lucky man to have survived this recent accident, though no doubt the coming months and years will be incredibly challenging.
Sylvester has lost a large amount of his left arm and leg. He is currently in Buka hospital… it is incredible that he survived to make the long journey by boat up the west coast.
While dynamite fishing stirs the emotions of many in reaction to the damage it inflicts to the reefs throughout Asia and the Pacific, the danger of the activity and the toll it can inflict on the practitioners is severe (and often the first thing to be forgotten).
2 Responses to Dynamite fishing