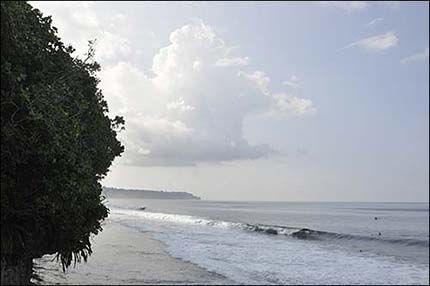 I love watching people surf.
Not the crazy big wave riders, though they are frighteningly hard to look away from. Not the technical competitions or the music video-esque films of 'pro surfers on holiday rampage'.
I enjoy watching someone out for a quiet surf, and not from some sort of soul surfing puritanical stance, more from some sort of empathy. It is not because I surf, in fact I've never gone into the sea with a surf board. Maybe I attach too much to the vague feeling I get seeing an anonymous surfer out riding waves.
When Pete Pigott was here I got to watch him hang out on a small break off the east coast of Buka. We gained permission from the village above the break and then slowly climbed our way down to the shore. The eastern side of Buka is a long cliff face that is at times very high, with small tracks making their way down through the sharp rocks and magnificent jungle.
We were accompanied by a large group, some keen to go for a swim, others just wanting to watch. When the track eventually levelled out and followed the shoreline we were able to scramble out onto some rock ledges to look at the waves rolling along the reef. At this point we were still at least five or six metres above the water as a last bit of cliff face dropped into the sea. A bit further north along the track brought us to a log with notches cut into it which gave access to the small beach below.
The board was passed down and a short while later Pete paddled out across the reef with two young blokes swimming beside him. I walked back along the coast to a small outcrop of rock and sat down to watch with a bunch of locals.
Waves rolled onto the reef, Pete sat in the line up with the two body surfers while a fisherman worked from his canoe just offshore. Fantastic.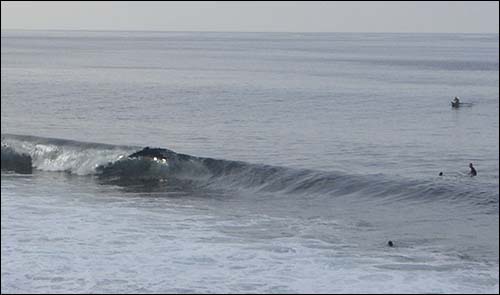 One Response to Buka wave