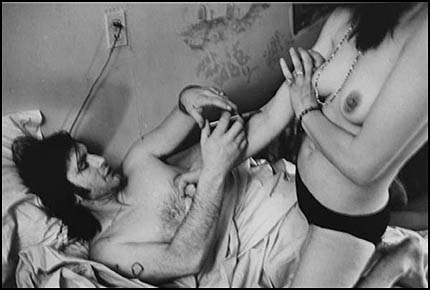 i was born in tulsa oklohoma in 1943. when i was sixteen i started shooting amphetamine. i shot with my friends everyday for three years and then left town but i've gone back through the years. once the needle goes in it never comes out.
L.C.
I opened a fat cardboard box this morning, expecting a bunch of books to be in it (though it was awfully light for its size). And there, sitting down in the bottom, under a bunch of air filled balloons and packaging was the thin soft cover book Tulsa by Larry Clark.
I'd never realized this 1971 publication was so small! It's almost like a magazine or exhibition catalogue.
So I sat down and opened it, a little book of horrors.
Clark has attracted a ton of interest, criticism, praise and abuse throughout his working life. Another one of his books, Teenage Lust, generated a real shit storm, and continues to polarize many. His film Kids from the 90's opened him up to a much wider audience, and probably brought these books back under the nose of many.
Alec Soth wrote briefly about Clark's work in his old blog after seeing an exhibition of Teenage Lust hung in Berlin. The question of the protection afforded by the 'gallery' and 'art' was pondered. Link is here.
This (at times) troubling line of enquiry is familiar to many in Australia after the silly Henson affair of mid 2008. Well, this stuff by Clark, and for that matter his conduct, would probably get a number of the Henson-offended heads spinning and literally piling up the wood ready for 'a burnin'.
Heaps of writing on Clark can be found with a few clicks of the keyboard, let alone the published essays.
Clark's own conduct and interaction in the events photographed is often the point of most contention… as it was with Eugene Richards and the crack houses… as it was with… and so on we go.
The book still has that new glue smell, so I need way more time with it. Might have to hit the libraries some time to see more of his work, and then decide whether I want to break out the wallet again.