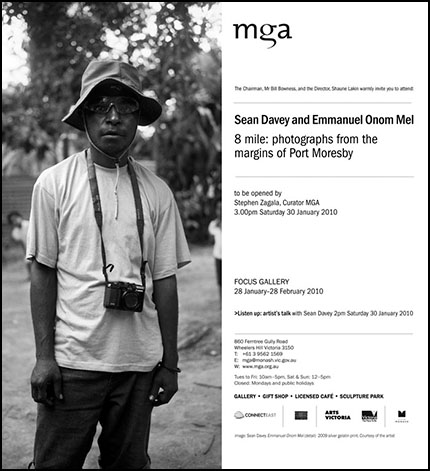 People!!!
Get along to the Monash Gallery of Art in Melbourne to see the exhibition 8 Mile: Photographs from the margins of Port Moresby.
Works by Sean Davey and Emmanuel Onom Mel (and my suspicion is that Wanpis will also have a few in there Edit: All pictures are by Davey and Onom Mel – see comments).
It is brilliant that the work created by some young people from 8 Mile (Papua New Guinea) is being shown in one of the prominent galleries in Australia that show contemporary photography.
No doubt a number of the pictures from the Port Moresby exhibition in held back in August (here) will make an appearance, plus some new work.
Zagala is curating the show, and with his strong attachment to the Pacific and proven talent in producing interesting exhibitions, this one should be a cracker.
Desperately wish I could be there to see it hanging on the walls, but distance and expense have curtailed the trip south. I will just have to watch from afar (a terrible thing to try to get a sense of a show via the web). So if you're within striking distance, or feel like a weekend away in Melbourne, take the time later this month and get down to see this exhibition.
One Response to Photographs from the margins