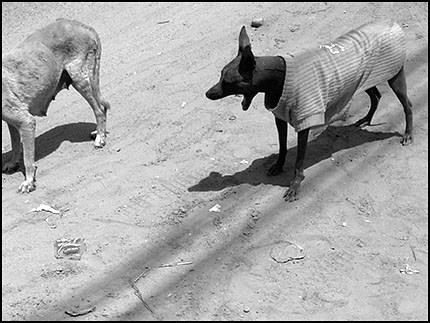 Dogs seem to get cameras pointed at them… a lot. From the cringe worthy postcards and 20x24inch polaroids to the witty and amusing pictures by Cartier-Bresson and Erwitt, the range of possibilities is huge. HCB's humping pooches and Erwitt's entire book (a little brick of a thing), full of quirky and amusing asides, keep me giggling.
Robert Adams speaks of the importance of dogs to him and his friends or colleagues in a number of pieces of writing. His first meeting with Nicholas Nixon centred around the joy experienced at the enthusiam of Adams' dog to meet Nixon at the front door. Another whole essay, or more accurately a collection of short statements, is devoted to the dog.
David Hurn made the statement in his discussions with Bill Jay that the shape of a dog somewhere in frame almost provides an anchor (this is major paraphrasing, on the road – in a bus – without access to either book or net, so only working from the dirty, dark corners of my failing memory).
A Larry Towell photograph that I adore (and have reproduced in this journal in times past) has the shrunken dogs arse through the photographer's glasses within the wider street scene.
The PNG dogs haven't grabbed me too much yet (other than attempting to run a few down out of pity and an aversion to seeing such mangey suffering). I've made a few snaps, and a times in Bougainville they have made it into the pictures as participants in the scene rather than just small blobs sniffing around on the periphery.
A few dog pictures have been snapped on this random trip, and the crop above (from a wider scene) showing one of the funny hairless Peruvian mutts has become a fav because of the Thylacine like yawn and distant memories of Chamberlain dramas and horrid fake Aussie accents (the dingo is now wearing the jumpsuit…).