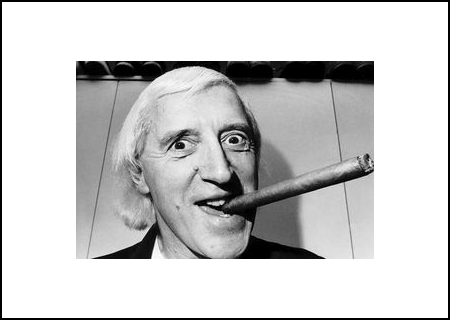 Andrew O'Hagan's piece Light Entertainment is disturbing in its content and brilliant in its clarity.
Not a quick page turner to fill in the time on the bus… more something to sit quietly with and read through without interruption.
You can find it here at the London Review of Books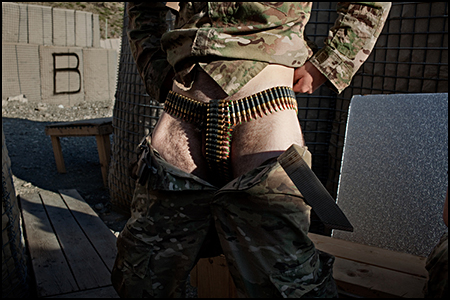 Since Ferguson left VII he cleaned up the personal website and relaunched.
I went digging around yesterday after hearing the news of the crash and stumbled across the 'ammunition belt' picture over in the news section. It stopped me in my tracks for some reason.
So KP is simply reproducing it here… pointing back to his work again…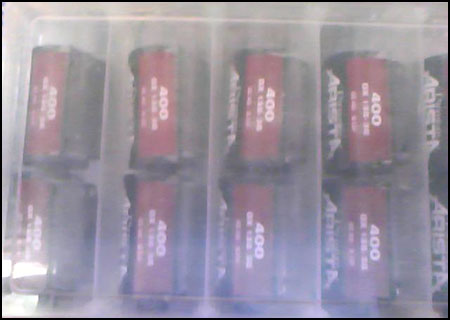 Been chasing chores, settling things back in, reshuffling crap around and dragging stuff up and down stairs.
Time now for shake, shake, rattle and bump… the agitation boogaloo begins as the small rolls I exposed in Bougainville go into the tank for their wash in the sweet liquids of magic and sorcery.
Should be done relatively quickly (me hopes)… I gots some more Myanmar stuff quietly waiting in a box that will go through next… it's important for me to see those pretty soon.
So without delay… tatata!… lights out… GO!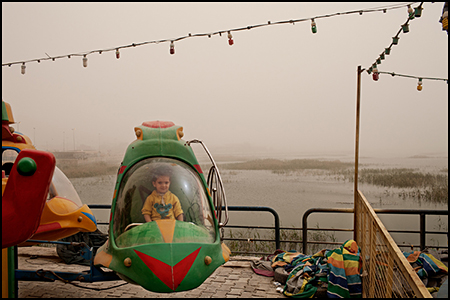 Adam Ferguson (the young Aussie photog) was lucky… very lucky. So absurdly lucky.
In all the lunacy that's engulfing parts of Iraq… the chopper that he was riding in flopped into the dirt… the pilot was killed along with a few others injured (including Ferguson's colleague). Not a lot holds those whirlybirds in the air.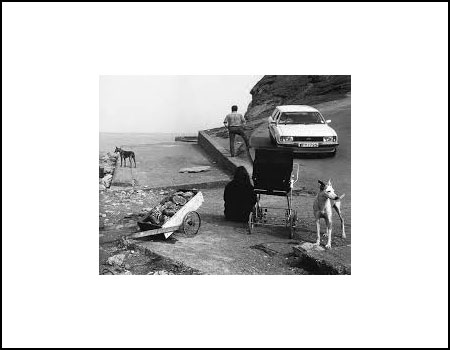 Chris Killip is a monster. No doubting it, no questioning it… just admit the fact and sit back with exhaled breath and wide open eyes.
Almereyda made a short film in which Killip addresses a number of pictures he made in Skinningrove (some of which made it into In Flagrante… though most of which have never been seen in publication).
This is well well well worth a look!
See some here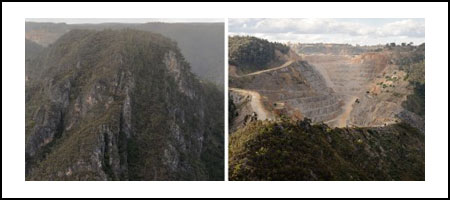 The Bowness has come around again!
Some familiar names in amongst it all… of course the scruffy snapper Conroy is in the mix again… deservedly so!
I usually tune in each year and see what is happening at the Bowness… always interesting as it's usually quite a diverse short list. These last few months with the travel and other pursuits has meant I'm well and truly late to the party (but that's never stopped ol'KP from mentioning something… we've never been on the cutting edge or the breaking news cycle!).
So best of luck to all involved! I hope the show is a beautiful thing on the wall and that you're excited.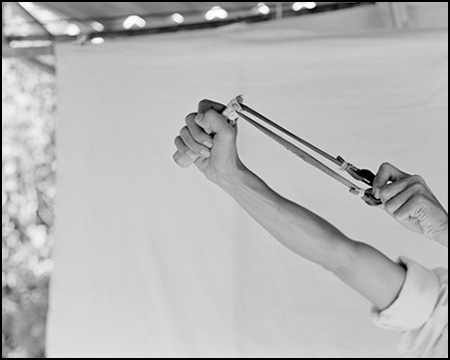 Jerome Ming and the rest of the Hartford 2014 MFA crew have hung their graduating show and passed their books around.
The reception for the exhibition is TONIGHT (Friday 8th August) at the Joseloff Gallery at the Uni. No doubt it'll be a hoot.
It's been great having Ming around Yangon for the short while that I've been here (it's been important for me in many ways ), and it will be wonderful to hear how he felt about all that has happened in the last month on his return. Coffee and gossip to come!
So best wishes to all the crew with their pictures on the wall… hope it's a night of raging fun and fall down excitement. Hats off for getting to this point.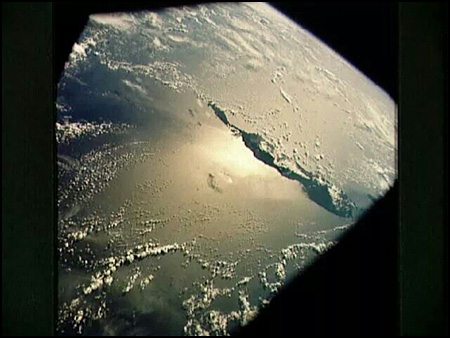 A great friend from the Boogie flicked this through via one of the data-based message apps we're all using (helps get by the restrictions on txt in & out of Myanmar)…
Bougainville from waaaaaaaay out in nevernever… I assume it's from the Space Station… though assumptions seem to backfire a lot…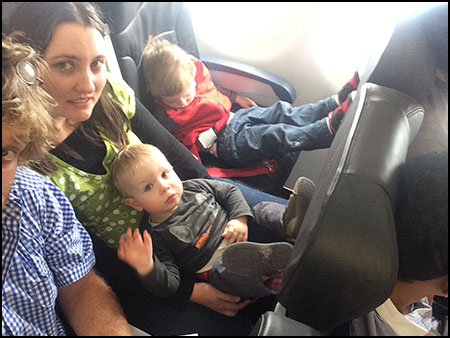 We made it yesterday… without too many tears (the kids did alright as well)…
Yangon Yangon.
Now the usual 'battle through' to reset the body clock. Might* be some abuse of stimulants (caffeine) to help that along.
*'Might' being 'there will be'…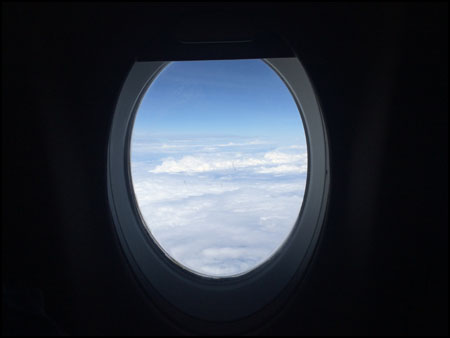 Back into the belly of the flying beast… short stopovers and two kids will be interesting…
Fingers crossed. Be in Yangon by late breakfast local time. Let's hope my luggage makes it this time.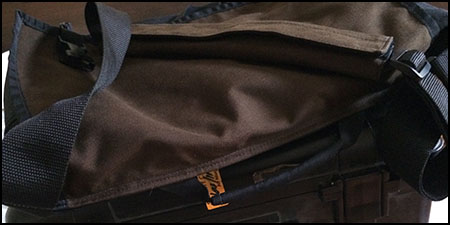 Not a hangover case of village belly or anything that exotic… still just a little annoyed about my bag disappearing off into the abyss on the flight out of Yangon last month.
It's only 'stuff' and can obviously be replaced… but it's the annoyance of losing the satchel that carries my doubledarks off my hip just right… of not having the new microphones in the AROB (coz it woulda been sweet to use em on this last trip!)… of having to buy a bunch of clothes to replace those lost (coz really clothes shopping is the last thing I enjoy).
There. My blog. My space to whinge. Them be the rules.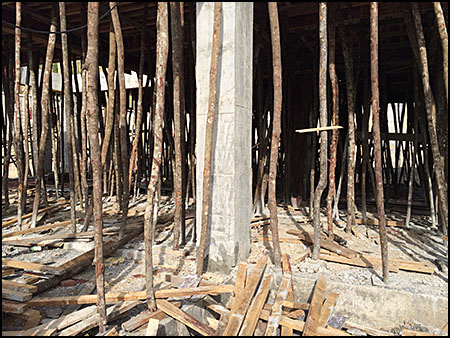 I guess it's ridiculous to talk about losing time through wasted effort… it is used in equal measure whether sitting on the couch or splitting the atom.
But missed events or circumstance through choice sometimes hurt. I've landed back after only a short period of time away from the boys to find them both changed significantly – I am more aware of (and excited by) the changes due to the period apart and yet feel a sense of loss that I missed the ongoing transition that got us to this point.
At the same time the short trip away out to see friends and stomp about on both new and familiar ground gave me great loads of energy (even if it did beat me up a bit physically… note to self: ya ain't a young pup anymore…).
So raising the peak of my 2nd hand trucker cap to the loss and urgency that 'time away' (from anyone – for it is forever a mode within we exist) brings to our daily shuffle – may a heightened awareness of it drive me to the present.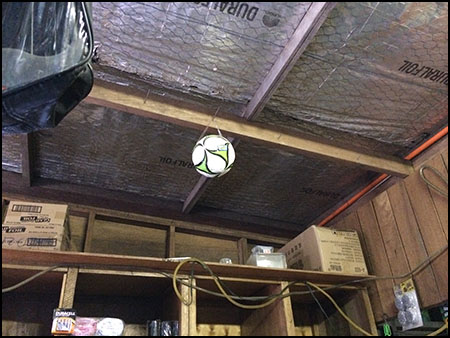 It's not the technical expertise, the pace, the passing, the individual brilliance, the brutal tackles or the long standing grudge match derby's… for the Bougainvillean game doesn't really possess any of that rubbish.
What it does have is those glorious moments when the crowd erupts in laughter as someone falls down, botches a goal or makes an arse of themselves… and often half the players on the park are laughing along with them… and more than likely the subject of the laughter is also giggling away.
I was lucky on the recent trip to play a training game with my old crew in Buka. It was a real gift to see them again and knock a ball around in the fading dusk light. Twisted my guts coz the memories came back. Saw them off for a match at Sohano not long before I flew out… coulda easily dropped my bags and 'missed' the flight for a game…
I also got a run in Torokina with a bunch of friends… let's just say that the old-fat-white-fella in bare feet wasn't keeping up with the locals… I was skiing around and flopping down onto the damp grass more than making any meaningful contribution.
It is The Beautiful Game for any number of reasons… 2014 has served up some glorious moments already (Toby is probably still grinning like an idiot and wearing his German tie to work)… and my contribution this year has been purely for the laughs…