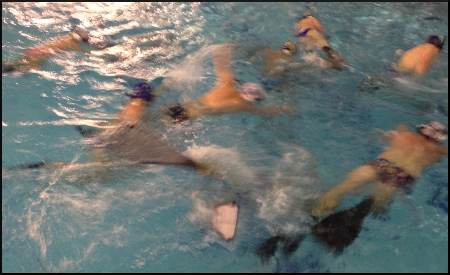 Saturday a week gone (July 27th) saw a few teams travel into Canberra for an Underwater Hockey Tournament… a little spin in the water in the middle of winter to stretch out the lungs and legs and have a laugh in between games of blue-faced-lunacy.
I got a right-floggin by a number of international-class players… current world champions from the Aussie men's team… a bunch of women's reps from round the world and a Kiwi and Sth African to round out a scruffy mix of club players in it for the stupidity… and what magnificent stupidity it was.
The Sydney team took it to the rest and came out with the big prize of bragging rights… and man was there some wild play across the tiles… big tackles, big break-aways, big swerves and tight curls… fronting up against some of those players was a lesson for sure (and a welcome one at that).
Beauty was I hopped on a plane not long after climbing out of the pool, flew a few thousand km's, wandered around for a few days and got in a social game with the Cairns Crew on my birthday… most places you go a loony crew can be found for a swim and a bit of puck stealing.
Good times.

Landed back in Canberra this afternoon minutes before the dinner bell rang for the two grommets… so now a few hours later the lights have been dimmed with the monsters asleep (oh a big day for them), the creaky floor boards are somehow avoided and my mind drifts back to the short time just spent up north (as the cool dry season winds made sleep on the coast a delight). Surrounded by family and land that holds history going back generation after generation… the dirt itself and the timber growing out of it could tell me stories if I stopped walking, tipped my head and  listened just that little bit harder.
That's the little beach (above in the sketchy phone snap) where mum went as a child to escape the damp tablelands for holidays down in the asbestos humpy with the family… where Dooley rowed his boat and where Jack built the bunker on the hill… and now where mum and dad have made their home for years to come… where my boys sit in the sand digging holes and squealing with delight… where I quietly stalk about with a camera snapping pictures of a scrubby coastline bordered by the tepid inshore tropical sea full of jellyfish and the occasional pukpuk… gorgeous.
Most people wouldn't note it as anything out of the ordinary around those parts… but the place means the world to me.