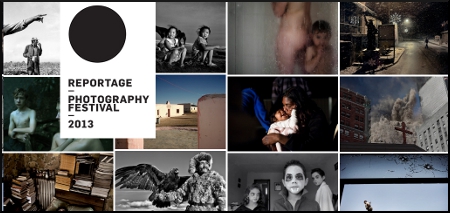 While spiraling in on my own little whirlpool of fun (blinkered, self-absorbed, quiet and surrounded by little lunatics) all sorts of things have been happening out in the world around me… things that I watch and gently engage with… though the engagement is from a distance and at arm's length.
The fantastical age of festivals is upon us and 2013 has kicked up a bunch in Sydney that are full of pictures, discussion, exhibition (and exhibitionism), chit chat, gossip, wonderful prints and unfortunately a little discomfort that has resulted in a touch of uncertainty and embarrassment.
Within the greater celebrations the claim, counter-claim, projector-scandal and "oh but children might see" issue properly raised its head in public early on the weekend and seemed to bubble along… and as the reports of contributors pulling images started to float about it was sad that such a knee-jerk lack of discussion could result in this making it to the 'reported page'… for Reportage has been around for some time… with a track record… and as a known entity I fail to understand how it came to the 11th hour for "oh some of these pictures are a touch confronting"… unfair at best… to the photographers… to Reportage… to the punters…
Having said that the idea of 'public projections' would understandably be quite confronting… though surely this idea was neither a surprise nor unforeseen.
So shame that it made it to the point of 'problem'… though yay that it would have raised the flag a little higher for Reportage and maybe added a degree of engagement from many who would not have had a look… fingers crossed for future success, future efforts and future snapper-pikky-photo-lurvers.