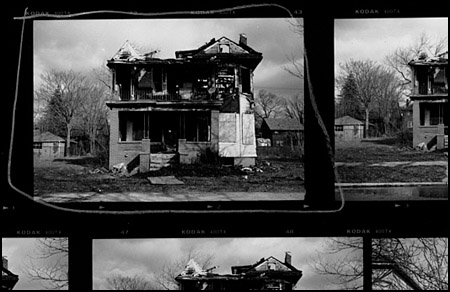 We've mentioned him before… but who can get enough of Bruce Gilden? That's a real question btw…
With a ton of energy and that unique NYC outlook with attached ability to raise a few hackles he rolls along snapping and snapping and snapping. Who knows how many people have ventured out into the street with an off camera flash and wide lens in an attempt to 'do-a-Gilden'.
And yet so much of his strength is missed when he is referred to as the NYC street guy. The extensive work he's done on peeps losing their homes through the downturn known as the GFC and the wider effects it has had on community and family is stunning. Jaw dropping at times. There are a few multimedia pieces floating around that I've shown to people at various times just to really cement how effective a person with a small camera and a microphone can be.
Then of course the Haiti pictures, the 'fashion magazine' efforts and the almost comical gangster pictures… well you could be nose down in pictures for some time without even seeing the Coney Island slab…. at that point you'll need a good stretch and meal before continuing!
Anyhoo, he's a member of the club… so you can click and see a portfolio and a few links.
Good luck.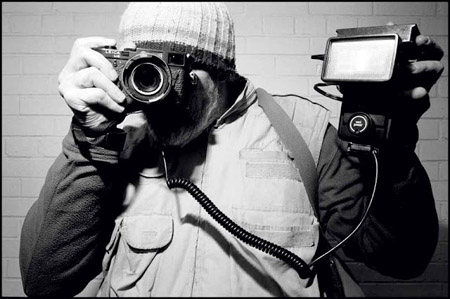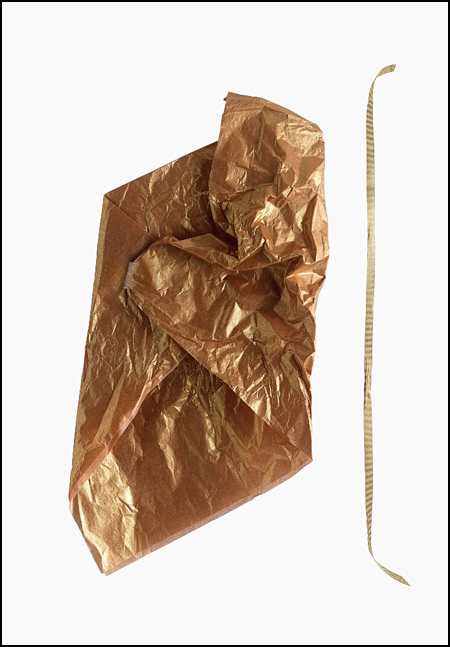 The Ulrick and Schubert was announced a little while back… well poor old KP was flat on its back with a high fever and nasty belly… so we're just catching up on things and trying to plough through the million jobs at hand before Aunty Pippy's and Uncle Toby's wedding comes around.
Raskopoulos has taken the prize with her work above. Clap hands and well done! Fingers crossed the slab of money allows her to continue with more pictures and projects!
We've lifted a little from the press release for the dear readers of KisimP:
Guest judge Kon Gouriotis commented; "I kept on returning to Eugenia Raskopoulos 'Vestiges' photograph because of the poetic transformation that was occurring, especially the experimentation with texture and the sculptural potential of the materials.
What started off as birthday wrapping paper, ended up as another shape which is then photographed offering a new interpretation to the object. The new meaning this shift creates, recognizes the incomplete over the complete. It supports the possibility of other changes rather than no transformations. By acknowledging continual change, the artist is making us aware of the importance of difference. The photograph also makes a delightful reference to Robert Rauschenberg's 'gluts' series, particularly his use of discarded objects. This is a real treat in the photograph. The other innovation in the photograph is that it marks a move from the artists past reuse of words to form and objects.
I am so pleased to be able to honour the artists' achievements of offering the 2012 Josephine Ulrick and Win Schubert Award to her."
The Press Release is here.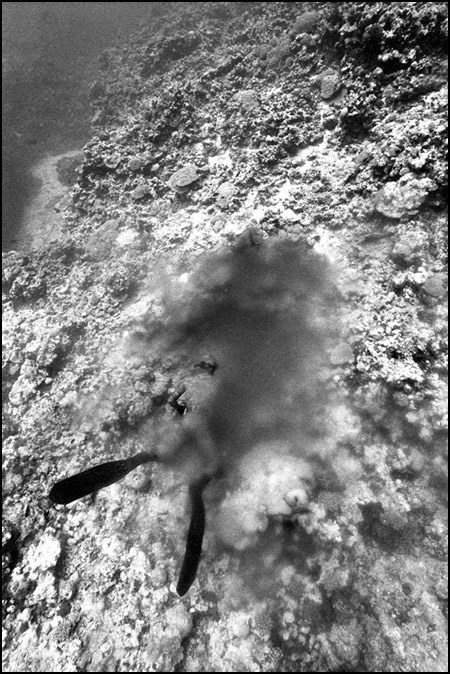 It's always a little snap that tugs my heart and sends my thoughts racing. Sometimes I stumble across them randomly and the pulse goes through the roof.
Zimmerman's snap of a spearo (suspiciously looking like Kirkconnell) lying on the bottom digging his catch out of its wrapped up spot sends me straight back to a few ledges that used to always produce for Rutana, the BigM and lil' old me… though maybe he's chucking sand in that picture to drag in some cautious jobbies… hmmmm… (?)… yeah I'll go back to my original thought: retrieving dinner from under some awkward rock.
That's what they (pictures) at times do – send me off into daydream land – and at other times I stay there, present with the print and object, transfixed with the new thing, the flat paper item in front of me marvelling at what the snapper has made. Such powerful little things… able to send me to the other side of the world or keep me planted, unmoving for ages with my jaw on the floor and a tear in the eye. Big ups for pictures!
Of course after such a random incoherent bit of blah it would be remiss of me not to devote time to Zimmerman. He's made some fantastic stylish editorial-esque work and it is no wonder that a number of the cool brands and magazines are clipping at his heels.
But in amongst it all a few of those spearo pictures just send me off into dizzy land – and I have him to thank.
So thank you Kanoa for holding your breath and pushing the button. I'm better for it.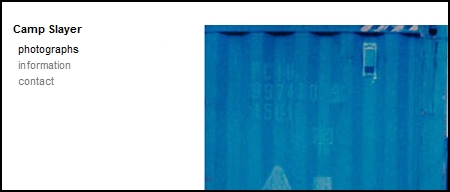 campslayer.com was quietly launched back at the start of 2012 (having existed in various development forms and versions of code, design and approach since 2007…  shelved and puttering along in the www world…). Now the little group of pictures finally have their own spot out in the online world… quiet and straight forward.

It's just a very simple presentation of the snaps. Certainly nothing fancy.

Since it slid off the dry dock the site has been quietly spinning away without issue or headache that we at KisimP can find. The edit comprises approximately half the work.

You know where it is.