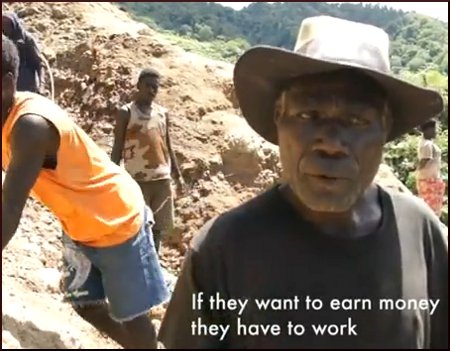 All the regular peeps here will be familiar with Clive Porabou and his efforts in film making. I'm a big fan of his efforts (for Bougainvillean voices – whatever their political persuasions – are the most important part of the whole gig!).
His new trailer is online, so the film will be following soon (fingers crossed).
Either way, some very recent footage is in amongst it all, and the beauty is that Clive avoids voice over and insightful monologues analysing the situation… he points his camera at what he wants (an important distinction, as this is an individual's undertaking, not a 'neutral' account) and then lets the people do the talking.
Go and have a look. Five minutes of your time is all that is needed!
See the trailer here.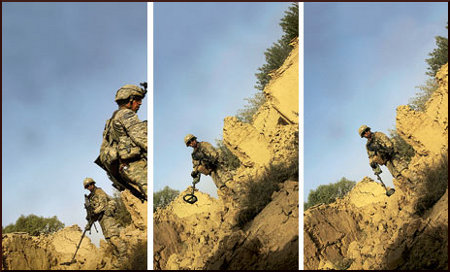 I'd been in Afghanistan for a month when I stepped on the landmine. I was the third man in line, and as I put my foot down, I heard a metallic click and I was thrown in the air. I knew exactly what had happened. As the soldiers dragged me away from the kill zone, I took these pictures. When people around me have been hurt or killed, I've recorded it. I had to keep working. The soldiers were yelling for the medics. I knew my legs had gone, so I called my wife on the satellite phone and told her not to worry. The pain came later, back in intensive care, when infections set in and they nearly lost me a couple of times.
I've spent enough time out there for my number to come up. I was one of the few who kept going back to Iraq. People think you do this to chase adrenaline. The reality is hard work and a lot of time alone. Firefights can be exciting, I'm not going to lie, but photographing the aftermath of a bomb, when there's a dead child and the mother wailing over the corpse, isn't fun. I'm intruding on the most intimate moments, but I force myself to do it because the world has to see those images. Politicians need to know what it looks like when you send young boys to war. If it's humanly possible, if the prosthetics allow me, I'll go back to conflict zones. I wish I was in Libya at the moment, without a shadow of a doubt.
The round-about of claim and counter claim regarding the photography of conflict, the participant, the voyeur, exploitation, blah blah blah blah… we cannot step away from the simple truth that there are a number of people who simply go out and place themselves in dangerous, violent situations to make pictures that we all look at (the reasons, impulses, arguments and justifications can come later).
Two Australians feature in the piece.
Read it here.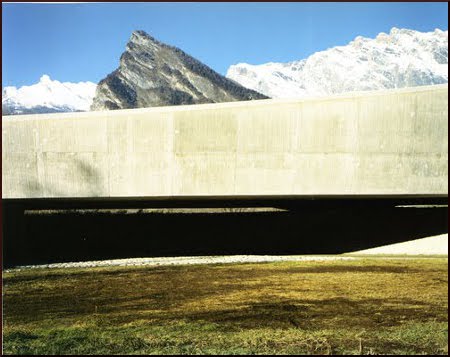 I put this book in my bag a few days ago while rolling through a bookshop – my best bit of theft so far (for it is a magnificent thing!).
Landscape A by Nicolas Faure (ISBN 3-86521-212-3) is superb. The pictures knock me over. Direct, without tender nostalgia, straight open pictures that just sing in their formal complexity. I love the strength of the compositions. I don't make pictures like these (though my god I sometimes wish I could!). Almost like a hard lesson learned step backwards has been taken, where the photographer just lets that little bit more in, the added complexity as shown in Edward Weston's much later pictures where the more chaotic inclusions are allowed to operate within those four edges.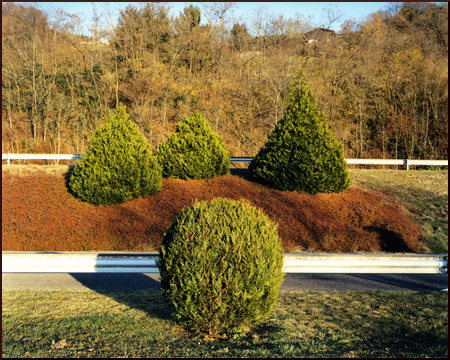 And as always I just found it by chance, sitting there on the shelf with a dinged up cover and ignored by the shoppers. After grabbing it impulsively after a quick look through some of the pictures I spent a few hours just sitting on the couch and staring. Further research (if 'google' can be called research) showed me that all the usual places online that I haunt referred to this guy and his work… I'd just not taken enough notice.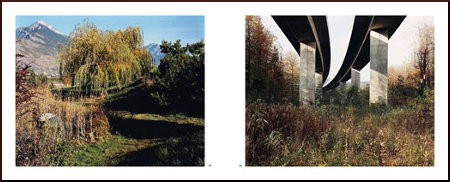 There are simply so many great pictures out there, so many brilliant workers, so many fantastic books… times are exciting and the options are limitless if you want to sit and soak in the glow from beautiful (in the strong sense of the word) photographs.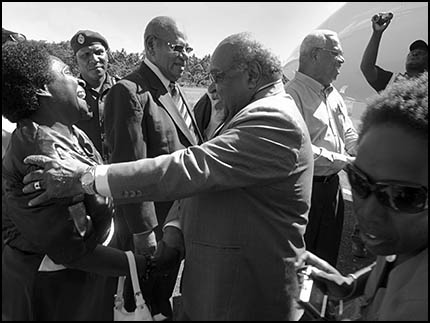 Grand Chief Sir Michael Somare has this evening, through his family, announced his resignation from the seat of Prime Minister of PNG and subsequent retirement from politics. His poor recovery from recent heart surgery was cited as a deciding factor.
The picture above (familiar to readers here – sorry for the recycling) was made a year ago when he confidently stepped off the fancy jet in Buka to participate in the inauguration of President John Momis. I was stunned by how strong his speech later in the day was – for years I had been underwhelmed by the speeches I had seen on tv… and yet he just had everyone hanging on to his amusing stories and asides. When you see old footage of him in the early seventies, full of heat and not short of a rallying speech… hard not to be impressed, and I caught a glimpse.
And yet any number of controversies and questionable undertakings will always hang alongside his title as the PM of independence.
So now he steps away, finished, and the immediate future in domestic PNG politics is going to be a pisser: fascinating.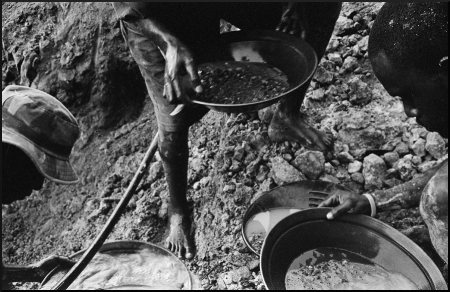 Grand Chief Sir Michael Somare (the Prime Minister of Papua New Guinea) has publicly laid a pretty significant accusation concerning the Bougainville Crisis. It is neither a new claim (nor accusation from the current PM), but SBS's Dateline program has given it some significant oxygen in Australia.
Starts in 20 minutes (2030 Eastern Aussie time).
This could be interesting (or maybe underwhelming). Either way it puts some recent (published) public comments by certain Aussie officials in an uncomfortable context.
A space to watch…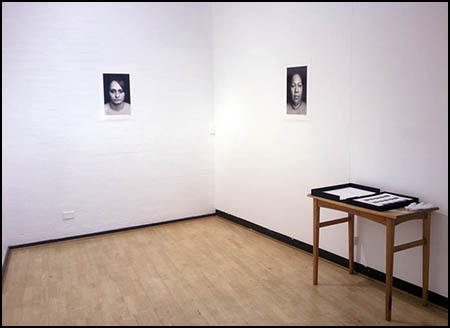 I zipped down to Manuka last night for a celebration of pictures.
Kirsten Styche's work was hanging beautifully in a packed gallery – the buzz was positive and the speeches relaxed and without pomp.
The folio looks fantastic. I adore pictures presented in this manner, it just seems 'right'. The original prints housed together, accessible, transportable and of course… collectable. Fingers crossed a few institutes and collections open their wallets for one of the ten available (especially for the low price they are running at!).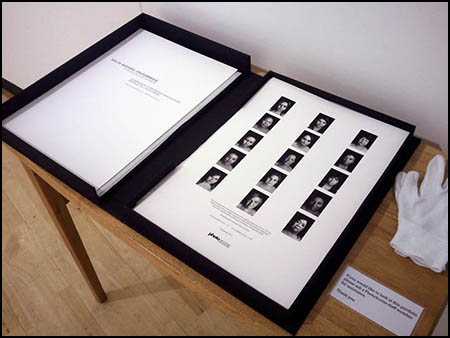 Had to bump and run to get back to the little grommet, so the usual boozy downward spiral was not part of the evening's activities.
Many thanks to the cats at the Huw Davies Gallery for forwarding the install pics to me.
Hey, man, you don't talk to the Colonel. You listen to him. The man's enlarged my mind. He's a poet-warrior in the classic sense. I mean sometimes he'll, uh, well, you'll say hello to him, right? And he'll just walk right by you, and he won't even notice you. And suddenly he'll grab you, and he'll throw you in a corner, and he'll say do you know that if is the middle word in life? If you can keep your head when all about you are losing theirs and blaming it on you, if you can trust yourself when all men doubt you – I mean I'm no, I can't – I'm a little man, I'm a little man, he's, he's a great man. I should have been a pair of ragged claws scuttling across floors of silent seas –I mean – Hey, uh, don't go – don't go without me, OK? I want to get a picture. He can be terrible, he can be mean, he can be right. He's fighting the war. He's a great man. I mean… I wish I had words. I can tell you the other day he wanted to kill me – Because I took his picture. He said if I take his picture again – I'm gonna kill you. And he meant it ! So you just lay it cool, lay back, dig it… He gets friendly again, really does. But you don't judge him like an ordinary man.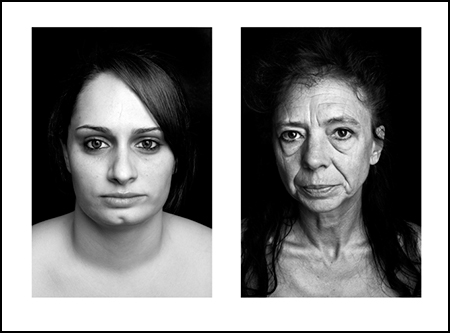 Heads up people!
There is a show you should get to. Thursday night (23rd June 2011) at PhotoAccess in Manuka, Canberra. I'll be there with bells on, and suggest all within striking distance get their sh*t together and hurry on over.
Kerstin Styche is showing pictures and releasing a folio – all there to be enjoyed on the night in the Huw Davies Gallery.
The press release from the gallery reads:
PhotoAccess is pleased to present two exhibitions showing different aspects of Indigenous life in Australia for 2011 NAIDOC Week: 'Walan Budhang Yinaagirrbang' by Kerstin Styche and 'Erub, July 1' by Bronwyn Jewell.
Kerstin Styche is a Wiradjuri woman with family connections to Western New South Wales. She was born and raised in Canberra and graduated with a Bachelor of Design (Photography) from the Canberra Institute of Technology (CIT) in 2010. Kerstin is a Senior Photographic Technician at the Australian Institute of Aboriginal and Torres Strait Islander Studies (AIATSIS).
Kerstin Styche is the fourth PhotoAccess Emerging Indigenous photographer to show in the HUW DAVIES GALLERY for NAIDOC Week. We first saw her powerful black and white portraits in 'White Walls', the December 2010 exhibition by CIT students at the High Court of Australia. Kerstin has worked with our Education and Projects Manager, Sean Davey, and Stephen Best from Macquarie Editions to reinterpret the series, shown in full at AIATSIS in March this year, in a selection of six large (610 x 430 mm) inkjet prints on Harman Gloss Baryta paper and a boxed portfolio of all 15 portraits printed on 420 x 297 mm Harman Gloss Baryta paper.
In her Artist Statement Styche says 'Walan Budhang Yinaagirrbang portrays beauty, strength, courage and wisdom, mirrored in the haunting eyes of these strong black women.' In my view these larger format prints, with their strong contrasts from black to white, extraordinary detail and beautiful skin tones meet her aims magnificently. We can see the strength of the women but also their essential humanity—an important achievement for a portrait photographer. Kerstin Styche is a high achieving young Indigenous woman and we are proud to help bring her work to the attention of the wider Canberra community in this, her first, solo exhibition in a public art gallery.
The exhibition and Kerstin's emerging artist residency has been supported by the ACT component of the Visual Arts and Craft Strategy. Production of the portfolio has been made possible by a micro grant from the ACT Community Arts Office.
PhotoAccess is delighted to present Kerstin Styche's 'Walan Budhang Yinaagirrbang' in the HUW DAVIES GALLERY at the Manuka Arts Centre for 2011 NAIDOC Week.
Don't miss it!
Catalogue here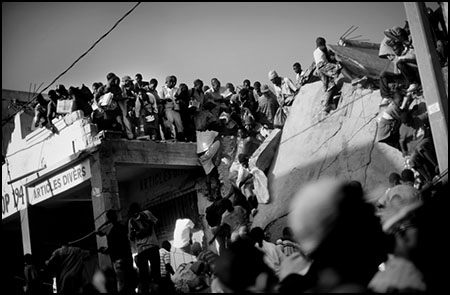 Given the general vague state that I've been rolling in for the last two weeks you'll have to forgive me for not being up to speed on the goings on in the picture world (not that I have my finger on the pulse at the best of times!).
Jan Grarup has been awarded the Oskar Barnack Prize 2011 for his pictures made just after the Haiti earthquake.
It's pretty damn good that we get to see the entries on the prize's site well before the decision is handed down. You can dig through all sorts of things… some magnificent, others that make your guts knot… fantastic. Sunshine/disinfectant etc.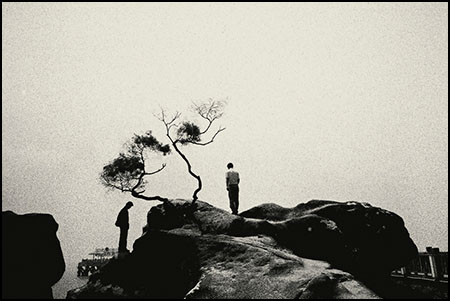 The newcomer award grabbed me by the scruff. Some MAGIC pictures by the young Chinese photographer Jing Huang. Little poetic snaps… fantastic!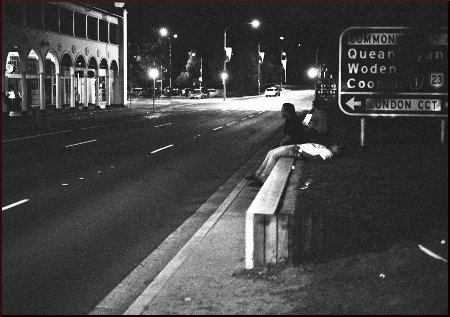 The Canberra mafia have had their annual meeting and the work of Andrew Babington came up. Whispered discussions ensued.
Seems this young man has been roaming the dark streets before dawn, pointing his little camera at all sorts of things around the nation's capital. There has been some interest from the media around town – you'll be able to find interviews online (kisim isn't serving everything on  a plate for you!).
He's busy, active and pushing along pursuing commissioned and personal work.