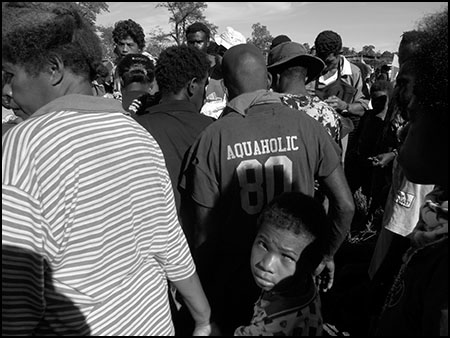 Now all hear this!
I'll be away from computer/phone/garamut/tin and string communication till early/mid May. Don't expect much out of me till then. It's better to not do battle with silly communication headaches and just concentrate on what I'm doing. I'll be back in touch when I land in Aussie.
If it's all gone to schedule (ie I'm not sitting at Jackson's waiting for a delayed flight) then I'm on a plane right now winging my way back into the Autonomous Region of Bougainville.
I'm continuing my project, seeing friends, telling stories and swimming in mountain fed rivers and the South Pacific (maybe scoring a tasty fish or two in the process). I've got a pack full of film and a little camera dangling around my neck… looking good.
Stap isi.
*edit: It's Sunday morning (17th April 2011), and all those who giggled at the thought of me waiting for a delayed flight will burst with laughter at the aircraft downgrade yesterday which saw me bumped and chillin in Moresby for 24hrs. I've just jumped some sneaky net access while waiting for this morning's flight, so last little jobs now before it is called.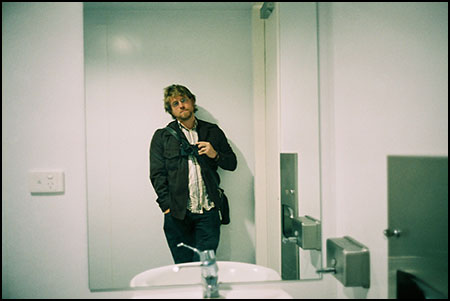 … stupid photographer pointing his stupid camera at his stupid reflection in a stupid non-descript bathroom mirror…
… but seeing this is my little slice of the ever expanding online shit-show: I present to you my masterpiece of wankery. The great thing is that because I'm rolling back into the Boogieville tomorrow (and disappearing offline/out of contact for some weeks), this stupid picture will sit here on kisim for a while, staring back at the masses.
Hurl your scorn and mockery at kisim, it'll eat that shit up and wink right back at you… I just stumble along wondering how Friedlander can make a stunningly beautiful body of work from his reflections and shadows; and I just end up with a dumb snap of my monkey arse staring back in the mirror… ahhh the questions that keep me trying, pushing that button and seeing what pops out!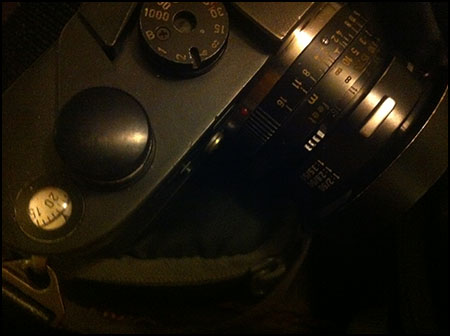 I've landed into BrisVegas this evening. Bunking down in a cheap room next to the airport and not even bothering to open a bag other than to grab my toothbrush and a change of clothes for the morning (need to look nice and sharp for that strip search!).
Tonight is all about a clear head, just sitting back and relaxing before my flight into POM tomorrow.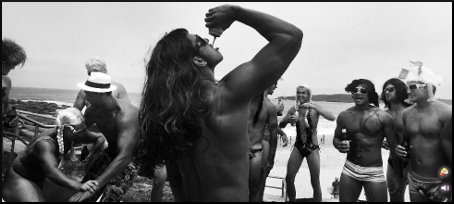 BIG BIG ups to blondz (of brokenbench fame) for his spot as a finalist in the 2011 Moran photographic prize!
The official announcement went out today naming the pictures that would be hanging in the exhibition; all in the hunt for a decent payout that will help fund a good deal of work in the future.
blondz has a photograph from around the traps near his home in Sydney; a few of the infamous 'bra boys', that group that seems to have become an oft discussed and divisive topic.
So all those in within striking distance of Sydney should get over to the show opening in the near future to celebrate contemporary workers and applaud their efforts (or just heckle).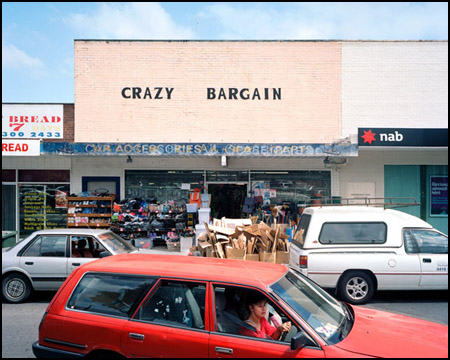 Louis Porter is a fantastic photographer from Melbourne (well, he's really from the UK but we'll claim him 'cause he's so good).
You've all got to get on over to his site and devour the pictures there. Magic magic magic!
Porter's show Australian colour was hung at the Monash Gallery of Art around the same time as Camp Slayer in 2009. I didn't get to see his show hanging, just admired it from a distance. Regrets still about not being able to hang around and stare at the prints.
I was digging around on the Barnack site just the other night and got to spend some time looking at his Bad driving series. He lets things breath without the cold (cool) stand offish approach that so much colour work of the last twenty years was infected with. Lots of fun, a bunch of giggles and some strong (STRONG!), dynamic pictures that hold together and really rip your eyes open to the possibilities.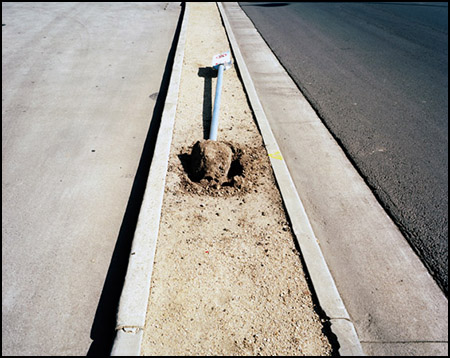 He has ventured into the world of books (bless him – such balls to cross that bridge!), and I'll be making my little order as soon as I return from the Boogieville (cash is so tight at present that I'm begging change for my bus fares – well, and for my hammer habit).
So as always kisim piksa is telling everyone to step away from facebook, youtube and your favourite porn site and wing your way over to Porter's pictures (better yet get to an exhibition or buy a book!!).
It's fantastic that we are blessed with such talented shooters in Aussie… sometimes we just need to remind ourselves.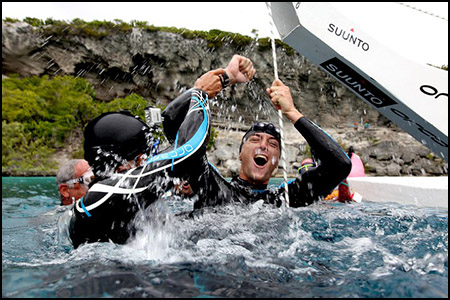 This all happened late last year; but in the blur of baby news, international house moving and all the other bits of getting on with it… I missed Will Trubridge (the NZ fish) swimming out passed 100m of depth! He is truly a stunning freediver, one of a number of talented NZ divers.
Now I was bowled over years ago when Martin Stepanek swam through the 100m with a monofin on… absolutely floored.
But here it is… this guy Trubridge ditched the flippers and breast stroked down till his body was negatively buoyant, continued to quickly sink until he hit that crazy depth, then turned and swam all the way back… UNBELIEVEABLE!
So now he's out beyond that significant mark, and we'll see where the human body can go with this incredible undertaking.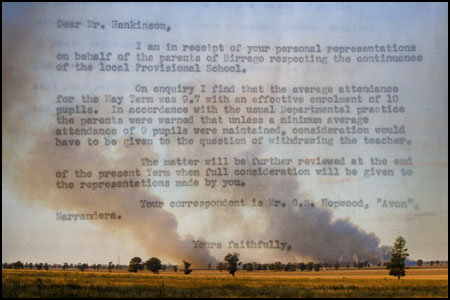 kisim piksa mentioned recently that Mayu Kanamori (of brokenbench fame) has embarked on a fascinating residency at the CAD Factory Rural Residency in regional NSW.
Many of these endeavours disappear off in anonymous obscurity, but the CAD Factory has a blog running, updated by the artist-in-residence.
This is fantastic; get on over to the CAD Factory blog and follow along!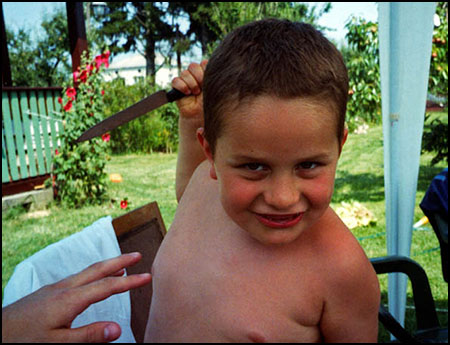 Paul Kwiatkowski's project And every day was overcast popped up on AmericanSuburbX a while back, and seems to be garnering quite a bit of attention.
I am confused as to if any of it is 'found' pictures (whatever the trendy term is now – I've heard 'vernacular' a lot, but the goal posts seem to move frequently). I've seen quite a few references to the pictures in different dark corners of the web, some that seem to allude to various versions of a working effort.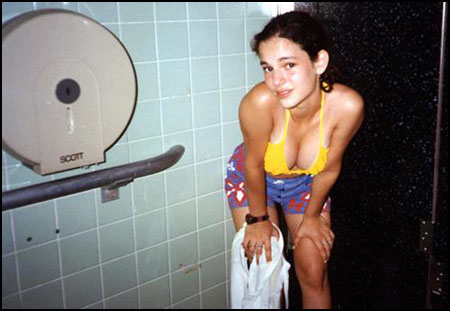 Ignoring all this stuff sends us back to the wacky pictures from Southern Florida; rough, saturated, unfinished and fantastically addictive. I find some of the photos of people posing with their alligator trophies fascinating. The captioning throws a slant across many of the photos; sometimes helpful, a others a little shrug worthy and unnecessary.
Suffice to say, it's out there, people should get over to see the work, to dig around and soak up the broad field of contemporary photographers/workers and their output.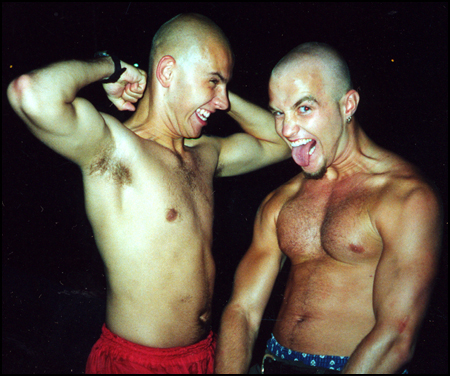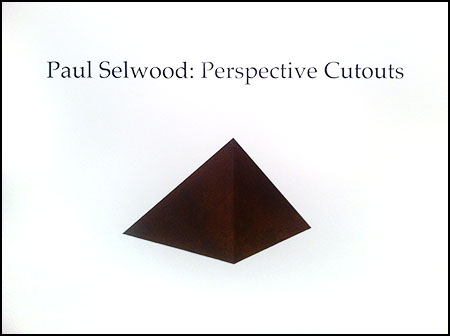 Paul Selwood's show Perspective Cutouts opened at the Drill Hall Gallery in Canberra to a solid crowd and much excitement.
Selwood is regarded as one of Australia's more important sculptors (rightly so) and the work on display messes with your head pretty seriously. Objects jut out off the walls at you while at the same time remaining flush to the clean gallery surface… my little brain loved the theatre of it.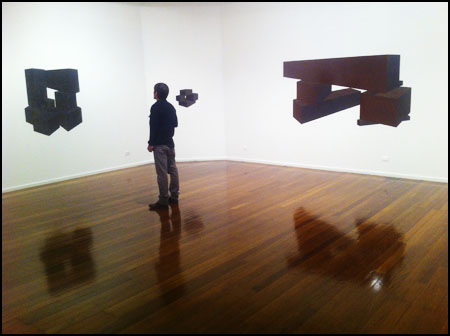 The reactions of the attendees certainly confirmed the already favourable reviews this work has garnered in previous hangings.
Eddie and I had him round for dinner on Wednesday night (he's Edwina's uncle), so there was some good gossip and stories swapped about. Great to hear that this show has a number of tour venue's already lined up and many more eyeing it off; circling with intent.
08 April 2011 at 12noon for a conversation with the artist at the gallery: get there if you love art/sculpture/something challenging.