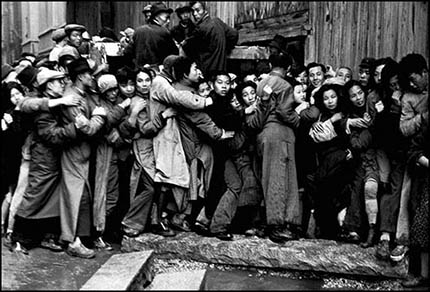 I received a magic little present from my sister-in-law and her squeeze the other day. Pip and Toby gave me the beautiful tome The Modern Century (ISBN 978-0-87070-778-0), the book that lays out some great little essays and was released with a retrospective at the MOMA.
With the wallet feeling a little light since moving back and plowing cash into all the usual chores of establishing a house, the book fetish has had to be put on hold for a while (a little tear in the corner of my eye).
So when this wonderful gift appeared from under the wrapping paper I instantly danced a little jig and dove straight in to enjoy the wonderfully complex pictures that this man was able to come up with. Haven't put it down since.
While some may shrug at HCB and the release of another volume… well ya just can't go passed good work… it has a way of holding in there!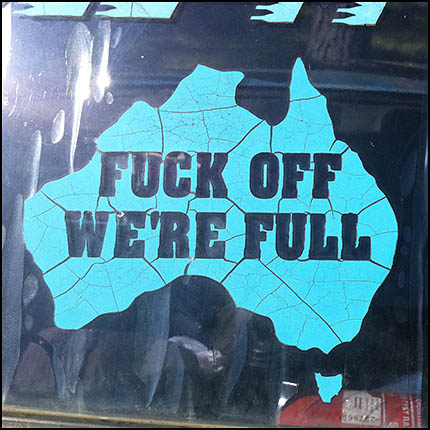 Sometimes you just have to stop and shake your head while trying not to wretch at the sheer stupidity of the human race. We are individually and collectively responsible for the frightening and terrorizing fact that stickers like this exist in Australia, and are displayed with pride on vehicles as they cruise around. Add a national flag draped over your shoulders like a cape, a southern cross tattoo somewhere on your back and a beer in hand… there we are, the rising star of Australian patriotism: The Fool.
So while we're all trying to come to grips with people drowning in desperate attempts to land in Oz and find a different life, with conflict raging overseas that we dove headlong into with excitement and domestic politics stalled due to petty squabbles… let's all 'unite' under our flag and 'take back our country' (vomit).
I swear, sometimes it is just so appalling that I'm tempted to move to New Zealand (and that means it's right at the point where a tsunami might be the answer to Billy's long held prayer in an Aussie context).
The Herd got it pretty much dead on in 77% with:
Captain Cook was the very first queue jumper
It was immigrant labour that made Australia plumper
Enough is enough, whiteys go pack your stuff
Don't wanna live in England? That's fucking tough
I'm sick and tired of this redneck wonderland
Most've you stay silent and I can't understand
I just can't understand (understand)
Today has been a wonderful thing. I sat with two photographers here in Canberra, drank coffee and listened to their insights and ideas about the photographic world down here. Having just landed it's great to meet shooters from around the Territory and slowly make those connections.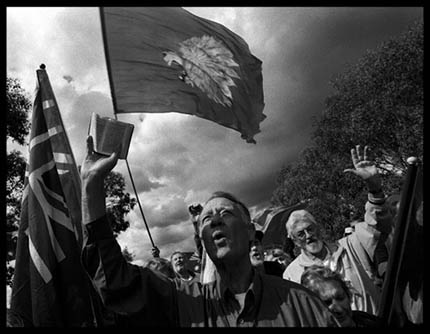 Lannon Harley, a staffer at the Canberra Times and active photographer, drank coffee with me this morning and gave me some great insights into a few things going on and a few spots to look. Some good coffee down in civic and excellent advice. He's busy with commissioned and personal pictures, along with a relaunch of his website and a busy January coming up.
In the afternoon I had a wonderful sit down with Lee Grant while staring out the big windows a few stories up in the NGA. Many would be aware of Grant because of her recent win of the Bowness Prize as well as her interesting online projects such as Light Journeys. There are a few more things in the works, so keep your beady eyes peeled!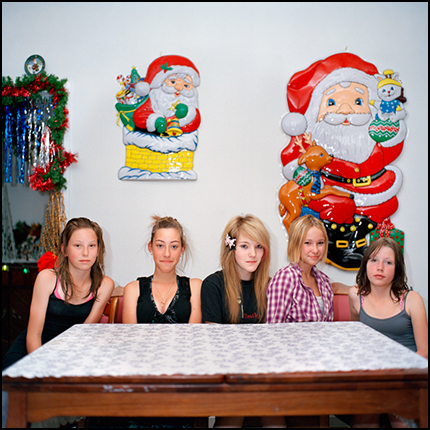 The Bowness success has sunk in, and she's busy juggling her work at the National Gallery of Australia with pushing on with personal pictures and other endeavours.
This is the beautiful thing about landing in Canberra. Every photographer I ring/email/meet up with is unguarded, full of enthusiasm and honest about where they're at. Things are looking up.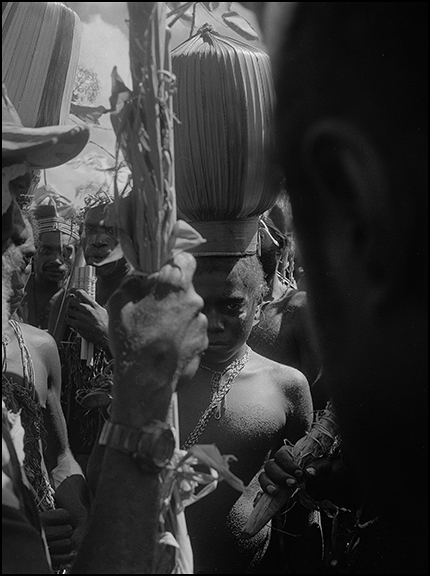 I got my first proper look at an Upe at the inauguration of President John Momis earlier this year. A group with a few young men wearing the iconic head-dress had travelled up from Wakunai to attend the event at Kubu and celebrate the day.
I squeezed in closer at one point (after seeking permission from these people– before anyone gets up on their little high horse) early in the day and made a few quick exposures of this young man as he was about to enter the space before the seated dignitaries.
He looked at me for a brief moment before continuing on with the preparations needed, following the guidance of the older men present.
They are a stunning thing to see in person, and I count myself lucky.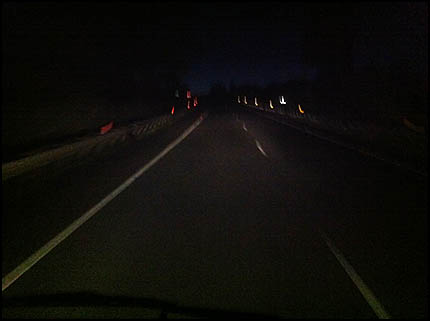 The last few days have been a blur of long distance driving, furniture hauling, coffee, furniture hauling, menial work and furniture hauling. Still, my work space is getting closer and closer. Scheming and measuring is well underway.
The classic Hume Hwy Shuffle (one of Australia's great drives…) went down a treat on Saturday, once north just before sunrise and again heading south at the end of the day. Didn't get to the great tonne on the odometer, pulled up short at around 920km… a decent effort all the same.
Caught up on sleep now, so onward to get things-a-crackin!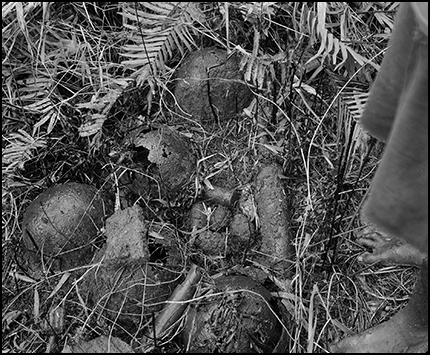 This is a little picture from Torokina in South Bougainville. A bunch of hand grenades nestled in amongst a mortar or two and a bunch of rifle ammunition sitting on the edge of a food garden.
The US Gov has begun the process of cleaning out the munitions left in Torokina following the Allied withdrawal after WW2. These dumped munitions pose an ongoing threat to the population as locals harvest the explosives for use (or simply disturb them while gardening or clearing jungle).
Luckily the first efforts of disposal removed the small cache shown in the picture above. Fingers crossed that 2011 will bring further clean up operations.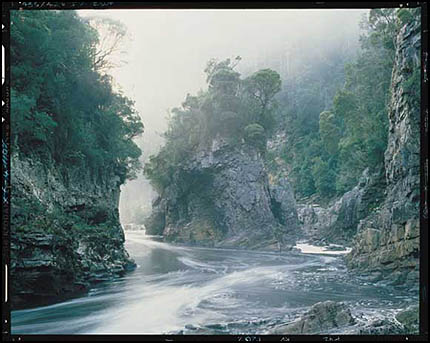 There is a room in our little house full of books at the moment… they are sitting in piles, waiting for a solution (shelves… but where?!). Things I have had in storage for years. It is wonderful to find books that I adore, flicking through their pages, looking at photographs that are burned in me.
I came across my little collection of Dombrovskis books a few nights ago. I reached for Wild Rivers, and retired to a table to marvel at what this man accomplished before his death in the Arthurs in 1996.
Peter Dombrovskis pointed his camera at the Tasmanian wilderness with a cutting gaze and a deeply held belief that his celebration of what was there could help shape debate and conversation (which it did!). Unlike so much 'landscape photography' of the last 20 years (oh god, can we bare another saturated pano of sunrise/sunset over the Aussie geography?!), Dombrovskis made pictures that functioned in so many arenas. His tight little studies of stone, flora and fauna are gorgeous things. Some friends of mine (the Catfords) have a stunning print of his on their wall, complex and subtle, without the 'look here' drama of so much calendar 'art'.
And there is the conundrum, as much of Dombrovskis' photographs existed in the public arena as just that… pictures in an annual calendar.
The books that he was alive to produce are stunning. Wild Rivers contains many images that he made while fighting to stop the damming of the mighty Franklin River in South West Tasmania. The most famous image from this period (and one that is burned in the collective Australian psyche – both social and political) 'Morning Mist, Rock Island Bend' is simply part of a greater body of work rather than the stand alone piece it is often approached as. I am always gob-smacked by 'Pebbles and pothole' on page 108, a rich picture full of golden, bronze and copper hues that is without trick or fancy photographic "I'm an artist" silliness. Still, 'Morning Mist' had such a profound effect on the national debate that it is often cited as pivotal in the change of government and the rise of environmental awareness in our political discourse.
Reading Bob Brown's account of one of the early trips down the Franklin in small rubber rafts lights the fire in the belly and makes me want to grab a pack and hump back out to Frenchman's Cap, to sit on top and gaze down at the path of that great river as it snakes its way around the gleaming white mountain.
Dombrovskis' second wife Liz sold his archive to the National Library of Australia in 2009. Some 3000 of his pictures are now held in this great collection.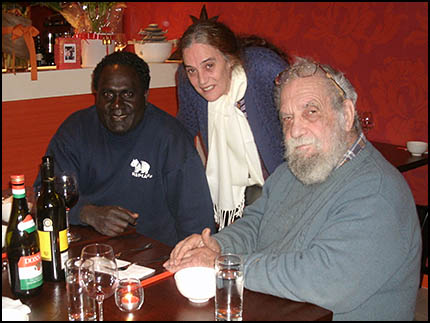 I caught up with my friend Clive Porabou a few days ago. We spent an afternoon chatting, sitting in a beautiful park in the ACT under the big eucalypts. He is in good spirits, and full of energy for some new projects that he has planned. Can't wait to see what he makes.
While we were sitting there in the sun Clive described the funeral and wake of Max Watts who had passed away earlier in the week. Watts has a long record of agitation, activism, journalism and philanthropy. He is a well known figure in the 'active Left', and was a vocal conduit through which a lot of Bougainville Crisis 'correspondence' landed into Australia. Clive sang for Max on the day everyone came together to farewell him, and described the event as an emotional time full of friends.
I never met Watts, only had a brief chat on the phone when Clive was at his house, sometime around my show at the Monash Gallery of Art in 2009. Max had a broad connection with many photographers, film-makers, journalists and activists. He pops up in a lot of contact lists!
A number of tributes can be found online, and Clive made an entry on his site recently.