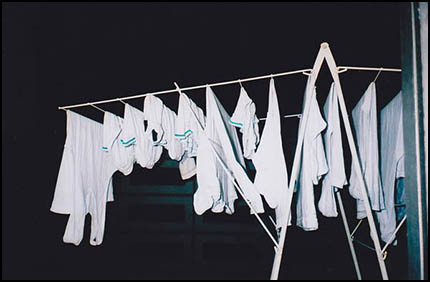 Miralis has done it again… his incredible new folio over on brokenbench is a must for all lovers of photography.
Left to Us is a deeply intimate look at two people in the inner-west of Sydney, bound by the walls of an apartment. There is a degree of compulsion to the work; full of joy and at the same time there is an undertone that I haven't quite figured out yet (if ever). A gorgeous colour palette throughout, something I stare at in awe…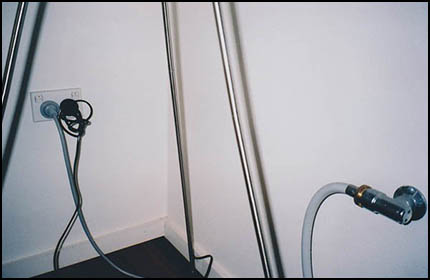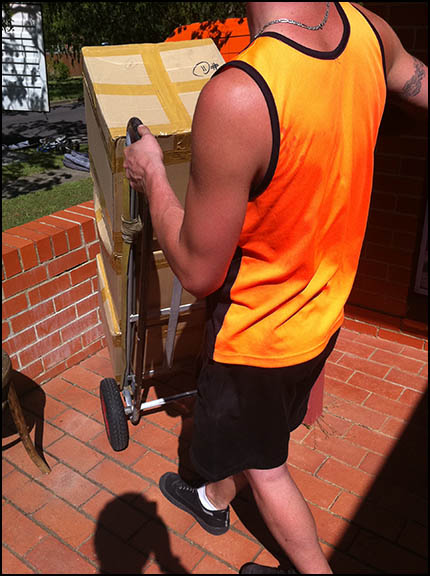 We've finally made it through the door of the little house that will be home for the foreseeable future!
Found and purchased it earlier in the year; we've landed back in Australia, removed the tenants with a crowbar and been handed the keys.
A few delays (just the usual stuff) have meant weeks of bludging off friends and family, surfing their couches and spare beds. No doubt we've left a trail of destruction and crushed relationships in our wake.
And now the fun begins as we hang our pictures on the wall without having to ask permission, break out a paint brush when we feel like it and, unfortunately, repair any problems that crop up. The truck has left after dropping off our stuff that has been rotting in storage for the past 5-6 years, so it is time to start unpacking boxes and then wonder why we kept that moldy futon or the 17 broken coffee mugs found in various council clean ups and garage sales…
Sweet.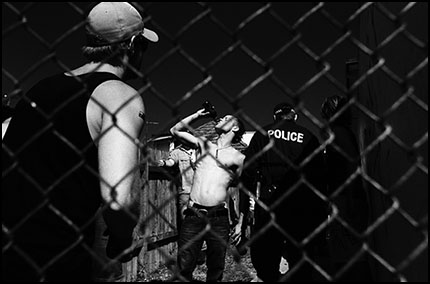 I was at a family get together yesterday and got talking about the photographer Andrew Quilty. The sculptor Paul Selwood is my missus' uncle, and Quilty had recently pointed his lens at some of Selwood's work.
A few of us got talking about collectives and their function for many documentarians in relation to engagement with the wider gallery/institution world.
Either way, that conversation aside, Quilty is a great photographer. Bold and direct. Many people would recognize his crazy strong pictures from the Cronulla riots (a very dark, frightening event pointing to much deeper, entrenched issues).
Andrew has moved quickly with some big awards and now as a member of the excellent collective Oculi. Exhibitions and books have been produced as he pushes forward. He has a wonderful website with a stack of photographs for you all to dig through (which you are encouraged to do!).
A big thumbs up for the strong photography pouring out of Australia.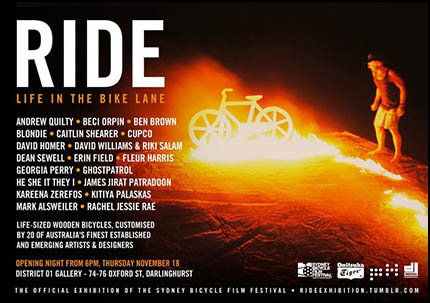 kisim piksa continues the festival of throwing props out to brokenbench with another heads-up.
That sketchy fucker Blondie is exhibiting in RIDE, the official exhibition of the Sydney Bicycle Film Festival. A really diverse group of workers have come together in the spirit of plywood bikes, fashioning all sorts of wacky stuff for the masses to enjoy.
For all those pedal freaks who scoot passed me at the lights, this is the show for you!
District 01 Gallery
74-76 Oxford St
Darlinghurst, Sydney
Opens Thursday November 18, 6pm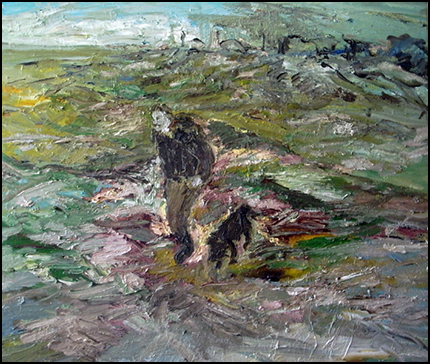 Thérèse Harrison of brokenbench fame has a show opening tonight.
This exhibition of paintings is hanging for a limited time, so if you're within striking distance get over to sneak a peek (or open your wallet).
Saturday November 13, from 6pm
15 Miller St
Haberfield 2045
NSW Australia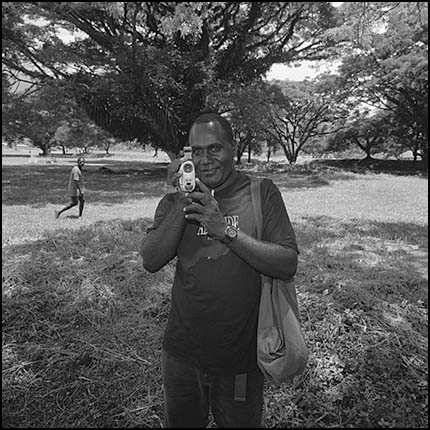 For those committed readers Clive Porabou is a familiar name here on kisim piksa. Various descriptions of him can be found around the place, ranging from singer/writer through to militant… (yawn), either way he's someone I have a lot of time for, and I thoroughly enjoy his documentary efforts in film.
Clive's touring around Aussie at present, playing gigs and engaging with various media organisations to convey his political message and agitate for greater representation and coverage. All power to him (whatever your inclination). Hopefully we'll catch up for a meal in the near future.
Clive and I first crossed paths in late 2007/early 2008 in Central Bougainville. As always introductions through relatives of his and away we went, telling stories and gossiping.
He has provided footage and other services to a number of large (and small) media organisations when they have done work in The Autonomous Region of Bougainville (the Australian Broadcasting Commission have benefited from his work in the past). His own documentary efforts (such as Mine Dilemma) are well worth tracking down, as they are Bougainvillean directed and produced, a great change from the fly in/out mafia (which I am really a part of – we miss so much of the subtlety, connections and simple insight).
The old site Mekamui.org has bits and pieces (such as the well known Havini essay), and his blog seems to get a little more in it regarding his own travels and experiences.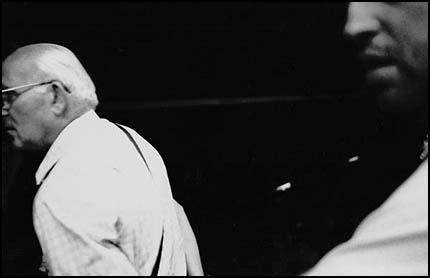 The new German publication Zitrone has run Underpass by Spiro Miralis. It is a great body of work, and no doubts Mr Miralis knows black when he uses it.
Brokenbench has a larger edit of the project, and all should get over there and snoop around.
http://www.zitrone-magazin.de/