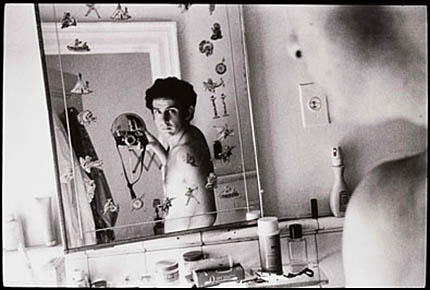 Danny Lyon popped his head up a while ago with a random, rambling, nonsense whine that somehow made it onto AmericanSuburbX. The Digi and The End of the World as We Have Known and Loved It (no less).
I don't really understand it to be honest… I don't want to hear about his ranch, his farm, his fishing camp and all that from print sales… and then read on as he creates a fictional scenario around which he bases all the 'amusing' lessons learned… it just seems so…
yawn. Read it here

Best you get over to AmericanSuburbX for all the other stuff!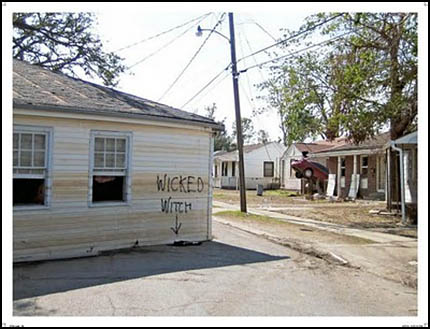 Misrach has a new book out.
He's gone all Walker Evans with a fetish for photographing words, graffiti and text. He's pointed his camera at scribbles in New Orleans following Hurricane Katrina.
He's donated the work to a number of galleries, and all the book royalties are going to a New Orleans charity.
Details on the book here.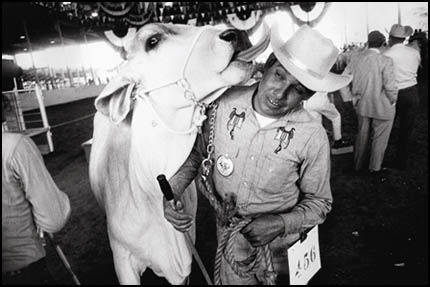 Garry Winogrand was a monster of a photographer. His time was cut short by cancer, and the sheer scale of his photographic life on a day-to-day basis makes for plenty of banter… suffice to say he made some sensational books and singular images (let alone the wider – huge – body of work). His role in the Toward a Social Landscape and New Documents shows made many sit up to take notice.
Robert Adams wrote about the last time he saw Winogrand, describing a meeting of gallery types, photographers and artists at the Fraenkel Gallery in San Fransisco where they all enjoyed wine and French bread together. Adams goes on to say:
"Winogrand had to leave early to catch a plane, but before the party closed in over the space he'd occupied there was visible a humorously untidy ring of bread crumbs where he'd been. He had, as he did when he photographed, turned to everyone, taking pleasure in their company and in the good food. It makes me smile to think of him there in that halo made from the staff of life".
There is a wonderful little quote that goes around… Winogrand had been asked if he felt bad about missing pictures when he was reloading his camera, to which he replied "No, there are no pictures when I reload."
You can find many interviews (written, audio and film) out there for your consumption. The audio file below is one from MIT in the 1970's. It is a good mix of Winogrand answering questions and fighting back against things he found too cute. You definitely get a little bit of NY seeping through…
Download the mp3 here.
And just as a random laugh, I lifted the picture below from Gandy's site… Winogrand's last Leica before his death… look at what he did to that pressure plate… holy shit.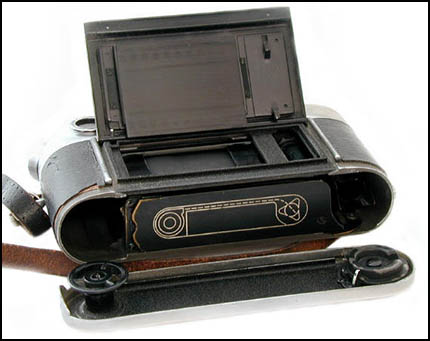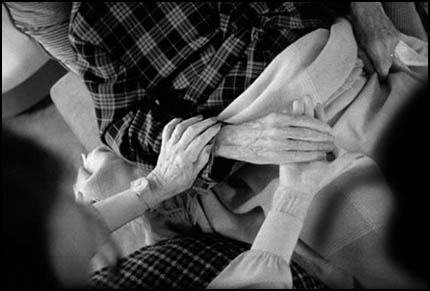 One of the 'grandaddies' of the digital slide show, Pedro Meyer's CD ROM I photograph to remember was going around in the very early 1990's
He had pointed his camera back at his parents.
It is now available online, both as something to watch while connected or as a download for your favourite device.
Online here
Download here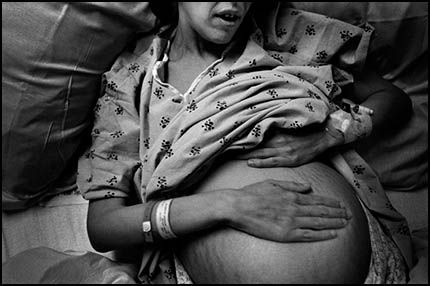 I just stumbled across Darcy Padilla's work over at Fifty Crows. Magic stuff, the work with Julie is h-e-a-v-y, and is not a run in and out gig. Then as you dig further the work get's broader and her commissioned work ties in well without the jarring difference that some other workers struggle with.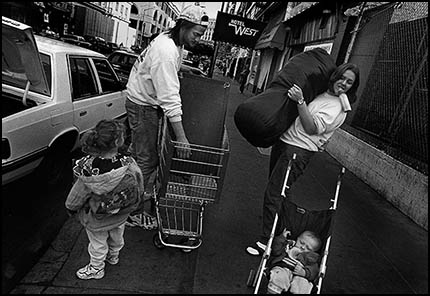 I want to put Padilla's own words in here (I stole them from fifty crows):
"For the last 16 years I have been documenting the life of an AIDs-afflicted woman, Julie Baird. Julie has been on her own since her sexually abusive stepfather threw her through a glass window when she was 14 years old. She ran away from home, lived on the street, used drugs, contracted HIV, and had five children. When I first met Julie in February 1993 in the lobby of a SRO hotel in San Francisco's Tenderloin, she was 18 years old and had just given birth to her first child, Rachel. Julie and Jack Fyffe, the 19 year-old father were both HIV positive. Rachel, they said, was their main reason for living.
Throughout the years I have photographed Julie's complex story of AIDS, abusive relationships, drug use, multiple homes and poverty. A victim of child abuse, Julie often neglected her own children. A high school dropout, she depends on welfare to feed her family. HIV-positive, she fights to stay off drugs.
Julie's is a story of a survivor. The telling of it enriches the understanding of the poorest and most desperate among us. I am continuing to document Julie's life and it is my fervent hope that Julie's story inspires a greater awareness of the plight of people like her."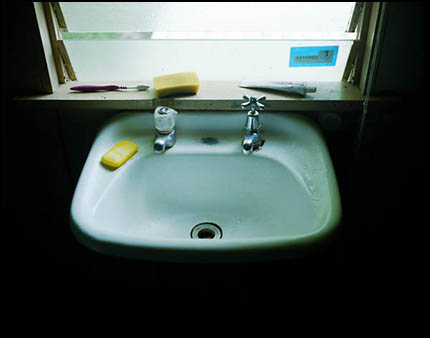 Sean Davey (of brokenbench fame) has been selected to hang work in the 2010 William and Winifred Bowness Photography Prize exhibition at the Monash Gallery of Art.
His picture 'Cooktown, Queensland (2010)' will be considered by the assembled panel next month.
This is one of the most significant prizes in Australian Photography, with $25,000 for the winner as a non-acquisitive prize. This sort of cash can help the photographers big-style seeing so much incredible work is done by people working out of their own pocket.
Big respect to Sean, and my fingers are crossed for 'big success'.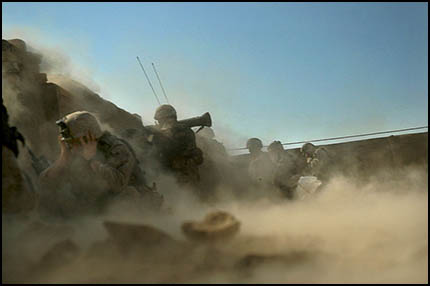 Fouad Hady has made a short documentary that examines the legacy of depleted uranium on the city of Fallujah in Iraq. Scenes of highly deformed new born babies and huge numbers of leukemia sufferers meant that it was confronting (and supposedly heavily edited to make it watchable on Australian television… wonder what wasn't shown…). It was recently shown on the Dateline program on SBS. I believe it can be watched online.
The use of depleted uranium is surprisingly broad in the military context, but its most contentious is the armour piercing rounds that are fired from vehicle and aircraft mounted guns and cannons. There are differing views on the effects of the trace material left over after the rounds tear through a targeted vehicle (or building).
The Australian photographer Ashley Gilbertson spent many years photographing the Iraq conflict, and was there in Fallujah for some of the heaviest fighting. His photographs have been recognized with a number of awards. His book Whisky Tango Foxtrot (get it?) is well regarded and on my list once I squirrel away a little more cash. He has gone on to spend an extended amount of time examining the post traumatic stress suffered by many involved in the Iraq war. He is a member of Degreesouth and VII Photo.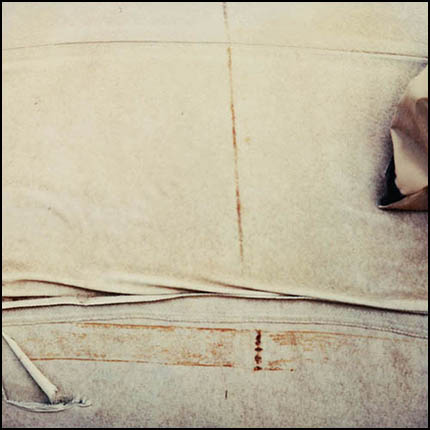 It has lead the news cycle today. "US Combat troops are all out of Iraq". Lots of footage of Strykers rolling across the border with Kuwait.
And yet there will still be over 50,000 in the country, the large (huge) base complexes remain – let alone the monstrous/gigantic US Embassy in Baghdad (over 1000 US officials and growing).
Camp Slayer is still there, out on the huge lot near the airport.
Both sides of Australian politics (well, the two parties at least) went in there all keen and happy for a fight… and now we can't even be bothered to pay attention. It's the mess we're all ashamed of, so we'll just hope that it goes away (somehow).
The Huffington Post has a short piece by Michael Schwartz, an interesting little read. It is here.
President Barrack Obama's statements in Chicago from 2006 (before he was President) are an interesting exploration of the idea of an ongoing 'strike force' presence in the region. Download the PDF here.
And just for a random bit of internet reading, here is a list that I lifted from McClatchy (by no means definitive!) of 'violence' in Iraq yesterday (so it doesn't have the huge market bomb listed from the day before):
Baghdad
A roadside bomb targeted civilians in Beirut Square, east Baghdad, at 8 a.m. Wednesday, injuring four.
A roadside bomb targeted civilians in Zayuna neighbourhood, east Baghdad, at 8.30 a.m. Wednesday, injuring two.
Armed men in a speeding car assassinated a government employee in Harthiyah neighbourhood, central Baghdad, at 9 a.m. Wednesday, using pistols fitted with silencers.
Armed men, carrying pistols fitted with silencers, assassinated Judge Jabir Jumaa in Aden Square, Hurriyah neighbourhood, northwest Baghdad, at 2 p.m. Wednesday.
Two roadside bombs detonated in quick succession in Kesra neighbourhood, Athamiyah, north Baghdad at 5 p.m. Wednesday, targeting a police patrol, injuring two policemen and eight civilians.
A mortar round slammed into a house on Abu Nowas Street, central Baghdad, Wednesday, injuring two civilians and causing extensive damages to the house.
Armed men attacked a Sahwa checkpoint in Mada'in, a southeastern Baghdad suburb, at around 9 p.m. Wednesday, killing one Sahwa member and injuring two others.
Two roadside bombs targeted a U.S. military convoy in Taji district, north Baghdad, at 9.15 p.m. Wednesday, causing damages to one Hummer vehicle. No casualties were reported.
Armed men in a speeding car shot and killed Judge Najim al Talabani of the High Court, on his doorstep in Atayfiyah neighbourhood, north Baghdad, Tuesday, while he was just about to go to work.
Diyala
Armed men entered Rabee'a village, 120 km to the northeast of Baquba and shot and killed three civilians who supported the Sahwa Councils and cooperated with the security forces. They threw fliers in the village that read, "Anyone who cooperates with the government, the Sahwa or the Americans will face the same fate".
Nineveh
Armed men opened fire at an army checkpoint in Tanak neighbourhood, west Mosul, Wdnesday, killing one soldier.
A roadside bomb targeted an army checkpoint in Karama neighbourhood, east Mosul, Wednesday, killing one soldier and injuring two civilians.
An armed confrontation broke out between armed men and an army checkpoint in Jaza'ir neighbourhood, east Mosul, late Monday in which a civilian was killed and his young son, who was with him, was severely injured.
Kirkuk
Armed men in a speeding car shot and killed two policemen on the bridge in Domeiz neighbourhood, Wednesday.
Anbar
A roadside bomb targeted a police patrol in Ta'mim neighbourhood, in the centre of Ramadi, the capital of the province, Wednesday, injuring one policeman and two civilians.
A parked car bomb targeted a police patrol in Kamsa Kilo area, to the west of Ramadi, Wednesday, injuring three policemen, two of whom are critical, and four civilians.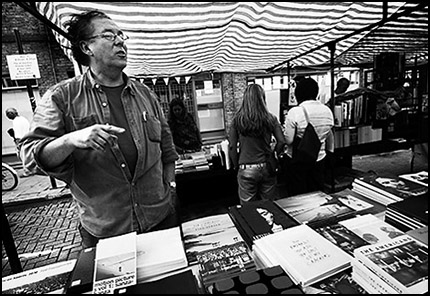 A little over two weeks ago Neil Burgess used the auspicious date of my birthday to declare that photojournalism was dead (and further that this death was simply the corpse being taken off of life-support rather than a dramatic exit from the saloon with all guns out in blazing-glory).
The awful thing is that when you read the piece it's hard to argue with the train of thought (but you gotta somehow stay angry and fight back… maybe).
Read it here.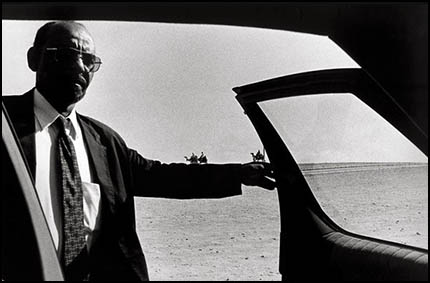 Gibson polarizes a bunch of people. His graphic approach and 'artiste' like existence means he is somehow dismissed by some as being flippant and without too much weight (?!). His output over the 50 odd years of his photographic life has been consistently strong without reverting to a parody of himself.
L'Histoire De France sits on my shelf, the first colour work of his that I have been exposed to in the long printed form. There are some killer snaps in there, one of a stair case and amputated figure that is awesome… but at the same time a few which leave me cold and without any real spark.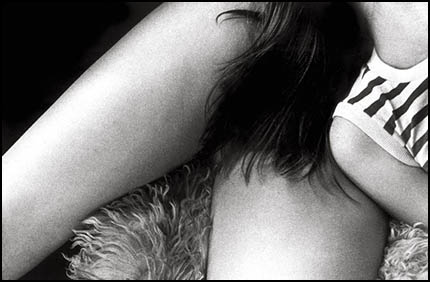 His 'signature' bold, solid blacks and sharp heavy grain make much of Gibson's b&w work quite easily recognised with its graphic shapes and unflinching gaze. The oft repeated mantra of 'TriX and Rodinol' probably simplifies the process a little too much, but at least gives a basis to some of the visual cues people react to.
For such a 'name-artist' I was recently surprised by the prices of his prints. The numbers I've seen, while a chunk of change that I don't have hanging around, are not the stratospheric $$$ that so much photography seems to be commanding at this point.
In a yawn-fest (and really cringe worthy) step, Gibson's long commitment to the Leica RF system has meant that he has been dragged into (or maybe happily jumped aboard) the marketing and 'special limited edition' world of product creation. There is a 'Ralph Gibson limited edition Leica MP' available, endorsed and signed by him… and it is even featured on his website! I found this very surprising… I wouldn't blink if it was hyped up on the Leica page, but on his own site where his work resides (?)… it just comes off as unnecessary and a bit slimey.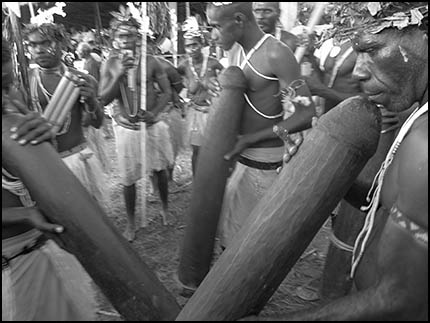 The Bougainville Mona Festival is running again this weekend.
The front of the festival program gives a great insight into the concept behind it:
Together we set sail to find lasting peace, goodwill, harmony and security for the unification of Bougainville through the Cultural Exhibition of the Bougainville Mona Festival – 2010
As always these events are fantastic to attend, but for me they are not something that I really get excited about to photograph…
…however when I met Kanege(!!) I was so excited I hyperventilated (just a little).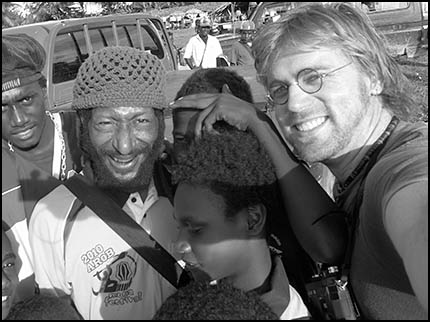 Below are a few little tunes I recorded this afternoon for your downloading pleasure.
A bamboo band with some synth here
And then an all-out with a bunch of groups going at it at the same time here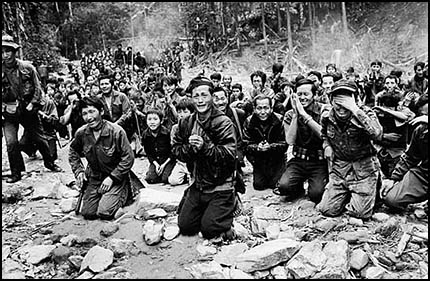 A recent short chat with JCJ brought up the work of Philip Blenkinsop. I think a tv show about some of his work had aired recently in Australia.
Blenkinsop is truly under-appreciated in Australia. He is incredibly committed and driven, mainly working in SE Asia as he has been based in Thailand for many years now. His work is so strong, and at one point Martin Parr of Magnum Photos sited him as an example of a photographer making pictures in conflict that show us the awful reality rather than the dramatic veneer that we are often exposed to.
The Hmong's involvement in the conflict through the Vietnam/Laos/Cambodian conflict is known but often ignored. Their work alongside US Special Forces and other interests has resulted in them being hunted down to this day by the 'victors'. Blenkinsop made some stunning pictures with these people, and then tried desperately to bring their plight a little more coverage… he came up against a lot of blank stares.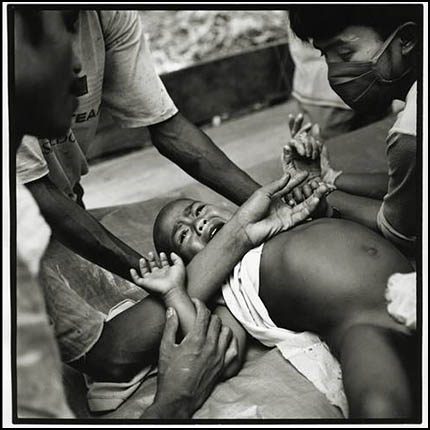 Every small snippet of him speaking, working or being interviewed has always re-enforced his passion and conviction. There is footage of Blenkinsop berating a Nepalese police officer after some of his men had beaten a youth (to death I believe) during the riots of a few years ago. It is a scene which raises questions of involvement and the need for a degree of distance, but at the same time makes it clear that the detached, unflappable correspondent might too often be far removed from the events they report on (and ultimately shape in the public's minds). It also makes it clear that Blenkinsop does not shy away from his core beliefs.
From the NOOR Images website:
Blenkinsop has been described as "a man of guerrillas and of resistances" (Herve Le Goff), and "one of the most essential photographers of his generation" (Christian Caujolle).
Since arriving in Asia in 1989, Blenkinsop's name has become synonymous with forgotten conflicts.
Blenkinsop is adamant that the photographer should never censor scenes through the camera. "Photographers are both witnesses and messengers. Our responsibility must always lie with the people we focus on, and with the accurate depiction of their plight, regardless of how unpalatable this might be for magazine readers."
His work, published in international arenas, has been the catalyst for much discussion and amongst other accolades was awarded Amnesty International's Photojournalism prize for excellence in human rights journalism.
Even a bomb in Bangkok can't keep him down for too long.
Blenkinsop is a member of the collective NOOR Images.