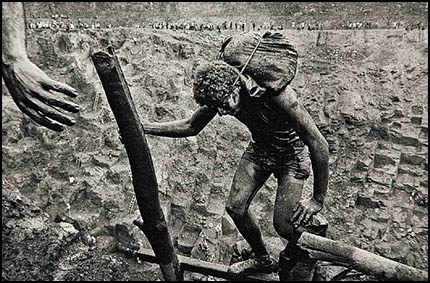 Salgado's monumental projects have always attracted a ton of attention. The pairing of his large tomes Migrations and Workers would add weight to any collection (both physically and with the load of stunning pictures to look at).
I've never been blessed to see a full exhibition of his work; a few singular prints in group shows has been the sum of it, but this probably undermines the greater concept of the projects. Seeing his pictures as 'singles' is fantastic, but no doubt falls very short of the experience of standing in a large space filled with frames building on frames.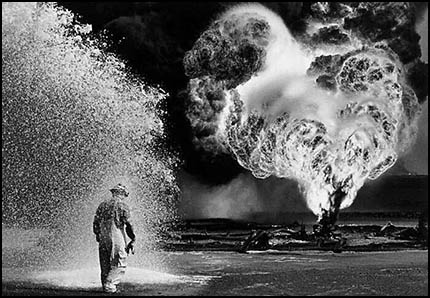 There is a large (and surprisingly vocal) amount of criticism that seems to be regularly laid against Salgado. It usually seems to be focused on the 'beautification' of poverty, trauma and mishap. It is, to my mind, a lazy and easily spat out comment that requires little in terms of commitment to the idea. The pictures are often spectacular, grand scenes that stop you in your tracks to stare at them in awe of the scene itself. This can't be a bad thing if the viewer is at some point left to consider the greater context within which the pictures were shot.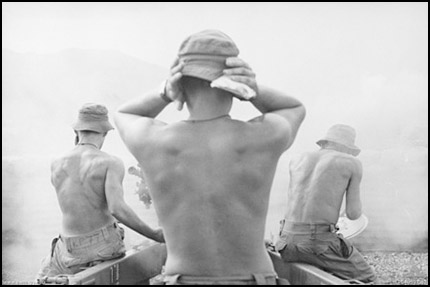 When people speak about Tim Page they often drift straight to the injuries, the drugs and the wild man portrayed by Hopper in Francis Ford Copolla's acclaimed Vietnam epic.
While this is the oft reported and discussed subject matter, it is a mistake to dwell there too long. The pictures he has made over a long career are strong, direct, unflinching things. Until I started looking I never realized he had around ten books to his name (a good indication of my naivety).
He is a member of the superb collective Degreesouth and continues to work on personal and commissioned pictures.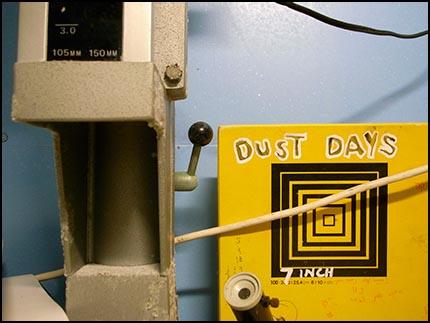 A decent day in the darkroom, splashed around and tried to ensure I made something of it.
Dust Days went back into the enlarger. 'The trees' have been bugging me for a very long time, and a work print has been taped up in my darkroom for a while, letting me look at it often and leaving me considering the larger project. As always you end up with far more questions than you ever wanted, and few answers to settle the nerves.
Gotta push on and see this project to bed at some point. I've worked on it for years, and have (many times) chucked the work into the round file in a fit of rage/despair/disgust (and fear that everyone else will mock it relentlessly). There's a lot of work left in it, but I've got some small steps mapped out that will give me a little momentum and some sense of accomplishment.
Just need to spend more hours and days/weeks flapping my hands around under that enlarger lens!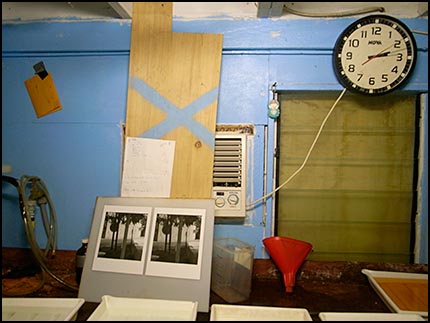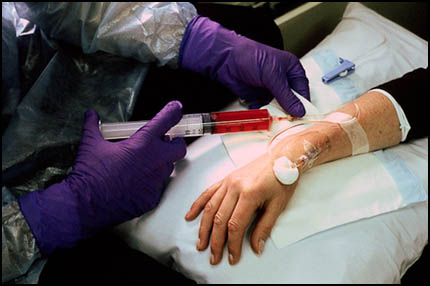 I need to point out to a few interesting sites (for those interested).
Tim J Veling is a brilliant young photographer from New Zealand. Truly brilliant. The photograph at the top of this entry (from his project These are the days) makes me stare at that bright red plunger. The scene reminds us of the gravity of what chemotherapy actually is. Maybe too often it is reduced in conversation to a few sessions of sitting around with a drip, rather than the aggressive infusion of dangerous substances. Veling photographed the difficult time of his mother's treatment and the function of family and friends. His website has a number of projects that can keep you busy for a long time. This guy is great.
Adam Ferguson is a member of VII Photo, and has had an incredibly busy last few years, with recognition and awards for his excellent work in India, Pakistan and Afghanistan. His slick website gives you a great look at his work. Great to see a NSW boy doing so well. Solid, strong pictures.
iO Wright works in a very  different vein to Veling and Ferguson, but it is enjoyable to dig through the website and its mix of original work and curated/collaborative work with others. Lots to see and a blog to scratch around in.
Serps Press is a fascinating small press based in Melbourne who have released some wonderful little books. The time of the small, dynamic private press has returned.
RAINOFF BOOKS is a Sydney based creative endevour that crosses a number of barriers. They are both publisher and performer.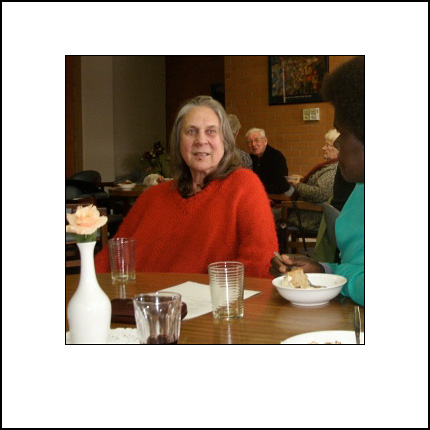 It is now a month since Rosemarie Waratah Gillespie passed away at her daughter's home in Australia. Clive Porabou and Joanne Dateransi had seen her only a few hours before she died from a massive stroke.
Gillespie had a degree of infamy in Australia and PNG/Bougainville. Many were divided over her actions in the Bougainville Crisis and her involvement in the complex political landscape during the tough peace negotiations. There is plenty of material concerning Gillespie's work (as barrister and activist) in Australia and overseas. Interviews, reports and debate over her conduct are easily found.
She had gone on to act as a human shield in the early stages of 'Gulf War Mk2' and written books describing her time in Bougainville and Iraq.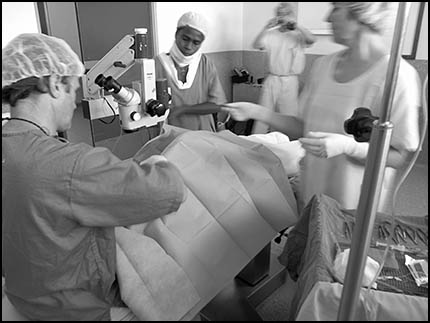 A short entry to point to the fantastic work being done by a group of New Zealand eye specialists (surgeons, optometrists, nurses) who have been in Bougainville for the last few weeks fitting people with glasses and performing life changing operations. From young people finding it hard to see the board at school all the way to the elderly blinded by cataracts, this group have worked themselves ragged helping a large number of Bougainvilleans.
I've spent a few hours photographing a little of their work over the last two days, and will hopefully see a little more tomorrow. Suffice to say, watching a gifted surgeon remove a cloudy lens from a patient's eye and then replace it with a 'brand new one' was a fantastic thing. Big respect.
More tomorrow.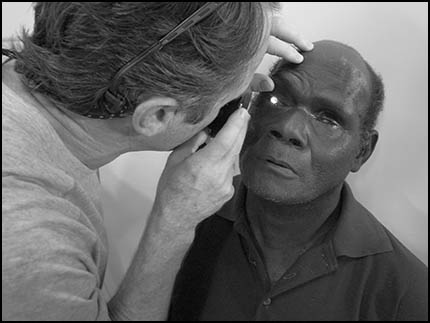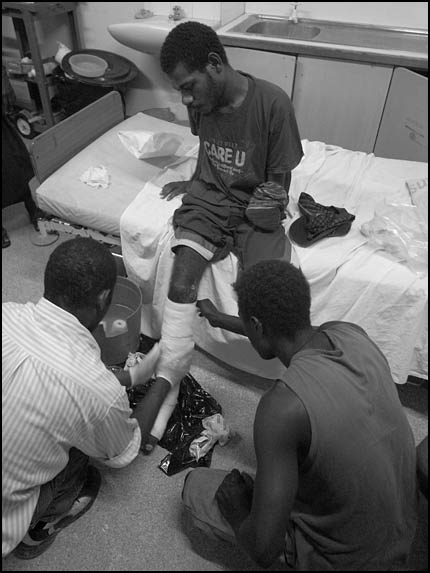 The few people who read this journal should remember Sylvester Minel, a young man from Marawa Village who was badly injured when the WW2 shell he was dismantling exploded (see here and here).
I was down at Buka General today, and looked across the car park to see a familiar face. Sylvester and his family had travelled back up to Buka to have the long cast on his right leg removed and replaced with a shorter cast. The tib and fib are still not strong enough, and when the leg was free from plaster it still flexed around the mid shin. Another few months in plaster will hopefully see it strengthen. The screws and metal brace that connected them have been removed and he seems in good spirits.
In fact he looks good, with a little more weight on and chatty. His brothers help him with mobility at present, and the wheelchair functions in the village (though he obviously has difficulty with grass/sand/mud…).
I spent a while with him, photographing the new cast being put on. I'll hopefully see him down in Marawa soon.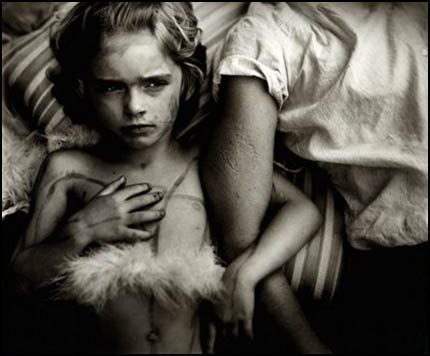 Rather than speak about the trials and tribulations that followed one of her projects (well, maybe two), I'll take this small space and bit of time to beg everyone to enjoy the pictures and look at the much broader body of work (and the fascinating rise of her daughter Jessie in more recent years).
I own a few of Sally Mann's books. Beautiful things. Edwina gave me one of the more recent efforts as a birthday present a while back, about the best gift you could get! Immediate Family is always on the book shelf, can't live anywhere without that small tome close at hand. So many of the photographs in that book stop me dead, and having been lucky enough to see a few original prints I can only imagine seeing the whole thing on the wall. It would be the most glorious thing, alive and glowing on the wall.
Films, countless articles, essays, debates and discussions surround what she has produced, and the concept of the model/muse/artist has been worked through in fascinating ways. You'll find plenty of references to the Charlie Rose interview, but please don't stop there. My connection does not allow me to watch video online, but I have fond school memories of watching the VCR slowly crank along with a doco or two.
Sally Mann has again turned the camera back into the family, pointing it at her husband who now suffers from muscular dystrophy.
Jessie Mann, who featured so dramatically in Immediate Family, has found herself in front of a number of different photographer's lenses following the infamy her mother's work handed her. She is described as an artist and writer, living within a stone throw of the family home in Virginia. Her writing has featured in Aperture and she has been part of numerous public discussions as a panel member. Some wonderful interviews were been done following the exhibition of Len Prince's pictures at the Danziger Gallery in New York. Her participation as artist and 'art' in the project is often visited, and she happily digs into the idea and speaks openly about her experiences.
A lengthy NY Times article on Sally Mann's Immediate Family, published at the time of its opening in the early 90's, can be found here.
The New Yorker has a Jessie Mann speaking about the Len Prince pictures (amongst other things) here.
Jessie also appears over on Eight Diagrams here.