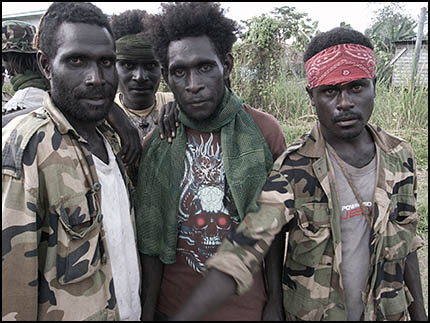 I got back into Buka late last night. Dumped my bags by the door and crawled into bed.
I'm a few kilos lighter (no one panic, I'll invest the time and money needed to put them back on) and have around 130 rolls of film to develop. The proofing is going to be… (enjoyable?)
A fascinating bit of time spent snapping, and it all looked interesting through the viewfinder (as is often the case), so maybe I'll be lucky and there will be a few pictures in there worth keeping (as is often not the case).
A huge THANK YOU goes to Mamma, Leo, Dickson, Simon, Veronica, Moses, Paul and Clara (the Kareki crew) for their kindness, humour, generosity… and for putting up with a scruffy photographer for the better part of a month (a curse you would not wish on your worst enemy…).
Before I launch into the work of figuring out what I've got on film, I thought it best to upload a few short multimedia pieces I finished putting together while in transit back to Buka. They are small groups of pictures I made off the side of my project (mixed in with a little audio recorded while bumming around).
You might find something in there that stirs a little interest. Certainly nothing that will knock your socks off, just some little pictures, a few detours, little enquiries while snapping other things. Have a look through, they are the usual format where you can control the transitions or hit pause, check individual pictures and generally play about.
…
And as an aside… no matter how many people had told me before (this is my usual shortcoming)… it wasn't until I saw the Solomon's border that I understood how beautiful it is… steaming along just north of the islands at dawn on the way in towards Kangu was something special. Truly special.