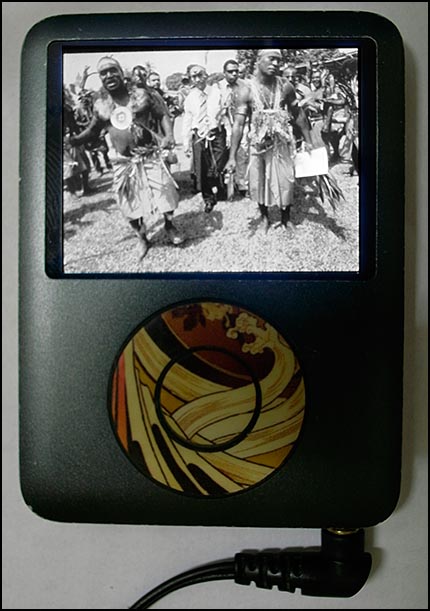 I have messed around late at night and converted the multimedia pieces from South 2010 into little videos that all you goons can load into your iPhones, iPods, fancy little gadgets and devices that will keep you briefly amused while sitting on the bus, train or plane.
Four of them are below, ready for download.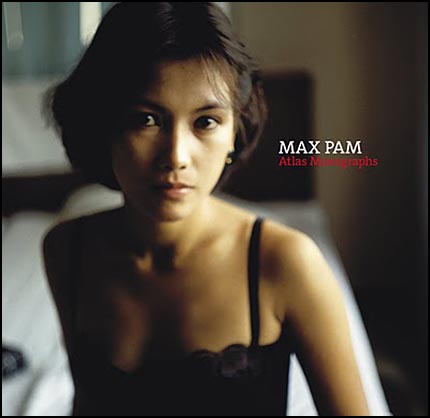 I've only seen a single Max Pam show in my life. It was at the Redfern version of the Sandy Edwards gallery (that effort went a few incarnations… gone now). It was a great few hours spent wandering the rooms in that lovely space. A diary, a journal, small exerts from a much wider undertaking.
Max Pam was recently awarded the 'Best Photography Book Award' at the 2010 PhotoEspana Festival (Madrid) for his book Atlas Monographs. Big respect.
A sparse website exists, and further writing, books and projects are out there for consumption. The Hijacked undertaking sits on my shelf as a hard back (rather than as its guerilla photocopy versions), and I enjoy his introduction and obvious enthusiasm.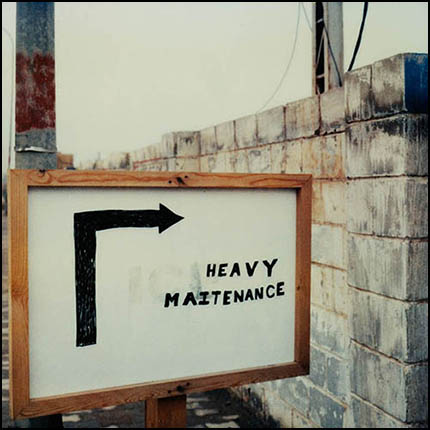 By 'we' I refer to not only photographers but the much wider philanthropic and arts community. By 'FURIOUS' I mean 'we' should be fucking burning in the guts, ready to overturn cars, smash windows, loot shops and torch the neighbourhood.
The Polaroid Collection, a group of pictures put together over many years through the generosity and efforts of many talented photographers, has been dismantled and sold to fund the Ponzi scheme bailout that put a few more nails in the coffin. In the words of Chuck Close (a photographer whose work is in the collection) "These were not Polaroid's works to sell… I gave my best work to the collection because it was made clear that it was going to stay together and be given to a museum."
A.D Coleman has been following the disaster, and his writing points out to other sources of information and workers whose work is included.
Sit down with a strong drink and work through this awful thing.
Read it here.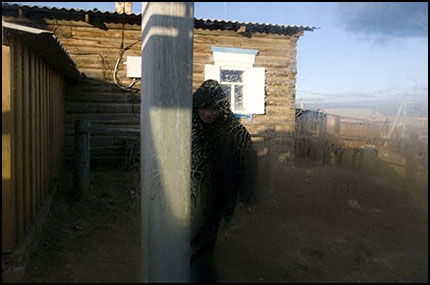 I'm going all pseudo-nepotistic here, but am not going to apologise for celebrating great pictures. If I ever get to that point then I should be put out of my misery (there'll be a line of people willing to help).
Therese Harrison of brokenbench fame has a body of work that is glorious. North by Land has set the bar high. Harrison has published the group of pictures on the brokenbench site.
The picture above from Olkhon Island in Russia is stunning. I am happy that I can put it here on kisim piksa. The spidery frost, hooded figure, cutting light on the building, blue-grey cloud and the shadow marked post that divides the frame all come together and build into something incredible. Ever since I got my first look at it I've been going back, staring at it. Wonderful. This thing has layer upon layer upon layer, and you can keep working through finding more and more as the eye wanders. That far right hand side, indistinct and frost obscured, leaves you asking questions and imagining what pans out to the horizon (and at the end of that enquiry you're still left staring, hoping something will reveal itself).
Photography in one of its most beautiful (and some would say most useful) forms.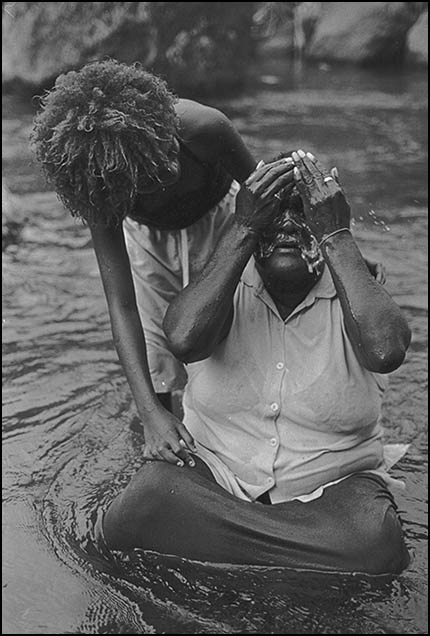 The last week or so has been a shocker. Lying on my back sweating, slapped around by headaches and lethargy (let alone the weird panicked sleep talking I've supposedly been throwing around). A little paranoid at first, thinking the evil mozzies must have got at me again, but I seem to be on the mend at present (maybe just the man-flu raising its ugly head).
The first load of contact sheets and random work prints for South 2010 went through the darkroom this afternoon. Interesting to stare at the positive versions (finally), though couldn't allow myself to get too wrapped up in checking out individual pics, I needed to keep moving. A lot more work to do.
At this point the world does not need any more pictures from inside my darkroom, so I've thrown up a picture from [17] to keep the hounds at bay.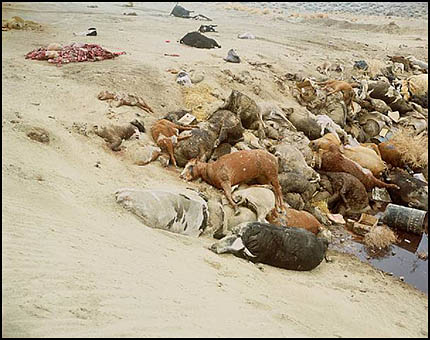 Richard Misrach is an incredible photographer.
Let's not all get bogged down in argument, disagreement or semantics. The 'Oakland Fire' pictures alone kill me every time I go to them; I sit there with my head in my hands just gobsmacked. By the time you've spent time looking at the 'Salton Sea' and 'Desert Fire' pictures you're spinning out of control, spiraling towards the ground at increasing speed.
Unlike so many monographs, the Fraenkel Gallery's tome Chronologies (ISBN 1-933045-28-0) simply lays out a number of photographs sequentially by date. Different projects all split up, some overlapping and interwoven. It is a slab of a book, beautifully finished and a joy to leaf through. A fascinating concept, where projects are not removed from each other, are not seen in isolation, rather we are given a wonderful brief insight into Misrach's working life.
On first picking up the book you are quickly knocked around by the layout. Most images demand that the large book is turned so that they can be viewed. The book works with the spine running horizontally in front of you (ie rotate the book 90 degrees). It is at first a little weird to look through a book in this manner.
But then you run into some of the long double page spread pics, and you are forced to turn the book again. The seashore photos demand this change. You look down on the scene of people sprawled on the sand or floating in the water, heavily textured and full of inclusions that get your eyes roaming around the scene. They would be strong objects when seen as prints on the wall.
Being a muppet, I was never aware of the 2 1/4 B&W night pictures from the 1970's until I purchased Chronologies. Fantastic.
There are many pieces of writing available on the web that go out into his pictures, dissecting them and digging around… sometimes just chasing their own tails, but on occasion helping with a little insight or pointing out something that makes a few things clear.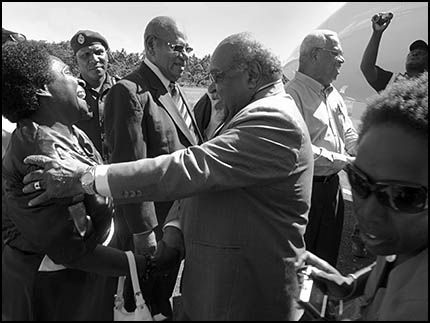 A short entry to mark the day.
Mr John Momis was inaugurated today as President of the Autonomous Region of Bougainville. As can be expected it was a large event. The Prime Minister of Papua New Guinea, Grand Chief Sir Michael Somare, was in attendance along with a number of other dignitaries and VIP's.
I was stoked to see a group of young men from Wakunai wearing the Upe, so scooted along snapping a few pics.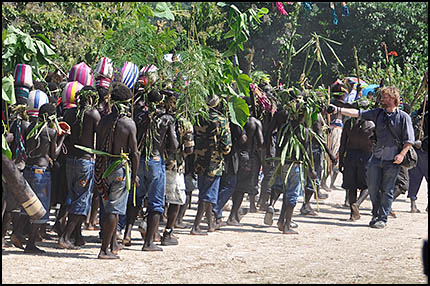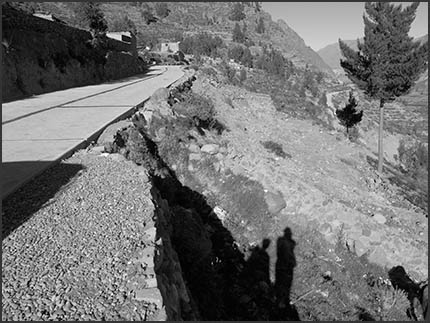 It's all been hush hush for a while, waiting for the formal process to be completed and for the right time to announce.  And now the moment has come for me to happily spill the beans here on Kisim Piksa.
It is official that I am now a member of the collective brokenbench. I'm so massively stoked to be hooked in with such a strong group of independent, committed photographers. The announcement is up on their (our!) website.
I've been in a bit of a bubble since leaving Iraq. It has been both a godsend as well as incredibly frustrating. brokenbench is going to be a very good thing for me.
Michele Mossop, Mayu Kanamori, Blondie, Spiro Miralis, Sean Davey, Therese Harrison and little old fat me. So now the family stands at seven.
An edit of Why bother quitting when you're so far behind? is up on the brokenbench website (first place where it has seen the light of day), and Camp Slayer is in a longer form that what is shown on my site.
Get over there for a sticky beak and make sure you check out the work of the whole crew!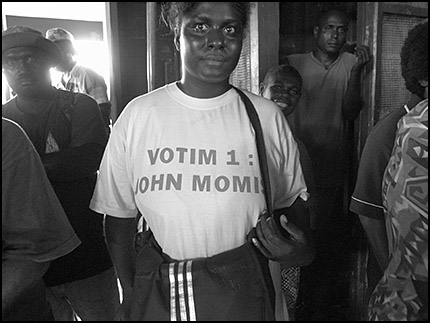 Mr John Momis will be the next President of the Autonomous Region of Bougainville.
While rumour, speculation and opinion has been swirling around, at two o'clock this afternoon the official declaration was made that Momis had secured the needed votes in the primary tally (without a need for preferences) to be elected as president.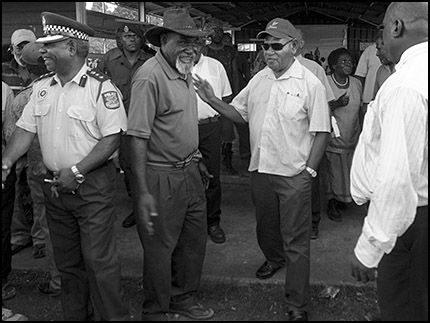 A brief gathering at the Hutjena High School hall, where ballot counting had been conducted, marked the occasion. Mr Momis and President James Tanis arrived, entered the hall and made some short speeches. Mr Momis signed the declaration and then left to attend a media conference.
It was a quiet affair, everyone standing back and listening. No fan-fare or noise, just a process being carried out.
The speech of President-elect Momis can be downloaded or listened to here
The speech of President Tanis can be downloaded or listened to here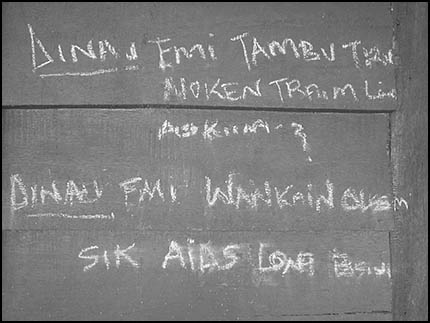 "Credit is not allowed
Don't try and ask
Credit is the same as AIDS for a business"
You could assume from the sign that the owner of this beer store in Buin does not offer any lines of credit, nor does he appreciate people asking. The comparison with AIDS is… a little strong… but not altogether lacking in a bit of accuracy.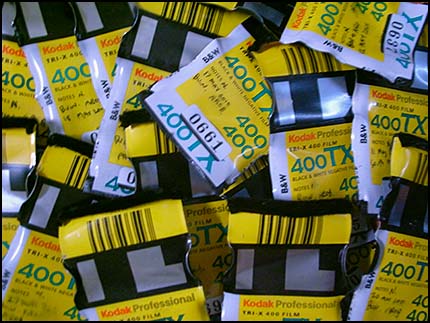 The tanks have started rattling around, splashing developer onto my film from down south, and my fingers are crossed as I wait out the allotted time before I can pull the negs from the reels and stare at them with knotted guts.
I have to force my way through as much film as I can manage. As always the biggest hurdle is drying the film reels quickly enough to be able to load them again for another round. I have plenty of reels, but my large tanks eat them up. Have to get this done ASAP.
Then the fun begins.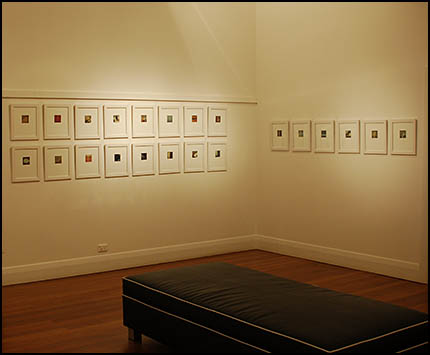 A recalcitrant gallery attendee was kind to send me a few more shots of the Griffith show that was hanging a few weeks ago.
The exhibition came down off the wall while I was away down south, and is now trundling about in a box somewhere.
Bummed I missed it, but I can take this opportunity to send out a big thanks to Ms Kristy Brown of the Griffith Regional for her patience, enthusiasm and hard work in putting this show together. No doubt there were many people involved at the gallery, I'm sorry not to have had the chance to come down and say thanks in person.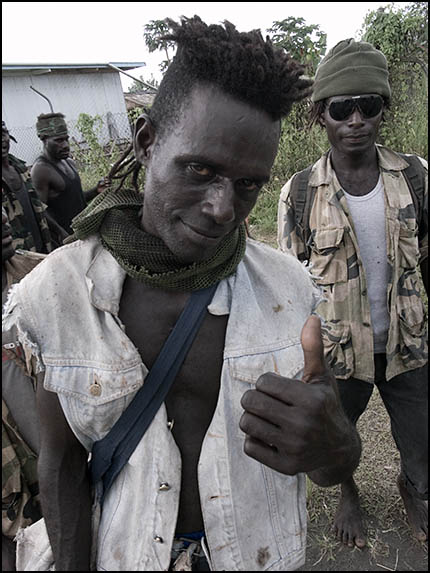 I just hit 'send/receive' on my email account, and the little machine is FREAKING out at the amount of messages it needs to download (oh please, please don't catch on fire…). This is going to take all day.
I'll begin working through them as quickly as possible and will hopefully have responded to all soon.
Apologies for any delay that may have caused headaches… but sometimes the pictures (thankfully) just can't be found near a reliable internet connection (other than by running your own little VSAT… and that won't ever happen on my budget!).