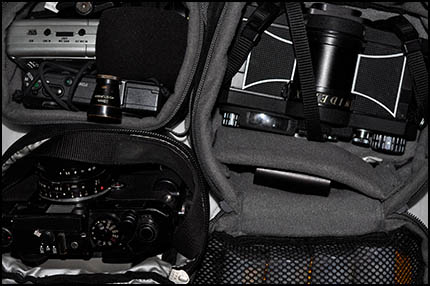 My bag is packed with a few clothes, my toothbrush, a big stack of film and a pair of beaten up 35mm cameras. Heading into South Bougainville to dig around and have a look during the last few weeks of campaigning and then the polling for the 2010 Autonomous Bougainville Government elections.
Access to email and phone coverage will be quite limited (if at all), so I apologise for any delays in responses. I promise I'll be in touch ASAP. I will be away for approximately one month.
Fingers crossed.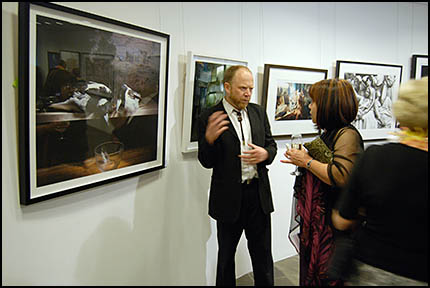 The crew from the Monash Gallery of Art were kind enough to send me a short note and a CD of installation pictures from the Fundraising Auction held last month. I had a few prints in the show to try and help out such a great gallery.
Looks like it was pretty fancy, a big dinner and no doubt some strong bidding for great work. You can see Stephen Zagala above discussing some pictures with an attendee. Zagala was the curator who saw Camp Slayer up onto the wall last year and who has a strong, long standing relationship with the wider Pacific.
Big respect to the team at the MGA, big respect.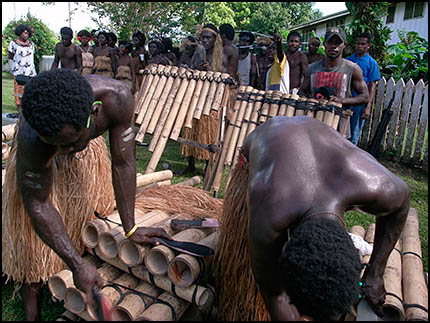 A dawn service was held in Hutjena this morning.
A quiet affair followed by a breakfast in the haus win overlooking the sea with bamboo band tunes to give it a bit of life. As always the warm morning was a welcome relief from the bitingly cold starts that many are used to.
All seemed in good spirits, and by 9:30am we'd finished up as people trundled off to enjoy the rest of their weekend.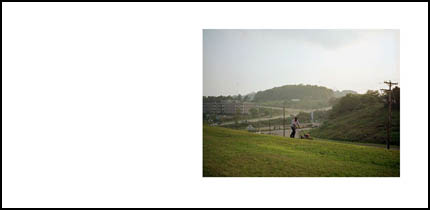 The Unreasonable Apple.
Everyone seems to touching themselves over a short presentation that Paul Graham put together for the MOMA in February 2010.
I saw it referred to over on Tim Atherton's site last month. Read it while nodding my head, then moved on. Now I can't go anywhere on the web without stumbling across it. So right now, without further delay, I am following the herd and posting a link straight to it.
It is worth a read, along with the piece that follows it.
Find it here.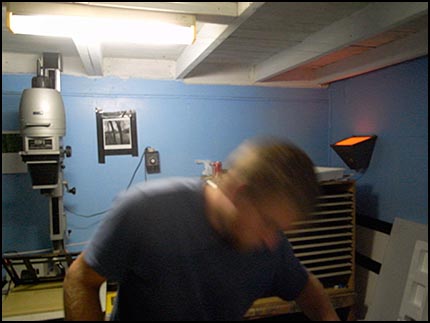 Down the hill and into Buka town for a printing/proofing session in the bat cave. I think I need to harden-the-f-up and start living like Brett Weston, hitting the darkroom at 3am so by mid-morning you've knocked over a good chunk of work and the day is still young…
A fella I know in Oz (Enrico) somehow operates like that. Commitment +.
Who knew there was a 3 o'clock in the morning?!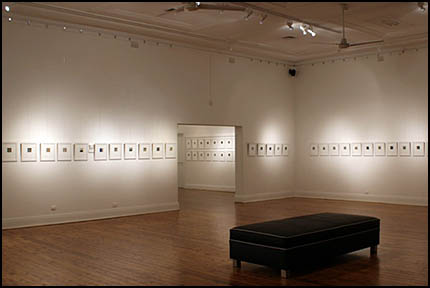 Kristy Brown at the Griffith Regional Art Gallery was kind to flick me a few pictures of the installation that were made prior to the lighting adjustment… a 'work in progress' snap of the install.
Great to see.
Just under ¼ of the show can be seen in the snap above, looking good. They've double hung some of it, other walls are a long single row.
Wish I could get down there to see it.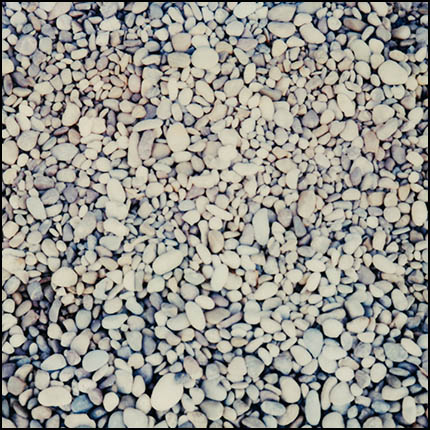 The Griffith Regional Art Gallery is opening Camp Slayer today.
All very exciting as the pictures are hung in a new interpretation. I can't wait to see what Ms Kristy Brown and the GRAG crew have put together for this one.
For all those within striking distance of the Griffith Regional (or those who feel like road trippin' for a weekend), head on down for a peek.
22 April 2010 – 9 May 2010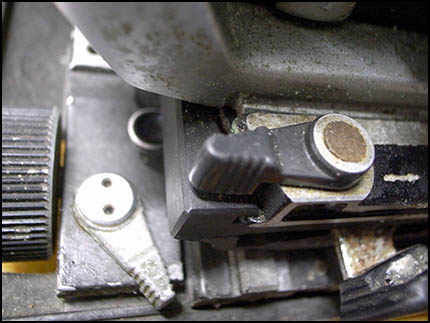 Bumping the dev tanks around, trying to catch up on bags of film sitting around waiting for their time in the dev.
Biggest drama up here in the tropics is stopping the bugs from attaching themselves to the damp film as it hangs in the humid air. Maybe I should style it up like Parke and just say 'to hell with it' and enjoy the bugs as part of the process.
I've spent the last two nights hitting myself with a hammer trying to get some lighting right for a small project that is ready to go in front of the camera. Not a particularly difficult undertaking, but for some reason no matter how I adjusted the little strobes I simply was not happy with the results. At least I can cheat and shoot a stack of tests on a small digi (rather than going through boxes of 5×4 fujiroid – $$$$) before wheeling in the little Linhof to make the final exposure.
All looks promising now, so I might shoot a stack of sheets over the next few nights (multiple strobe pops, so night is the only option).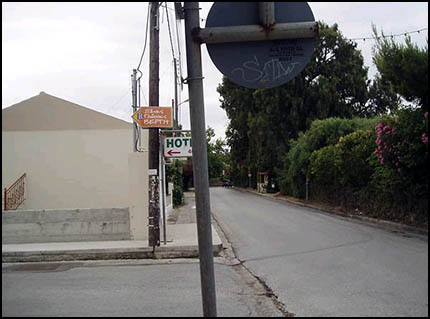 I got this book in the mail last month, and have been sitting with it since. The book was floating about in the postal system for a while, so I'd been watching out for it… waiting waiting.
Brilliant. If you're looking for a new bit of work to sit back with and slowly dig through, then this is a good place to start.
Spiro Miralis has put together a beautiful book. The photographs are a departure from his pictures that I am familiar with. He has embraced colour in all its subtlety and pushed out into a quiet, understated world. The cutting, harder edge of his B&W work may not be as apparent, but the direct gaze (or maybe an unflinching stare) is present.
Each picture stands alone in the layout, a move that would kill weak photographs. These pictures thrive in the space.
Purchase Unidentified Rose here.
Press release here.
Photographs here.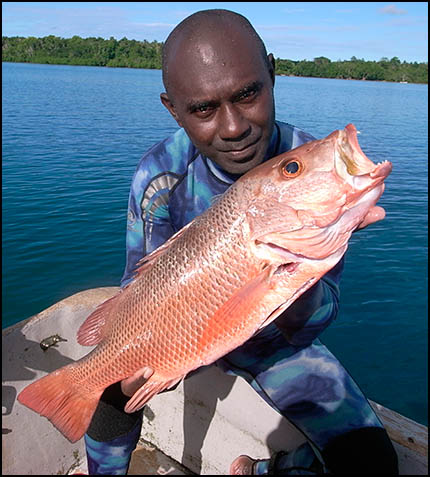 A Sunday spent cruising around on a calm ocean looking for fish.
We had slim pickings for most of the morning, snooping around on reef edges and trying to find 'the spot'. Doug put his line fishing skills to work and hooked a beautiful Rainbow Runner while pulling a lure about, and Mark speared a sweet midnight snapper while swimming along a coral slope.
We swung back inshore as the afternoon got old, and motored over to the Japanese wreck that lies on its side in Matchin Bay. Of course Rutana slipped straight over the side of the wreck and knocked over a lovely Mangrove Jack. We found a few more inside (one took a few dives to pull back out after it wrapped itself up inside the ship after Jamie hit it).
The place can sometimes be a little creepy as it is so close to large stretches of mangroves along the shoreline and small islands dotted about in the bay… sometimes every broken bit of wood looks like it has eyes and teeth (due to the paranoia).
Always good to swim about in the sea.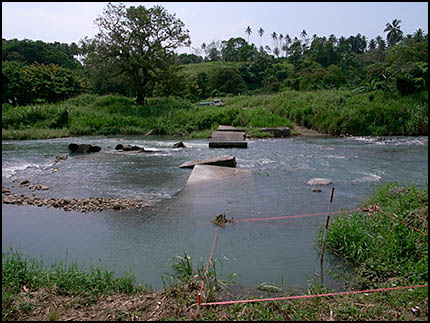 Zipped down the island to Raua for a quick trip this morning. The Bougainville Gov and JICA (Japanese Dev Agency) were holding a ground breaking ceremony for the bridges that will be put in on the big island's trunk road.
All very exciting, as the many river crossings are a major hindrance for travel around the region due to the destruction of many during the crisis by intentional damage and lack of road works and services to make repairs following floods. The continuing maintenance and upkeep will no doubt be serious work, but I guess the bridge has to be there before you can 'maintain' it.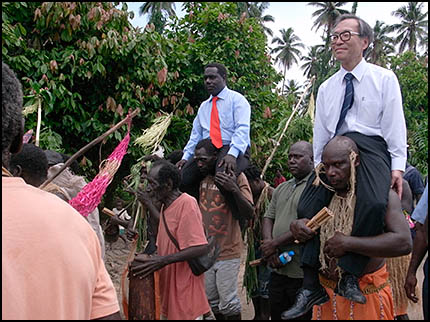 I didn't stay long, just for the entrance of the AROB President and the Japanese Ambassador, the opening remarks and some bamboo band tunes. Then stumbled up the road, snapping some pictures and bumbling about till I thumbed a lift north.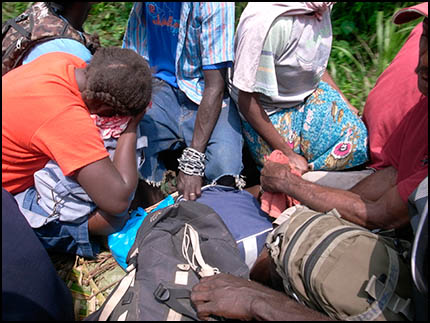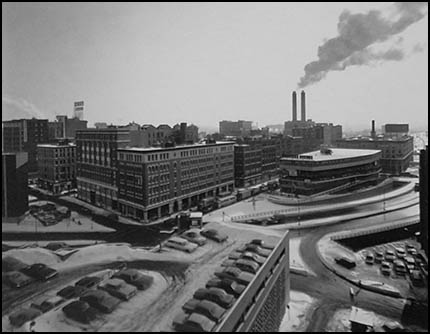 Not the former US prez, but the photographer, Nicholas.
I adore his pictures. The early work from high vantage points, looking down into Boston and New York, was shown in 1975 in that oft cited show New Topographics: Photographs of a Man-altered Landscape. Since then he has been constantly active, pushing on to produce a number of fascinating series and to teach on occasion.
While the series 'The Brown Sisters' is so famous that it dominates some of the other work, as you look further into other pictures incredible things can be found.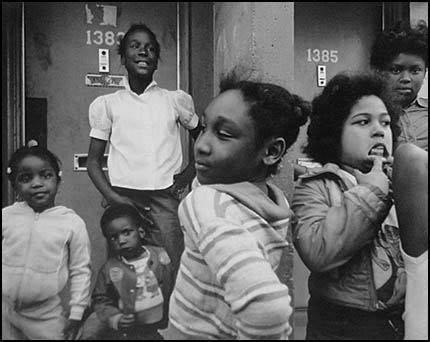 The porch pictures are brilliant for their drama, the incredible little things happening throughout the frame and the complexity of them (they are formal, rigorous compositions without the pitfall of being lifeless and without surprise). In the book Nicholas Nixon (ISBN84-89162-10-7) he writes "The porch pictures came out of hunting around my new home day by day; seeing what I could do without an idea other than seeing the city and having fun doing a thing that pulled me. It was hard in that I didn't quite know how to have my feelings for people have shape, so I got to figure it out by doing it all the time."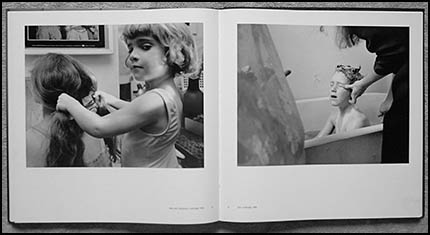 The family pictures, simple, elegant things made at home as his children grew, are magic. Photographs of his son Sam in the bath, soap rolling down his shoulders, or his daughter Clementine platting Bebe's hair are things so familiar, so easily understood, and yet in Nixons hands are recorded with both the joy of the father and the skilled eye of the visually aware.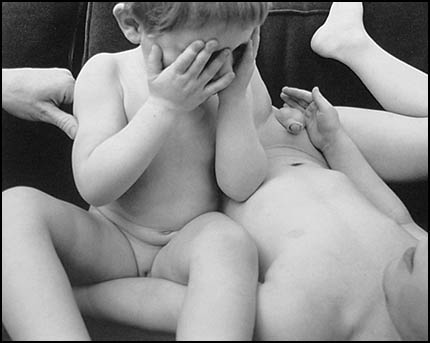 To risk sending myself to the corner, perched on a stool and wearing a dunce hat (or even face down on the concrete wearing hand-cuffs considering the hype and silliness surrounding many 'conversations' on the relationship between children and photography) I include this stunning photograph of his two children from 1988. This is not to 'fight back' or take any other silly stance, but simply to celebrate good work, to openly state (or hope) that we are capable of pausing before loading the gun and heading out for a lynching.
Whether it be such simple things as the city pictures or snaps from home, the embrace of two people or the damage done to individuals by the new much-feared (at the time) AIDS, Nixon has made pictures that I stare at in wonder.
He has long been associated with large film formats, using 8×10 for most of his work, along with larger cameras on occasion (I think I've seen an original 14×17 print at the MOMA in NY, though my memory is pretty ordinary these days). Of course the tone and striking print quality are evident through his use of the contact process and for many years (though I don't know what he does now) the use of Kodak Azo as his paper of choice.
Nixon's work is held in many private and public collections including the MOMA, Bibliotheque nationale de France, The Australian National Gallery, The Met, Tokyo Metropolitan Museum and the Victoria & Albert Museum (London). His work is represented by Yossi Milo, the Fraenkel Gallery and a few others.