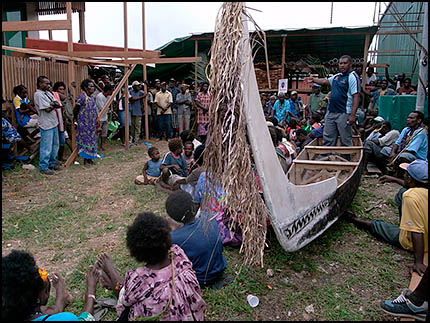 A day of busy work. Phone calls, emails, running errands, cleaning the darkroom, visiting a few people and picking up a few needed supplies (oh the task of finding a pencil sharpener that will do a better job than my stanley knife – maybe I stick with the knife).
Town is full of truck convoys covered in decoration with singing, percussion, wind instruments and trochus shell horns accompanying the rumble of the old diesels as they make their way down the road. Large meetings are taking place on any patch of flat ground as candidates state their case and rally the voters. This is fantastic to watch, and makes many an election campaign from my home country seem lifeless, precisely scripted with attending props and on the whole… sterile.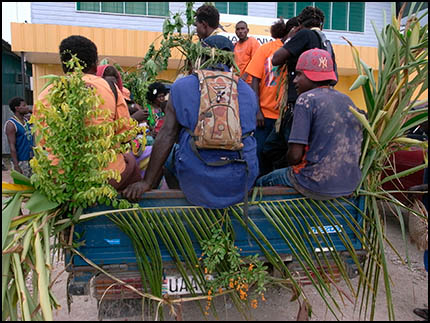 An hour or two sitting sifting through the filing cabinet, planning the next few weeks and enjoying stumbling across pictures I haven't seen for a few years (cringing at a few as well).

Everyone has been talking about the upcoming Autonomous Bougainville Government elections. Radio, newspapers, general discussions at the kai bar and sitting around under a tree have all been full of opinions, reports and theories.
With the issue of writs a few days ago it is now all full steam ahead as candidates register themselves and begin the official period of campaigning for their various seats.
Numerous convoys of cars and attending supporters on foot have filed through into Buka town over the last few working days. Everything is covered in bilas, and town is full of the sound of panpipes and singing as various groups stake their claim. No doubt the regional centres are also full of similar displays.
Some interesting months are ahead.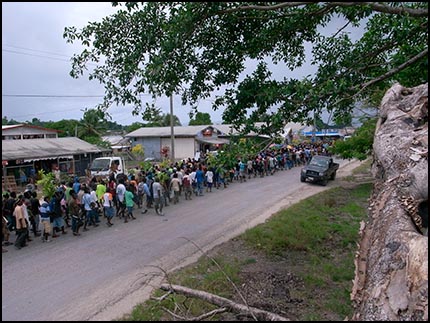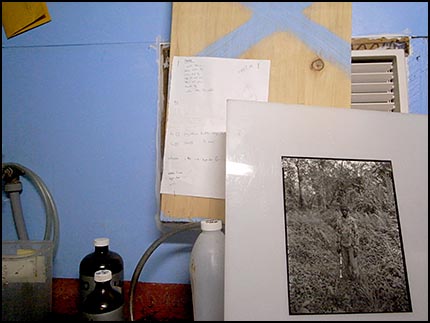 Dust Days is in the soup again, and I'm enjoying punching through the work, seeing things that had slipped my mind in the years since I stood around in the dry talc-like dirt and snapped (it was sometimes in the sodden mud as well, but that is not the romantic 'Middle East fantasy' that Iraq should inspire).
In a moment of playing about I ran a quick, nasty work print of one of the Torokina negs for a laugh… just to see how it looks on paper as I'm not one of those people who can stare at a negative and figure it out in my head. After seeing the print I think the change in approach was the right decision, even with the added pain of hauling the Kodak.
There is a lot of work I need to get through down there, as well as a small side project that I need to chase for personal reasons.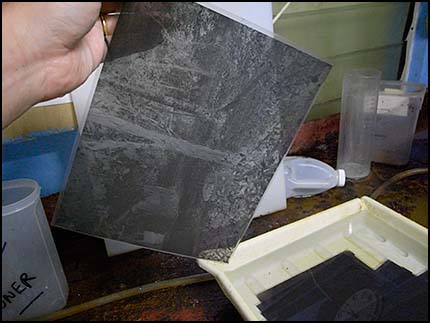 A quiet start, then down to the photo cave this afternoon to run a few of the Torokina negatives through a tray of dev to start getting them ready to proof and figure out what I stuffed up. The list of mistakes will be long (as always).
Contact printing can be a wonderfully simple and direct means of producing a finished picture. They are smooth, delicate things that sit in the hand comfortably without being awkward. It is the method that moved me back to smaller prints years ago, and since then I have worked down under 10inch even with enlargements (though who knows, maybe 10 foot long prints are just around the corner).
Good times ahead (read: more printing… so much more printing!).

I spent today in the darkroom shuffling paper and waving my hands around underneath the enlarger lens in the hope of producing something decent. Dust Days, after years in and out of the files through indecision, is finally getting its day as I look to finish it and move forward rapidly. A heap more work to do, but it is good to have the line in sight.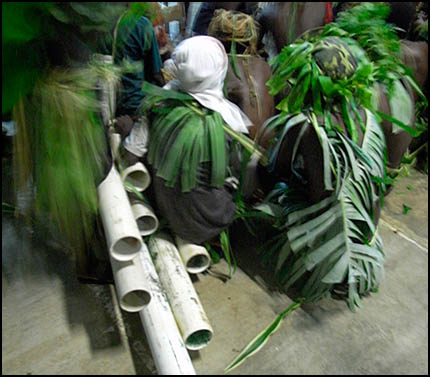 I wrote earlier about some of the performances that were happening up at the Hutjena high school earlier this month (including some great bamboo band action). All sorts of examples of this type of music can be found on the web, as well as the history to it. A similar style of instrument can be found throughout a number of coastal provinces around wider PNG, as well as further out into the Pacific.
I'm too lazy to try and go through all that, so you'll have to do your own tippy tapping on the net. Amazing what can be achieved with an old rubber thong (flip-flop, jandle, slipper… whatever your term) and a piece of bamboo or PVC pipe.
Below is a link to two short tracks from the other night. Only instrumental, here for you to enjoy the sweet beats. It is dance music if ever there was such a thing.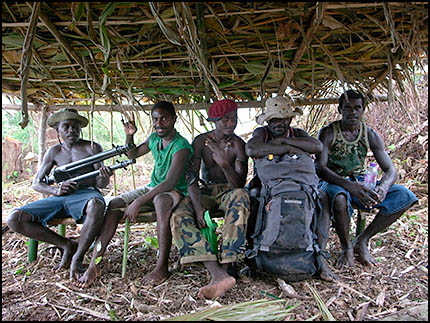 I got back in to Buka last night from Torokina on the west coast of Southern Bougainville. A shorter trip than originally planned so I could make it back to Buka in time for another possible trip out to the north.
It is a remote part of the Autonomous Region, without road access and lacking in many of the basic services. In a submission of photographs last year (which unfortunately failed to go anywhere), this short statement was included to provide an introduction and a little background to the pictures sent.
Torokina, in Southern Bougainville, was the site of a large US and Australian World War II presence. When the Allied Forces left Torokina a large amount of weapons were dumped in the jungle.
During the Bougainville Crisis many of these guns and bombs were uncovered and used by groups such as the Bougainville Revolutionary Army.
Since the end to recent conflict on the island, the region surrounding Torokina has suffered through a lack of infrastructure and its geographic isolation. All goods are brought in via small boat and distributed on foot. Any commercial crops such as cocoa are returned to market in the same manner, generating little income. No working vehicles are left in the area.
The weapons and explosives are again starting to define Torokina, but now as a commercial crop harvested for sale. The children play 'armies' with home-made BB guns and cardboard box body armour.
The dumped munitions and weapons are certainly gaining a degree of attention from various media interests and government agencies (understandably so). There are some strong moves afoot to remove the left over hazards, and hopefully this will be accomplished in the near future. While these initiatives are interesting, my project lies on the periphery of those particular issues.
There is a working tractor now. The district tractor is hauled off the side of the road with some sort of problem, but a private one has been somehow put back together and is running, moving cocoa and other goods around. A motorcycle is also attached to the district office.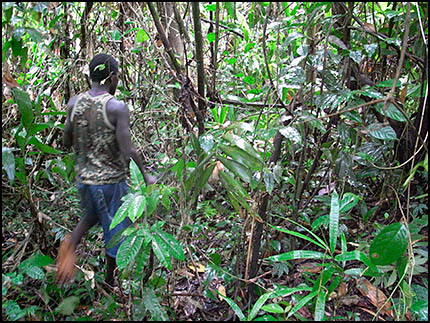 I had returned to follow some work from last year, and dug into a more formal approach. Nothing like the Dusseldorf nerds, but certainly a more static and gentle way of looking about than my previous effort in the area. The ten8 is wonderful to use again, and perfect for what I am trying to do. Maybe a little bit of a pain to haul through the jungle, and possibly limited in its 'responsiveness', it is still a joy to look at that big-arse ground glass while I figure out how to make another mundane picture. I will admit that sitting under the dark cloth in the steamy heat can be a bit of a test.
I probably spent most of my time up in some food gardens and the rest of it mooching around a few villages, just cruising about snapping a few portraits and details.
My great-uncle Don Knox was stationed in Torokina during the late stages of WW2, so it is fascinating to stomp around in places that he would have walked through over 60 years ago.
After a few hours in a small open boat along the west coast getting back to Buka, I'm now digging through the list of things to do.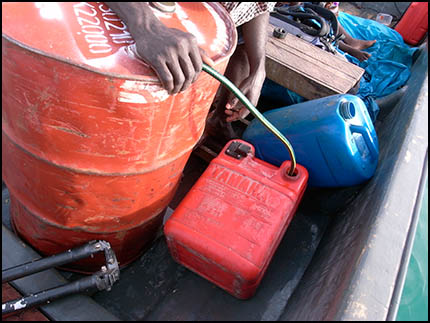 Three lessons learned:
–          The crown bolt bracket of the old aluminium Gitzo 400 series tripods is just right to wedge into the cap on a 44 gallon drum to get it open.
–          Friends who will hold up your darkcloth to stop the wind while you snap some silly picture are worth their weight in gold.
–          Solomon's ants are not to be taken lightly.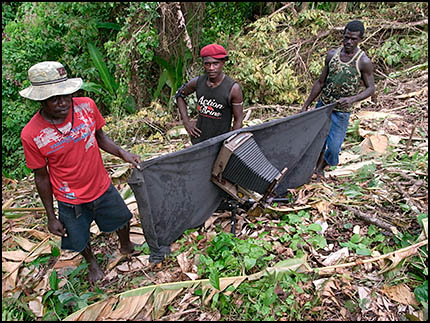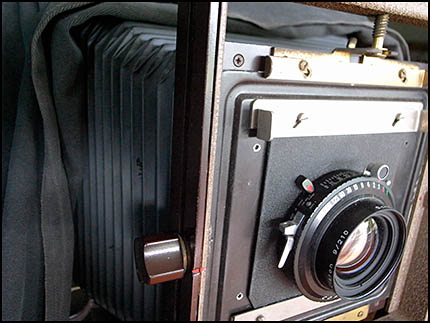 The old Kodak has been packed into my bag and I'm heading out into the bush for a little while to pursue a project that I have delayed returning to for too long (but that has been occupying my thoughts for some time).
I'll be out of email and phone coverage for the next week or so, so apologies for any unanswered messages. I'll reply as soon as I return home (promise).
Right, off to snap pictures. Catch.
*edit* ha! and as is always the case, the wind whipped up by the cyclone in the coral sea has made it a little dicey to try the boat trip this afternoon… so we'll see how it looks at 4am tomorrow…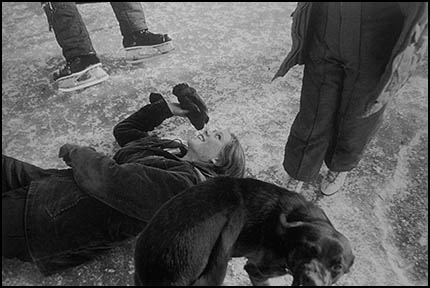 I have been looking through this book constantly, opening it at random pages, since I received it. I find Larry Towell's The World From My Front Porch to be 'new' every time I go to it.
A quick conversation with a friend a few days ago prompted me to sit down and look through it again, devoting a more solid bit of time to the sitting. My friend was not taken by it enough to open his wallet, so his comments made me stop and think.
The book is not full of heroic photographs, gracing the pages and leaving you knocked over by the snapper's eye. It is a collector's chest full of stories, photographs, found objects, old family albums, magazine tear sheets, book dummies and artwork layouts.
The book finds its base on Towell's sharecropper farm near Ontario, Canada. The history of the place, the past residents and his family life are recorded in the self penned essays found inside. He jumps from home to the West Bank, Central America and other areas he has worked (through the use of words and pictures), constantly making reference to the long followed concept of land/home being central to many of his concerns.
Parts of destroyed rockets, paintings, drawings, pendants, broken door locks and slingshots are reproduced in clear, direct colour. All are things that he has brought back to his house from his time abroad for work.
And then there are the family albums, the historical pictures of the farm, the song lyrics and sheet music, the flint arrowheads found in his fields and the survey notes from the early 1800's.
And sandwiched in the middle, between all this, are around 70 pages of photographs from home. There are some fantastic pictures. The one at the top of this entry stops me every time (a poor copy effort, snapped quickly on my little digi). The snarling dog (Banjo) and the kids skating on the pond sets a scene alien to me, as the first river I ever saw packed with ice was the Hudson in early 2007.
I would not go so far to claim the house pictures grab me by the throat like The Mennonites or No Man's Land, but the finished book, with its one thousand layers and reproductions of objects without the photographic novelty, makes it something I can't put down. I find myself reading the text in reproduced magazine articles, somehow twice removed from the original but all the more effective because I have to squint down close to the page.
I guess that's one of the reasons I keep going back to it, because it forces me to pay attention, to look closely.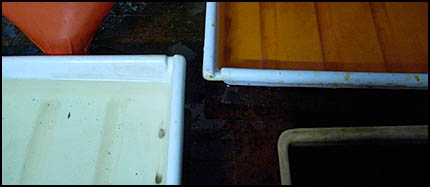 Rather than the dodgy 1980's Tom Hanks movie (though Doubilet did make a cameo in it, near the start… trust me), splash is the sound of a dropped tray full of print chemistry… cleaning up is never fun.
Still, it was a productive, if a little disjointed, day in the darkroom. The joy of a shining wet silver print sitting in your hands. I've gotta hang onto that (the joy, not the print).
I'll vomit if we have to go through the tired "seeing the print appear in the dev for the first time" line here, so rather let's just tip our collective hats to the darkened room, the tick-tock of a metronome and the discoveries made while knuckle deep in amidol.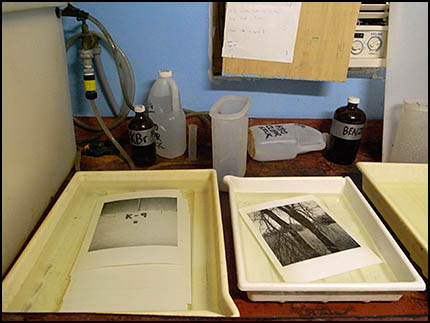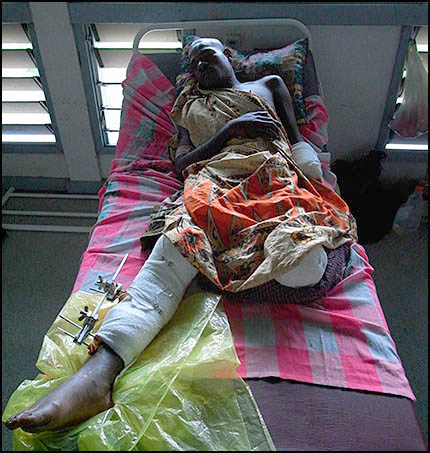 Sylvester Minel, a young man from Marawa Village in Southern Bougainville, was taking an old WW2 artillery shell apart so he could use the explosives for dynamite fishing. The charge went off as he was dismantling the shell. Not an uncommon thing here in the Autonomous Region of Bougainville, let alone the wider Pacific.
Another young man, from Sivuna in Central Bougainville, was badly hurt last year when a salvaged explosive went off in the boat as he and a friend prepared to harvest fish. He somehow made it all the way from the Solomons border to Buka, but died from his injuries in hospital. Sylvester is a lucky man to have survived this recent accident, though no doubt the coming months and years will be incredibly challenging.
Sylvester has lost a large amount of his left arm and leg. He is currently in Buka hospital… it is incredible that he survived to make the long journey by boat up the west coast.
While dynamite fishing stirs the emotions of many in reaction to the damage it inflicts to the reefs throughout Asia and the Pacific, the danger of the activity and the toll it can inflict on the practitioners is severe (and often the first thing to be forgotten).