We left Cuenca this morning and slid down the mountains, landing on the coast at the Ecuador/Peru border.
The crossing was busy, but we're now on Peruvian soil, enjoying cold beers near the beach. Not a concept I associate with Peru (my own glaring lack of knowledge).
Have been away from a connection for a few days, so apologies to anyone waiting on a response to emails!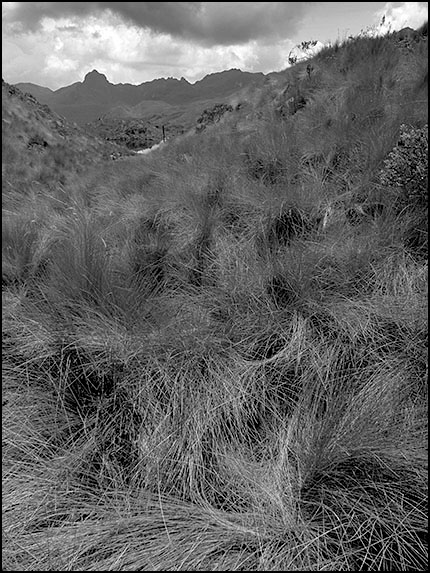 05 December 2009 – The long haul to Cuenca was finished on Friday evening.
Saturday morning we got up into the mountains above the city, exploring a little of Cajas National Park. Stunning.
Incredible glacier cut valleys and countless lakes and small streams running through the stunted vegetation, bringing on memories of the cushion plants and knarled bushes of the colder bits of Tasmania.
Lower down the forest was dense, with lichen clinging to the large fruit bearing trees and many birds calling out and flying through the canopy. We spent some time down there, then headed up higher via road to a little over 4000m.
We got out of the bus and wandered across the grass covered slopes and then into an incredible forest of trees that are the highest growing in the area. Amazing things, hundreds of years old, stunted and twisted (and somehow related to the rose).
A lunch of fried trout, then back down into Cuenca for a few hours walking the streets before dark.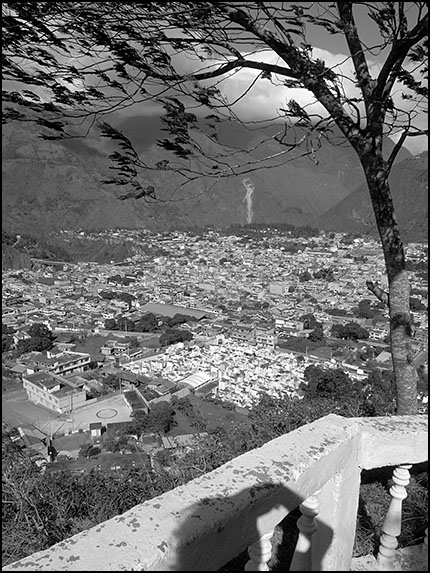 Our time in Banos de Agua Santa has been nothing but relaxing.
The city is known for its hot springs, and sitting in them in as the sun lights up the hills around you is magic. The baths range from cold water pouring down the mountain side to water that is almost too hot to climb into. Hopping between the two is a quick way to wake up and start the day.
I spent the morning relaxing, and then we climbed back into the hills above us to visit a luxurious day spa. Edwina treated herself to a massage while I sat back with coffee and enjoyed the view out over the valley.
The sun set, and we made our way back into town to enjoy a cheap meal. Tough times.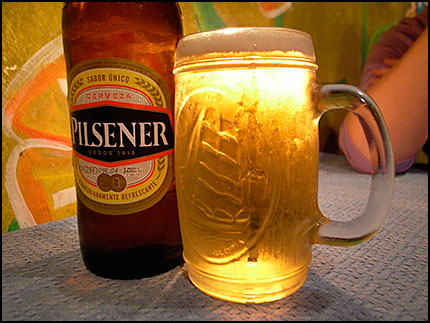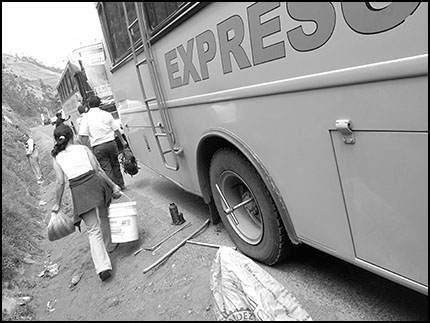 Been away for a few days, so time for a quick update.
We left Quito on the bus headed south for Banos, and by the time we hit our destination we were on our third bus due to flat tires and the like.
Banos is known for outdoor activities, and by the countless operators that line its streets offering bungee jumping, white water rafting, horse back riding, mountain and rock climbing, hiking and Amazon jungle tours… well business is good in Banos.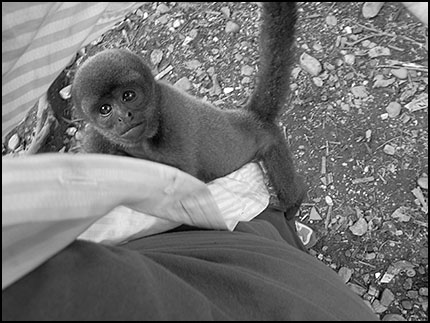 We ended up in the Amazon for two days. Monkeys, birds, swimming holes, alligators, frogs, bats and plenty of insects. Sweet.
Back into town for a hot shower and some easy times.