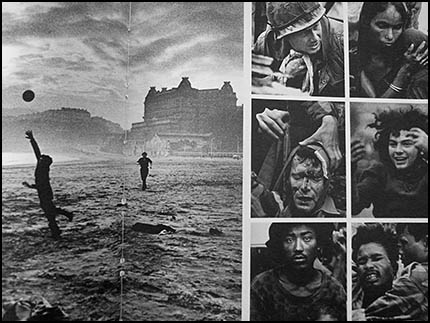 Don McCullin's incredible book Is Anyone Taking Any Notice? (ISBN 0-262-13084), originally published as The Destruction Business in 1971, is a heart breaking compilation of his work from Europe, Asia, India and Africa. As the first few pages open, the sequencing and pace of the book take hold, as some almost romantic landscapes are played off against tight crops of people that feature further into the volume, their faces and expressions removed from the wider context supplied by the original frame.
It is 'A book of photographs and comments by Donald McCullin With phrases drawn from the 1970 Nobel Lecture by Alexander Solzhenitsyn', to quote directly from one of its opening pages.
McCullin was born in 1935 in the UK, and following his national service photographed for The Observer after selling them  a picture following the murder of a police officer. Many of his later, and most famous conflict pictures, were made while commisioned by The Sunday Times.
There is a long interview transcript on the BBC website, and you can also listen to the interview there as well:
http://www.bbc.co.uk/radio3/johntusainterview/mccullin_transcript.shtml.
McCullin is often referred to as reclusive following his departure from photographing wars, so it is good to find long pieces like this. Until I read this interview, I was never aware of his connection to Brandt (well, I had probably been told, but then had it slip out of my hopeless memory).
Two other books by McCullin sit on the shelf here, one with photographs from only a few years ago. It is exciting to see this strong worker continuing, pushing on into new work and showing us things that happened in front of him.
I found a pit
with dead men in it
one of them
had his foot blown off
he had tried to bandage it
They stayed there
and died together
as if they'd been
placed in a bed
and were quite peacefully
sleeping side by side
Other Vietnamese
and Cambodian soldiers
put a hankerchief
over their face
looked in the pit and
looked back smiling
"Good job, it's the enemy"
I put a camera
to my face and
photographed
These are my
two lovers in repose
this is my family
it's the same face
it's the same face
it's no different from
Dachau or Auschwitz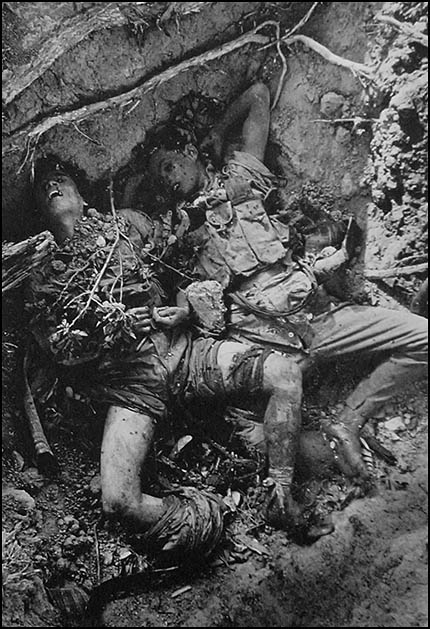 New Dawn FM (FM 95.3) launched their current broadcasting in November 2008 following testing and some set backs due to weather and resulting equipment damage. Since then they have been the recipient of the 'Communication and Social Change Award' from the University of Queensland's School of Journalism and Communication.
The radio station is focused on local content, and is an excellent addition to another station, Radio Bougainville, that is part of the National Broadcasting Commission (NBC). Radio is alive and well in Bougainville, as it is an easily accessable source of news, announcements, community discussion and music. While many areas have limited or no coverage due to geographic difficulties and the current transmission equipment, hopefully future initiatives will bring coverage to the whole island through a diverse number of stations.
New Dawn also runs an excellent blog. It is full of content, and is updated constantly. It is a great source of information, quotes and comments.
I have mentioned their activities before as the extended live broadcast of events with on-site commentary is something that I am well impressed by.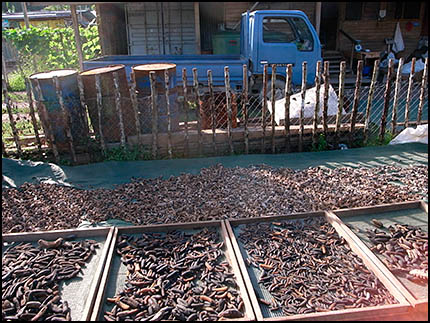 Yesterdy the commercial harvest of beche-de-mer was closed in PNG for three years. It is my understanding that it is a sustainability initiative, but I have only picked up little bits on it so far (will edit/add if or when I get some more).
Beche-de-mer is the humble sea cucmber, the old sea sausage, lying on the bottom hoovering up all sorts of stuff out on the sand flats and across the reef. They are incredible animals, and often have symbiotic relationships with various shrimp, crabs and fish.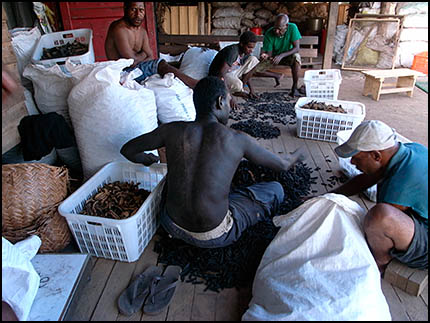 They are harvested by people wading or diving, and are subsequently boiled and dried out, then added into stir frys, soups and other dishes. It is a thickening agent, and is often referred to as 'tasteless'.
The beche-de-mer buyers around Buka often purchase shark fin and trochus shell… so we'll see what the focus turns to now the sea cucumber is not so easily sold.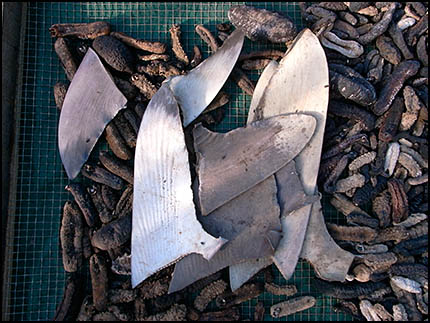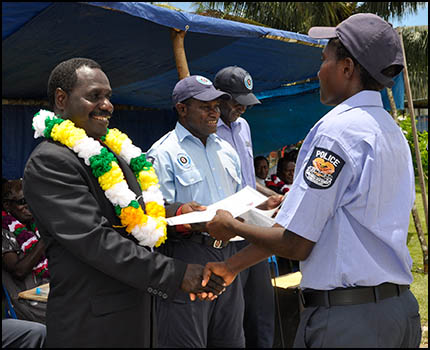 This morning over 20 Bougainvillean women were sworn in as members of the Community Auxiliary Police Service.
The graduates had travelled to Buka to complete their intial training and were named 'The Honourable James Tanis Wing'. The boost in female police numbers is an excellent step,and something that the wider community came together to celebrate. A number of New Zealand Police Officers, posted in Bougainville as part of the Bougainville Community Policing Project, were key participants in the training of the graduates.
The parade was held out in front of the Buka police station, in full view of all who were in town.
Congratulations to the graduates for their achievement, and best of luck for the work ahead.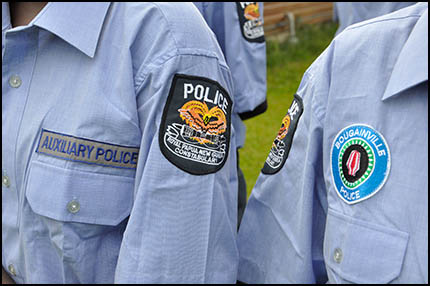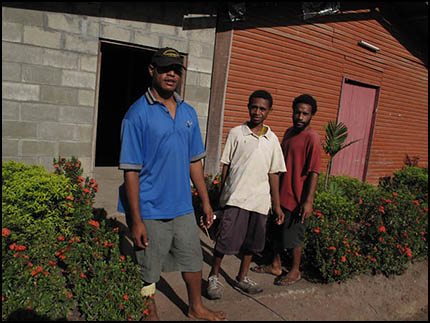 This entry points to the short multimedia piece 'from 8 Mile' that is posted straight after this. It features the work of photographers Emmanuel Onom Mel and Wanpis Kapau. Their photographs along with a little audio. I spoke with Emmanuel Onom Mel, Wanpis Kapau, David Motsy and Australian photographer Sean Davey.
The presentation has fancy little controller things in the bottom of the screen, so you can pause the thing, call up thumbnail views, jump to particular pictures and the like. It's based in flash, and probably needs a reasonable web connection to run properly.
Better yet, get back over to the 8 Mile Settlement website for another look around!