Even though all would be aware of it by now, kisim piksa better tell everyone to get along to the Australian Centre for Photography (Paddington, Sydney) to see 'WAR' by the photographic collective Degree South.
While I won't get the chance to see it installed, I have vicariously checked it out via Ross Bray's ABC coverage that screened on Austalia Network the other night. Looks like the ACP have put this work on the wall with maximum effect, so no doubt it would be a solid punch in the guts to see this show. As far as I know it will tour.
I would assume that a decent amount of Ben Bohane's work from Bougainville and the Solomons is in the show.
While there are many discussions, arguments, essays, books and theories surrounding the idea of the 'document', the photographer/journalist/observer in places of conflict and their particiation in the events recorded, and any perceived  outcomes or influence of the work… well, today I will simply point to a group of photographers who have committed to their undertaking and produced stunning pictures.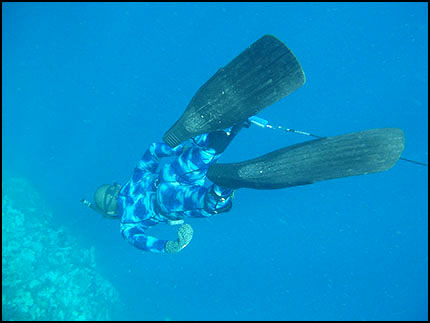 After a few set-backs last week for my projects, a morning drifting about in the warm waters of Bougainville was the medicine needed to undo some teeth grinding frustration.
Rutana and I headed off down the east coast of North Bougainville, diving the reef wall, close to shore, that falls away into deep water. All sorts of gutters, caves and ledges sit in the reef top, and the wall is thick with overhangs, black coral bushes, whips and fish. It was a little quiet along the drop off, with some great reef fish seen ducking for cover and in the distance. Jamie spotted a monster coral trout in deep water, but on the return dive it had moved to safer ground. We were still able to pick up a few decent fish, so some good meals were served on Sunday night.
We stayed in the water till the wind swung and started to make the return trip look less appealing. Then quickly back into the boat and a ride north punching into the short wind chop, with flying fish peeling off the sides.
Melv the Magician (www.auswomble.blogspot.com) generously donated a compact digital camera and matching housing to Jamie for some projects, so I grabbed the camera from Jamie's float to snap a few pictures. Many thanks to Melv for the wonderful gift, the boys are putting it to great use.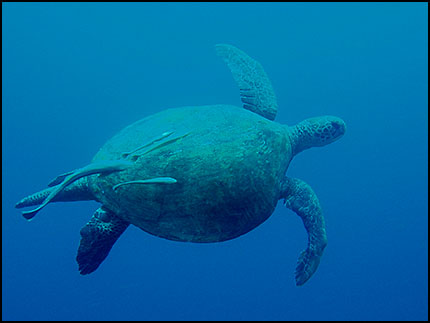 Even though the water was a little dirty (by the unrealistic standards of the South Pacific), they came up pretty well. The old green turtle was lying at the bottom of the wall we were diving, and he slowly cruised off for a breath and a bed somewhere a little more quiet.
Now with a clear head, things are looking up.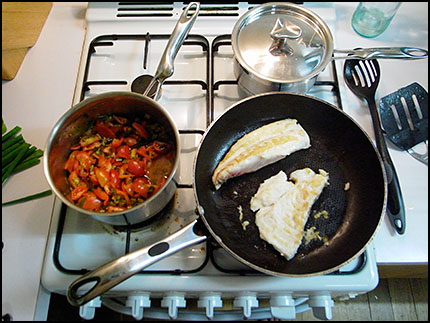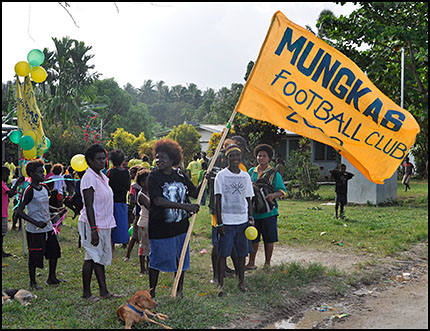 Saturday saw the grand final for the Buka men's premier division football competition.
Mungkas versus El'Qoa… a great game to watch with many chances on goal and some beautiful passing and individual skills on display. As a member of the Mungkas I was gutted by our 1-0 loss to a penalty awarded for a hand ball in the box, but thoroughly enjoyed the game as it was a great end to a tough season.
The entrance of the teams was a laugh. We had banners, flags, balloons, lollie throws and plenty of cheering… but when we ran on the sight that greeted us was the El'Qoa team running on through a burning gate. I just stopped and stared… classic.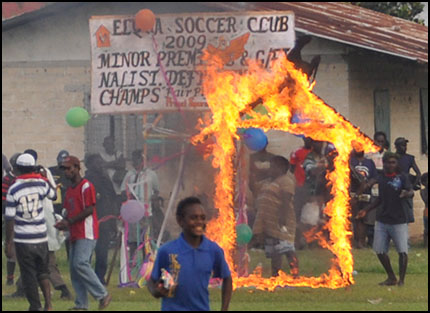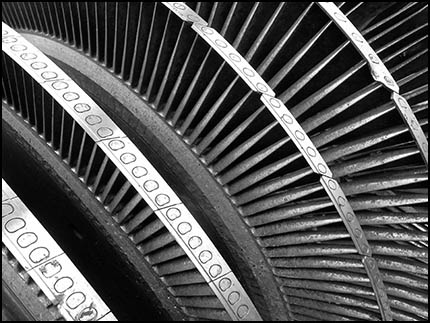 Even when all is right in the universe, things are all set out and you have a clear plan to follow… things go all FUBAR and you're left standing there, holding your packed bag, looking like an idiot, with the opportunity gone (and like all events, never to repeat).
So today is a day of taking hold of the mess that is left over, and moving on with work. No point brewing over the loss (ha!… I'll hang onto this for years).
[17] has been too long in the making. The pictures were shot two years ago, and countless edits and re-edits have been made since. Now the final prints begin, no more second guessing, I'll leave it to the critics to decide if it works in the end.
Off to the darkroom, negs, paper and enlarger lens in hand.
I've gone back and started a new edit on some Bougainville work from 2007. The original edit has gone into the burn box (again), and now I'm looking at the contact sheets, digging around with the magnifying glass and marker.
Soon the negs will be loaded into the enlarger and I'll bumble about in the darkroom, spilling chemicals and making a grand old mess.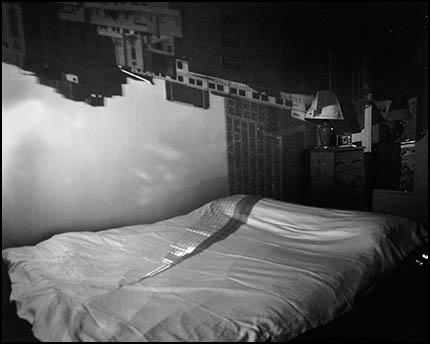 Abelardo Morell's 2004 book Camera Obscura (ISBN 0-8212-7751-0 Bullfinch Press) is a delight to sit with, open across your lap, enjoying the wonderful pictures. Morell thanks his son, Brady, for making him play again. And these photographs are just that, a talented worker having a ton of fun pointing his camera at the amusing juxtoposition of random rooms bathed in the projection of what lies outside; whether they be significant buildings or empty coastlines, spun upside down and dimly splashed across old, bare walls and plush, well furnished interiors.
The project is a simple concept, photographing the image projected by a camera obscura, effectively standing 'inside the camera'  and observing its magic. Morell entered private houses and apartments, hotels, boardrooms and vacant buildings, blacked out the windows and doors, made the necessary pinhole to the outside world and then opened the shutter of his own camera, often making exposures of over eight hours, pointed into the dark space.
While this could quickly become a repetative, one trick pony project if clumsily handled, Morell succeeds through his stunning use of elements both inside and outside, melded together.
I adore the Empire State Building laid out across the bed, and the  grain silos in Akron blending into the striped wallpaper; their sides punctured by the mirror with its lamp shadow and low buildings, otherwise unseen.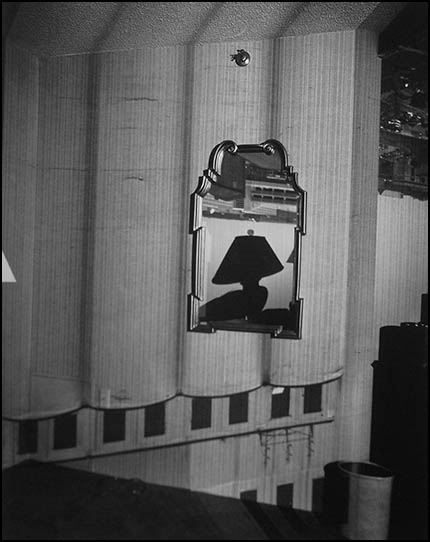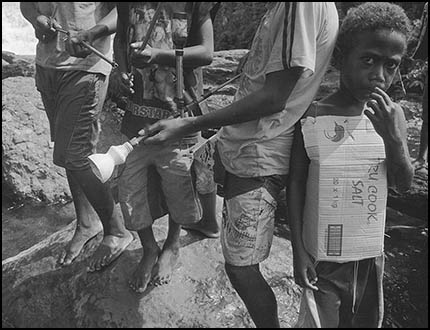 The chance to see things, to be invited to see them, to go and ask permission to see them. Often an undertaking that is at times far more challenging and requires more consideration than deciding where to plant your feet and when to push the button.
The 'subject as participant' is inherently a vital part of the social documentary projects that I am working on (a 'title' for the work that I hesitate to use, but often need to give as some sort of description). The pictures simply wouldn't come about without the people in them allowing me to be present and actively snapping. I am not much good at 'blending in', I don't work as a 'fly on the wall', and probably lack the spine to hammer away anonymously like Winogrand.
Most of my photographs are not spot-news single pictures. Unfortunately I seem to chase things that require images to build across the body of work, and subsequently must spend the time standing there, as the only way to make the photographs is to be present. While someone will no doubt blow a hole in that with references (guaranteed), it is the manner in which I work at the moment.
Now this scribble is not made to complain about the methadology. It is probably in celebration of it, as the time (and plenty of it) spent in discussion, trying to describe what you are intending to do (even when you're sometimes a little unsure), and the extended periods spent photographing are so rewarding that the finished prints (that no one will bother to look at) are at times a curious end to it all. A wonderfully complicated, communal curiosity.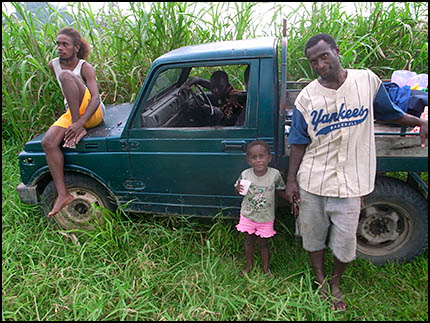 Football is a magical thing.
It has been a point from where I have found a place within the community (whether Brooklyn NSW, Port Moresby or Buka) and made friends and connections that would often be hidden from my daily life.
On Sunday I walked onto a grassy pitch in Arawa (Central Bougainville), barefoot and wearing boardshorts, and played on a team I had met only minutes before. Leslie, a friend from Central Bougainville, was a part of the group, and when they fell short of the 11 players I was roped in from the sidelines; moved from spectator to player.
The field is surrounded by large rain trees and long grass, the grandstand is scrap metal, hauled from an old mining interest, that has been erected into tiered bench seats, and cars are pulled up on the side of the field to watch the undertaking.
My thanks to the players from 'Plasma', the team I was fortunate enough to run with and enjoy the simple pleasure that a game of football brings. One ball, two goals and a rule that you can't use your hands… beautiful.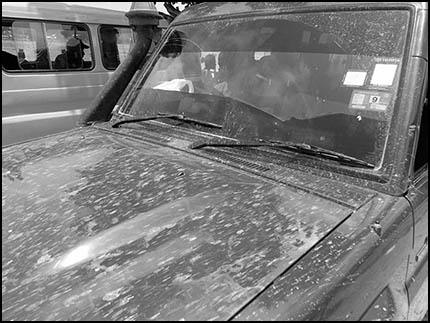 Have made it back to little Buka. A good few days, most of them spent chatting rather than snapping. Shot a few rolls though, always great to point the camera at something. Typically I've caught something (probably another round of malaria),so am feeling a little rotten at present.
A few bits and pieces  to upload (playing around with some multimedia stuff each evening that I shot on the little digi, testing some things and making a few simple mock-ups), so I'll finish this and get on with it.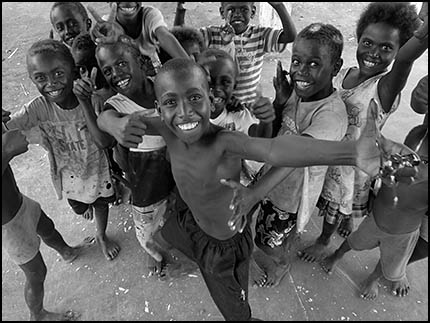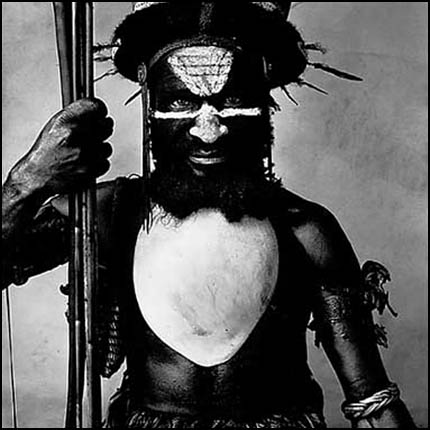 In typical fashion with all the excitement this morning, by the time I got back down into town and finished off a few jobs, the chance to get down the island had passed. So I'll be off tomorrow morning.
I logged on to check my messages this evening and came across the news that Irving Penn has died.
His diverse work, whether colour studio still life, graphic fahion spreads or portraiture in the highlands of PNG or South America, was always outstanding. Rigorous, strong and direct. His project and subsequent book Worlds in a Small Room is a joy to look through.
This is a great loss.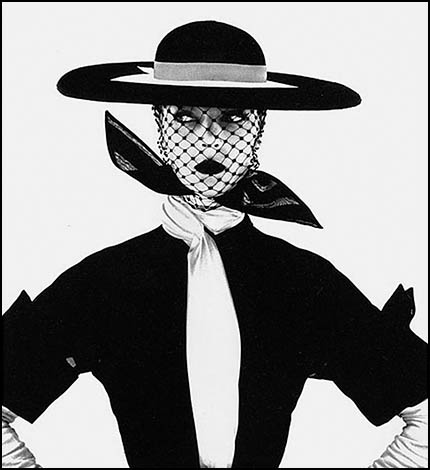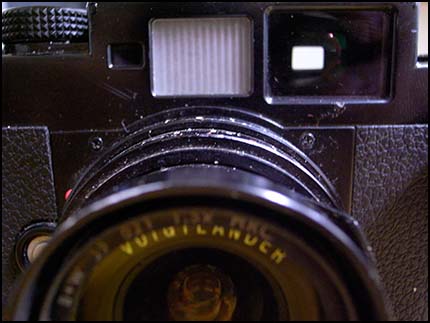 I've packed a bag and am heading off down the big island to continue working on a project and meet up with a few people. Phone and net coverage will be patchy for the duration, so apologies if anyone is trying to find me. Send an email and I'll reply as soon as possible. Should be back in a few days (give or take a few for weather, surprises and transport).
This morning a tsunami warning went out across Bougainville, and Buka town quickly emptied as people went for high ground. A number of quakes had rumbled over in Vanuatu, and a 'wave' was recorded by the Hawaii crew. We waited for its arrival, but nothing came through. Rumours of water coming up in Central Bougainville a few hours ago, and other stories floating about. More than likely nothing happened, but we'll know more later as it all comes out on the news services.