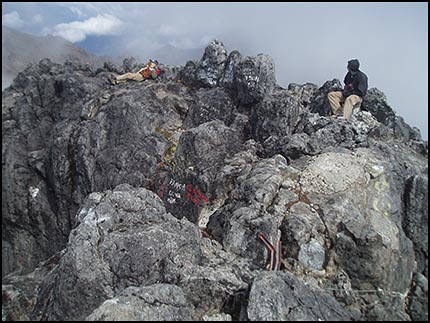 Mt Wilhelm is the highest peak in Papua New Guinea. Its summit is at 4509m above sea level. It sits up in Chimbu Province between the Eastern and Western Highlands of PNG, and is surrounded by stunning peaks, rivers and valleys.
I've travelled to Mt Wilhelm on two occasions, and have more trips planned. The first time I summitted with my friend Matt Vennemyer in clear conditions. The altitude hurt with head spins and lethargy, but it was stunning. Another friend, Kerrie Grant, was with Matt and I, and enjoyed the stunning peaks and valleys surrounding the mountain. The second time I attempted to summit was with a group from Port Moresby. We were chased off the mountain by snow. Not a little rain and ice, I mean SNOW. The picture below shows the last few people to turn around, and you can see the conditions. While not 'bad', it was certainly a shock in the tropics, and all were suffering. I admit that I spun around not long after the snow started as my blood has thinned and no matter how much of a belly I try to grow I just seem to get cold.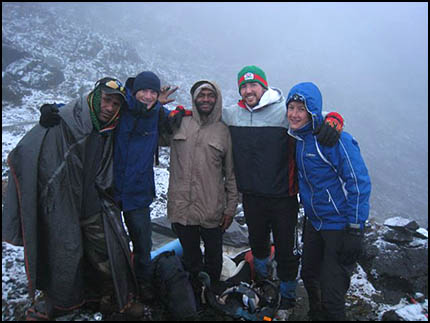 The mountain should not be taken lightly. A number of tourists and residents have lost their lives on its slopes. Altitude, rapid weather changes and accidental falls have all contributed to the deaths. Some have not been recovered or even found. I am far from being experienced in these matters, so I can only recommend people being well prepared and aware of the serious nature of their undertaking. It is not a technical climb, in fact there is very little scrambling involved, mainly just pulling yourself up a few steep inclines and then trudging along in the thin air.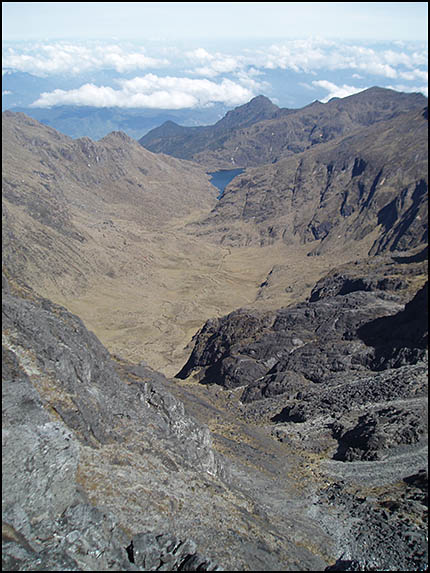 We had gone up the mountain the second time to try and see our friend Mark Clark fly a paraglider from the top. It has been done before, but to stand there and watch someone do it would be something else. Of course, the morning after the snow we awoke to the clearest day you could imagine, but we lacked the will to try and climb again.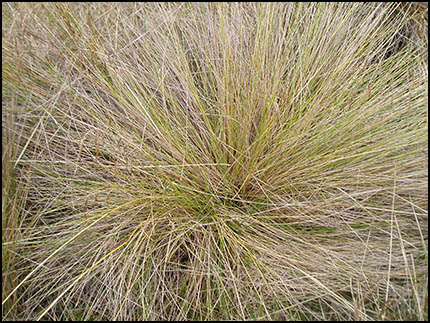 So, a commitment has been made to go up next season and try to throw him from the top. We just need the right weather and a time when we can all be in the same place at the same time.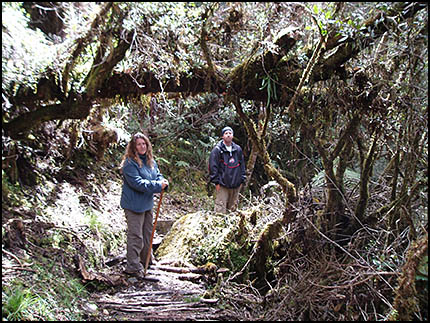 Other than climbing the mountain, there are lots of things to do. Trout can be seen cruising in the rivers and lakes, so the keen angler could enjoy the challenge and lure of a fresh meal. The mountain guides are suprisingly succesful with either a rock or crudely fashioned spear. Bird of paradise and cus cus can be seen in the cloud forest as you make your way towards the mountain. Even just a walk to the two lakes (known as base camp by some) to laze about there for a few days would be a fantastic holiday. Once you've got yourself comfortable with the height, it is wonderfully relaxing. One trip we were lucky to attend a bride price ceremony in the valley,which was incredible. The drive from Kundiawa up into the valley leading to Keglsugl is a stunning adventure with incredible scenery, and the chance to relax and chat in the villages is always great.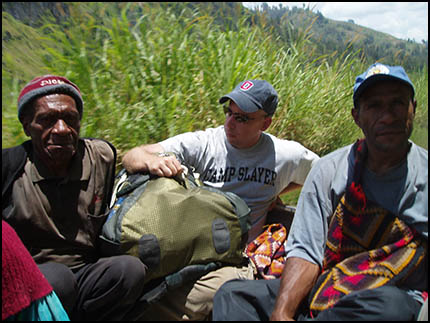 I've been up onto the mountain with Bonny Shadrack both times, and recommend him highly as a tour guide and host. I will definitely be using him on any subsequent trips I do.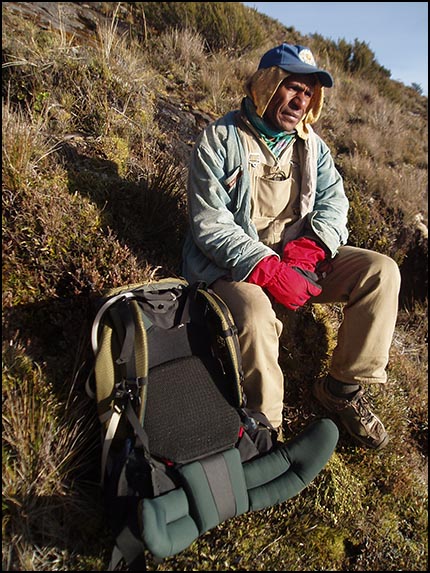 Bonny has a guest house in his village if climbers want that sort of experience (recommended, heaps of fun), otherwise he can organise accommodation at any of the fancy lodges a little further up if that is preferred. He can supply porters, additional guides and a wonderful number of tales and stories to make the trip memorable. If you want he can even get all the transport organised from either of the big highlands hubs (Goroka and Mt Hagen) if you don't feel like doing it. Bonny can also organise a walk from Mt Wilhelm all the way back down to Madang on the coast. It is supposed to be a fantastic trip, ending down next to the sea where you can throw yoursef into the warm water and rest your tired legs.
You can find Bonny Shadrack on the Digicel phone number: +675 7129 7970. If for some reason the phone no longer works when you try to call him, a few messages sent out through Kundiawa would probably find him fairly quickly. I'm looking through my notes for his postal address, and will update this entry once I find it.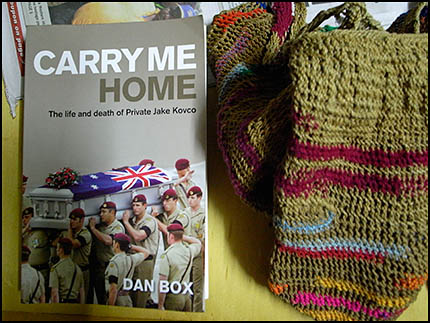 "A cool-eyed and highly readable account of how a tragedy turned into a nightmare for an Australian family, victims of institutionalised dick-headery. Is this really the best we can do for those our government puts in harm's way?"
–          Geoffrey Robertson QC
Yesterday morning I finished reading Carry me home: The life and death of Private Jake Kovco by Dan Box (ISBN 978-1-74175-274-8). I received the book late Friday, opened it straight away and only put it down for some food and sleep. As Robertson observed, it is a cool-eyed account, digging into an emotionally charged issue and clearly presenting many troubling events that shaped the incredible mess that was spawned by the death of Private Jake Kovco. The lack of clarity in the Australian Defense Forces' procedures for the immediate investigation and subsequent repatriation leave you shaking your head as it spirals out to the point of the soldier's remains being effectively lost. The investigations and inquiries that follow do little to inspire confidence that any determination could have been reached (lost reports, witness statements tampered with, evidence destroyed…).
The author, Dan Box, covered the military inquiry and coronial inquest for The Australian newspaper. Box had moved to live in central Australia by the time the book went to press, and was subsequently awarded a Royal Geographic Society grant to travel to the Carteret Islands of Bougainville. A short entry on Kisim Piksa in May 2009 referred to Dan's work here in Bougainvile.
Since then his piece has been aired on the BBC, and can be listened to online. The website journal covering his work in the Carterets is a good read and raises a number of issues surrounding the plight of the islanders, and provides links to the aired program.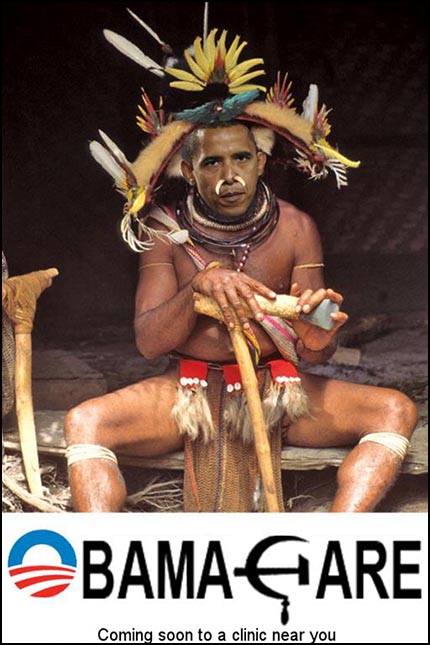 It has finally hit the papers here. US President Barrack Obama's face planted on the body of a Huli wigman. The picture has been doing the rounds, and many people are upset (you think?).
It seems some fool has mixed up somewhere in Africa with the Southern Highlands of Papua New Guinea in their effort to lay out a moronic, racially based slur against Obama and his healthcare reform plan. An 'African witchdoctor' is the description doing the rounds.
Next we'll be hearing about kangaroos hopping around in Austria…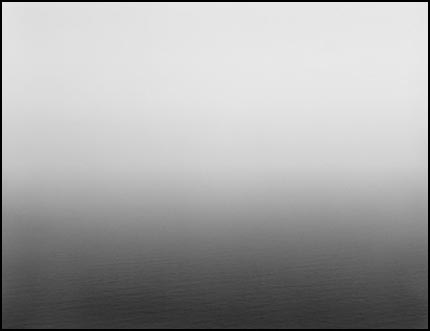 Hiroshi Sugimoto is widely celebrated as a significant contemporary photgrapher. His varied bodies of work are incredible. There have been many imitators, but Sugimoto seems to continue forward with more following.
The magnificent book Hiroshi Sugimoto (ISBN 3-7757-1640-8) sits on my shelf here in Buka. It is a wonderful volume as it provides a succesful overview of his work. Enough space is given to each series, the essays are accessable to the broader public and the reproductions are excellent. The book is big, it weighs a ton and has lots of pictures in it.
The different bodies of work that Sugimoto has created are varied and fasinating. I am particularly pleased by the diorama pictures and the seascapes, two very well known bodies of work.
The dioramas began in 1975, and the short introduction by the photographer to the series is wonderful.
"When I first arrived in New York in 1974, I visited many of the city's tourist sites, one of which was the American Museum of Natural History. I mae a curious discovery while looking at the exhibition of animal dioramas: the stuffed animal positioned before painted backdrops looked utterly fake, yet by taking a quick peek with one eye closed, all perspective vanished, and suddenly they looked very real. I had found a way to see the world as a camera does. However fake the subject, once photographed, it's as good as real"
The seascapes are vast silver views, with the horizon dividing the frame when it is visible. His camera has pointed out from a number of coasts, finding startlingly bright reflections, dark water, dense fog and gentle greys. The pictures lack a sense of scale and a degree of context (apart from the title identifying the site). They are magic things, stripped back to a few distinct tones with each presenting a new and unique outcome of a familiar 'composition'. There is an installation view of a 1991 show at the Carnegie Museum of Art, Pittsburgh that presents the pictures in an incredible setting, such a wonderful removal of photographs from the expected gallery setting.
While I cannot expect to see a Sugimoto show in the near future, I look forward to one day standing in front of the original prints as the scale and manner in which his work is hung look like they combine to deliver something incredible.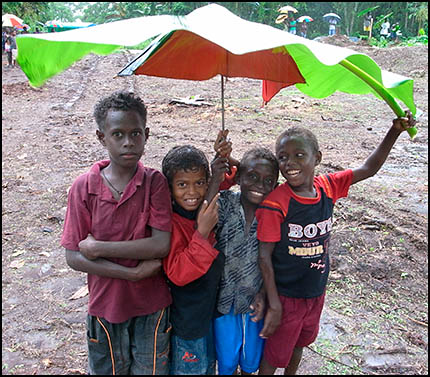 We've been having a decidedly 'damp' dry season. Buka has been poured on, Port Moresby is reasonably green and Kavieng has had weeks of non-stop showers. At least most people's water tanks are nice and full, but many agricultural interests like cocoa would like to see the rain ease up pretty quickly.
It has made travel in Bougainville a little challenging with many of the river crossings not possible due to flooding. The levels certainly drop quickly, but a life and a few vehicles have been lost recently when attempts were made a little too early.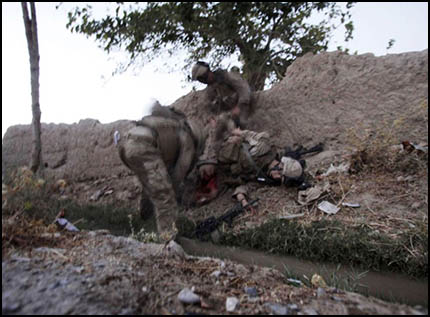 As per usual I got a heads up from a friend in Australia to look at something. With the poor connection here  I don't bother surfing much due to the hours spent trying to maintain a connection to the server. This has probably been seen by most, but I include it here as the debate that surrounds it has been fascinating (if not familiar).
This photograph, made by Julie Jacobson (Associated Press)on 14 August 2009, has raised hackles in the USA. Criticism of the decision to publish the picture across various media is easily found. The photograph shows Lance Cpl. Joshua M. Bernard lying wounded in Helmand Province, Afghanistan.
He was on point when his patrol came under fire. The ambush included RPG rounds, one of which mortally wounded Lance Corporal Bernard. The shrapnel amputated one of his legs on impact, and badly injured the other. The two marines shown attending him applied tourniquets and administered first aid in an attempt to save his life.
The photograph was shown to both Lance Cpl. Bernard's unit and his family. His family requested that the image not be published.
The picture was released after the funeral of Bernard.
The debate seems to centre around the family's request that it not be published. Obviously the back and forth is at times heated and sometimes introduces much more emotion than any engagement of the core debate. The fact that the US Secretary of Defense jumped in early raises the stakes some.
I encourage all readers of kisim piksa to do a little looking on this one, to dig into the idea of publication, the role of the photographer and the idea of censorship on request. There is a lot to this, and I will not fool myself into thinking that I could flesh it out here.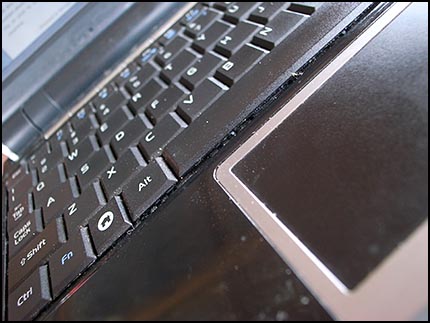 As much as I love my little PC, that is not bigger than an A5 diary, is quick, does everything I need it to do and was surprisingly affordable… now that the 'shift key' has died and 'left click touch pad key' is unreliable, the PC is the bain of my existance (an over-reaction, but who wants to continuously play with CAPS LOCK and carry a USB mouse everywhere?). Photoshop becomes surprisingly awkward without that left click behaving…
I see myself studying 'bush computer tech 101' in the near future.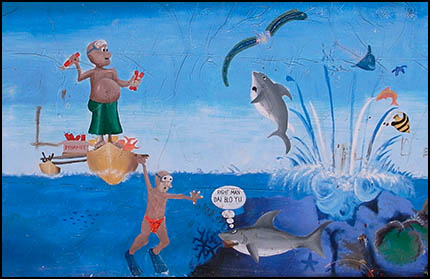 This mural is on a wall in Konedobu, Port Moresby.
Dynamite fishing is a well referenced curse around Papua New Guinea, and Bougainville suffers its fair share of the practice. I saw a friend's son in the Buka hospital covered in burns and missing most of his right arm due to an accident with some explosives while fishing. Unfortunately he died that night.
So along with the tremendous damage 'dynamite' does to reefs and local fisheries, the danger it poses to those using the technique is real and frightening.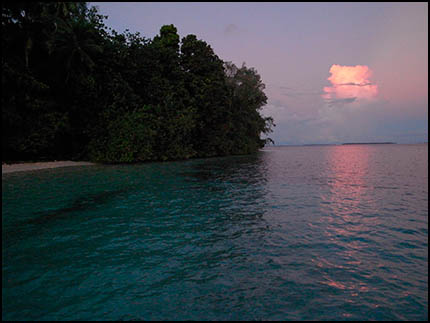 Last Tuesday morning we started an unexpected short trip out to Kavieng in New Ireland. The dreaded plane trips continue. A short stop over in Rabaul/Kokopo, so I really can't complain. It is a stunning spot to stop and enjoy the South Pacific. Edwina's good friend Rachel is up visiting, so we were off for a relaxing few days.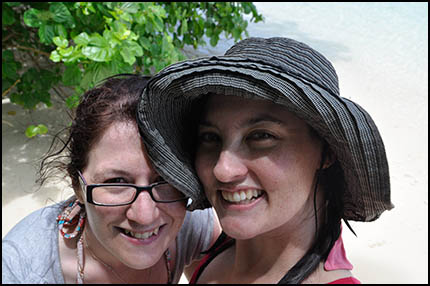 Rabaul was the site of a huge Japanese presence during WWII, with a large fleet of merchant marine vessels in Simpson Harbour and many bombers and fighters flying out of the numerous airstrips in the area. The allies attacked the harbour a number of times, and sank many ships in it and along the coast. Rabaul was a diving mecca for many years, with travellers coming from all over the world to sink into the deep harbour and explore huge vessels full of munitions, supplies and artefacts, that had become covered with incredible coral growth and countless fish.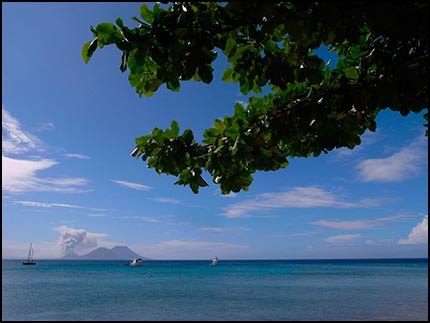 1994 saw the eruption of Tavurvur and Vulcan, covering the area in ash and pumice. Much of Rabaul was destroyed by the ash. Many of the shipwrecks, famous around the world, were covered and lost. Others somehow came through unscathed. I have been lucky to dive the Italy Maru and see the stunning black coral trees reaching out from its upturned deck.
Then back to Tokua airport and on to Kavieng in New Ireland. We were lucky to get a room at Nusa Island Retreat, so settling in was easy with the laid back atmosphere, incredible food and table tennis table (the site of many duels through out the trip).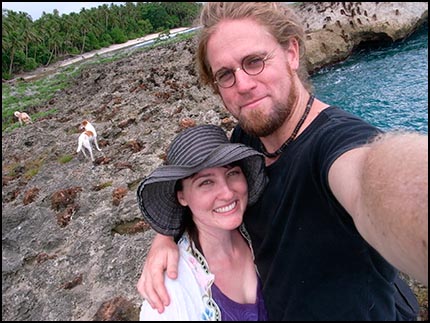 Days of walking in the bush, snorkelling on great coral reefs, wandering along the beach from village to village and reading a book were just perfect. I shot a few frames in the water, but nothing that will contibute to projects already underway. No point getting sidetracked, best to stay with those bodies of work that I've invested time and energy into.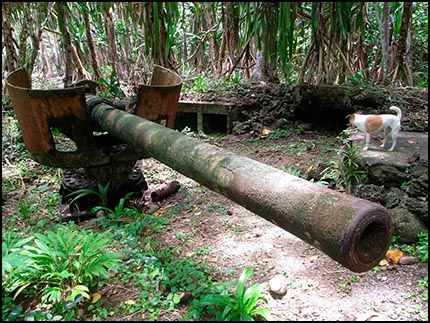 I got the chance to skin dive the Der Yang, a Taiwanese fishing boat that was sunk just out of Kavieng years back. It was a bit of fun, dropping down for a look, then swimming up into shallower water to enjoy the coral reef it lies on, with bigeye trevally and the occaional dogtooth tuna sailing by. Edwina and Rachel had scooted off to another island, and had found some wonderful snorkelling along a coral slope with little reef sharks and heaps of fish cruising around to keep them entertained for hours.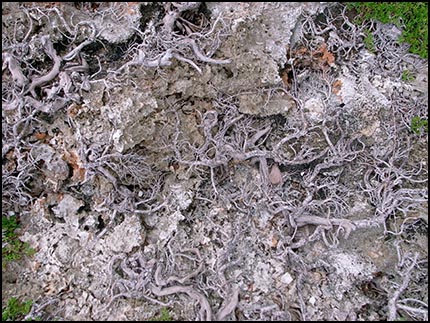 Typically though, a great day in the water has its price, so as I gave two solid kicks to boost myself out of the water into the boat I felt a sudden sloppiness on the right foot, and looked down to see the fibreglass fin blade had snapped clean through. Not happy, but nothing to do but shrug the shoulders and get another pair sent out to Buka. Maybe I should ease up on the food to get more hours out of my flippers.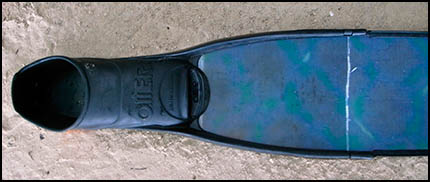 We road tripped down the island on another day to swim in a cool, clear river, fed eels at a village in ankle deep water and enjoy a day out eating ice cream.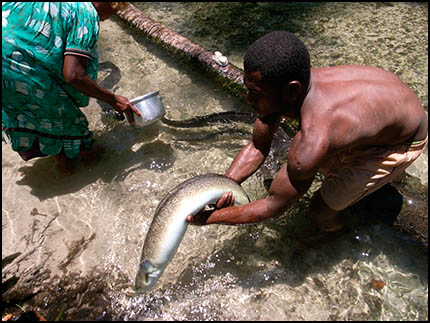 Then of course the delayed flight back to Port Moresby, so hours sitting around twiddling thumbs while you hear different versions of when the plane may or may not arrive. All good, there are worse places to be stuck for an afternoon. Eventually into Moresby for dinner.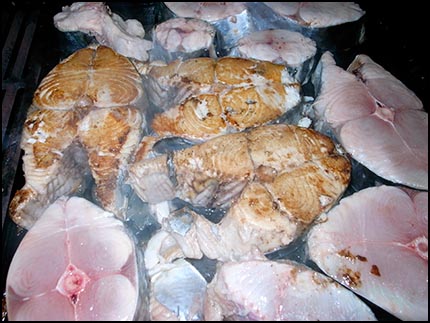 Up early yesterday, before the sun got above the horizon. Some friends and I were heading out to try and find a feed of fish, so we launched the runabout and scooted down the Buka Passage out onto the east coast of the big island.
The New Zealand crew from the Bougainville Community Policing Program were running their great boat, so Murray was skippering, with Tracey and Rom fishing the reef and enjoying a day out in the Pacific. Malu, a strong local diver, had his gear with him in the boat ready to find some fish.
We got down the coast, picked up Jamie Rutana and duked into a small bay that was riddled with swim throughs, caves and ledges. It was a highlight to sneak about through the rocky passages, slowly worming your way into little corridors and cracks, picking up some of the mangrove jacks that hang out in there.
We then moved out onto the nearby headland and dove the reef edge in a reasonable current. I was lucky to come across a decent spanish mackerel, and managed to place a good shot. Soon the fish was on the surface and then into the boat.
It got a little quiet, so we relocated a little further north toward the passage, diving another headland that had wonderful underwater caves and ledges, with a fantastic wall from 5m down to a bit over 20m, where the bottom continued to slope away. We found schooling big eye trevally out in the open water, coral trout and maori sea perch down the wall, and had a ball of a time diving in the calm, clear water till our legs and lungs gave out.
A lazy ride home and a drift through the entrance to the passage finished a wonderful day, then back up the hill to clean the catch, divide up the fish and enjoy a BBQ of magnificent fresh spanish mackerel steaks, kau kau, pumpkin, rice and beans.
A brief email exchange with a friend in the USA reminded me of the joy associated with the contact sheet.
Proofing and examining work that has had time to sit in the draw is always a wonderfully exciting thing. Once there is a little time between the event and the edit, new things are found, pictures that didn't jump out suddenly have your attention. The more complex, quiet frames begin to shine.
Bill Jay and Magnum photographer David Hurn wrote about contacts in the oft referred to book 'On Being a Photographer'. Hurn stresses the need for them and the fact that they should be of a quality that allows you to properly assess what is on the film . They are an incredibly useful tool for looking at how you worked up to a particular picture.
Wednesday was a quiet afternoon in the darkroom, proofing some negs and playing with a few plastic prints, checking an idea. Then off to Wakunai on Thursday morning for a quick trip to visit a few people and organise some access to a walk I've been meaning to do for some time. Took a few contacts sheets to show to some guys who I photographed last month.
I think this is another important use of the contact, to allow people to see the unedited whole, to understand what you are doing. Even if it is not something they like or wish to participate in, the transparency of the undertaking is often essential.