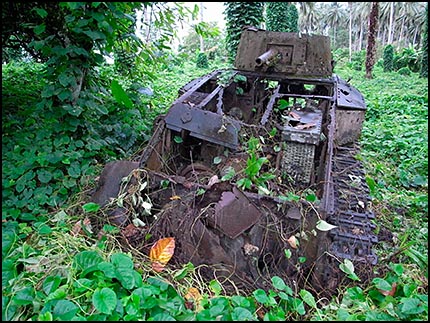 After a hectic end to the week, getting Edwina onto the Moresby flight and trying to sort out a few dramas, Sunday was spent in the water trying to find a few fish for dinner.
I had travelled back down the island to Makiwi Plantation that the Rutanas own in North Bougainville. I got there Saturday evening, stored my gear and then sat up chatting with the Rutanas.
Crawled out early the next morning, down the hill and into the water straight off the headland with Jamie, the human hand grenade. The reef is a wall or ledge, dropping from just a few metres into 15m to 30m where a sloping bottom joined the wall. Beautiful little reef fish danced around the shallows, and we slowly finned our way to the point. Timothy, a good friend of Jamie, followed along in an outrigger, bottom fishing and at the ready to pull our fish out of the water away from the tax collectors.
I relaxed, enjoying the morning, and began dropping to the bottom looking for a meal. And there they were, wonderful coral trout. A magnificent looking fish, with flavour that matches their stunning appearance. So I slowly worked along the wall, putting 4 trout into the canoe during the morning. A small dogtooth tuna came by, and Jamie got a big cod, an equally large barracuda, and a few coral trout as well.
The reef wall is really lovely. The usual black coral bushes, whips, anemones and encrusting sponges. Big groups of convict blennies, little wrase and parrot fish everywhere and the beautiful different species of the surgeon family. At one spot Jamie pointed me to a patch of sand and stunted coral at the wall base, and I ducked down to see some lovely big mangrove jacks. Couldn't entice them within range, so just enjoyed the spectacle.
We finished up around noon, cleaned the catch on the beach and hauled the fish back up the hill (with some help). Then off to the river for a wash. Nothing better after a dive than bathing in a big mountain fed river, washing down the gun and dive gear, enjoying the cool water and wonderful weather.
An afternoon nap  and a big dinner finished out a needed day of rest. Fantastic.
The ride home this morning was easy, with a few stops to pick up and set down passengers. One stop near the Japanese type 89 mini-tanks at Sierra gave me a chance to snap a quick pic on the digi. It is always a funny thing, to roll down the road and see a pair of these things pushed up on the shoulder. They had been straifed in WW2, and bear the holes torn in their armour by the large rounds.
Bloggers often just stop, dead in the water. No big reason, no great catastrophe, just nothing more to write or maybe new projects demand the time usually set aside to attack the keyboard.
The photographers Alec Soth and Tim Atherton both ran fantastic little blogs for a number of years. They covered different material, as they themselves make very different pictures.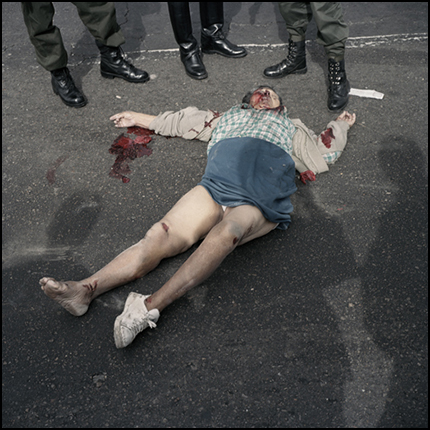 Alec finished his blog with a short entry asking for letters because he was sick of email. Now the archive is linked to his wonderful site where you can see a good selection of his work. Soth is a member of Magnum.
Tim seemed to disappear a while back, and readers began to think the worst (forums began to ask 'how old is/was he etc!). He turned back up, posting for a while and continuing to show us some interesting things. But he's gone to ground again, and at this point the blog is inactive for the last few months, last updated with a post about the Irish photographer Richard Mosse in early June. But who knows, his blog may spark to life again. A number of Atherton's projects can be seen off the side of the blog.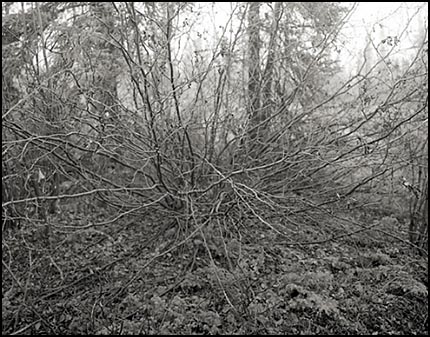 These two blogs are little gold mines to explore. The great thing is that they point out into the wider community, and you can spend a crazy amount of time moving from one place to the next, in ever expanding circles.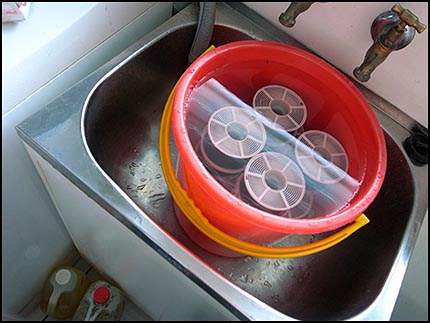 Bouncing the dev tanks around in the sink today, souping the Wakunai film. Only 20 rolls, so I can knock it over in 4 tank loads. Gotta learn how to double up the 120 rolls. Tried it a long while back but destroyed some film…. once bitten twice shy kinda thing. But the ability to run 2 rolls per reel with confidence would be a massive boost in speed. Time to teach myself a new trick, though the satanic Paterson system tests my patience every time. Maybe back to steel….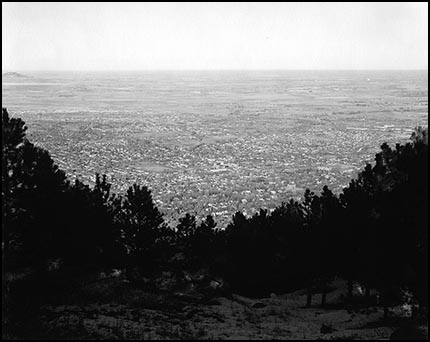 Too many times Robert Adams' photography is referred to as an after-thought once his writing has been picked over.
Adams does not always appeal to those who come to his work with the 'US West Coast' photography of the 1940's in mind. While Adams has heavily identified himself with 'The West', his pictures celebrate its possibilities without ignoring the problems, mistakes and shortcomings of its population.
The small book 'Along some Rivers' holds some fine examples of his photographs. I am a fan of the pairing of the cover photograph (a print I would love to own) with the photograph of a hawk (or eagle) drifting above a similar piece of land. The small book is wonderful to hold in the hands and enjoy anywhere.
I was lucky to walk into a small room in the LACMA in 2006 with my friends Jason and Adriana (www.treefilmworks.com)  and see prints by Atget and Strand. And there hanging next to them was a picture by Robert Adams. It was a wonderful print, a scene of tract housing underneath a big sky. Very simple and direct, it did not shy away from the stunning light nor the horrid buildings slapped onto the landscape. I have been shocked to read people refering to his prints as poorly crafted and not particularly impressive in person, as the example I saw was stunning.
I really must acquire more of his picture books. When you look through the list there are quite a number, many printed through his close association with Nazraeli Press (www.nazraelipress.com).
His writing, as mentioned earlier, is generally the point of reference that many people use. I can't ignore it, the work is excellent. The oft read book 'On Photography' does contain some exceptional essays. I always smile through the trilogy of 'On Writing', 'Teaching' and 'Colleagues'.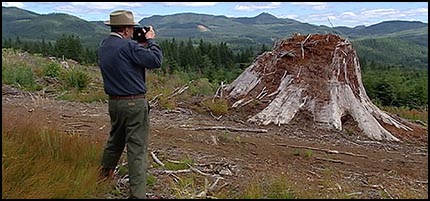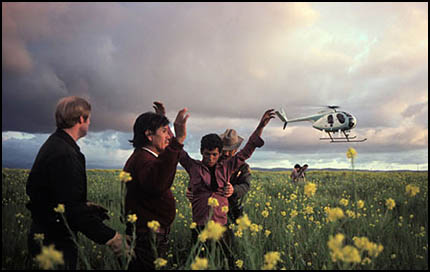 Alex Webb is a stunning photographer. I am lucky to have 'Crossings' on my book shelf. I go to it often and come away shaking my head at how good it is. When leaving Port Moresby for Buka I had to ditch most of my books, putting them into storage, only taking a select few. Webb's Mexico/USA border work could not be put away.
One of the introductory pieces in the book (written by Webb) is wonderfully direct.
"…some 2000 miles long, a few miles wide, a kind of borderland, partaking both of Mexico and of the United States, yet neither one nor the other, a place of perpetual transience where migrants, tourists, workers, shoppers, and smugglers cross back and forth, always searching, going to the other side…
I first went to the border in 1975, I worked in black and white then; now I work in color. My initial fascination with the world of illegal border crossers has expanded to include many other kinds of crossings, cultural, economic, spiritual: Halloween festivities in Mexico, charro celebrations in the United States, U.S. college spring breakers in Mexico, Mexican shoppers in the United States. Culturally interwoven, this U.S.-Mexico borderland has come to fascinate me, almost a third country unto itself that is brutally divided – by a river, a fence, a wire – and yet somehow is also one.
Since 1975, the border has continually changed: on the Mexican side, border towns have become one of the engines of the country's economy; on the U.S. side, towns are now often dominated by militarization – a beefed-up border patrol, a massive metal fence, and helicopters. On both sides, desolate villages have become towns. Cities have sprawled.
As the border has changed, I have changed, but my obsession with this strange land of cultural fusion – blurred, ambiguous, ever-changing – has remained. Like so many North Americans, like so many Mexicans, I also have continued to cross.
This is a book of crossings, all kinds of crossings – mine, and those of others."
The pictures in 'Crossings' are brilliant. Crazy 'decisive moments' (cringe) with colours bouncing off each other, the dusty sun bleached tones of open streets and the boozy nights. I've seen Webb describe himself as a 'street photographer', but I'd beg people not to use this label simply because it instantly drops an expectation onto his pictures, what should be seen and recorded (and how the photographs should be viewed). Most genre labels seem to fall short, especially when you have an interest in the work.
Webb joined Magnum photos in 1976 and became a full member in 1979. He has a number of books under his belt. These can be found on the Magnum site and the personal site below.
Webb's personal website is a shared space with his partner and wife Rebecca Norris Webb.
Magnum in Motion have also worked with Webb. A podcast presentation of 'Crossings' with an audio track of the photographer discussing the project is available and I'd recommend getting on their site to download it. I would assume that there are a number of other items available for viewing, unfortunately my connection here just does not allow me to explore that sort of content. Go forth and surf the internet.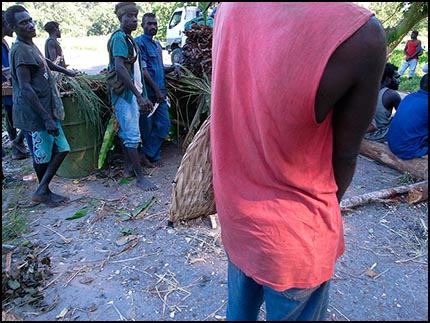 Jeff Nehi was shot in Southern Bougainville on Sunday the 2nd August 2009. He died from his wounds. Mr Nehi was a man of Wakunai heritage from Central Bougainville. He was visiting family members in Siwai when the fatal event occurred. There are still a decent amount of weapons held over from the crisis in the south, though it would be inaccurate to state that they have the only cache.
A road block was quickly set up on the Bougainville trunk road at the Wakunai River by members of the local community, and vehicle traffic was brought to a stand still.
Demands for compensation, the arrest of the shooter and the disposal of weapons were made by the Wakunai leaders.
Arawa cars had made an appearance at Kokopau on Friday morning (7th August), so it was clear that at least some vehicles were being allowed through along the trunk road.
After a slow trip down the coast in a PMV I got to the road block. A number of 44gal drums were standing upright across the road, with a large steel bar and bits of jungle foliage on top. A single drum on one end could be rolled out of the way to allow passage. A quick head count put about thirty men and boys around barrier. I got out of the car and chatted with those checking cars as they arrived. After explaining why I was there and what I wanted to do, I got down to rolling film through the camera. Snapped a few frames on the little digi for kisim piksa as well. While I worked a few different conversations were struck up with the guys at the barrier.
I soon learned that a meeting was being held the next day between the Wakunai Council of Elders and a delegation from Siwai. With this now on the cards I headed south over the river. A short walk down the road brings you to Wakunai Station. I met the District Manager and a few of the Wakunai chiefs. After another explanation of what I was looking to do I received a very generous offer to stay at the station that evening and permission to attend and photograph the next days meeting.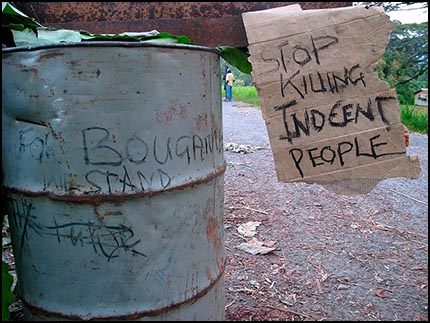 A slow wander back north to the road block and I made a few more pictures. A few small signs had made their appearance on the barrier. It got dark and I walked back down to the station, enjoying the cooler dusk air.
The Council of Elders of Wakunai were very generous, and I sat down for a meal with them at Mr Gordon Bure's house. The discussion, moving between tok ples and pidgin, focused on the next days activities. I excused myself early to ensure they were not inconvenienced by my attendance. Back to the house where a number of us were sleeping, and then out like a light.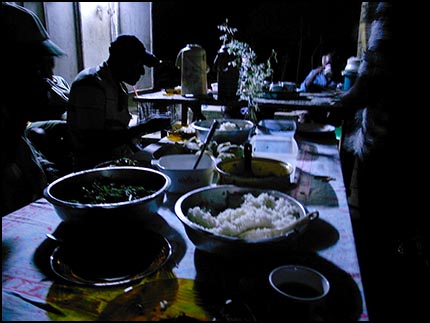 Next morning dawned bright and hot. It was assumed that the Siwai delegation would be arriving later in the day due to distance and the need to get everyone together to travel. I got my things and wandered around having a look at the place. I ended up on the beach, enjoying the volcanic sand and the wiggling patterns made by freshwater springs discharging onto the coast. I think I might need to spend a few days on that beach just pointing a camera down at the sand and rocks, even if it sends awful shivers of parroting Weston up my back.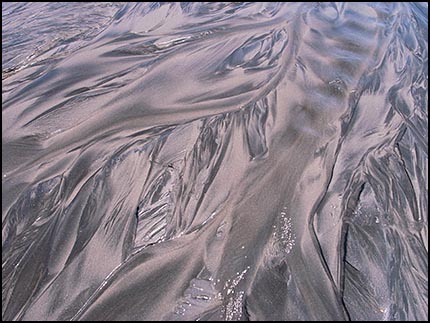 Cars began arriving from the south just before midday, and continued to come in for a couple of hours. Once the Siwai delegation had assembled a document replying to the Wakunai list of demands was presented. It proposed a time line and set of actions for rectifying the animosity between the two regions.
The two groups then retired for discussions prior to the main meeting. I approached the Siwai delegation to explain my presence, then moved between the meetings photographing the participants.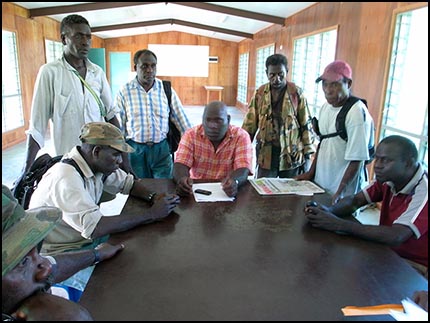 By late afternoon the two parties were seated in the Wakunai District conference room. The meeting began with a prayer, and then the negotiation began. Obviously because a murder had led to this meeting it meant that the discussion was at times tense. Still, the meeting did not stall. People voiced their opinions and the problems associated with the demands made by the Wakunais and the reciprical proposed course of action by the Siwais. As the two regions have quite different customs regarding these sort of practices the discussion at times had to cover the culturally specific actions that the two parties were taking. The customs of each side were acknowledged and taken into consideration.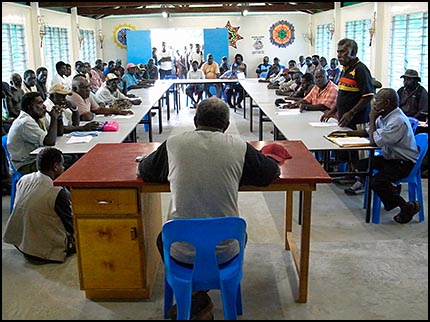 As the sun made its way down into the mountains an understanding was reached between the parties. They agreed to meet again in early September to further their discussion on compensation and reconciliation. An official Memorandum Of Understanding was drawn up then signed and witnessed by elders from Wakunai and Siwai.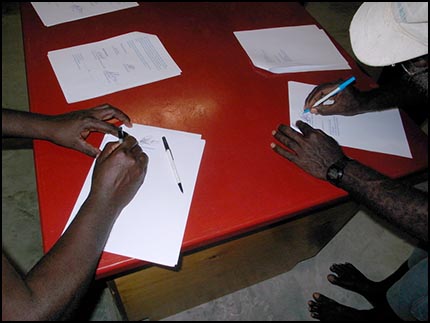 The groups came together to embrace and then share a meal. As the Siwai delegation had travelled, the Wakunais made sure that the visitors were well fed before they started the journey back across the island.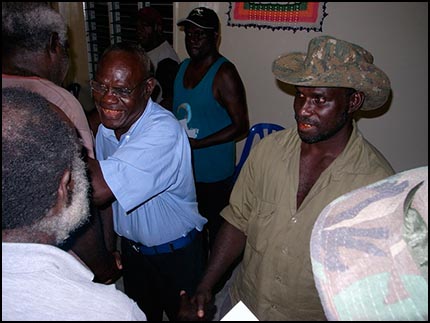 As it was Saturday night the chance of me getting back north was slim. Cars don't generally run along the road on a Sunday, so Monday looked like the earliest chance to head home. With only the clothes i was wearing, a pair of cameras and some exposed film I was a sad looking bit of work. Still, luck fell on my side as a car was leaving Wakunai for Kokopau that night, and a spare seat was available. A few hours later the Buka passage came into view.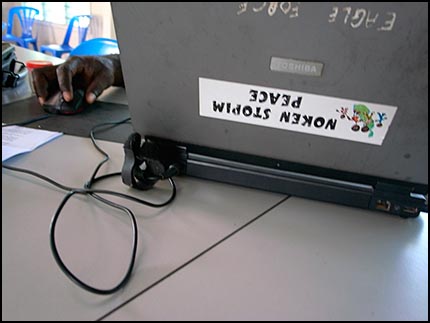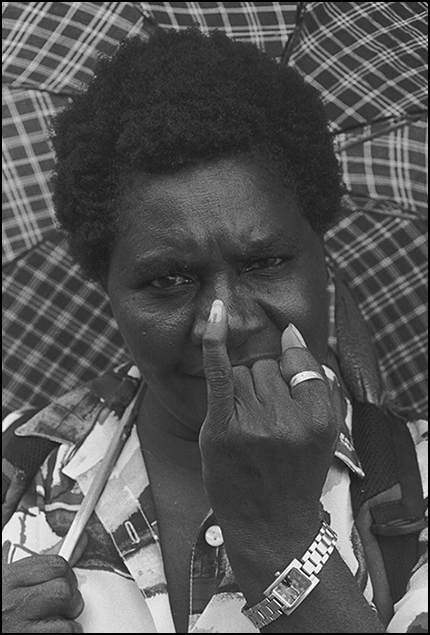 The ability to balance projects nearing completion and those new undertakings that require attention as they gain momentum is always a tricky juggling act. The task of making the decision to stay out in the sunlight pushing the button or to retire to the darkened room to see the fruits of the effort haunts us all.
The boxes of film ready to be processed, proofed and edited versus the opportunity to make new photographs, to be out talking to people, seeing things not seen before, revisiting old friends and familiar places to photograph with renewed energy.
Let alone the non-stop effort of getting your pictures out onto people's desks, under their noses so the prints don't lie in a box under the bed for the next 50 years.
I simply need to find more hours in the day…. and to stop whinging.

Dan Rule of The Age in Melbourne placed a review of 'Camp Slayer' in his A2 section last month. You can find a scanned copy of the paper here for download. Otherwise the piece can be seen here on Dan's site.
The website is a good archive to dig through for new work and to gain a broader understanding of Dan's work across a number of publications.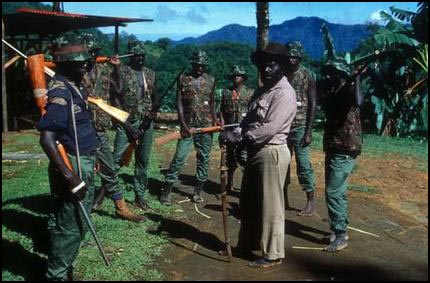 Monday morning I was rolling down the street in Buka town and glanced across at a tall fella walking in the opposite direction. With a camera slung over his shoulder I did a double take and realised that Ben Bohane was in town.
Bohane has a long standing relationship with Bougainville, and indeed the wider region. He came to Bougainville in 1994 to explore what was an under-reported conflict. His photographs are held in major collections, and he is active, shooting work on commission in both stills and moving footage. His work through out the South Pacific and Asia is highly regarded and he continues to commit to long term projects that are personally driven.
Bohane is part of the Degree South group that I have mentioned here a number of times. They have some very interesting things ahead this year, and you would be wise to get over to the site for a good look and then keep abreast of any announcements they may make.
I jumped out of the car and bailed Ben up in the market a few minutes after I spotted him. We chatted briefly, then went our seperate ways with a beer organised for that night. Imma Vitelli of Vanity Fair (Italy) is working with Ben on a few projects in PNG that I assume will be published in the next few weeks/months. If your Italian is any good then track down a copy, because Bohane told me that the Italian version is quite news heavy and carries interesting reportage work.
When I dropped by that evening they had drunk the place dry, so a BBQ was arranged for Tuesday night. Ben came over with Emmanuel Kaetavara, a young Nagovisi man well known around the region. Edwina and I had cooked up a stack of vegetables with some lamb and beef, so we all chatted over dinner and drank some wine. It was wonderful to listen to Emmanuel and Ben recount different occurances, people since gone and all the wonderful legends and tales that can be found around the place.
Again, get over to Degree South for a look, then search out Bohane's pictures online and in public institutions. There are some wonderful things to be found.
Ben Bohane is based in Port Vila, Vanuatu.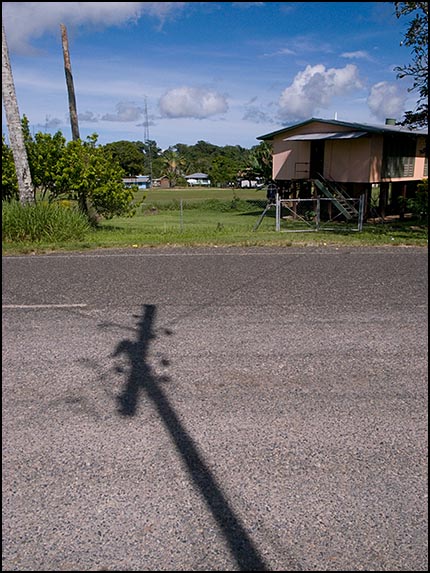 Back in Buka and plenty has happened since getting in…. but of course because I left parts of my PC strewn around the South Pacific I have been without a connection until now. I am a muppet.
Edwina and I crashed into our 30th birthdays last week. We've got a trip away together later in the year to celebrate and relax.
A little work in the darkroom this week, with a lot more in the near future.