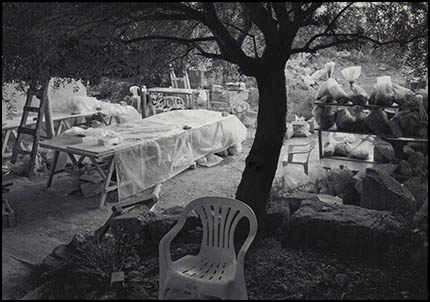 Here is a picture from 2004. I was photographing in Cyprus on an archeological dig run by members of Sydney University in association with the Cypriot Department of Antiquities. The site is a Hellenistic theatre down on the south west coast in the city of Paphos. After each day's work was done, I'd steal the last few minutes of light and run out with my view camera to make my own pictures.
Professor Richard Green was in charge of the project, and would hold court under this little olive tree during the day. All the trench supervisors and specialists would plonk themselves down next to him, discuss the issue at hand and then get back on their way. The photographic work I was doing for the crew was always interesting, wonderful delicate objects coming out of the ground, and amazing architectural structures being unearthed. Working alongside geologists, archeologists, mapping specialists, volunteers and students was fantastic, with all sorts of different life experiences and stories.
The project continues, go to the website for information. The project welcomes people interested in archeology (but without experience or training) via their succesful volunteer program.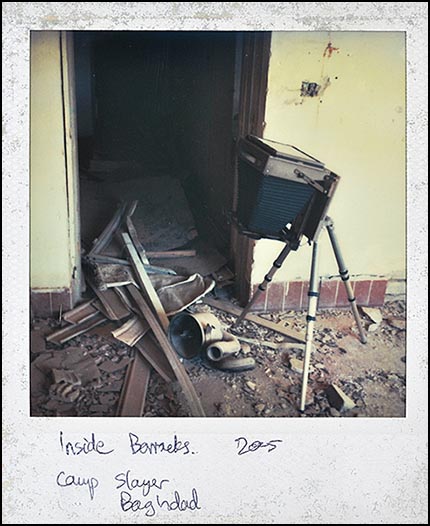 As I posted the article about Camp Slayer, BBC popped up with a story on The Impossible Project. So I have to stick with the theme just for now.
The Impossible Project is a group of ex-Polaroid employees who are attempting to ressurect the Time Zero emulsion (SX-70) using the original machinery. BBC had some footage of a few of them standing around a machine and generally looking industrious.
Good luck to them. I loved my time shooting the Time Zero emulsion. The little prints are gorgeous, and the colour palette is fantastic. I'd say my days of shooting polaroids are over, but you never know…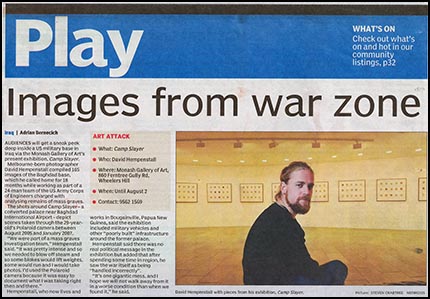 This short piece ran in the Waverley Leader last month during the Camp Slayer exhibition at the Monash Gallery of Art, Melbourne.
The author is Adrian Bernecich. We had a brief chat over the phone. Steven Crabtree cruised over to the gallery and shot a picture for  the piece.
Download here.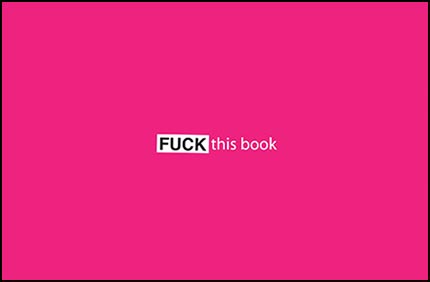 Every so often you come across a book that makes you grin until it hurts. I found this one a while back while wandering the streets of Sydney with JCJ.
I have never claimed to be high brow, and would assume that most of my friends and colleagues would back up that I often lack a certain grace and subtlety.
So when I see an entire book of 'fuck' stickers slapped on signs and then rephotographed… well let's just say it is one of my favourite purchases. Even the book title has been corrupted. The 12 year old boy in me just loves it. Hats off to Bodhi Oser for his 2005 effort and the continuing stupidity.
Oh… and the opportunity to purchase my own stickers… the possibilities…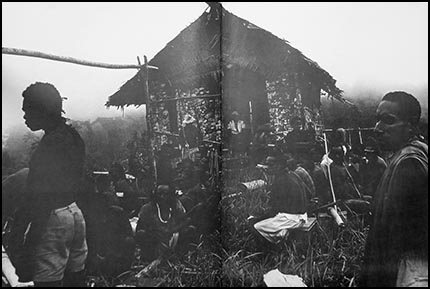 This book is a winner. I found it earlier this year in a store near where I grew up in Australia.
"Cannibal – a photographic audacity" is your classic 'photojournalist in the wild South Pacific', a boys own adventure full of guns, parol officers and 'natives'. It was published in 1970 by A.H. & A.W. Reed (SBN 589 07082 7).
James L. Anderson travelled north from Australia to Port Moresby, and then went out to the area just east of the Strickland River in the Bimai area. He met up with some patrol officers and crew, and went off through the bush, checking on villages and looking to quash tribal fighting. Canabalism raises it head (of course!) as a topic, and continues to be referred to during the book.
I admit that I love some of the photographs. In fact, I make no apologies, some of them are brilliant. The reproductions in the book may be a bit coarse, but it does not hurt the pictures too much. I've probably done more harm with my quick snaps for kisim piksa while standing over the book late at night. I love this photograph of the patrol walking along the trail through the thick jungle.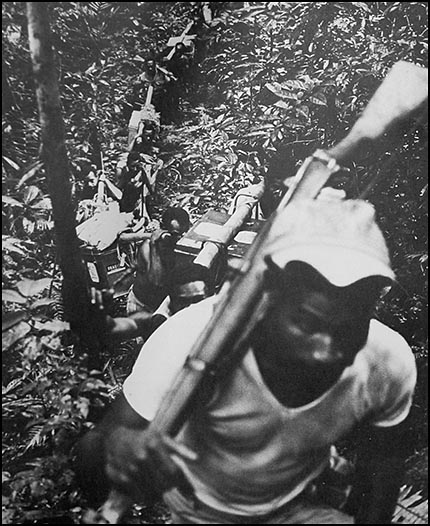 Then there are some wonderful pano pictures made on a widelux. The one below made in under the canopy is magic. I adore the gesture of patrol officer Alan Johnston in the left of the frame.

The cover is a color photograph, so I can only assume that Anderson was working in both colour and b&w. No other colour appears in the book.
The killer is the author's picture, reproduced here with respect (but oh how I want to be like Anderson on some level…. maybe a revolver and smoke are in my future ).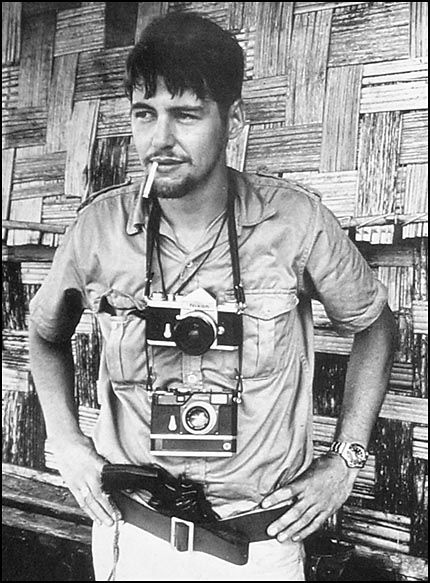 The back of the book notes that Anderson had at least one other book published prior to 'Cannibal'. The title of it is 'New Guinea', and the promo mentions that it contains 80 colour and 113 b&w and "will both challenge and inform".
The best bit about the internet is… well…. tracking down someone is often just a few anonymous clicks away. So off I went into cyberspace, and found Mr Anderson himself. Nearly 40 years after 'Cannibal' went to print, he is still photographing and living in Sydney. A few brief email exchanges occurred, and hopefully one day we'll have a coffee to say hello so I can hear some stories.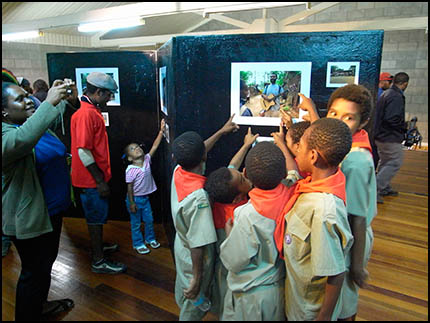 Tonight the gala night of Wok Bung Wantaim was a raging success. Congratulations to all involved!
A stage play, photographs, paintings, original music and creative writing….. the event showcased some wonderful Papua New  Guinean talent. People attending got right into the work, and it was great that all ages were represented in a very friendly evening where people could laugh, chat and story (rather than some of the more sterile 'arts' events that we've all attended).
Emmanuel Onom's pictures, the core reason why I was there, looked fantastic. Solid C-prints up on the wall, wonderfully seen and  finished. A great moment for me was realising that at least another two photographers had pictures on the wall along with Emmanuel. Around the room paintings were displayed by a number of community members, providing a wonderful counterpoint to the photographs. Wanpis and Emmanuel had the majority of the photos, and the show had a fantastic pace with the larger prints off set by some  little jewel-like prints. There are some stunning pictures in the set, and as this was a small selection a larger group will be brilliant. The best way at present to see examples of the work is to get straight over to the 8 Mile website.
Sean Davey, the Aussie photog who has popped up here on kisim piksa a number of times, was there front and centre, involved in the hanging of the work and the discussion surrounding the pictures. He has put a lot of work into this project with the 8 Mile community, and it is obvious that he has many friends there that will be with him for life.
Get over to the 8 Mile website. It has some great things to look through and explore.

For all those in Port Moresby…. get along to UPNG for a stage play and visual arts exhibition. Always good to see what people are up to. Emmanuel Onom will have some prints up on the wall, so i'm real keen to get along and see the photos in person. Fantastic.
Download the poster here.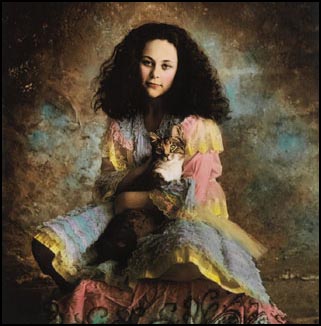 I received the awful news this morning that my friend the photographer Greg Parsons is dead. I am shedding tears for Julie and Gemma.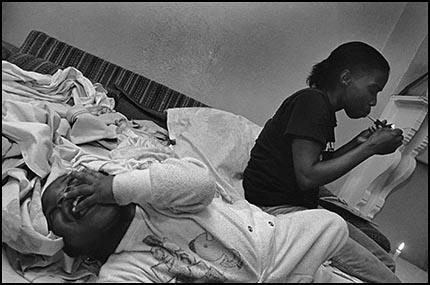 This guy is a heavy hitter.
By the time you put down 'Cocaine True, Cocaine Blue' the brain is usually spinning.
I have to put up front that Richards received quite a bit of criticism for his pictures… in fact a number of his projects have ben attacked. His work for 'Exploding Into Life', the collaboration he worked on with his wife Dorothea Lynch (his photographs, her writing) as she died from breast cancer, was deemed innapropriate (?!) by some .
I count myself lucky to look at his pictures. Richards is certainly an activist from way back. He worked in the southern states of the USA on civil rights issues, advocating through newspapers and other publications. He has since worked for numerous media, Government and Non-Government Organisations, working on long term projects and producing a number of incredible books and films.
The book 'Cocaine True, Cocaine Blue' explores the devastating field of play of the crack cocaine scene in North East USA through the 1980's and early 1990's. It is shocking, and with the large slabs of text that draw on conversations with health workers, community members, drug dealers, addicts and police officers, the issue becomes clouded in complexity and at times the futility of the participant's efforts is frightening. It is a dense book, with tons of pictures. Richards is not precious with the layout, he does not shy away from the gutter or from packing multiple images onto a page. I think the content of the pictures is so strong that the book demands the sheer overload.
The other book of his that is sitting on my my shelf at present is 'The Knife and Gun Club'. This book looks at the emergency room of Denver General Hospital and at times he sits alongside the first responders to the calls for help.  Again, the large amount of pictures, the access and the contributions by doctors, emergency ward nurses and the ambulance service combine to make a book that is again a complex and insightful piece of work. This is not cardboard cut-out stuff.
Richards was a member of Magnum and VII.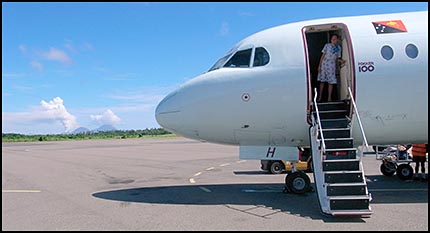 On a plane again, back to Port Moresby to get a few things done and see a few people. The new Rabaul terminal (Tokua) is a regular stop between Moresby and Buka. When walking back to the plane it is a great sight to look out across the bay to see Tavurvur puffing away.
An exciting exhibition is on this weekend in Moresby, more info to follow soon.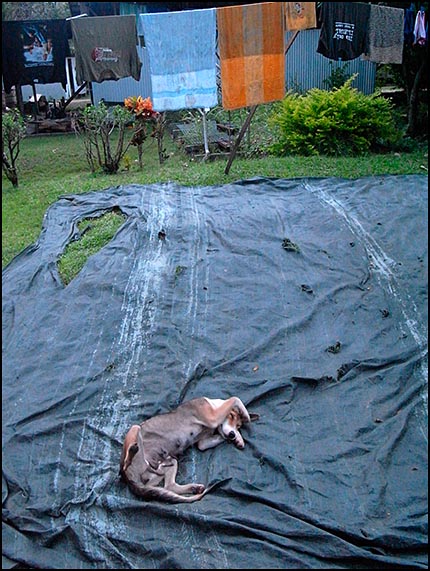 With power shortages due to load sharing in town, it is time to sweep out the darkroom, scrub the sink, clean the enlarger and attend to all those little things that have been put off to a later date. Some of these chores should have been seen to a while back….. but you can't see all the garbage when the lights are turned off.