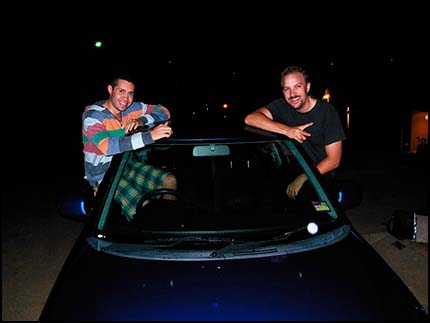 Last night I drank too much.
After rolling around Cairns getting a few last minute jobs done, I met up with Davy O'Rourke and Sean Davey at a pub just after the sun dropped. Davy is running Mama Coco in Cairns, having moved up in 2005 from Canberra. Mama Coco can be found at 196 Mulgrave Rd, Westcourt. If you're in Cairns drop by and sort yourself out with some coffee and a feed.
When the fellas turned up I did a double take looking at Davy, then realised why I knew his face. I had seen him in some of Sean's pictures. They are friends from way back, and have come together on a number of projects to make pictures. Now they are back in the same city, so trouble is afoot.
Sean Davey is a busy photographer.
A quick look at his website will show you that he is prolific, with a range of projects always on the go.
He has published a number of portfolios, small books and mounted some exhibitions in the last few years. His pictures have found their way into the permanent collections of major public institutions and been shown in public gatherings like the Miller St Soiree.
'Pidgin' is certainly a piece of work that gained quite a bit of attention, and stands as an excellent example of strong pictures made while working with close friends. I certainly have not hidden my enthusiasm for the work. The project follows two young men as they return to their mother's country (Papua New Guinea) via a long road trip up the Australian East Coast. It is aggressive in its visual record, with booze and heavy tones dominating some of the pictures. And yet it is full of joy, a wonderfully complex set of photographs that is a testament to simply starting something, to throw yourself in and work (instead of looking for 'photographs'). The limited edition book has received very positive reviews internationally. Anyone on the fence about getting a copy had better hurry up, as there were not many made.
Sean and I began sending messages to each other a while back, and we have finally met up.He has taken a contract with the Cairns Post this year, shooting all sorts of stories for them. It seems he is really happy with the move to the tropics. So it was beers in North Queensland, chilling out and enjoying the evening.
He has an exhibition coming up at a big gallery, but I'll wait until it is announced through the proper channels before kisim piksa starts yapping about it. Suffice to say it will be something fantastic. I'm sure people will be knocked over by the work shown and the story behind it.
Anyone who whinges about a lack of depth or strength in Australian photography should start digging around and engaging with current workers. There is no shortage of people doing great work.