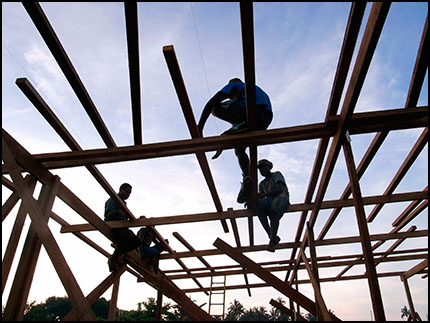 Hutjena oval has been transformed. Fences have been hoisted, the grass cut short, large tables for the huge amount of food (a pig just started squeeling across the road), and a new grandstand…. well, the grandstand is still underway.
They've got  a little under 11 hours before the big day starts. Looks like a long night ahead for the carpenters.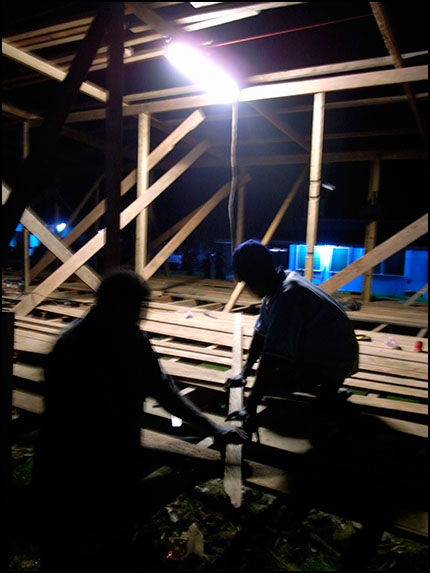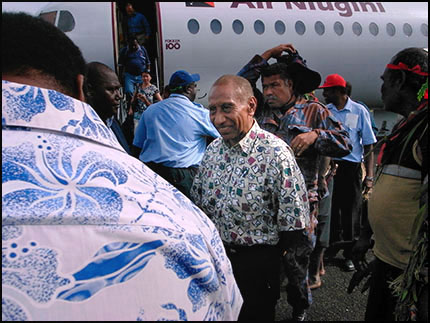 Sir Julius Chan landed in Buka this morning.
It is a significant moment as Chan was the Prime Minister responsible for the Sandline debacle in 1997. I find it surprising that this man has come back to hold an office in the Papua New Guinea parliament considering the episode that defined his second time round as PM. Mercenaries are a frightening concept in any theatre of conflict.
Still, shortly before his death in 2008, President Kabui had met with Chan in New Ireland and made quite public steps to smooth out the animosity that was still held by many involved parties. So this visit can be considered the return leg of that meeting.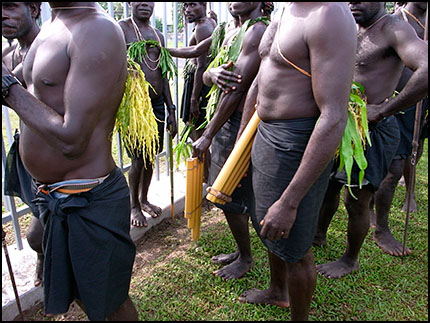 Vice President Massatt of the ABG was on the tarmac to meet Chan as he landed. A large party from the Autonomous Bougainvillean Government were in attendance, and a fantastic greeting was organised with women from Malasang and men from Siwai welcoming the incoming group. The media contingent were there, interviews, sound bites, the obligatory pictures and usual hand shaking round-about. The fellas from New Dawn FM (95.3FM in Buka) were broadcasting live, it is great to see active use of easily accessable news technology.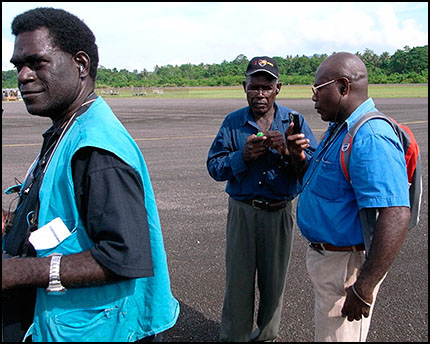 I photographed the landing, staying out of the way of those who needed to submit stories and pics to their respective news organisations. There would be nothing worse than having me buggering up their coverage.
Tomorrow a large event in Hutjena, where President James Tanis and Sir Julius Chan will come together in a public show of reconciliation.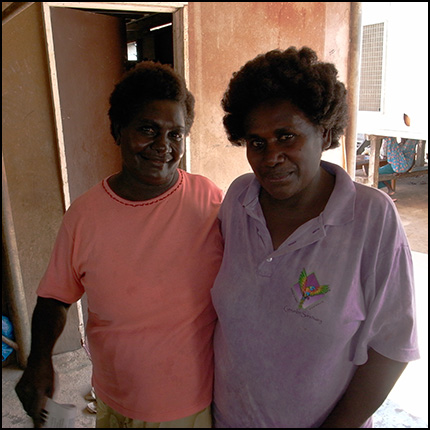 It is always great to see friends, especially when it has been weeks or months since the last meeting.
Anywhere will do, over coffee, a beer, in the street or under a tree. Gossip, stories, catch-up and plenty of laughs. Always something going on.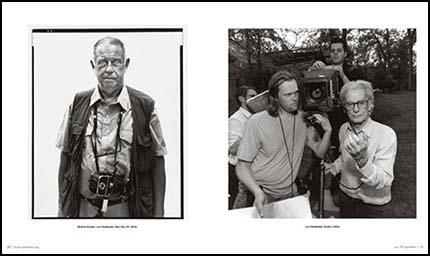 I promise I don't try and just reheat left overs for this journal, or steal stuff from others…..
But….
Lee Friedlander and Richard Avedon got together in 2002 at Friedlander's house and made portraits of each other, creating very much their own version of events. The photographs I think are more than just a curiosity. By my understanding Avedon was pursuing a project of his, and Friedlander took the opportunity as Avedon was working to raise his own camera.
Friedlander is stripped back against the classic white drop, his camera hanging over his belly, peering straight back at the viewer. Avedon is surrounded by assistants, foliage, the 8×10 pointed in while he gestures to the subject.
It is interesting in that when you see the prints  from 'In the American West' it just goes boom in your head: AVEDON. And when the square, heavy photographs of 'Sticks and Stones' open across a page: FRIEDLANDER.
But now you're looking at the man Friedlander, and yet AVEDON is going round and round and round in the brain and vice-versa. Subject and author, somehow pitted against each other in both photographs. Avedon's stark photographic signature is placed in contrast to the densely packed frame of Friedlander.
Avedon is dead, hopefully Friedlander has more pictures in him (or even books, of which he has published many).
This photograph featured in Aperture a while back, my copy is in storage now after leaving Moresby. The article had a few supporting pictures as well as an interesting article on the work.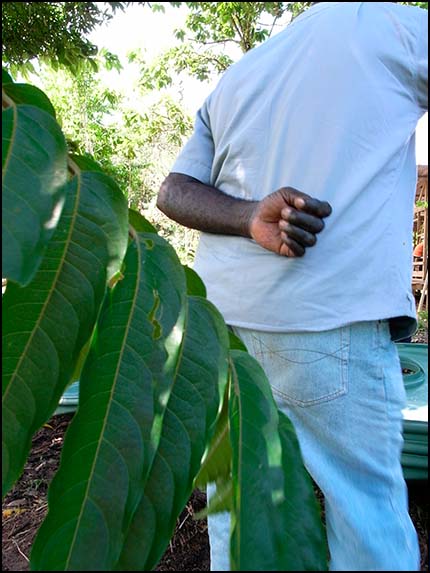 The Queen's birthday weekend has come around again, and it has been a great day in the darkroom and then two days out on the wonderful coral reefs near Buka.
Yesterday was a lazy day on an island, relaxing under a tree and a bit of fishing. It was good for Edwina to get out on a boat and relax on an island away from work for a little break.
Today was a trip out to find some fish for dinner, but I wasn't particularly succesful. A nice pair of coral trout went in the esky, but otherwise I didn't see anything worth taking. It was quiet, no trevally or mackerel hammering round, all the bait fish lazy in the water with no chew marks to tell me the hooligans were around.
Still, I dropped down the side of one reef and came across a big stand of gorgeous red sea whips that were very healthy with the usual painted flutemouth vertical in amongst them and some great crinoids clinging to the top. Large groups of convict blennies, heaps of anemone fish, little parrot fish all over the place and small surgeon fish flitting about, awesome.
Got to mix up some chemicals this evening, back into the photo cave tomorrow to grind away.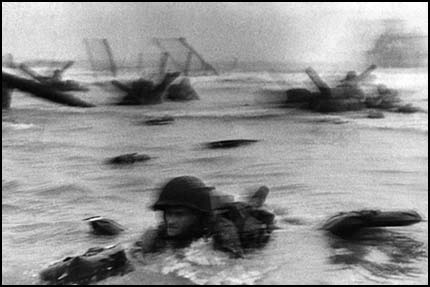 The news services are all excied about Obama, Sarkozy, Brown and Harper attending a D-Day memorial service in France.
We'll instead just look at the photograph above and shudder at what happened there. Capa somehow survived the landing, and then even after 90% of the photographs were destroyed by the anxious darkroom technician,the eleven frames left over tell us more than enough.
65 years to the day.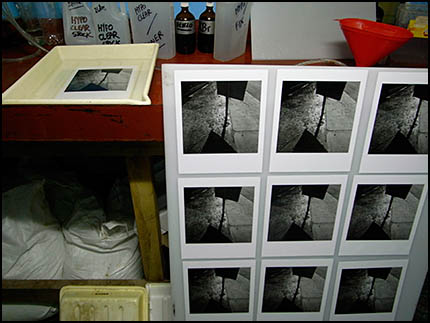 A great day in the darkroom. It just seemed to belt along, without the problems or delays that you sometimes get. I didn't have to fight the negatives, they were delightful prints to make. Buka town was dead, as always on a weekend, just drunks stumbling about in the dusk light.
The Dust Days pictures are exciting to work with, and when I pull a frame from the contact sheet and start on larger work prints, the things I find are great, it is rewarding to visit work shot a little while ago. Working on these photos makes me want to grab the SWC and run out into the harsh sunlight and snap away like I did a few years ago for this project. Got to temper that and stay locked away, splashing around in the hypo.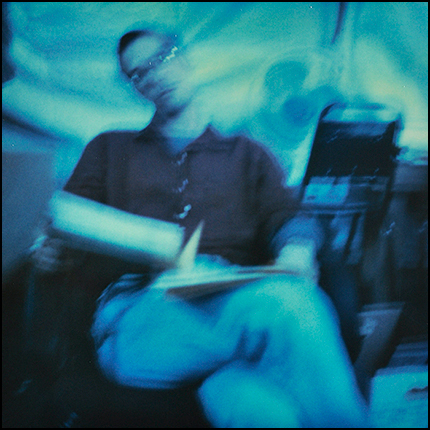 This is a picture of my good friend David Hines. I haven't seen him for years now, and we infrequently trade emails, usually just full of abuse.
Hines is a big brain, would by now have his doctorate, is a compulsive reader and general trouble maker. I got on well with him when we worked together in Iraq, even though our outlook differed substantially on many things.
The portrait of Hines is from the group of photographs called INSTANT PICTURES.It is a small body of work, only 19 prints, that was born from the same working habits as CAMP SLAYER. But unlike SLAYER, INSTANT PICTURES is a project that wanders all over the place, a diary of sorts, photographs of people, places I lived, random junk and even (gasp) a self portrait (accidental! I bumped the shutter as I was lining up something else).
I've rambled on enough, I just needed the excuse to post the picture of Hines. I really love the fan over his left shoulder. The photo's all blurry because I can't hold cameras very still and wasn't smart enough to use a flash or tripod.
So there I am this morning, negatives and paper in my bag, ready to head down to the darkroom.
Just as I reach for the door, the phone rings…. I look and it's Jamie. He has a boat organised, he's going fishing, and he reckons it looks good…..
I really should be doing what I planned, locking myself away in the darkroom…. but the plan goes out the window as I grab the dive gear and head out the door.
We dived all morning on some inshore reefs, places that are a little too crocky for my comfort, but when in Rome. Jamie put a few reef fish into the esky, and then we moved out a little into the bay behind Sohano Island. The water was green from the recent rain, and the current pushing out of the passage had the bait fish rolling around the up current side of the structure we were diving.
After about 30 minutes diving the point I slowly dropped toward the bottom again, and had a little Spanish Mackerel cruise across from right to left, coming from behind me. It turned slightly to get a better look at me, and I squeezed the trigger, hitting the fish just behind its eye. I quickly had it in my hands and on the surface I let out a little hoot. It is my first Spanish, and I've missed a few in the last months of diving, so it felt great to get one. They are a wonderful eating fish, one of my favourites.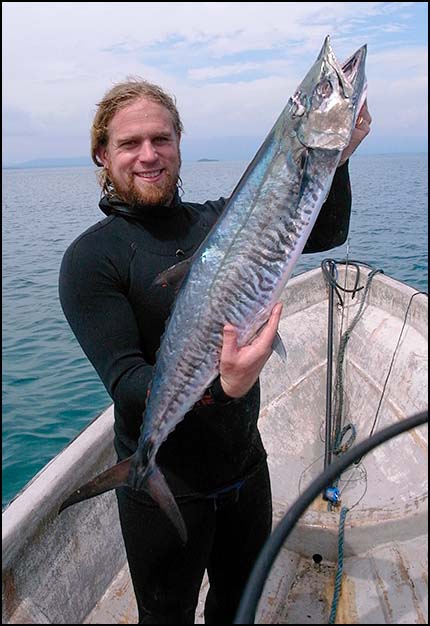 Feeling very chuffed with myself, I got a few pictures, and then we upped anchor and headed out to the west to a large sunken reef that often has good fish on it.
Of course….. Jamie got in and nailed a big fat Spanish Mackerel. So we had one each for the day. Now I just need to work on finding a bruiser of my own.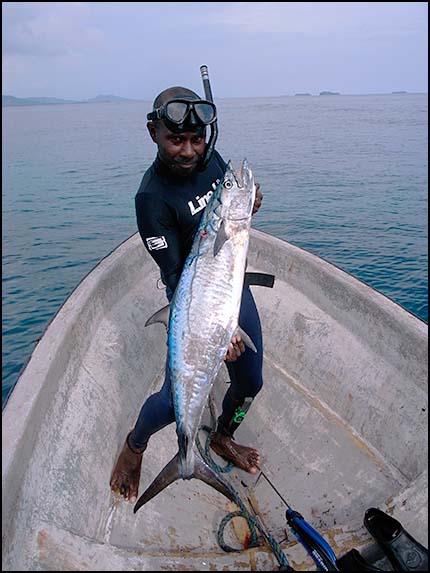 The best thing about the day, apart from the awesome time in the water and good company… I pulled the trigger on my gun once, got one single fish, and have provided a fresh dinner for at least a dozen people this evening (I'm just dropping the steaks off, they can cook for themselves). Fantastic.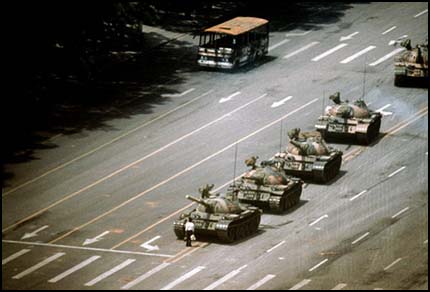 A post simply to mark the day.
Tiananmen Square has been the site of multiple 'incidents', with the 1989 protest and massacre being the most often referred to now. And there is obviously the photographs and footage from the months in 1989 when things went from sit-in to rowdy mob to massacre.
Stuart Franklin of Magnum Photos was up in the building where many pressies were camped, and shot the picture above of 'Tank Man', a person so often talked about and who will most likely remain forever anonymous.
There are interviews out there speaking with Franklin about working during the protests, and the smuggling of his film out with a French student in a box of tea.
Off to the Buka darkroom to dig around on some Dust Days prints. Things are going well, and I am figuring out how to best reproduce an essay to accompany the photographs in a limited folio. A bit of a dilemna at present.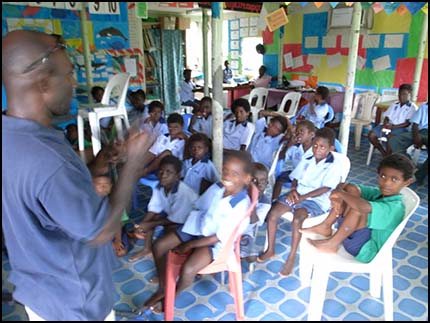 I love it when you get to visit places where you don't usually go due to circumstance and profession.
Today Jamie Rutana and I were back at school. We had been invited to give a little presentation and were talking with the kids of Kamarau International School about healthy coral reefs and the sustainable use of them. Topics like pollution, fishing practices, the importance of mangroves and the stunning types of reef that Bougainvilleans have in their waters were discussed.
The kids were super switched on. The classroom walls were covered in projects about the sea. Whenever we asked them a question about different fish or corals they were very quick with great answers. We talked about how they are responsible for looking after their reefs and fish.
Dynamite fishing came up as it is a real issue in the South Pacific. Apart from the massive damage to coral and fish stocks, the injury and death of locals every year is quite high.
Jamie spoke really well about spearfishing and how it can be a very good way to be selective in what you take. We discussed being safe in the water and how much fun the diving is in PNG waters. By the discussion I'd guess heaps of the kids there are out in the sea every other day, swimming  and fishing with friends.
Thanks to Josie and Jason Ruth, I used a pair of their pictures from PNG waters to illustrate some ideas, the kids loved them.
I definitely know I'm not a teacher. I don't think I have the temperament or ability to do that sort of thing. But it is really enjoyable on occasion to sit down in a classroom and talk with kids about things they are interested in.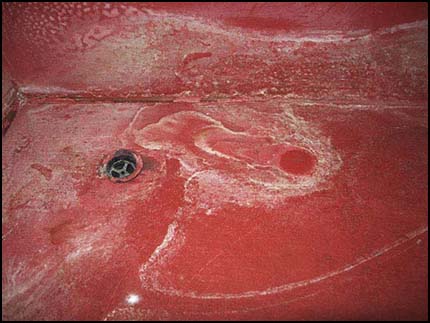 After the hectic nature of last week, spending too much time on the phone, I've set the next few weeks aside for darkroom work. Of course this can (and usually does) change.
I enjoy the print making process. I am not a fanatic, there is no pseudo-science approach or crazy tinkering with chemicals or equipment. At the same time, the darkroom work is not simply banging out the prints, with disdain for the time wasted not photographing.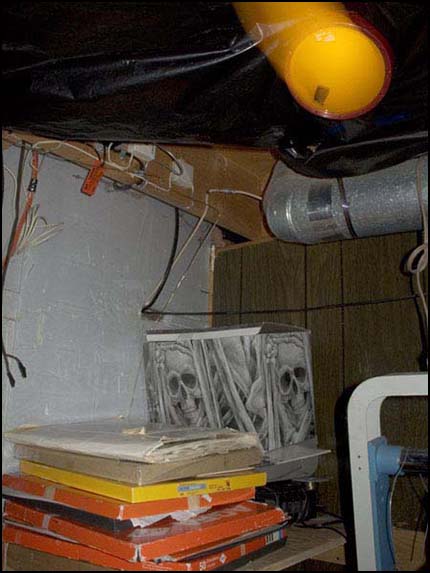 'Dust Days' is the project that will be in the enlarger, maybe with some brief breaks for some quick work prints and proofs for other projects. I'm really looking forward to the time locked away in the dark.
Nazraeli Press, along with Martin Parr (Magnum Photos among other infamy), have got together to produce a series of books. He first is 'Darkroom' by Michel Campeau, a Canadian photographer. The book was published in 2007, and copies should be able to be found without too much trouble.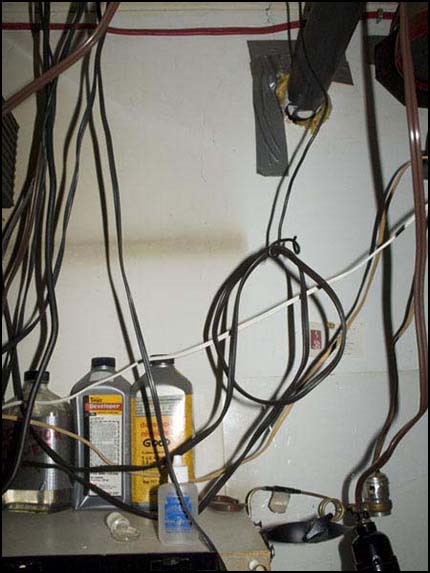 In some sort of ode to a dying (or dead) process, Campeau has pointed his camera at different darkrooms around Canada, studying the home-made solutions that we all apply to our own space, blocking out light and making it as functional as possible.  The photographs are stark things, lit by direct, hard flash in full blazing colour. All that was hidden under the soft, dim safelight comes popping out in brutal sharpness.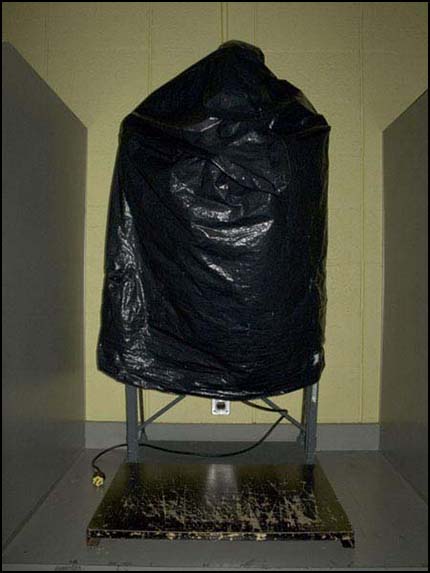 In a ridiculous moment I found myself seeing the hooded prisoner on top of a box with wires hanging from his fingers, rather than the enlarger draped in a black bag to keep the dust out that Campeau had photographed. I find these sort of 'oh I see a face!' comments aggravating, but admit that when I saw that Campeau picture I jumped straight to the Abu Ghurab image. I apologise for doing this to his pictures! They are great things, and I have used four of them here to give you a quick glimpse.
Campeau's website, along with Nazraeli Press and Magnum Photos are below. I believe Campeau has taken this project a little further afield following publication.