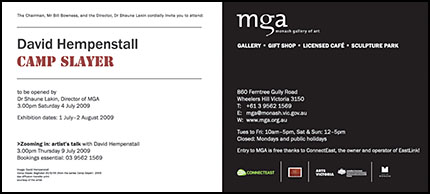 You can find the PDF file of the Monash Gallery of Art's invitation here (just under 1MB – print ready I assume).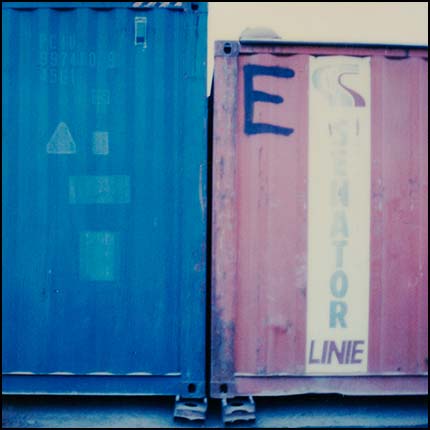 The text from the MGA's media release for the show is below. The PDF file with images and aditional information is here.
****
Monash Gallery of Art is pleased to present David Hempenstall: Camp Slayer.
David Hempenstall takes us on a private tour inside Camp Slayer, a US military base in Iraq. Comprising 165 unique Polaroid photographs, the series presents an elaborate record of the base established by US military units in a former Iraqi government palace and amusement complex near the Baghdad airport.
Shaune Lakin, Director of MGA writes that: "These small-scale Polaroid photographs are truly compelling. Hempenstall shocks us with his attention to detail — the small things that describe a personal response to a very harsh military environment. And as American troops withdraw from Iraq, it is a perfect time for us to consider the Coalition's occupation of the country and its legacy."
During 2005-06 David Hempenstall lived and worked in Camp Slayer. Working for the US State Department, he photographed mass grave sites under investigation by the Iraqi High Tribunal.
Hempenstall's photographs of Camp Slayer were taken during his recreation time. In contrast to the heroic sensationalism that characterises many press images of Baghdad's recent military occupation, Hempenstall's Polaroids provide us with a perspective that is both intimate and experimental. They present a picture of the war and the occupation very different to that found in the media and in military public relations.
MGA curator Stephen Zagala says "Viewed together, this series of photographic fragments seems to allude to a bigger picture – the idea of war itself -that is both too complex and horrific to comprehend and to picture clearly."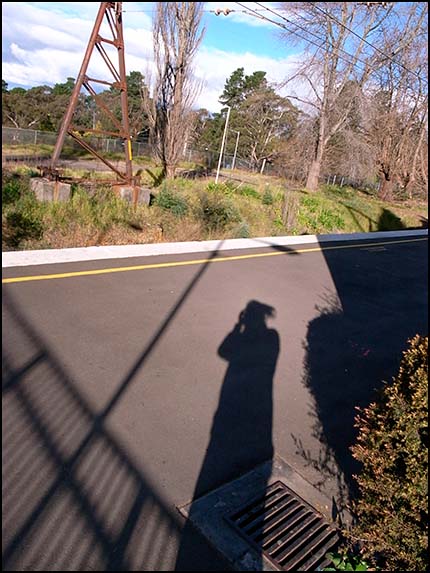 I'm sitting on the train from Sydney to Lithgow, music jammed in my ears while busy typing emails to nail down a few more appointments. This is a bit of railway that I've travelled any number of times, and it usually is a relaxing run. Today was a mess with track work between Sydney and Penrith, so it was aboard a bus for the run to the foot of the mountains where I could get on the railway.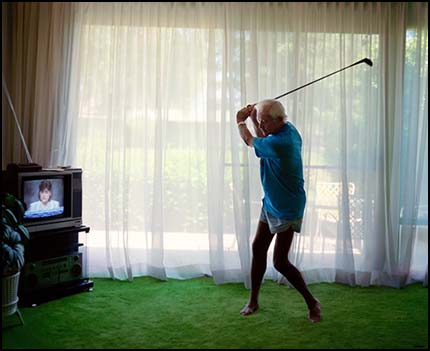 Going back to the family home is something many photographers have worked through. Larry Sultan's photographs from 'Pictures from home', a ten year (or more) project that is always fascinating to dig into… even just for that green carpet. While the later porn set work has received far more interest , possibly due to the celebrity now afforded the profession, the pictures from his parents house have something to them that is as shocking as it is welcoming.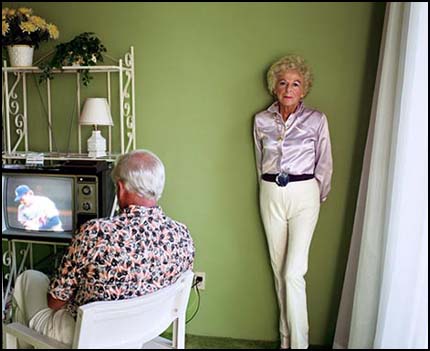 Paula Chamlee pointed her view camera at the old family farm in the Texas panhandle and produced the book 'High Plains Farm'.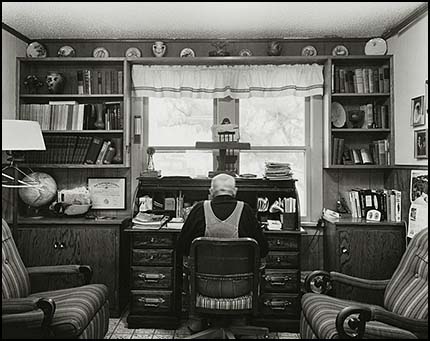 The exquisite B&W prints that she is well known for and the usual quality reproductions by Lodima Press made the volume a popular item indeed.
Sean Davey took a slightly different path and followed two good friends home on a road trip for 'Pidgin', returning to Port Moresby via a long road trip along the east coast of Australia to their departure point of Cairns.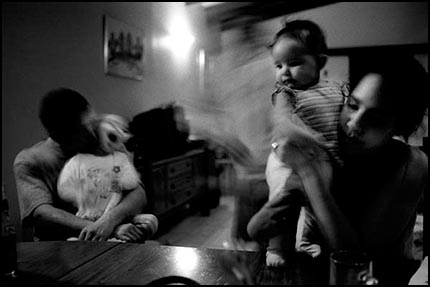 'Pidgin' is a brutal set of photographs, reproduced in a short run book by Davey and hung in a number of exhibitions. The pictures are direct, wonderfully harsh and full of family. Blows me away every time I look at them.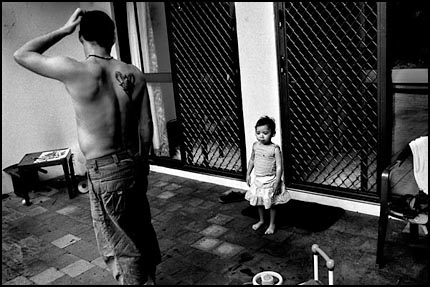 Koudelka's 'Exiles' explores his time as an man without a home or attachment to place. He is known as the guy who slept on other photographers floors or outside for months at a time, wandering, photographing, always in motion, always bringing the camera to the eye. An exile because of the threat generated by the very act of him photographing.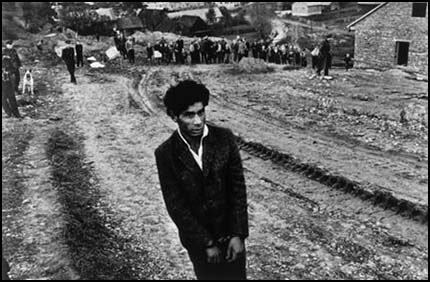 We are richer for all this work, centered around the home.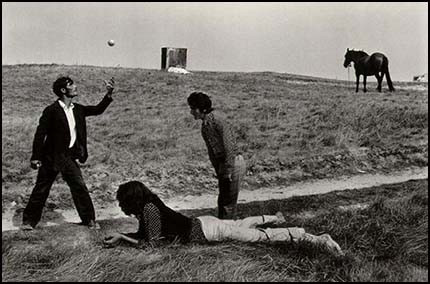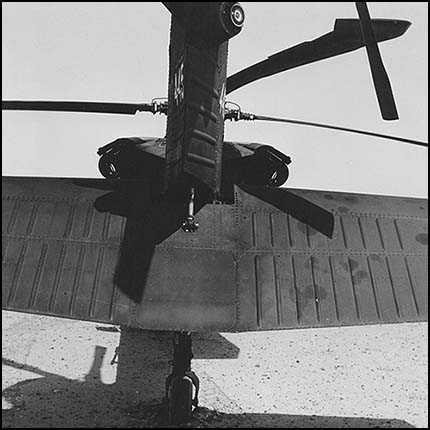 Just a random picture of a blackhawk out near Karbala (Iraq) in 2006.
Felt like chucking a picture on for no other reason than I like it.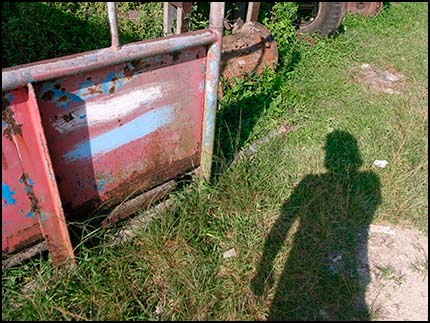 Down to the darkroom this morning for some last minute tidying and maintenance, the bank for some cold hard cash, to Jamie's to pick up my speargun and esky, then off to the airport by 8am.
My loathing of planes and everything associated with them continues. No fear of flying, just the tedium and uncomfortable seats (I'm not ponying up for business class). On top of that, in transit today through Port Moresby (flying from Buka to Sydney), I had to head over to a doctor's office and get another JE injection. Bad food, crap seats, immigration queues, forms to fill out and a needle to boot.
But, for anyone wandering through the Sydney airport with a little time, you should check out some of the photography they have up on the walls. Some big duratran prints (my assumption that they are C-type trannies), all lit up and dramatic. Some interesting pictures. I seem to pass by one of Destiny Deacon's every time I go through Sydney International, so stopped to make a blurred snap of the big bright glowing picture.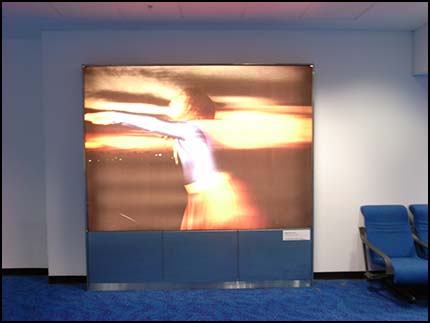 Better time spent looking at photographs than selling your soul at the donut stand.
Deacon is represented by Roslyn Oxley9 in Sydney.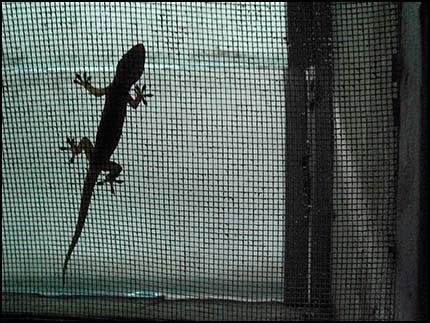 The usual last day before a flight is unfolding. Full of odd jobs and little meetings to have things lined up for the return in a few weeks. I'll be up late consuming myself with stuff that can wait, trying to pack a few more hours into the day. A few more things to be stewed over. The geckos will keep me company.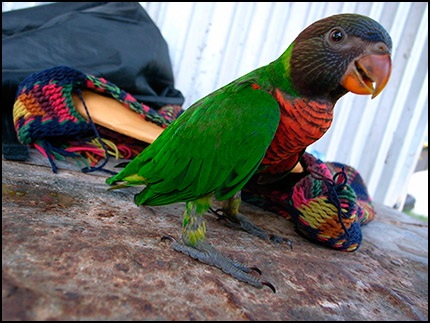 Between the squawking parrot next door and the drunks out in the street there is never a lack of fun to be had around my work place. The weekends are especially interesting, with the beer soaked benders turning into marathon sessions often lasting days.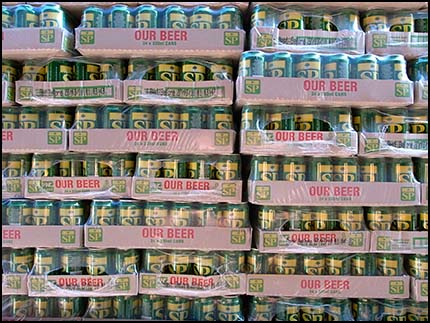 It is a blessing. Rather than being stuck inside a house or in some sterile industrial estate in a big city, I open the door from the darkroom and can buy ice cream within a few paces, have a chat with my landlord and his family, go around the corner and annoy my missus, snap pictures in Buka or roam over to the food market for some fruit. A short boat ride and I'm over on the big island.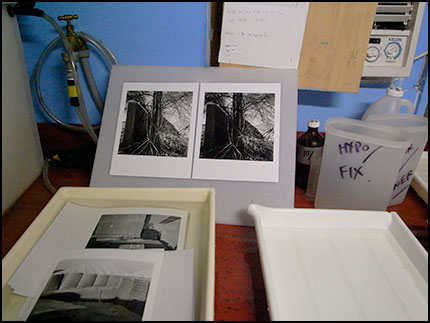 I have to remind myself of this every time the power blacks out, the water runs out or when some spak begins to take out his frustration on me as I roll home at the end of the day. Wouldn't change it. Good times.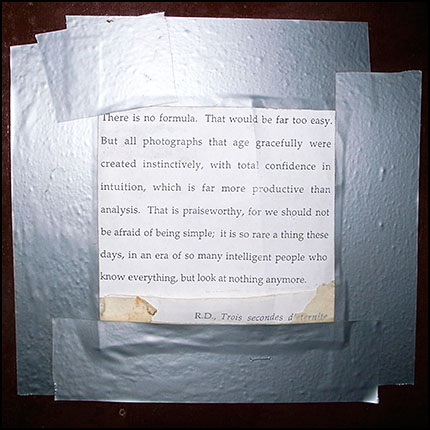 As always, when I have some sort of deadline coming up I begin questioning everything already completed. So no doubt the next few days will be long ones, working in the darkroom, editing (again) work prints, checking the copy work I've been doing, packing and re-packing in preparation for going back to Australia for a fortnight.
Yawn.
I hate the self-help, feel good books and posters that seem to breed like vermin. But in some sort of hypocritical gesture I have had the Doisneau quote taped up in my various darkrooms over the last few years. It is the thing I see as I walk out into the sunlight as the paper lives on the back of the door.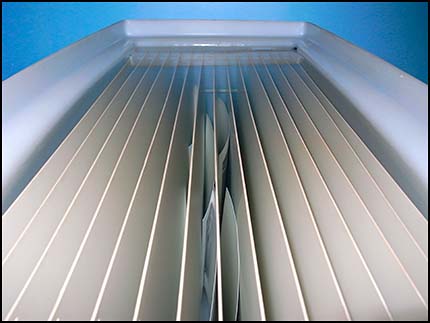 After a late start in the darkroom yesterday and subsequent late finish, this morning was consumed with jobs that are just 'brain in neutral' kind of stuff. Mixing chems, couriering out a few packages, a bit of work on the typewriter, ordering supplies and getting a truck of water in for the darkroom.
The Monash Gallery of Art show is coming up in a few weeks. I've got an artist talk on Thursday 09 July that I need to do more work on. I've been assured it is a relaxed affair, so I shouldn't be too worried. Still, gotta try and put something interesting together, rather than bumble along freestyling the thing. That will require a bit of concentration to get right.
And of course just as I'm getting organised to put some more pics up on the site …. the scanner craps out. Thank goodness two of the projects are better done as camera copies rather than on the flatbed, so they'll be ok. Happy happy joy joy.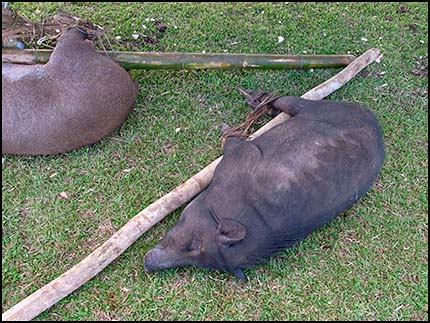 I reckon I've got swine flu, but Edwina call's it a 'man-cold'. It's been kicking my arse for the last week.
By the look of what's coming over the news services nobody will be attending the Camp Slayer exhibition in Melbourne next month because we'll all be locked away to guard against the dreaded H1N1.
***
edit: just as I hit 'publish' the news playing in the background starts talking about a 'downgrade' of the swine flu response in Australia…. maybe people will be there to heckle.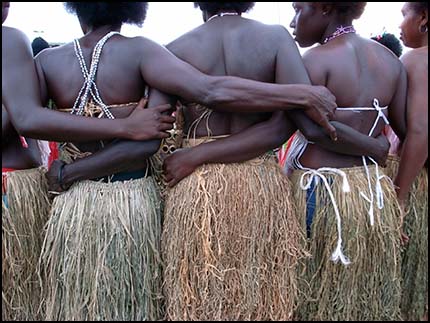 Dr Temu, the deputy Prime Minister of PNG, arrived in Buka on Monday to celebrate the 4th anniversary of the Autonomous Bougainvillean Government. While I attended to snap a few pictures, I had the rest of my gear packed ready to head down the big island. A quick boat ride across the passage got me to where the trucks leave for the drive south.
The drive to Arawa takes a few hours (anywhere between 3.5 to 6 hours… or more), so there is plenty of time to relax and enjoy the scenery. It is a gorgeous coastline with small islands sitting off shore, thick rich jungle fringing the beach and a rain soaked mountain range down the spine of the island. Big rivers wind their way to the sea, making the job of maintaining the trunk road one that I would never want to have.
My first stop in Arawa was a quick dash over to the old general hospital to have another dig around. It is a spooky building, with parts that I probably shouldn't go into for fear of the ceiling collapsing. Old bed frames, wheelchairs and bits of gear are strewn about, with bubbled blobs and twisted metal attesting to the damage done by the fire during the crisis and then the resulting neglect.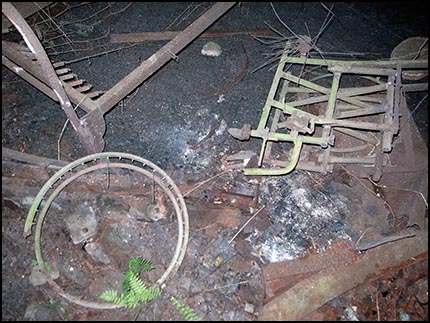 Trees are growing through out the building, the jungle is strangling old concrete posts and steel frames. I'm doing a little work inside with some on axis full bore flash, so we'll see what ends up on the TriX negs. The little snaps here might at least give an indication of what's there.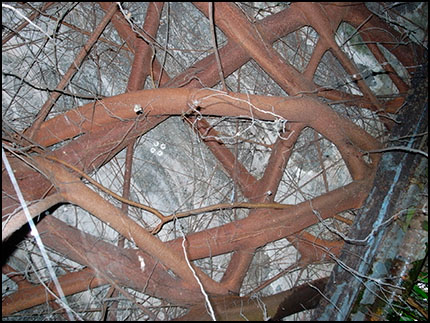 Once it got too dark to see I headed outside the old building into the light rain and over to a friend's house for a quick catch up, then off to clean up and get some sleep.
Up nice and early Tuesday morning, and into the Arawa food market before 7am. I couldn't help but notice the wahoo, mahi mahi, spanish mackerel and sailfish (steaks) on the table tops in the fish section…. looks like some time will have to be spent out in the water. Some fresh fruit for breakfast, then I helped my friend Lynette to drag some food back to her house.
I first met Lynette Ona in July 2007. I had travelled from Port Moresby to Arawa to photograph the last days of her campaign in the PNG general elections. Lynette was standing as a candidate for the newly formed People's Party headed by the Governer of Enga, Peter Ipatas. She was the only female candidate standing for the open seat of Central Bougainville in the election. Since then I had come back to visit a number of times, and now that we live in Bougainville it means I get to stay in better contact with many of the friends I made through that project.
As the juggernaut of rebuilding the infrastructure, social and political landscape of the island continues to roll along, many grass-roots style meetings are held and groups formed to try and engage with the various government and non-government organisations involved. These community groups hopefully provide a mechanism through which different views or feelings on certain topics can be expressed. Obviously they are often built around prior political or social relationships, and their aims are often guided by these. Their reach and accessability to others are also affected by these underlying structures.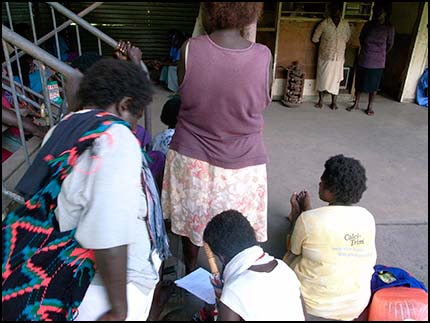 The "Bougainville Women's Landowner Association" met in Section 13 on Tuesday morning for thir inaugural meeting. They were to discuss issues primarily surrounding the various mining interests in the Autonomous Region. The meeting was to focus on ensuring that the voices of Bougainvillean women were central to the discussion during the day. There is a very real greivance (often expressed) that women have been left out of many of the discussions and negotiations regarding the lease or sale of land for agricultural and mining interests. As  much of the islands population is matrilineal in its relationship to land, the lack of female representation and engagement has not been good. The men attending endorsed the name of the association, stating that they were supporting the drive to put the women front and centre in this group.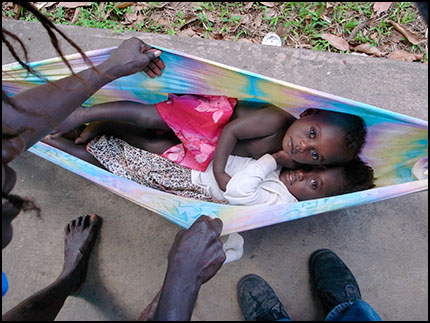 The ABG's office of Veteran's Affairs had both male and female representatives present, and each spoke during the day and answered questions from those in attendance. As most of the day was conducted in Nasioi, I had to pick out the bits that were in pidgin to keep abreast of the direction of each topic.
The discussion at times became very political in its nature, with direct reference to upcoming elections, voting trends and candidates. However, the agenda that had been laid out at the opening was largely followed, and a number of men and women were able to express opinions and views.
Again, in a similar fashion to the reconciliation day on the 13th, I cannot claim to have an intimate understanding of the issues at hand and the manner in which the people here deal with them. While I may be able to fathom the concepts, historical context and political manouvering, I lack the cultural setting that, through countless generations and the greater community experience, would inform my approach, reactions and world view. So, I turn up and try to make the best pictures I can, exploring what is happening in front of me and maybe gaining a little insight here and there. Probably a high faluting ambition at best, but I doubt I would be happier if I just 'knew'.
Joanne Dateransi was nominated as president of the new association. She is one of Francis Ona's younger sisters. Ona was a key figure in calls for the appropriate compensation of landowners and citizens, and then  a leader of the Bougainville Revolutionary Army during the crisis. This journal does not have the ability or space to be able to write at length about Francis and his role, suffice to say there is a lot of literature that explores his influence on the recent history of the region for those that want to read further.
After all the talking was done a big lunch was held for all those attending.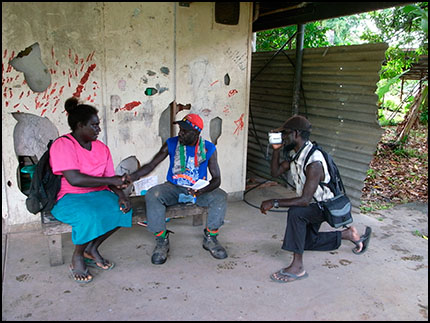 I worked away solidly for the day, photographing the participants and the setting. It was good to see my friend Jacob filming the events. Again, compact, simple technology that allows home grown coverage and archiving of events. A few  interviews were conducted following the meeting, and then everyone scooted off on their merry way.
Collapsed into bed early, struggling with a bug I have had for a few days.
Then up early for the usual morning drive to Kokopau, arriving at the passage around 8am. Just got back to a net connection, so I've been battling the usual speed issues getting the pictures into this journal and downloading emails.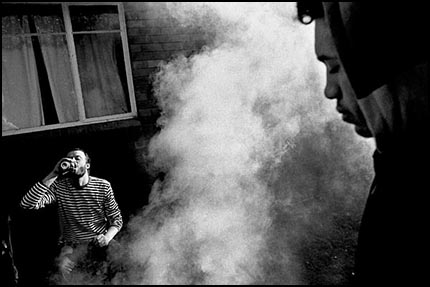 Everyone should duck over to Sean Davey's site (www.pidgin.com.au). He is a very active photographer, and has some fantastic projects under his belt and no doubt more currently underway. This month his website is being used to showcase the work of Emmanuel Onom, a young man from 8 Mile settlement in Port Moresby.
Hats off to Sean for branching out into a role of support and promotion of upcoming workers. He has been working with the University of PNG, and organising cameras for students and others to allow them to photograph. I'll hopefully meet Sean next month. I'm looking forward to hearing about all the things he is up to.
Go spend some time looking through the pictures.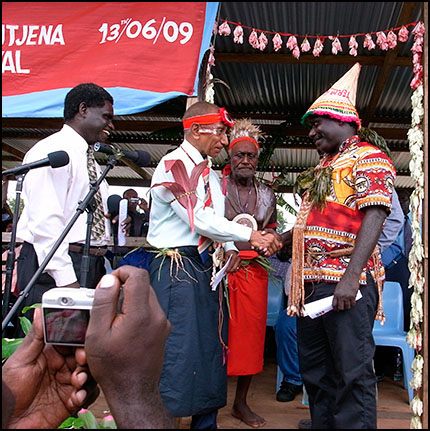 It has been a day full of surprises.
The day of reconciliation has been really impressive, simply because of the language used. The word 'sorry' featured heavily, and there seemed to be some strong gestures made. Even the content of many speeches was an eye opener, with direct reference to specific parts of the crisis and the feelings of people and repurcussions of the action taken. Obviously there were moments of 'explanation' for certain actions, but they were not long winded or used as an easy out.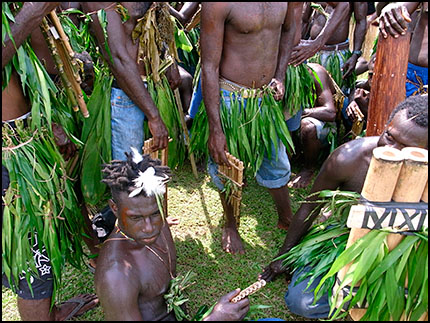 I am not in a position to make any real judgement or analysis of the complex things happening in front of my camera. I don't have the cultural insight, nor a strong personal history here on the island to really get at the backbone of the day. The different players, the way things were structured or the significance of the songs and dances that accompanied much of the day are not necessarily accessible to me.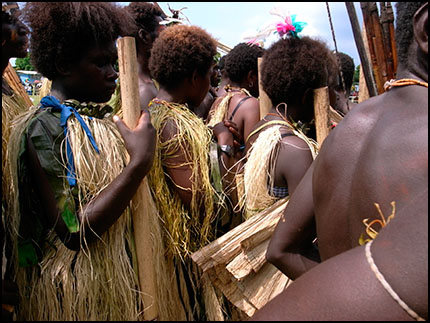 The entries of the two parties were fantastic, flanked by cultural groups. President Tanis and Sir Chan were taken to the side and adorned in decoration before taking to the stage. The President's family dressed him for the occasion.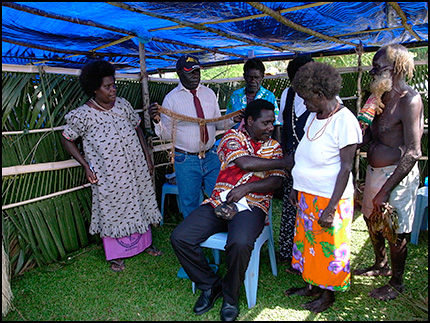 There were a number of ceremonies, the washing of feet in a very Christian manner, the breaking of weapons (bows, arrows and spears), the sharing of buai, planting trees and President Tanis and Sir Chan obviously coming together to shake hands and exchange some quiet words.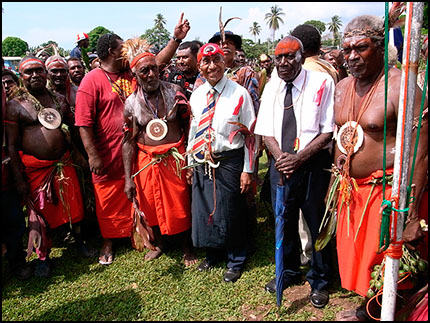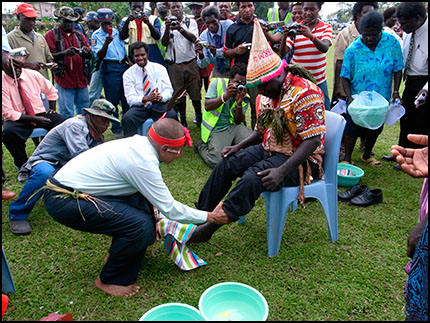 The sky opened up in the afternoon, soaking everyone silly enough not to run for cover immediately. Of course, my cameras were wet through and through, so they're sitting on the table in front of me, towelled off and opened up to try and save them.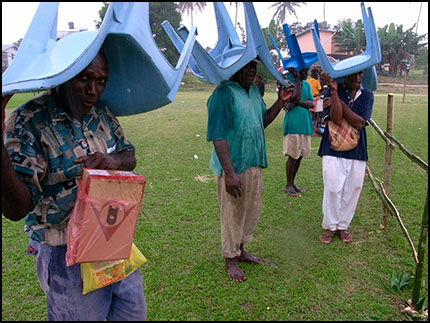 The rain eased, and speeches ensued. An interesting mix, with a few from different BRA factions, the Autonomous Bougainvillean Government, the national government and various community representatives.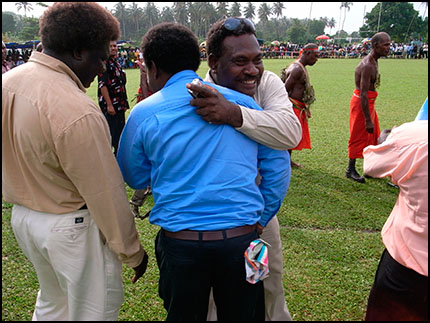 Hopefully a few photographs on the 120 camera that will lead to other work. There are some that definitely tie into a current project. Will have to run the film fairly soon. I shot some video as well with my little snapper. I'm trying to figure out the best manner in which to run this system as I would like to use it in a few projects I am working on. After seeing the Nachtwey doco (war photographer), as well as many multimedia pieces, the ability to splice little bits of moving footage in amongst the still images is tempting. I'll have to learn a few more tricks to get it all running smoothly. Then the challenge of getting it all onto my site over this hopeless connection will no doubt test my patience. Oh, and almost forgot to mention that after dozing all night to the sound of nails into wood, the grandstand and stage were finished and fantastic.