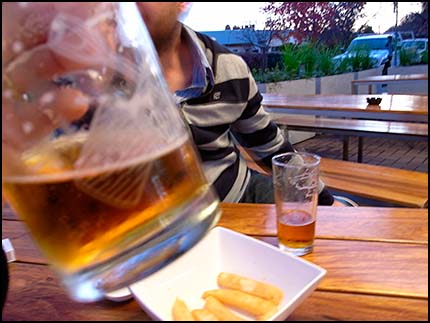 Matt Smith was a good person to have around me when I was last in Canberra.
He is always ready for a beer in celebration or consolation. This picture was made at 'beers in consolation' after an auction went pear shaped on Edwina and I.
Today another auction didn't go our way, so more sad beers are in order.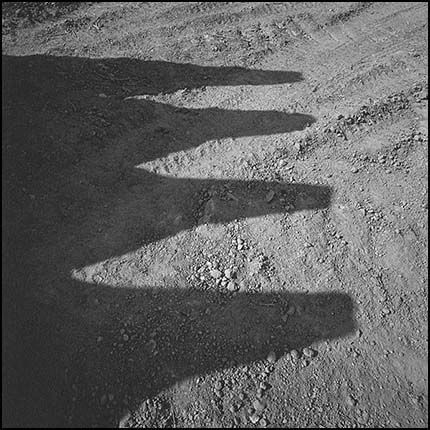 I promise I am not being lazy, busy trying to make these things right.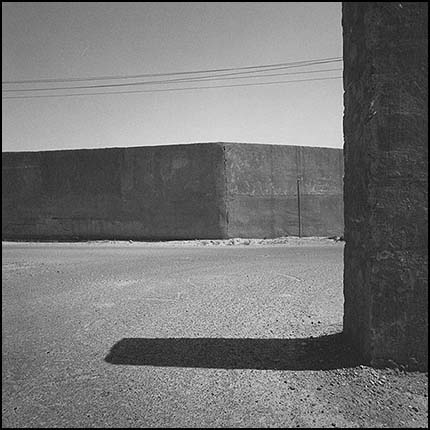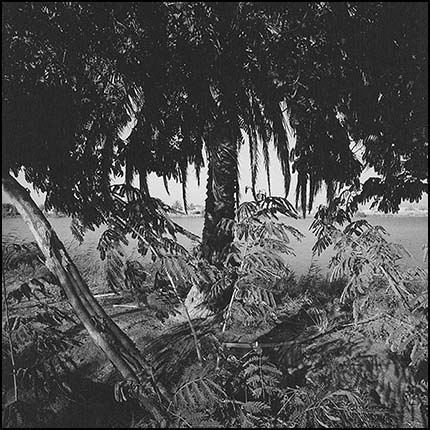 Our phone line is down again, so I've snuck into a neighbour's house, raided the fridge and used their line. 'Dust Days' is now front and centre. Concentrating, so just a few work prints to post. My brain can't handle many things at once.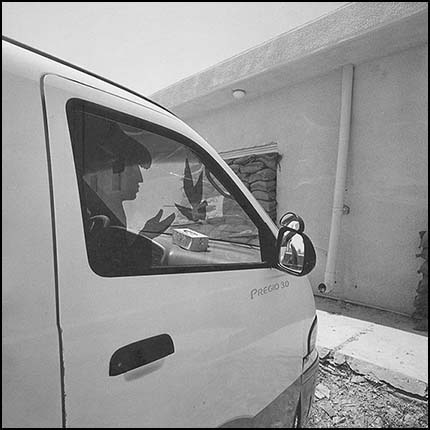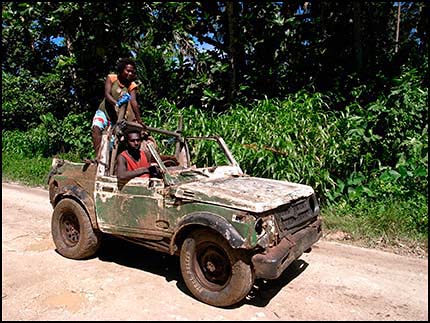 Happy birthday to my dad, John Hempenstall. Hope your day was a ripper.
I reckon the car above (photographed today in Hahela) might give your machine a run for its money.
I'm usually loath to show much of my projects that are underway, especially those that are so early in their construction that I am not even sure they are worth seeing through to completion.
But this panel from a fence in Port Moresby is an interesting thing. I'm posting it here as a single item of interest rather than part of the larger work. I have cropped a section from the original picture so the detail can be seen in these small journal pictures. The original frame places the panel in its immediate surrounds.
Those in Moresby (or who have travelled through) will know exactly where this fence is. While we were living in Moresby I passed this place every few days. It is an approximate record of the PNG Defence Force (PNGDF) activities in recent history. World War II and then various regional deployments are depicted. The fence is a fascinating thing to walk along, as it is covered in exerts of poems, depictions of defence force personnel and then more recent graffiti over the top.
There is a significant portion of the fence dedicated to the Bougainville crisis, for obvious reasons.
The picture above shows a part of this area of the fence. The two standing soldiers are PNGDF, whilst the kneeling figure can be assumed to be a Bougainvillean fighter by his skin colour, bandana and weapon layed to the side. It is certainly a frightening painting in its historical reference and its celebration of a civil conflict rife with abuse and continuing problems in the Autonomous Region.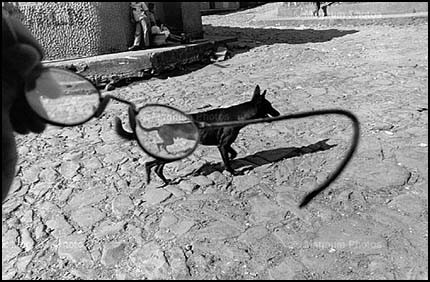 Larry Towell is one right out of the box. A member of Magnum Photos, an expert whistler, small scale farmer, film maker, folk musician and poet. His books are stunning things. My copy of "No Man's Land" is a prize possession, and I have heard Michael Amendolia say that "The Mennonites" is one of his all time favourites. The books I know of stem from long term projects, and are put together with great care.
Towell made his 'mark' photographing the toll that being without land has wrought. Gaza, El Salvador and Nicuagra among others. The photograph above from El Salvador kills me every time. The glasses frame and double up of the dogs arse, the people, and FMLN written on the wall to the left. It is stunning, I need to save up to buy a print.
 He has turned his camera to the things close to him at home. His family and their lives is the subject of his most recent book "The World from My Front Porch". Then there is "The Menonites", where he recorded their relationship to land and family. It was a long project, and he has said that the only reason he stopped was because he was told to, otherwise he would still be there.
Quite a few interviews and multimedia pieces can be found online. The first stop should be the Magnum sites, Magnum Photos and Magnum in Motion. His portfolio and podcats can be looked over and then enjoyed anywhere. There are also a few interactive essays that he has done, but unfortunately the connection here is so slow that any attempt at looking at them is futile.
I have never seen an exhibition of his pictures. From the installation photographs that I have looked at the shows seem like fantastic things, full of pictures, not sterile in their design and hanging. I'll get the chance to attend one some day in the future.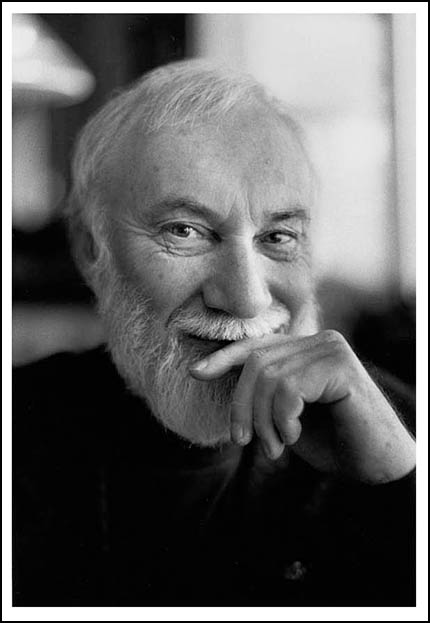 A short post to mark the passing of Bill Jay one week ago.
In the usual fashion of things, I was made aware of him by a teacher and friend, Bruce Hart. Jay was an editor, writer, teacher, photographer and stirrer.
A few of his books sit on my shelf, and when I need a spark I go to them to find wit and a sharp edge.
There is a website that you can dig around on, but I would say that purchasing his books is far more satisfying.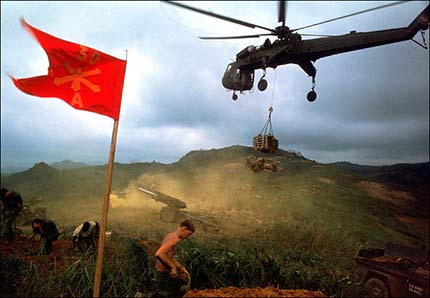 Larry Burrows (1926-1971) is often sighted as one of the individuals who brought colour photography to conflict zones. This is probably an easy way to refer to him, but I think it is a mistake to use it as the first port of call. His work is not constrained by technique or palette. Content is king, to use the oft repeated phrase… but then maybe I just made the mistake of trying to simplify the photographs instead of leaving them as the complex things that they are.
The large Burrows monograph 'Vietnam' sits on my shelf, and I go to it often. The Vietnam War had finished well before I was born, so my understanding or experience of it comes solely from anecdote and published material. This book is incredible in its depth and example of a photographer creating incredibly graphic, visually arresting pictures while working as a commissioned journalist on tight deadlines. He worked for Life Magazine for many years, and was one of their photographers at the time of his death.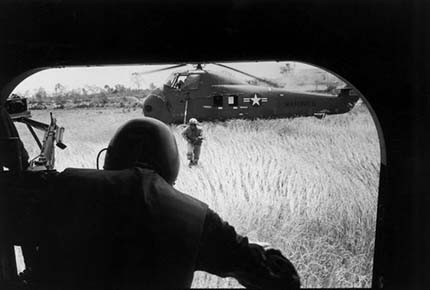 Yankee Papa 13 is a short, brutal set of B&W pictures from 1965 that stops me every time. He photographed helicopter door gunner  Lance Corporal James C. Farley, the crew chief of Yankee Papa 13, through a horribly frightening and tragic day. While dropping off ARVN troops outside Da Nang their mission came under heavy fire. Another chopper was grounded by damage, and Farley left his machine to try and assist the injured crew who were making their way over to Yankee Papa 13. Of course Burrows went straight out with him. The pilot was dead and stuck in the downed machine, so they returned to their chopper to escape from the incoming fire. The trip out is recorded by Burrows. Farley is shown returning fire and then, after his weapon jammed, desperately woking to help the injured until they reach medical support. The photographs show a young man, so confident and upbeat as he prepares his machine, and then destraught, frightened and broken at the completion of the mission. An awful group of pictures.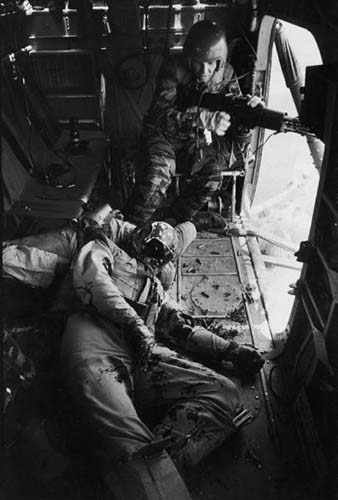 Then there is the photograph from Mutter Ridge, Nui Cay Tri, which is so often referred to as a piece of mastery that it could be easy to assume that one would become a bit blasé. But when it falls open across a double page, the colour, the gesture, the mud and stripped trees… you have to pause.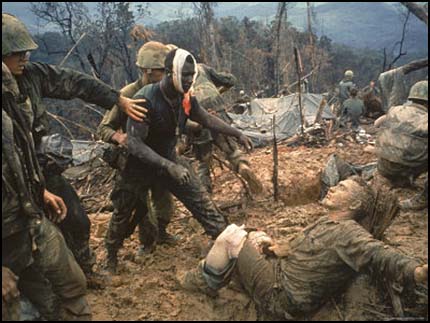 I have read all sorts of references to Burrows and his beginnings. I have even seen it written that he was the young darkroom assistant that got a little too excited and melted Capa's D-Day negatives. I do not know if this is true, but I'm not letting the lack of confirmation stop me from continuing the flow of rumour. It is easy to find other claims saying it is a myth. His extensive body of pictures made before he travelled to SE Asia for the Vietnam War is something that I need to spend some time looking at.
He was killed when the helicopter he was riding in was shot down over Laos in February 1971. The photograph of a mangled Leica recovered from the crash scene tells the story of the forces involved as the chopper fell out of the sky. The picture has been doing the rounds for a while, but I can't help but post it again here.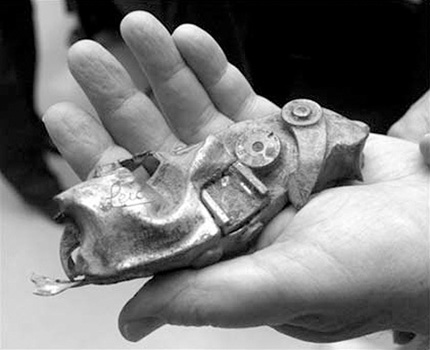 Photographers who work in conflict zones are so often spoken about as if they are related. The reasons for them being there, their interests and drive, political and social persuation, intended audience and method of reproduction are all so different that we should take our cue from the pictures rather than a sweeping generalisation.
His work is stunning, and any opportunity to look at it should be taken.

Brought to you by IT MOCKS ME 2.0, GO AND COOK DINNER WHILE YOU DOWNLOAD A FEW EMAILS 2.0, and SLAM YOUR HEAD AGAINST THE DESK AS THE SERVER CONNECTION DROPS OUT AGAIN 2.0.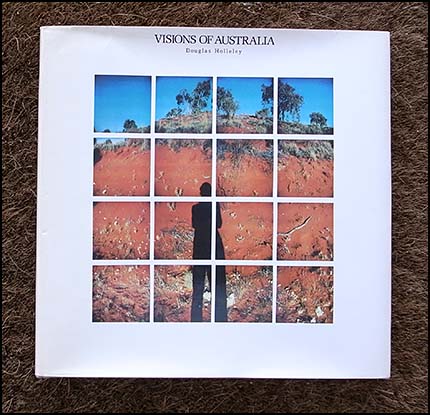 Isn't it awesome when you stumble across something that just slaps you around and opens your eyes!
I was cruising around Lyneham in Canberra the other week, and ducked into a second hand book store for a look. I'm always a sucker for these places. Two Don McCullin books were quickly put aside, and then I started to pull things from the shelf that didn't ring any bells. Most were returned after a quick look…. but then one came off the shelf that really kicked my arse.
Douglas Holleley's 'Visions of Australia' is a book that has held its own. It was published in 1980, and I have to admit that I had never heard of the work. A minute after it came off the shelf I was spinning as each new page came into view. Fantastic.
The book reproduces work that Holleley made in the late 1970's. The pictures are all Polaroid prints shot in Australia. He used both the little SX-70 (Time Zero) and the 8×10 inch 808 process to make the pictures. There aren't many single photographs in the book. Most of the work is wonderful collections of four, nine or 16 prints arranged in grids to explore the scene in front of the photographer.
Pieces like 'Wash with red soil sediment, Captain Cook Highway north of Cairns, Queensland.' and 'Bulrushes, Wilpena Pound, South Australia.' are magnificent. To be honest, the whole thing works. It is sequenced beautifully, without design getting in the way of content, and moves along at a great pace.
Holleley has lived in the USA for some time, and is now based in upstate New York. He has published numerous books, including some work on the subject of self published photographic books that take advantage of the many on-demand and short run printers that are in business now. He conducts workshops and lectures, and as far as I know continues to photograph on his own projects.
I sent him a short message only a few days after finding his book, thanking him for the pictures. He was very quick with a reply, and it was great to make a connection with a photographer who was, until recently, unknown to me. And yet somehow this book stands up as an influence, a point of reference with strong ties to my picures and work practices of the last few years. I have gone back to it every day since I have owned it, leafing through, pausing at different pages to find new things in the photographs and new ways to approach the assemblages. He mentioned that he regretted not including any single Time Zero prints in the book layout, as he felt that the small book was a good place to present the little prints alongside the much larger (original) assemblages that on the gallery wall dominate the small pictures.
His website (www.clarellen.com) is very much a commercial space focused on his writing and lectures.  And if you find a copy of 'Visions of Australia' I reckon you should buy it. It is a fantastic little book to have on your shelf.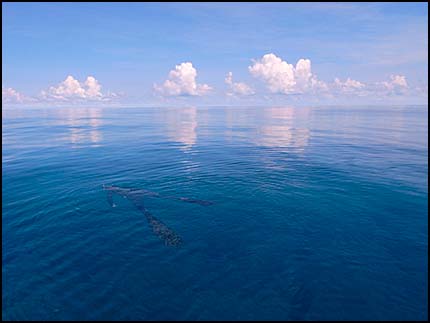 Some days in the water are magic. This morning well and truly claimed that word as its own.
A small crew jumped in a fibreglass runabout and headed out off the west coast of North Bougainville to dive a set of reefs we go to when the weather holds and we have enough fuel.
We arrived to find a bit of current, clean water and heaps of fish. Jamie Rutana, a talented local diver and spearfishing guide, picked up the fish of the day with a great dogtooth tuna that would be perfect to chop up for the BBQ. The rest of us were content with a mix of reef species (not that we weren't chasing the spanish mackerel and tuna that rolled around the reef edges!). There is a healthy shark population out around where we were diving, and it is good to see them in decent numbers.
Then a mid afternoon run back to Buka across flat seas.
As we landed at Ieta and began pulling all the gear off the boat a pig went sailing passed, tied upside down to a pole. It knew what was coming. The pig was quickly killed with the back end of an axe and then the hair was burnt off. A ground oven was prepared on the beach to cook the pig in preparation for a family event later that evening in the village.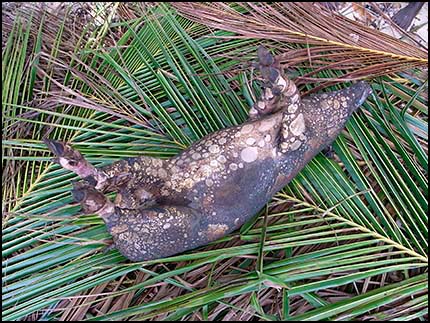 Paul, one of the kids involved in the work, shot some great video of the process on my little camera as I worked with the old 120 rangefinder. So he has to have his portrait up on Kisim Piksa!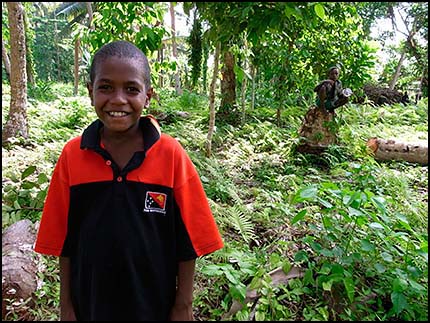 Fantastic, and now I need to bake some bread for my fish burgers this evening. Yum.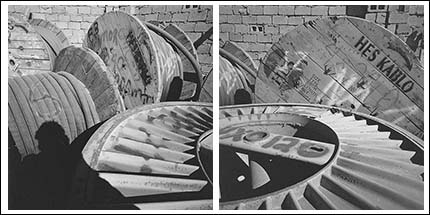 After being away for a little while, it is good to be back in the Buka darkroom, working on prints from my 'Dust Days' project.
I've got a lot of splashing around to do. These negatives have been sitting there, demanding to be printed, but I have largely left them alone until now. Every time previously that I had picked them up I was tentative and not really committed to seeing them finished. That has certainly changed.
They are wonderful prints to make. Not because of any ease or 'brilliance' in the prints, but because the pictures are from a period of my photography now well and truly finished. It is interesting to dig back into the negs, and approach them from a point of new discovery. As things have changed significantly since they were made it is a clean slate, where intentions at the time of snapping the shutter are only apparent in the frame, not necessarily remembered (or important).
It is good to be back in Bougainville. Every time I leave I walk away from the opportunity to get through the backlog of work as well as make new pictures in this amazing place. It almost feels like i'm in a holding pattern while I am away. Right, enough time spent on the computer, back to editing and preparing for the day's work. Prints to be made.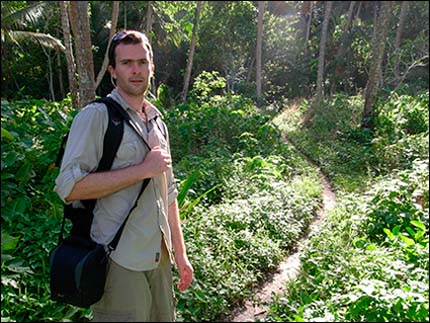 Dan Box left Buka this morning. He had been in Bougainville for the last few weeks working on a project for the Royal Geographic Society and the BBC. Dan is a recent recipient of the "Journey of a Lifetime Award", and used the opportunity to travel from the UK to the Carteret Islands to examine the many issues that have been raised in the last few years.
Dan has worked as a journalist for a number of newspapers and journals, and is a published author. His book 'Carry Me Home' examines the circumstances and subsequent investigation of Private Jacob Kovko's death in Iraq. A copy will be in the next book order.
While Dan's trip was unfortunately cut short due to unforseen events, it sounds like he has been able to tackle the project that has been years in the making. It will be great to see what he has come up with. The Carteret debate is a rather tangled thing, and I imagine finding your way through it is a tough thing indeed.
The BBC will be releasing his work over the next few months.
You can find more information on his site www.journeytothesinkinglands.wordpress.com. Best for me to point you in that direction than try and make it all second hand information. Announcements for available downloads and related topics will be found there in the next few months.
Good luck to Dan, with the wedding, the new home town and all the adventures ahead.