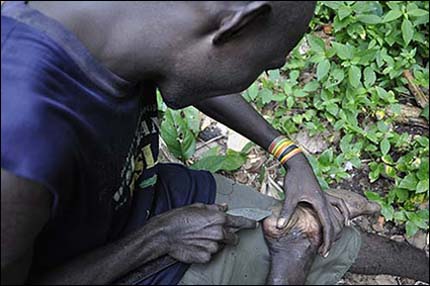 When Pete Pigott went for a surf here in Buka he was accompanied by two young blokes who were body surfing and generally keeping an eye on him. I watched them drift about in the swell, and it was obvious that all three were chatting, telling stories and enjoying an afternoon in the water.
As they were on a reef break, the usual hazards of coral cuts and grazes were present. Pete got off pretty lightly with a few scratches.
Once it was all finished, one of the body surfers paused on the climb back through the jungle to dig a piece of coral out from the sole of his foot. As always, the swiss army knife of (wider) Papua New Guinea came into play, quickly sorting out the problem.
A big 'em nau bulmakau' for the reliable bush knife.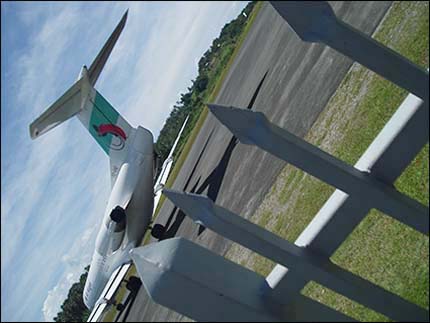 Places like Bougainville often have transient populations of foreign workers.
People come in on specific contracts or positions that have a finite life, then have to move on to new adventures.
Today Kim Cleland left Buka, bound for a quick stop in Australia before heading back to New Zealand. I can't say I knew Kim very well, as we only arrived a short while ago, but she was a great neighbour with good stories and a real love for what she was doing.
Kim has, for the last 12 months, been working in a non-government organisation focused on the relocation and related issues for the people of the Carteret Islands. The atolls have been a popular sound bite in the global media, but fortunately people like Kim have been in amongst it focusing on the plight of the residents rather than arguing semantics over the reasons for the loss of land.
It was apparent today at the airport, and in the weeks prior, that she'll be missed dearly by all those that she was involved with.
I wish her all the best in the exciting times ahead. No doubt she'll land on her feet and make a go of it.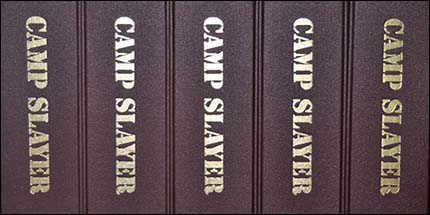 In July 2009 the Monash Gallery of Art (www.mga.org.au) is showing CAMP SLAYER.
Very exciting, as the MGA is a great institution that has a strong reputation for their shows of contemporary workers. Their support of photography through exhibition and initiatives such as the William and Winifred Browness Photography Prize is commendable.
The crew at the MGA have been a dream to deal with. No doubt they will take my pictures and bring their own vision to the hanging and layout. This is almost the best bit, letting go of the work and seeing what someone else will do with it.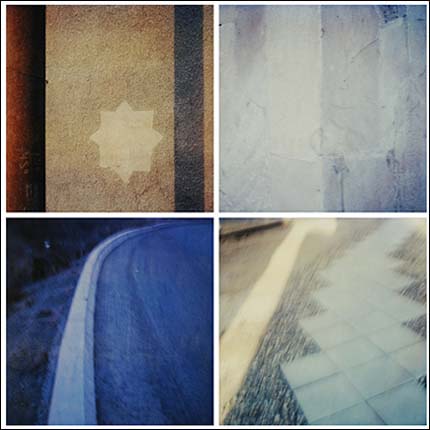 CAMP SLAYER is a collection of 165 time zero polaroids that examine the US base (of the same name) on the outskirts of Baghdad. They are small prints that I made as I wandered about while taking time away from some (at times) challenging work. They have been called abstract, but they are all grounded in what was in front of the camera, and are direct records of the place.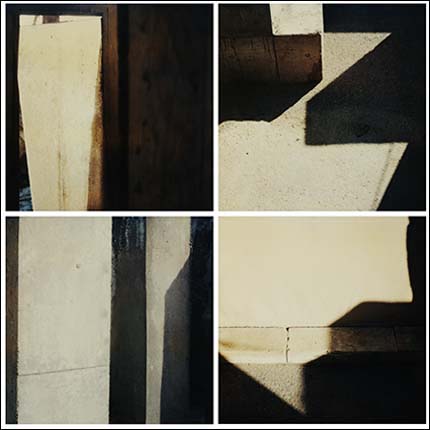 The MGA has paired the work with the travelling show 'Icon and Archive' by the Australian War Memorial (www.awm.gov.au). I will be interested to see how they play off each other.
 So, the prints are packed and ready to be bundled back to Australia. They head out with me this weekend for a brief visit. So I'll drag them along and get them into Melbourne as soon as possible.
Good times.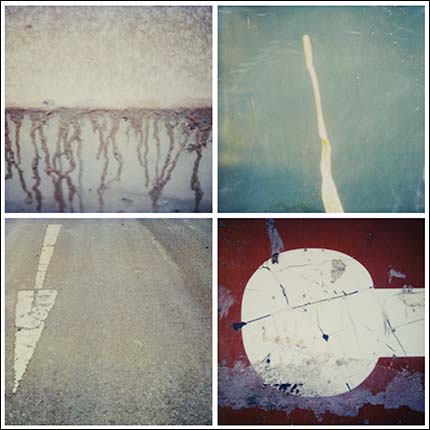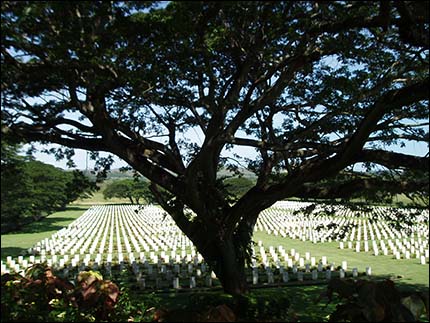 Today we attended the dawn service organised by Mr Paul Lepou, Supt. Murray Lewis and the NZ police contingent in Hutjena, Buka. With Australians, New Zealanders, Bougainvilleans and a number of others, the morning was a quiet, solemn event. Brief, and without artifice. I have to commend Paul and the NZ crew for their efforts.
The breakfast that followed was a wonderful event, with everyone mingling over on the great deck at the Kiwi house.
It was great to mark the occasion here in Buka. After a recent (brief) visit to Torokina, it felt good. My great uncle Don Knox had been stationed in Torokina during WWII, and I had marched for him in Millaa Millaa one year when he was still alive. I am lucky to have been given his medals and record of service by my great aunt Barbara. So this morning tied a few things together.
I think I've found it!
Yep, that secret ingredient that all those talented darkroom workers have tucked away in their locker that the rest of us know would make our prints 'just as good'.
Yesterday was frustrating. While the printing was going well, nothing was getting to the point for me to be happy when the lights came back on. There is nothing worse than thinking "that's acceptable", rather than "YES!"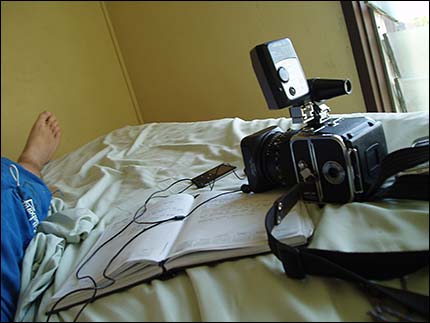 A good night's sleep and then back in there this morning once a few odd jobs had been finished off. I pushed on with the same negative from yesterday, and about an hour in suddenly things started to get exciting. The work prints were starting to look BETTER. Maybe it was just fresh eyes and a bit more energy.
"BUT NO! These things are looking great. Hell, I'll see some finished prints out of this session. Fantastic."
What changed?
As the prints started to roll through I noticed something in the developer. It wasn't that little extra bit of amidol I put in, or a chunk of citric acid or swirl of bore water….. it was a little nugget of gecko shit.
So forget tinkering with formulas, different papers, the temperature of the chemicals, water purity or enlarger illumination. It ain't whether the fixer is a rapid fix or old dependable plain hypo. The dilution of the selenium toner doesn't matter. Just listen for that little reptilian chuckle from the darkened corner and slide the dev tray in under it.
The prints will sing.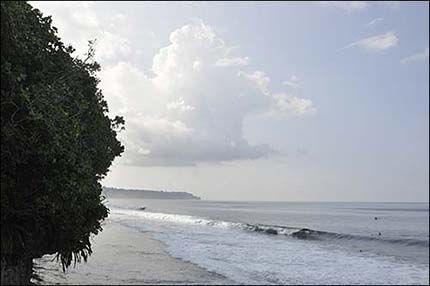 I love watching people surf.
Not the crazy big wave riders, though they are frighteningly hard to look away from. Not the technical competitions or the music video-esque films of 'pro surfers on holiday rampage'.
I enjoy watching someone out for a quiet surf, and not from some sort of soul surfing puritanical stance, more from some sort of empathy. It is not because I surf, in fact I've never gone into the sea with a surf board. Maybe I attach too much to the vague feeling I get seeing an anonymous surfer out riding waves.
When Pete Pigott was here I got to watch him hang out on a small break off the east coast of Buka. We gained permission from the village above the break and then slowly climbed our way down to the shore. The eastern side of Buka is a long cliff face that is at times very high, with small tracks making their way down through the sharp rocks and magnificent jungle.
We were accompanied by a large group, some keen to go for a swim, others just wanting to watch. When the track eventually levelled out and followed the shoreline we were able to scramble out onto some rock ledges to look at the waves rolling along the reef. At this point we were still at least five or six metres above the water as a last bit of cliff face dropped into the sea. A bit further north along the track brought us to a log with notches cut into it which gave access to the small beach below.
The board was passed down and a short while later Pete paddled out across the reef with two young blokes swimming beside him. I walked back along the coast to a small outcrop of rock and sat down to watch with a bunch of locals.
Waves rolled onto the reef, Pete sat in the line up with the two body surfers while a fisherman worked from his canoe just offshore. Fantastic.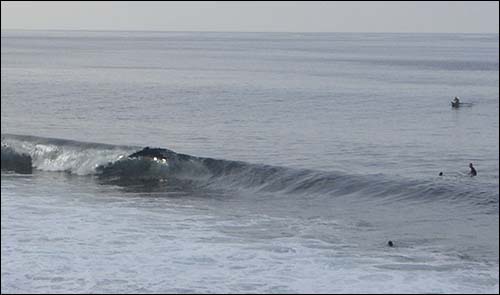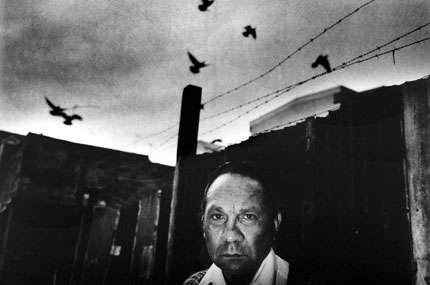 This guy is good. Really good.
Michael Amendolia (www.michaelamendolia.com) is a well respected photographer in the Aussie community. He is a multiple World Press Award winner, continues to work hard on commissioned editorial and commercial assignments to help support his growing family and somehow squeezes in self directed projects amongst it all.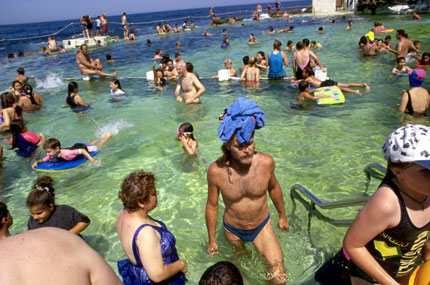 His work for the Fred Hollows Foundation is a testament to the selfless gift of skills and time to help others.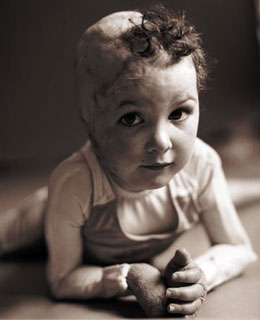 Then there are the gritty pictures from the roo project, the wonderfully quiet pictures from North Korea and then the countless portraits of the influential and infamous from Australia's recent history.
I love that he is a working photographer. His commissioned work is of the same high standard as his personally driven projects, and no doubt they often find their beginnings intertwined.
The photographer and writer Bill Jay has on many occasions addressed the folly in separating the idea of commissioned and creative work. Many people are guilty of this, myself included. His collaboration with David Hurn has addressed the same issue. As you look through Amendolia's work it becomes apparent that he has the strength to throw himself at it all. Neither suffers because of a need to reserve his energy for 'the important stuff'.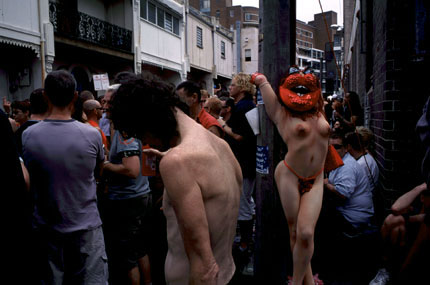 Spend a few hours digging through various public collections online as well as on Amendolia's website. You'll find fantastic work drawn from what is close at hand and accessible to his inner Sydney home alongside photographs from projects on the other side of the globe. On occasion his pictures can be found hung in exhibitions around Australia if you prefer the original print experience.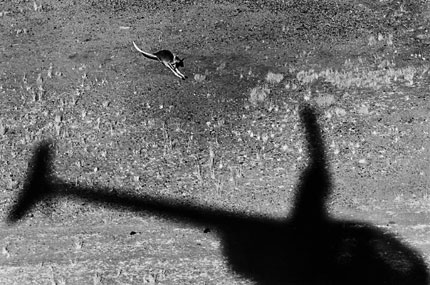 I've been lucky to have had a few times where our paths have crossed. While studying I sat in awe listening to him speak briefly about his career while slides whirled about in the darkened room. Later I found myself working on an E6 and Scala line where Michael would occasionally run film when he was on that side of the city. People talk about the joys of looking at photographers contact sheets, but seeing the work before the photographer has a chance to approve the viewing, it gives you the truly unedited version where you gain a brief insight into how they built up to a particular picture. It was good for me to have seen his photographs at these times.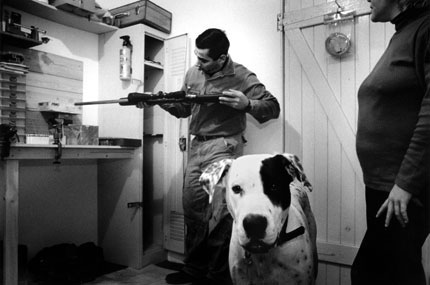 A BIG show of his work would have to be a real eye opener. I can imagine a large space with enough room to flesh out projects and allow pictures to build on each other. A curator with a bit of aggression could put something really special together. Fingers crossed we get to see such a thing. I'll be at the door waiting for opening night to begin.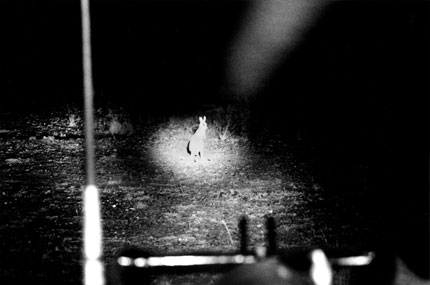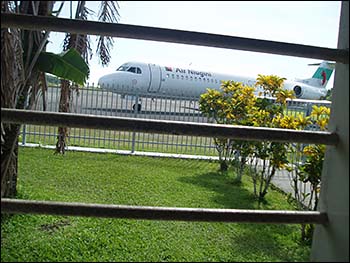 Pete left yesterday. It was sad to see him go.
Edwina flew out this morning on a quick trip to Australia for her sister Juliana's birthday celebration.
I was ready to get stuck into some work, so scooted to the darkroom to spend a few days splashing about with some pictures I have been keen to work on. Mixed up the chemicals, spend time getting a 'work print' to the point of being ready to produce a set of final prints…. and the town power dies.
Story was that the electricity wasn't coming back on for the rest of the day, so I cleaned up, wrote some notes and resigned myself to having to pick up the pieces once the power resumes.
Bummer.

Oh snap,
Don't pause, don't hesitate. Fill the coffee cup and go to 5B4.
If photographic books are your thing, then this will quickly become a place to stop by every few days for a look.
I've been digging around on the blog for the last year and a bit. Mr Whiskets does a fine job, and drags out some great stuff. Not short of opinion either, but backed with a degree of consideration and subtlety often lacking in a lot of commentary.
His post on Wednesday 15 April 2009 is enough to keep some going in circles for weeks.
Warrant Officer William G. Robins died on 01 April 1923. He was buried in North Bougainville.
Mr Jason Daniels is the manager of the Office of Australian War Graves in Port Moresby. One of his responsibilities is the large war cemetery at Bomana in Port Moresby. Jason had asked me to try and find Robins when I had the chance. He indicated an area where he thought the grave might be.
Yesterday my friend Peter Pigott and I travelled down the big island to have a look for the Robins grave. Pete is up visiting Edwina and I, spending time checking out Bougainville, a bit of swimming and surfing, and generally relaxing. After a few hectic years relocating to Australia with Fiona, new work and the arrival of their daughter Anna, I hope his time here is enjoyable.
We rolled down the island on the back of a ute and got off at the Raua River. We chatted to a few people and met a man named Anton Levu. He took us looking for a chief in the area to explain what Pete and I were doing and to get permission to look around.
We found Mr Raphael Boras and his wife Betty. After introductions and a short conversation we set off back up the road to Veton Village to find Raphael's father. It was great to wander up the road, chatting with Anton, Betty, Raphael and Pete.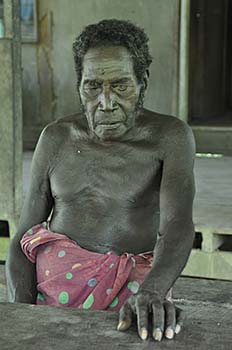 When we got to Veton we sat down and had a chat with Mr Matthew Boras, Raphael's father. Once we made clear what we were doing we got around to where the grave of W.G. Robins might be. Matthew quickly narrowed the possible location down, but warned us that the grave site that was there was not in good condition.
 He said that the concrete had been broken up during the Bougainville crisis as people looked for weapons to use. It seems that quite a few graves were opened during the crisis, as it was a theme that was spoken about on a few occasions during the day. There does not seem to be any malicious intent to the destruction, as the remains were said to be left alone when no weapons were found.
The state of the headstone at the likely site was up for debate, with a few stories as to whether it had been put aside or smashed. As people described how they remembered the headstone we gained a bit of hope with comments that seemed to indicate a commissioned headstone (something Jason Daniels had mentioned it might have). The identity of the remains in the grave site we were speaking about was a little unclear, as a few names were mentioned, mainly to do with the plantation we were on and the surrounding properties.
So off we went back down the road toward the river. There was no assumption that we would be successful, just a positive feeling that there was a good chance now.
We crossed the Raua and continued down the east coast road. By this time we had a small group of young men accompanying Pete, Raphael, Betty, Anton and I. 
A small track off the side of the road in amongst the cocoa plants was taken, and we were wandering in under cover which was a great compared to the heat from the road. However the mosquitoes were not a welcome change.  
A few minutes down the bush track and two low concrete slabs came into view. The smaller slab was said to be for a generator, while a larger slab to the north was accommodation or a workshop for employees of the plantation.
Next to the slabs was what appeared to be a concrete covered grave that had been broken open.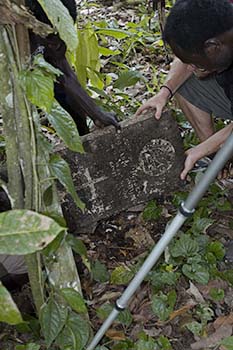 The headstone lay on the eastern side of the grave, face down. We carefully turned the stone to check for an inscription…. and there it was. The rising sun emblem came into view, dirty but well preserved. Excited we finished turning the stone over, and confirmed that this was the resting place of W.G. Robins.
A few more pictures followed to record the headstone inscription, then we marked the grave with a small handheld GPS and sketched the site (I'll never be employed as a draftsman!).
We did not check for remains, other than a quick look over the surface of the grave. We can only assume that the remains are still there, below a few feet of soil. Those with us indicated that their understanding was that the bones had not been tampered with or removed.
Two large pieces of concrete are still lying over the grave, so I assume a degree of protection is still there. The foot to the headstone is also un-moved along with the two large concrete slabs next to the grave, so there are some reliable points of reference for relocation if the site becomes obscured.
Once finished the headstone was turned back face down and we headed out to the road to find a lift back north.
A great day with a small sense of getting something resolved. It will be interesting to see what happens with the site in the next few years.
The inscription on the headstone reads:
287 W/OFFICER
WILLIAM G. ROBINS
53RD BATTALION
1st APRIL 1923
BELOVED HUSBAND OF MAY
FATHER OF THELMA & GEORGE
DUTY NOBLY DONE.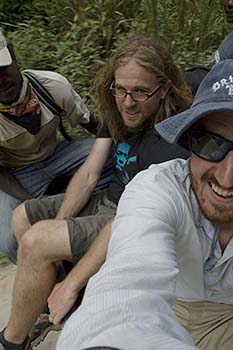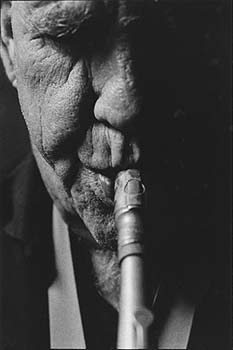 Here is a name that MANY Australian photographers will tip their hat to.
As a photographer, teacher, mentor, friend and general shit stirrer he has opened doors for so many people. He pops up in so many people's photographic lives that '6 degrees from Bruce' would be a fun game to get into around the world.
Known as, for want of a title, a social documentary photographer, he has in the past embarked on long term projects photographing individuals in Australia that entered his life at particular points. The saxophonist Bernie McGann probably found himself in front of Bruce's lens for longer than many careers last.
When I speak to Bruce (well, email is as close as we have got to a conversation for a while) I hear excitement about the Australian landscape. His trip years ago with Murray Fredericks (www.murrayfredericks.com) to Lake Eyre still crops up in his stories.
I've only seen a few prints of the Aussie landscape project that he has been working away on for some time. I assume he holds the pictures fairly close to his chest, and I'm probably not someone he would show for early reactions. Still, what I have seen certainly holds promise, and I hope he continues. The distance from the continent that he has might bring an unexpected benefit to the work. Next time I see him I'll try and pry some more prints out of his files.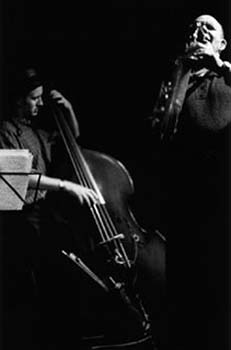 He is now over the moon happy in Iowa (USA) with his amazing wife Cheryl. I was lucky to visit them in early 2007 not long after they were married, surprising Bruce on a cold, snow-covered day. We sat in their home telling stories, scheming, rubbishing other people and laughing at ourselves. He was finding his way in a very different setting, I was just back from my last trip to Iraq. We were a funny pair, two Australians out of place on the flat plains of middle America giggling away like school kids.
Bruce and Cheryl made a HUGE leap to get to where they are alongside each other. The story of their meeting and the subsequent events is one to be told by them over drinks or a great meal (the tale is definitely owned by them alone). Suffice to say that throwing yourself headlong into something without reservation has been shown to have rewards unimagined. With a new house to make their own the next few years will no doubt be full of excitement and adventure.
So, I tip my hat to Bruce, my friend, mentor, teacher and a general trouble maker. Thanks for getting me into the smelly darkroom. Thanks for showing me Brandt. Thanks for showing me Koudelka. Thanks for introductions that have taken me, camera in hand, across the globe.
Thanks for being a real prick when I needed that kick in the arse.