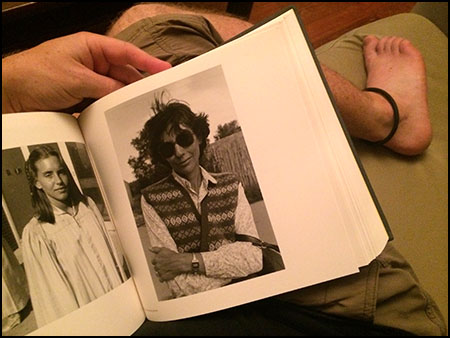 A book arrived in the post recently and I've been sitting with it since… the thing has rocked my world…
Of course there's no surprise… I'm pretty obvious and conservative in my preferences (many would say overly so)… but Friedlander does rock my world and I'm not ashamed of my little fanboy existence around the whacky Mr Friedlander.
His book Family in the Picture is a brick. Thick thick and jam packed with snaps… fifty odd years of pictures around home, his wife and kids, friends and extended family, holidays, weddings, parties, quiet mornings, meals and the detritus of a life lived.
It's a book that truly points to his more 'contained groups' of pictures… periods and approach and arrangement and stance… it's all there… and somehow this guy just keeps at it…
All the pictures in the book are identified by people, location and date… and that points me back to a story read in one of my books wrapped up in cardboard, stored somewhere back in Australia in a dim locker… the story goes that Mr Friedlander was up on stage at some conference projecting slides of some work… all was silent apart from him occasionally mentioning into the microphone the broad location of where the picture was made (ie "St Louis")… well many people in the audience were growing uncomfortable… they wanted anecdotes, tales, witty asides and insight into the great artistic mind(!)… so at some point, out of desperation, someone piped up and asked "does it really matter where it was taken?"… to which Friedlander replied "YES" and then proceeded to identify the site of every picture left in the presentation… gold!
So as I strolled through this fat little tome I paused at a single picture that he'd made of Maria with her arms gently crossed and her dark glasses pulled over her eyes… as underneath it is written 'Maria, location and date unknown'… an anomaly amongst the who/what/where/when, a wonderfully needed inclusion that despite the important, missing context usually provided by his sense of experience, presence and influence… finds itself jammed in amongst the rest of the joy, the laughter, the moments of exhaustion, of travel, of birth, new and sustained relationships, of tragedy and the relentless present… and the book is better for it.
Just love it… easy to find, not expensive at all, hundreds and hundreds of pictures… a magic little slab that has been sitting in my lap since it slid in through the mail slot in the front door… sweeeeeet.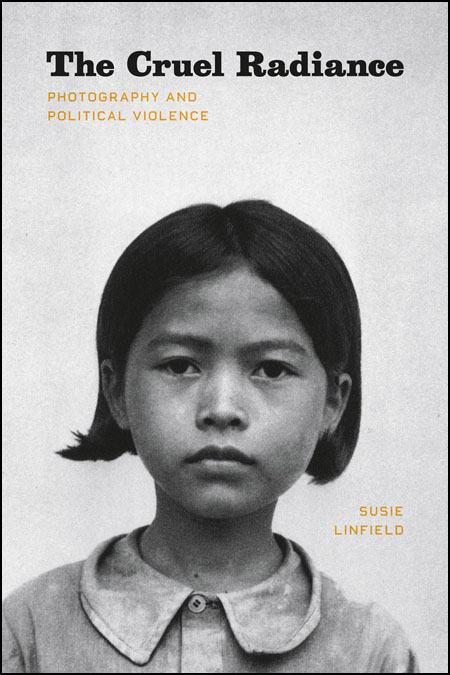 "For its first chapter alone, Linfield's The Cruel Radiance should be required reading for any photography MFA student. The author makes it very clear that photography criticism should start out with photographs and from photographs, instead from tiresome, outdated ideology or an outright disdain of the medium. What is to be gained from such an approach is then laid out in the following sections, each diving deep into photography and its relationship with and (in)ability to deal with human suffering.
Thinking about writing a little snippet about the book, I picked it from my book shelve, to find dozens and dozens and dozens of flag markers sticking out from its pages. What can I say? We might struggle with photography and its relationship to suffering for a long time. But if we make this book – and not Sontag's – the starting point from which to explore the subject matter, we might actually get somewhere."
Colberg has just put his finger on it here… Ming leant me The Cruel Radiance a while back and it is truly important. Lucid, strong and able to be handled… something for the next book order so I have my own little copy on the shelf.
Mr Conscientious put together a little reading list some time ago and it is worth flicking down. Not a huge pile of scary texts… and his interest and decisions explained along with each title.
Check it here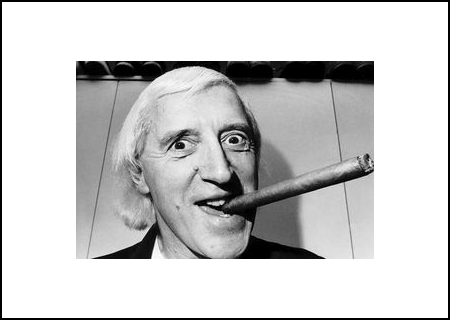 Andrew O'Hagan's piece Light Entertainment is disturbing in its content and brilliant in its clarity.
Not a quick page turner to fill in the time on the bus… more something to sit quietly with and read through without interruption.
You can find it here at the London Review of Books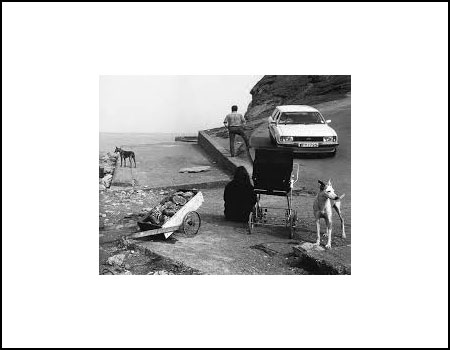 Chris Killip is a monster. No doubting it, no questioning it… just admit the fact and sit back with exhaled breath and wide open eyes.
Almereyda made a short film in which Killip addresses a number of pictures he made in Skinningrove (some of which made it into In Flagrante… though most of which have never been seen in publication).
This is well well well worth a look!
See some here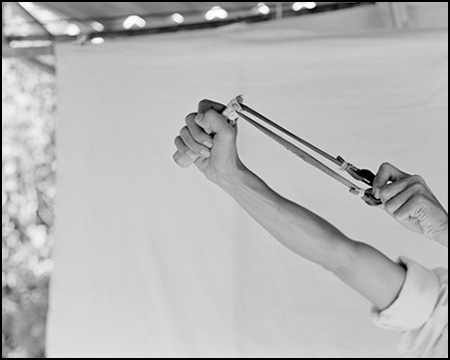 Jerome Ming and the rest of the Hartford 2014 MFA crew have hung their graduating show and passed their books around.
The reception for the exhibition is TONIGHT (Friday 8th August) at the Joseloff Gallery at the Uni. No doubt it'll be a hoot.
It's been great having Ming around Yangon for the short while that I've been here (it's been important for me in many ways ), and it will be wonderful to hear how he felt about all that has happened in the last month on his return. Coffee and gossip to come!
So best wishes to all the crew with their pictures on the wall… hope it's a night of raging fun and fall down excitement. Hats off for getting to this point.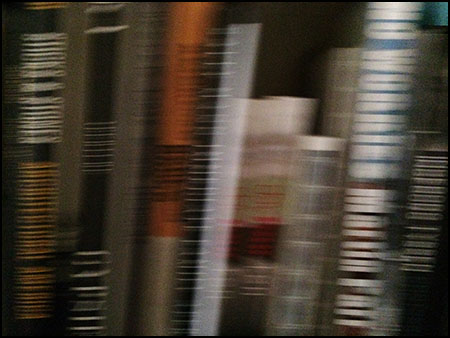 "But now that I've escorted two e-partners to the edge of the grave, I'm wary of this brave new world of digital publishers and readers."
Writer Tony Horwitz has written an interesting piece in the NYT about an online publishing deal that went pear shaped as two players in the digital sphere either went belly up or 'restructured' and left him holding the can for a while… a lucky outcome but one that has left him bruised.
This is not a tale of whinging-dude-left-behind… he made the leap and got burned all the same…
It's a good read… not a prompt for anyone to turn their back on the digi opportunities…
Read it here

The Photocaptionist is tuned up ready for your impending visit!
There really aren't a lot of excuses to hesitate, pause or even shuffle slowly when it's but a mere click away…
*
The Photocaptionist is a platform that promotes the practice of concubinage between photography and literature, images and words. Authors of the past, contemporary and emerging writers, critics and photographers will 'meet' on photocaptionist.com for a photo-literary feast.
The project is loosely inspired by Bertold Brecht's 1955 Kriegsfibel [War Primer], a unique work of art that introduced a new literary genre, the fotogramm (photo-epigram), where he combined poetry and news photography to unmask the true nature of war in a capitalist society. It is also informed by Walter Benjamin's 1934 essay 'The Author as Producer', where he stressed the importance of the caption to rescue the picture from 'the ravages of modishness and confer upon it a revolutionary use value'.
The name derives from a dream I had a couple of years back of a grumpy bloke whose job title was precisely Photocaptionist, and whose task was to find or produce creative texts to accompany the photographs he was sent by various institutions, artists and random individuals. I forgot about him for a while. One day I came across an empty 1940s photo album in the streets of Derby, UK, with a very peculiar typestyle on the cover. Out of curiosity I commissioned typographer and artist Rob Draper to replicate the typestyle and form the word 'Photocaptionist'. The imaginary bloke was back, grumpier than ever, working non-stop as a matchmaker between photography and literature, texts and images.
*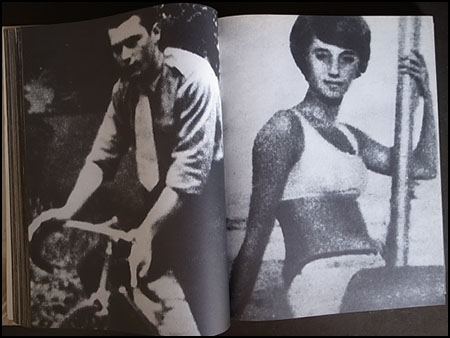 Mirelle Thijsen:
But tell me, why are you, being yourself a private collector of amateur photography and photo albums, so much interested in the photographic memories of other people?
 Erik Kessels:
There are a number of reasons: one thing I find interesting is the typology you discover in this genre. In case you collect all albums of a specific family, the typology is the following: two people meet each other in the first album, in which the man photographs his girlfriend up close. They are totally in love with each other. The second album is a wedding album. The third is made at the time the first child is born. The fourth, fifth, sixth and seventh album is a great mix of everything. What you see is chaos: the birth of a second and third child, vacations, children's parties. That sort of thing… The last album will be created when the children have left home. And both parents go on a holiday with each other again. In a way, it is a kind of remake of the first album.
Also the rituals and customs that people have, I find interesting. As well as the boring routine in such an album: pages with pictures of mountains that are totally non-descript. Which just indicate: look there is a mountain! I'm interested in errors, for they are amateur photographers of course. These people are just enthusiasts.
*
The long discussion about the work, books and influence of Christian Boltanski can be found
here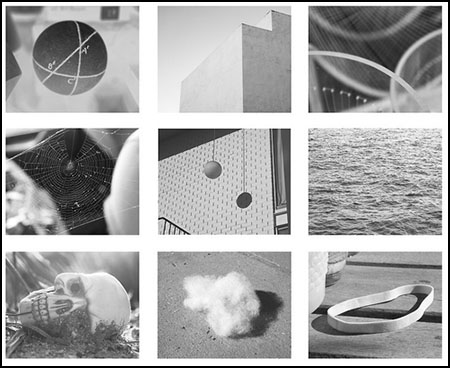 Believer and Mike Slack put a great back and forth down for all to read. It examines the reading and ingestion of the photograph, book, sequence and effort.
"We have this lemon tree in our yard in LA, and in the springtime I watch the bees maneuvering from flower to flower, completely in their zone, burrowing in for the nectar, seemingly unaware of anything else. Making pictures can be like that—a biological impulse, a state of heightened attention, with the camera as a proboscis/prosthesis, extracting all these pictures and letting them cross-pollinate over time. I don't really intellectualize this until later. Not that it shouldn't be intellectualized, but much of the content of the pictures is chosen and composed almost unconsciously, without intention, and later communicated to a viewer wordlessly. It's more about the sensation of having thoughts than the specific ideas contained in or attached to the pictures. The structure of a book provides a few clues or suggestions, and a viewer (consciously or not) decodes a syntax, a potential encoded message in, or between, the photographs. Is this like language? A pamphlet about Marcus Schaden's ambitious new PhotoBookMuseum project describes photobook as "a type of visual Esperanto." I don't know if that's exactly right, but there's something to it.  Reading photographs may be like reading language, but only up to a point. I would say that cameras, as ubiquitous as they are now, still feel like a futuristic technology, but the impulse to use them is very primitive and ancient—people have been depicting their surroundings for a very long time. Didn't most alphabets evolve out of simple pictures drawn from everyday life? "
Check it here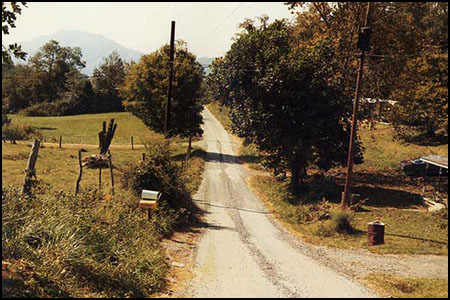 'What have you been photographing here today, Eggleston?'
'Well, I've been photographing democratically,' I replied.
'But what have you been taking pictures of?'
'I've been outdoors, nowhere, in nothing.'
'What do you mean?'
'Well, just woods and dirt, a little asphalt here and there.'
*
The afterward to The Democratic Forest is a short, simple text that brings a smile… the whole thing is on the trust site here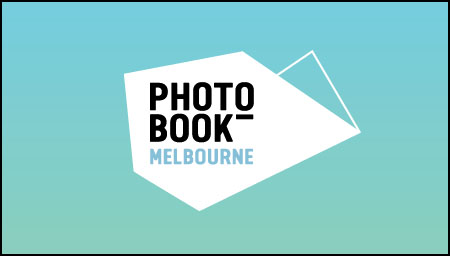 Looks like there's gonna be a party in Melbourne next year.
Boookies, booze and much chit chat me thinks.
Romano & Boetker-Smith have teamed up and are driving the thing along.
The website is still under construction – they're on Facesmash and Twutter for those who use 'em – you can start at the www site and roll out from there.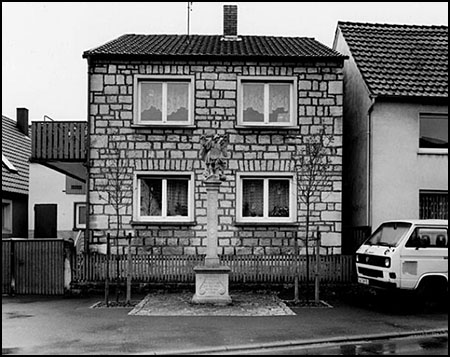 It was sad to hear of the death of Michael Schmidt a while back. I had been introduced to his pictures years ago by the writings of Robert Adams… and once that little spark had been lit I continued to slowly look and look and try to get my head around some of it.
Irgendwo is quietly slumbering in storage back in Oz… and I'll make sure I dig it out for a gooood look when I eventually settle back in to the little brick house in the suburbs (need important things to keep me going through the bitter winters that I'll face on landing – it's one of his books that came later and stepped away from Berlin – a step that shook).
So so long to a photog who I never met… who I only knew through a few books and references from others… to a photog who had a profound influence.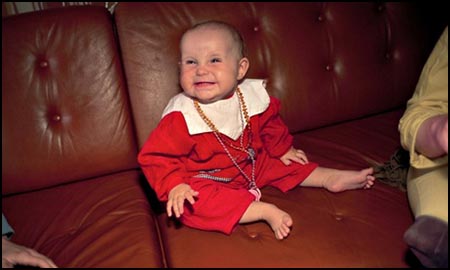 For the third instalment in Our Trilogy of BigNames and articles on the Web… KP is going to latch on to Nan Goldin speaking with Sean O'Hagan from The Guardian…
It's a decent long piece where they go a little wider than The Ballad of Sexual Dependency (not too much wider)… but a whole lot further than most…
So slip on over and have a look.
Find it here