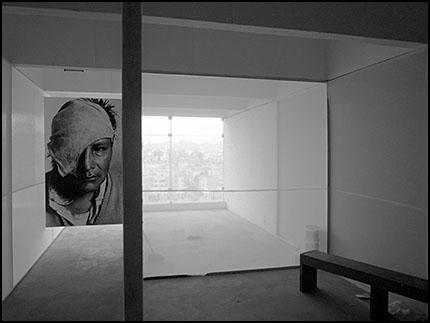 Sometimes, even when you have to rush through a show due to time constraints, the work leaves its mark.
The Museo de la Nacion in Lima has devoted a large amount of the 6th floor to Yayanapaq. To remember. In the tradition of excessive explanation, kisim piksa throws out that in the Quechua language 'yayanapaq' means 'to remember'.
Peru and its decades long struggle with militant groups (such as the Shining Path), corrupt government undertakings and a law enforcement community prone to violent shadowy 'justice' is well known and documented.
The collection of photograhs is excellent (and by that I mean it is not flippant or 'sexy'). It is an exhibition of the many wrongs committed against the Peruvian population. Deaths at the hands of rebel groups are treated with the same sharp eye as those people killed by law enforcement officials. Mass graves, houses full of bodies, the 1996 hostage situation in the Japanese Embassy and wrongfully jailed innocents finally released hang on the bare grey walls. A particularly arresting sequence is from a television crew, where frames from the moving footage are reproduced as stills, showing the few brief moments of terror as some teenagers are bundled into the boot (trunk) of a law enforcement vehicle. Their bodies were found the next day in a city hospital.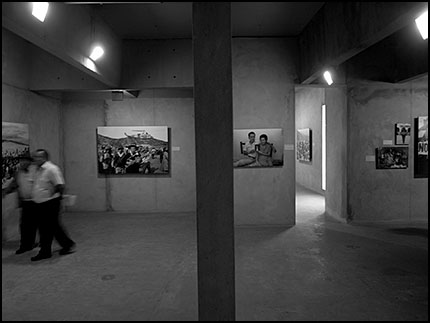 The museum is an imposing, angular concrete structure that stands tall above a major road through Lima. The 6th floor gallery was a refreshing change from the white cube yawn fest that so many exhibiton spaces have become. The concrete rooms are small, concentrating the experience of the few pictures in each themed section. Free standing concrete slabs provide additional hanging and a way to break the larger areas into spaces where you can't do the easy 'lap of the wall'. In addition to the darkened nooks are the fantastic areas near the floor to ceiling windows, where thin fabric screens have been installed to permit glowing, bright, diffused light to flood parts of the space. These areas are used and images are hung effectively with the sprawling, slightly obscured, view of Lima stretching out to the horizon.
In the accompanying exhibition catalogue (reproduced here as it is printed, so every so often the grammar or structure is a little tricky) the President of The Commission on the Truth and Reconciliation, Salomon Lerner Ferbes, writes:
"Any community that comes out of a history of violence faces, several dilemmas, one that is inevitable and radical: to remember or forget. Peru, set up a commission of Truth and Reconciliation. This commission took sides with remembering. Choosing to remember is at the same time, choosing the truth. It is a moral choice that involves courage and maturity.
Our duty was to offer the country a portrait of itself. This portrait was intended to restore the dramas experienced by hose who were victims of violence. The images selected for this photographic exhibition narrates part of the events between 1980 and 2000 and tries to reconstruct the visual memory of a period of internal armed conflict which resulted in the death and dsappearance of more than 69,000 people.
This is a documentation of the resistance of thousands of men and women of Peru, whose faces of desolation and puzzled by the tragedy fin the greatest moral commentary – testimony and education – while pressing a mandate: that of not acquiesce in oblivion indifferent or concerned, the obligation to write our recent history knowingly and integrating in it the memory of those who suffered in silence.
The Commission on the Truth and Reconciliation wants to offer this immediate facing of a truth that not only must be recognised and understood, but we also need to feel like it is our own truth to build over it a more peaceful and more humane country."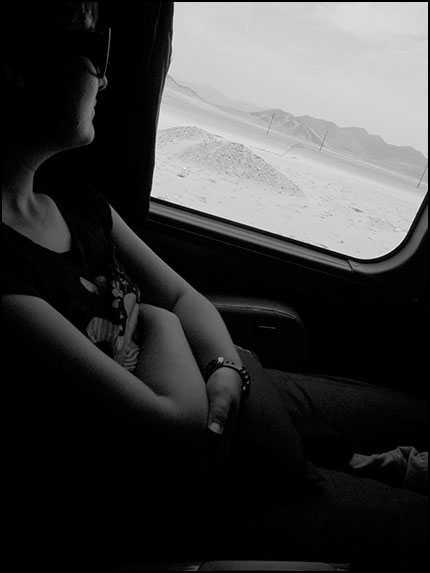 So we're sitting on a long haul bus, and I'm typing away on the PC, trying to finalise a piece of writing I've been working on for some time (S.D., I swear it's almost ready!), and Carlos leans over and says 'WiFi'… I respond 'bullshit'… and then connect to the web… for free… on a Peruvian bus… and it's kicking along at 54Mbps… and post this up…
Anyone in Australia reading this, believe the hype that we are getting GOUGED on our web/communications/connectivity services.
This.. kicks… arse… now I just need to figure out how to balance surfing for rubbish with enjoying the view out the window!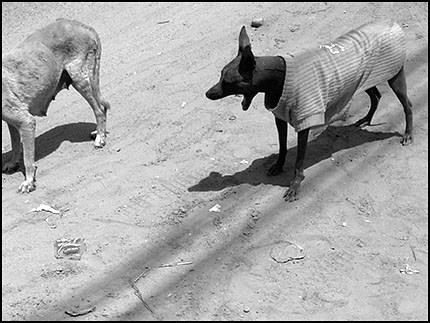 Dogs seem to get cameras pointed at them… a lot. From the cringe worthy postcards and 20x24inch polaroids to the witty and amusing pictures by Cartier-Bresson and Erwitt, the range of possibilities is huge. HCB's humping pooches and Erwitt's entire book (a little brick of a thing), full of quirky and amusing asides, keep me giggling.
Robert Adams speaks of the importance of dogs to him and his friends or colleagues in a number of pieces of writing. His first meeting with Nicholas Nixon centred around the joy experienced at the enthusiam of Adams' dog to meet Nixon at the front door. Another whole essay, or more accurately a collection of short statements, is devoted to the dog.
David Hurn made the statement in his discussions with Bill Jay that the shape of a dog somewhere in frame almost provides an anchor (this is major paraphrasing, on the road – in a bus – without access to either book or net, so only working from the dirty, dark corners of my failing memory).
A Larry Towell photograph that I adore (and have reproduced in this journal in times past) has the shrunken dogs arse through the photographer's glasses within the wider street scene.
The PNG dogs haven't grabbed me too much yet (other than attempting to run a few down out of pity and an aversion to seeing such mangey suffering). I've made a few snaps, and a times in Bougainville they have made it into the pictures as participants in the scene rather than just small blobs sniffing around on the periphery.
A few dog pictures have been snapped on this random trip, and the crop above (from a wider scene) showing one of the funny hairless Peruvian mutts has become a fav because of the Thylacine like yawn and distant memories of Chamberlain dramas and horrid fake Aussie accents (the dingo is now wearing the jumpsuit…).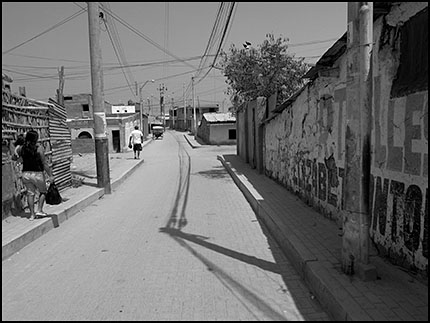 I've mentioned my fascination (from afar) with surfing on here before. Never tried the stand up variety, always been in the sea for different reasons.
But here I am in Peru (of all places), and I flap about on a long mal in fun little waves, with a guy yelling instructions at me in Spanish… and loved every minute. Roghan, Piggy, Tobias and a few others… I certainly cannot claim to understand the love of it after this short session, but I certainly got a taste.

We left Cuenca this morning and slid down the mountains, landing on the coast at the Ecuador/Peru border.
The crossing was busy, but we're now on Peruvian soil, enjoying cold beers near the beach. Not a concept I associate with Peru (my own glaring lack of knowledge).
Have been away from a connection for a few days, so apologies to anyone waiting on a response to emails!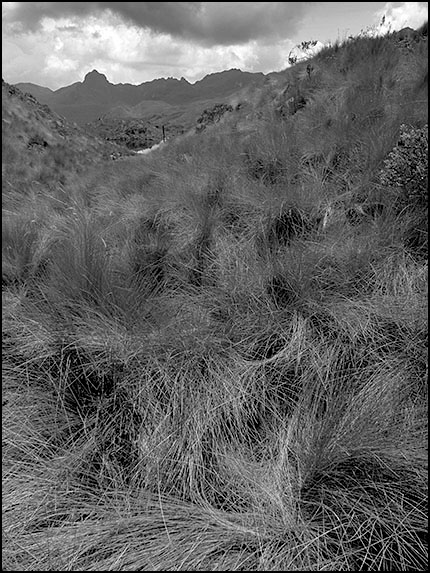 05 December 2009 – The long haul to Cuenca was finished on Friday evening.
Saturday morning we got up into the mountains above the city, exploring a little of Cajas National Park. Stunning.
Incredible glacier cut valleys and countless lakes and small streams running through the stunted vegetation, bringing on memories of the cushion plants and knarled bushes of the colder bits of Tasmania.
Lower down the forest was dense, with lichen clinging to the large fruit bearing trees and many birds calling out and flying through the canopy. We spent some time down there, then headed up higher via road to a little over 4000m.
We got out of the bus and wandered across the grass covered slopes and then into an incredible forest of trees that are the highest growing in the area. Amazing things, hundreds of years old, stunted and twisted (and somehow related to the rose).
A lunch of fried trout, then back down into Cuenca for a few hours walking the streets before dark.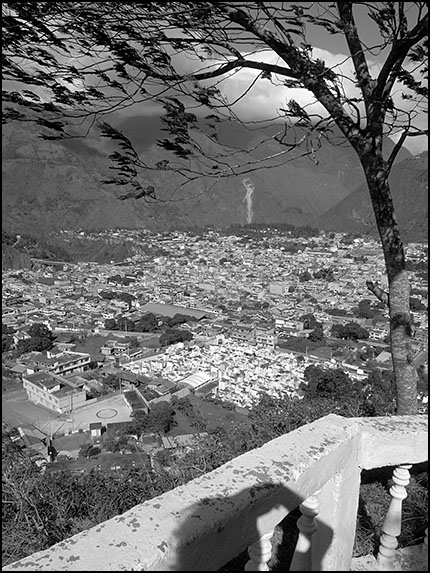 Our time in Banos de Agua Santa has been nothing but relaxing.
The city is known for its hot springs, and sitting in them in as the sun lights up the hills around you is magic. The baths range from cold water pouring down the mountain side to water that is almost too hot to climb into. Hopping between the two is a quick way to wake up and start the day.
I spent the morning relaxing, and then we climbed back into the hills above us to visit a luxurious day spa. Edwina treated herself to a massage while I sat back with coffee and enjoyed the view out over the valley.
The sun set, and we made our way back into town to enjoy a cheap meal. Tough times.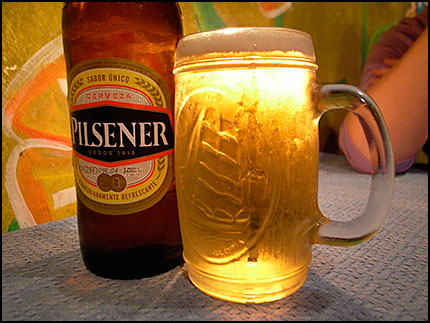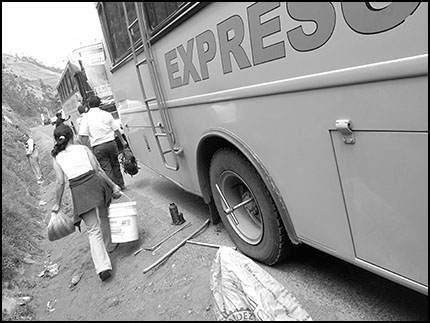 Been away for a few days, so time for a quick update.
We left Quito on the bus headed south for Banos, and by the time we hit our destination we were on our third bus due to flat tires and the like.
Banos is known for outdoor activities, and by the countless operators that line its streets offering bungee jumping, white water rafting, horse back riding, mountain and rock climbing, hiking and Amazon jungle tours… well business is good in Banos.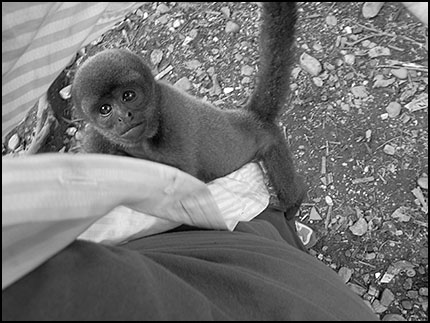 We ended up in the Amazon for two days. Monkeys, birds, swimming holes, alligators, frogs, bats and plenty of insects. Sweet.
Back into town for a hot shower and some easy times.