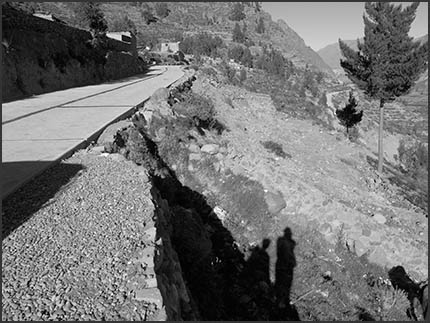 It's all been hush hush for a while, waiting for the formal process to be completed and for the right time to announce.  And now the moment has come for me to happily spill the beans here on Kisim Piksa.
It is official that I am now a member of the collective brokenbench. I'm so massively stoked to be hooked in with such a strong group of independent, committed photographers. The announcement is up on their (our!) website.
I've been in a bit of a bubble since leaving Iraq. It has been both a godsend as well as incredibly frustrating. brokenbench is going to be a very good thing for me.
Michele Mossop, Mayu Kanamori, Blondie, Spiro Miralis, Sean Davey, Therese Harrison and little old fat me. So now the family stands at seven.
An edit of Why bother quitting when you're so far behind? is up on the brokenbench website (first place where it has seen the light of day), and Camp Slayer is in a longer form that what is shown on my site.
Get over there for a sticky beak and make sure you check out the work of the whole crew!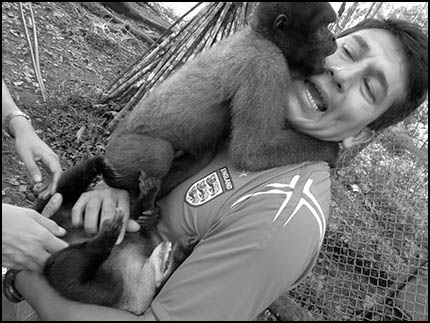 In an act of opening a book and simply copying the text, I humbly offer the following from Banksy:
Any advertisement in public space that gives you no choice whether you see it or not is yours. It belongs to you. It's yours to take, re-arrange and re-use. Asking for permission is like asking to keep a rock someone just threw at your head.
4am, stumbling about in Lima airport getting ready for the flight west across the Pacific (with a few detours thrown in for good luck).
… sitting in La Paz eating breakfast, and the guy serving us is surfing the morning tv channels… and there is the Sydney Harbour Bridge covered in fireworks.
So bits of Australia have started, and the cool cats in Bougainville will kick off soon.
Happy New Years to all.
Just rolled back into Cusco from the sacred valley.
Christmas eve in Peru, already christmas day back in Oz and PNG.
So best wishes to all, hope you´re with family and friends.
Yep, it is a doozie of a virus. Doesn´t look like I´ll have any solution to my puta blues before landing back in Australia and tracking down some install disks and probably finding myself a geek to help. On the road at present snapping pictures, so am unable to sort this out (no doubt would do more damage!).
So apologies for my slow responses to emails or lack of output to those waiting on things, I will try to keep on top of as much as possible without my files handy.
I´m tapping this out while sitting in a random hole-in-the-wall convenience store/net cafe inside the big Puno bus station, next to a dude surfing for pictures of the Simpsons cartoon… shoot me… now…
Getting off here to snap some pictures.
I´ve been off Kisim Piksa for a few days… the little PC has developed a serious cough, and I´m desperately trying to fix it (read: save my skin). Things are not looking good for me at this point. So now I´m sitting in a net cafe trying to figure out how a computer goofball can somehow get the machine going again… many thanks to those who think writing a computer virus is funny.
Still, today I saw Andean Condors floating around the Colca Canyon, so all is good in the world.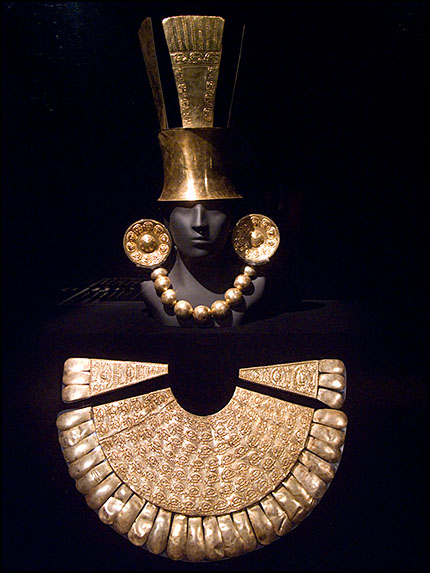 The capital of Peru, a fly by night visit, a whirlwind of big city lights.
From the Museo Larco with its stunning collection of textiles, pottery and of course gold (though we really can't speak about the Larco without mentioning its extensive collection of pre-colonial erotic ceramics…) to the Catedral de Lima on the Plaza de Armas where the remains of Francisco Pizarro lie, the big city is full of places to see and things to indulge in.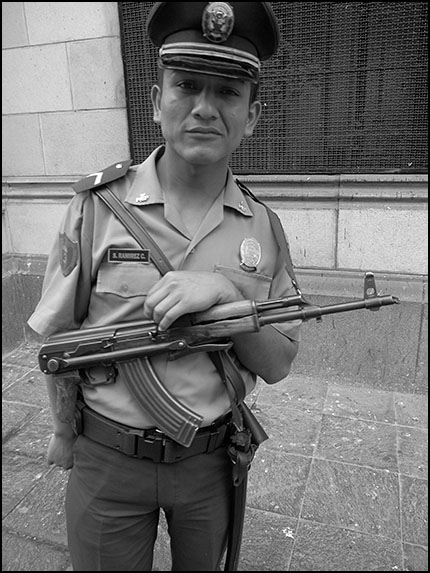 President Luiz Inacio Lula da Silva of Brazil was visiting, so our time in downtown was full of 21 gun salutes, barricades and police. We ate well, enjoyed our time in the city and plodded about like the camera toting tourists we are.
Now we've landed in Pisco (after another jaunt on a bus), so now we need to track down the best spot for the famous 'sour' and enjoy the tingle. Road trippin…