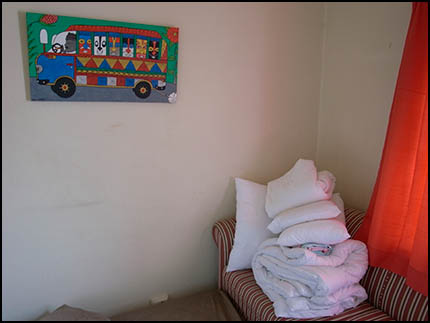 I bitch and whine whenever I am floating about in planes from place to place. No point in denying that I act up a bit too much.
The great positive to come out of it all though is the opportunity to fall into the comfort of the 'couch turned bed'. With friends spread all over the place now, it means that no matter where I go there is often a friendly beer or coffee to chat over and hear the gossip.
Just in the last day I've heard tales of India, Thailand, plastic surgery, Lupe Fiasco and 'hip-hop tours' of Brooklyn.
And of course, the comfort of the Towa PMV hanging on the wall is a great thing.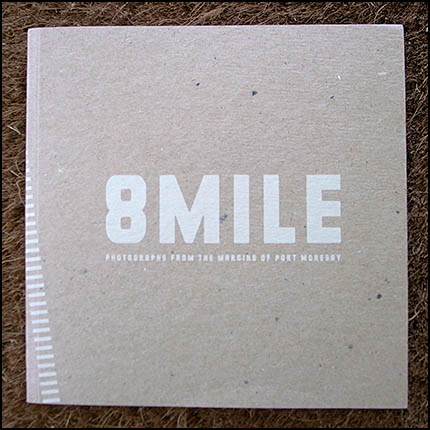 Sweet little packages full of pictures have been arriving lately.
The most recent is the exhibition catalogue (ISBN 1 876764 50 3) of the 8 Mile show at the MGA. It is a wonderful thing, beautifully designed by Anna Zagala, with essays by Emmanuel Onom Mel, Sean Davey, Motsy David and Stephen Zagala. I adore the cover material, a rough naked card stock that protects the fantastic pictures inside. The run is an edition of 500, and can be purchased direct from the MGA.
Looking through the book I feel a little sad that I haven't been able to see the show. But for the rest of you… here is the good news!
The Monash Gallery of Art has extended the running dates for the exhibition, so you've still got time. Don't let it slip by.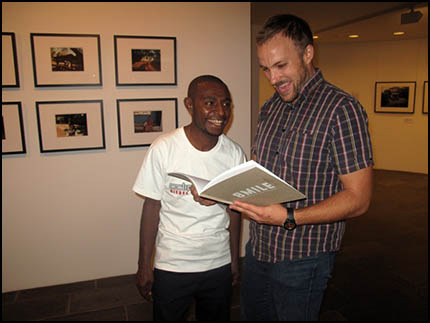 I've heard wonderful things from Melbourne, passed along the grapevine.
It sounds like the 8 Mile show at the Monash Gallery of Art is a HUGE success. There is a catalogue that accompanies the show that I've got to get my hands on. Heads will roll if they're all gone…
Fantastic fantastic fantastic.

I don't care if I sound like a broken record.
Get off your chair, get on the bus/train/plane or in your car and head out to the Monash Gallery of Art to see the show 8 Mile: Photographs from the margins of Port Moresby that will be officially opened this Saturday at 3pm.
In a great addition, the artists' talk is being held at 2pm, prior to the ribbon cutting, so a fantastic afternoon can be had in the excellent gallery space discussing the pictures with the photographers and the exceptional MGA crew.
Hopefully more to follow on this.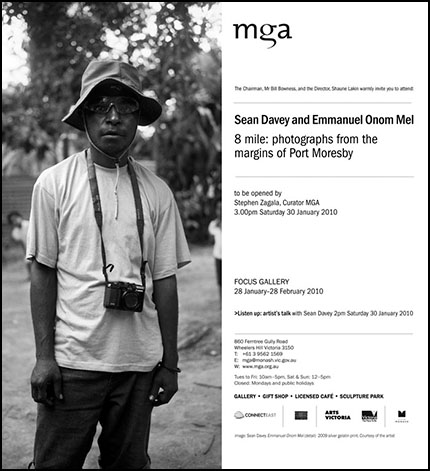 People!!!
Get along to the Monash Gallery of Art in Melbourne to see the exhibition 8 Mile: Photographs from the margins of Port Moresby.
Works by Sean Davey and Emmanuel Onom Mel (and my suspicion is that Wanpis will also have a few in there Edit: All pictures are by Davey and Onom Mel – see comments).
It is brilliant that the work created by some young people from 8 Mile (Papua New Guinea) is being shown in one of the prominent galleries in Australia that show contemporary photography.
No doubt a number of the pictures from the Port Moresby exhibition in held back in August (here) will make an appearance, plus some new work.
Zagala is curating the show, and with his strong attachment to the Pacific and proven talent in producing interesting exhibitions, this one should be a cracker.
Desperately wish I could be there to see it hanging on the walls, but distance and expense have curtailed the trip south. I will just have to watch from afar (a terrible thing to try to get a sense of a show via the web). So if you're within striking distance, or feel like a weekend away in Melbourne, take the time later this month and get down to see this exhibition.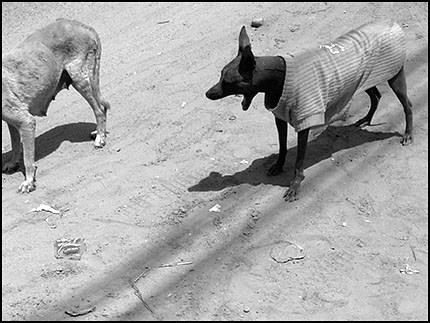 Dogs seem to get cameras pointed at them… a lot. From the cringe worthy postcards and 20x24inch polaroids to the witty and amusing pictures by Cartier-Bresson and Erwitt, the range of possibilities is huge. HCB's humping pooches and Erwitt's entire book (a little brick of a thing), full of quirky and amusing asides, keep me giggling.
Robert Adams speaks of the importance of dogs to him and his friends or colleagues in a number of pieces of writing. His first meeting with Nicholas Nixon centred around the joy experienced at the enthusiam of Adams' dog to meet Nixon at the front door. Another whole essay, or more accurately a collection of short statements, is devoted to the dog.
David Hurn made the statement in his discussions with Bill Jay that the shape of a dog somewhere in frame almost provides an anchor (this is major paraphrasing, on the road – in a bus – without access to either book or net, so only working from the dirty, dark corners of my failing memory).
A Larry Towell photograph that I adore (and have reproduced in this journal in times past) has the shrunken dogs arse through the photographer's glasses within the wider street scene.
The PNG dogs haven't grabbed me too much yet (other than attempting to run a few down out of pity and an aversion to seeing such mangey suffering). I've made a few snaps, and a times in Bougainville they have made it into the pictures as participants in the scene rather than just small blobs sniffing around on the periphery.
A few dog pictures have been snapped on this random trip, and the crop above (from a wider scene) showing one of the funny hairless Peruvian mutts has become a fav because of the Thylacine like yawn and distant memories of Chamberlain dramas and horrid fake Aussie accents (the dingo is now wearing the jumpsuit…).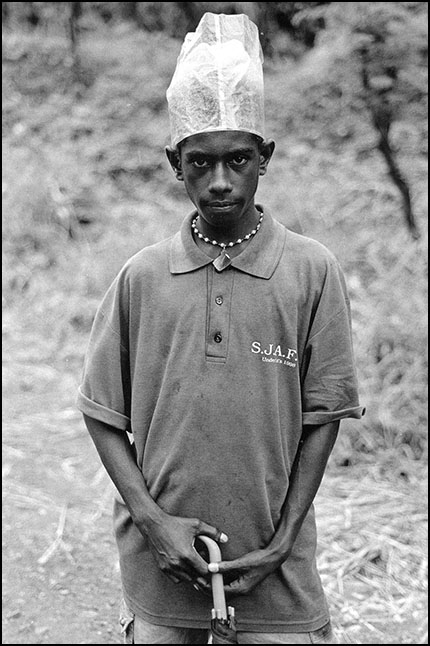 A day well spent so far. The morning was time out in the sunshine, snapping a few pictures, bumbling around on Quito's trolley bus and generally wandering aimlessly and enjoying it immensely. The afternoon has been a little time set aside for chores and a lazy rest (because I can…).
As always my thoughts briefly drifted to work underway, and the boy wearing his plastic hat (snapped a few years ago in Central Bougainville) returned as I day-dreamed about projects to finish when I get back home.
 I think he is beautiful.
He came floating down the road as I stumbled towards a village polling station set up for the 2007 Papua New Guinea general elections.
I stopped him (probably with inappropriate desperation), and he humoured me for the few seconds it took to take the picture.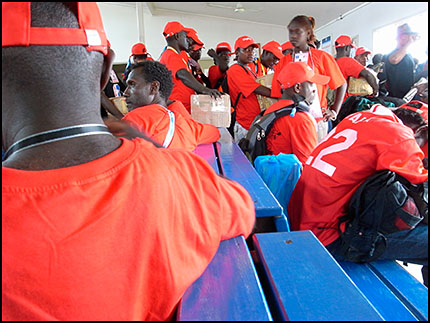 The Bougainville basketball squad headed out to Moresby today. I gave them a lift down to the plane seeing we were all on it together (well, a few were bumped, but the majority got on).
All seemed excited and ready for the games. Jamie Rutana has been coaching the squad for the last few months, training hard over on the concrete court not far from home. I've had a run with them a few times, but a dumpy white guy on a baskeball court surrounded by athletic Bougainvilleans is more a comedy act than anything else. Proved it last night when I was attempting to play down low as a small forward, and was dominated by anyone who posted up against me.
Good luck good luck good luck to the squad!!!!
I'll be out of Bougainville for a long break, back just after new year. A lot of work left hanging, but I'll snap something completely unrelated while away and come back with some heat in the belly, ready to dig into the projects I've got going.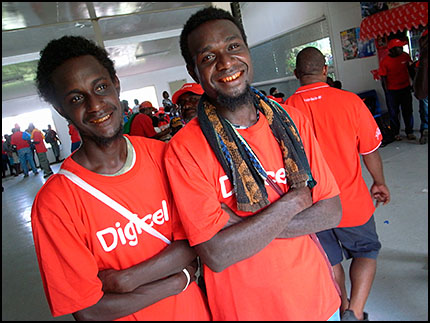 Team Bougainville has been slowly making its way to Port Moresby for the PNG Games. Nearly four hundred athlete heading over from what I can gather.
Down at the Buka airport this afternoon I bumped into two Mungka team mates, Ferdinand and Phillip, as they were getting ready to jump on the plane. They've been training hard with the squad for the last few months, and will no doubt be at their best for the competition. Ferdinand is a fleet footed midfielder, controlling the tempo of the game and confusing the opposition with his ability to beat a player when under pressure. He was awarded the best midfielder trophy for the men's premier division this year (deserved). Phillip is a gifted striker, and knocked in some critical goals for the Mungkas during the season. He's made many fullbacks look a little silly as they try desperately to disturb his march toward goal.
Good luck to all the athletes competing, but especially to Team Bougainville.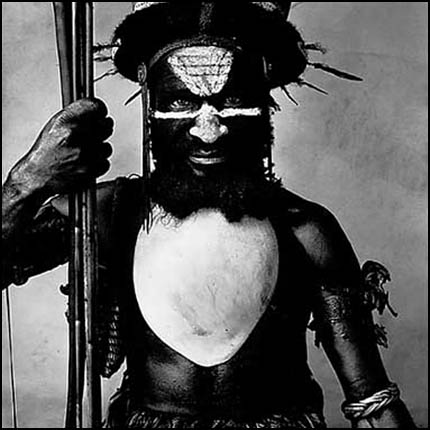 In typical fashion with all the excitement this morning, by the time I got back down into town and finished off a few jobs, the chance to get down the island had passed. So I'll be off tomorrow morning.
I logged on to check my messages this evening and came across the news that Irving Penn has died.
His diverse work, whether colour studio still life, graphic fahion spreads or portraiture in the highlands of PNG or South America, was always outstanding. Rigorous, strong and direct. His project and subsequent book Worlds in a Small Room is a joy to look through.
This is a great loss.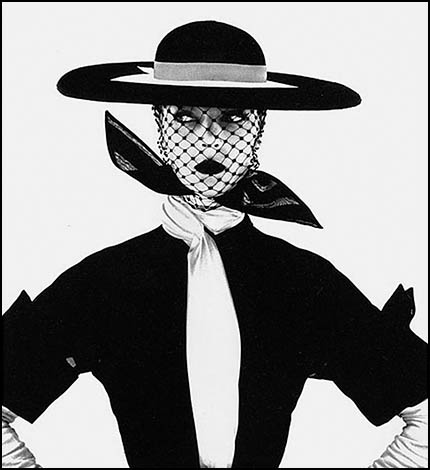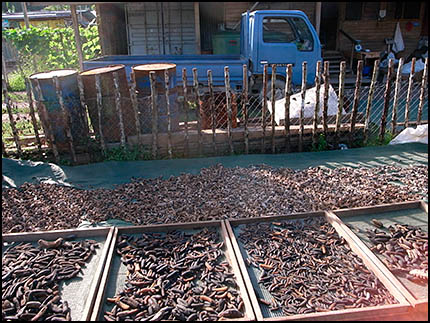 Yesterdy the commercial harvest of beche-de-mer was closed in PNG for three years. It is my understanding that it is a sustainability initiative, but I have only picked up little bits on it so far (will edit/add if or when I get some more).
Beche-de-mer is the humble sea cucmber, the old sea sausage, lying on the bottom hoovering up all sorts of stuff out on the sand flats and across the reef. They are incredible animals, and often have symbiotic relationships with various shrimp, crabs and fish.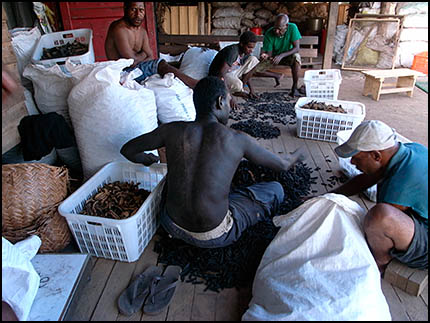 They are harvested by people wading or diving, and are subsequently boiled and dried out, then added into stir frys, soups and other dishes. It is a thickening agent, and is often referred to as 'tasteless'.
The beche-de-mer buyers around Buka often purchase shark fin and trochus shell… so we'll see what the focus turns to now the sea cucumber is not so easily sold.