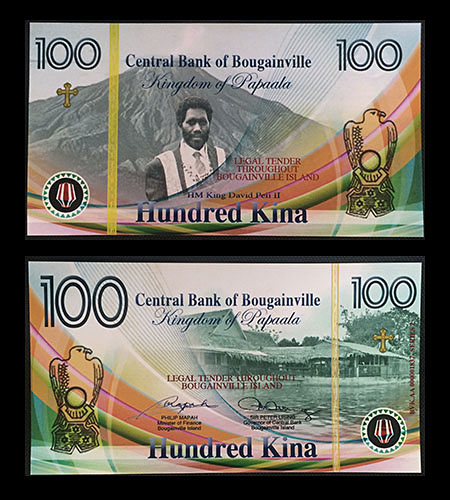 The pictures here are of the famed Bougainville Kina (Series 2) made available by the 'Central Bank of Bougainville'… the long running pyramid scheme of His Majesty King David Pei II (Noah Musingku) that has had a few names, nicknames and evolutions during its tortured history… most people would be aware of the name U-Vistract…
Both sides of each note are shown. Apologies that the photos are a bit rough – I knocked em out quickly on my phone.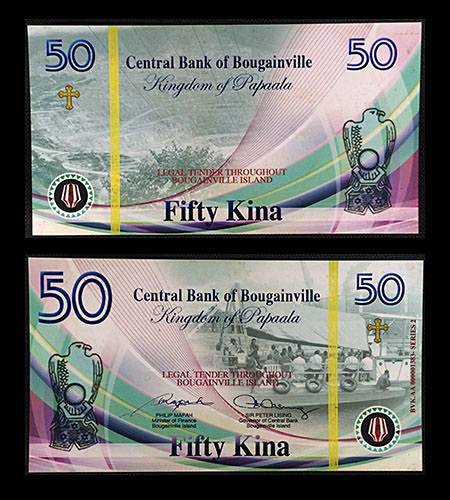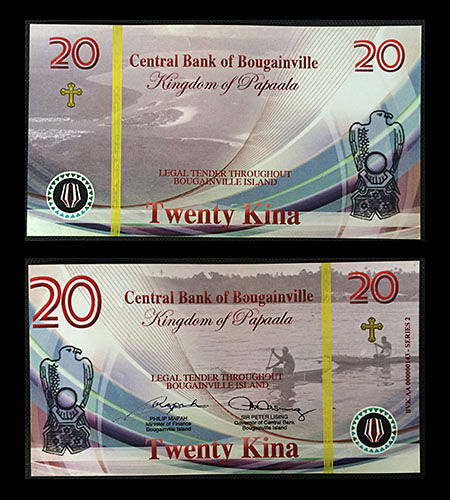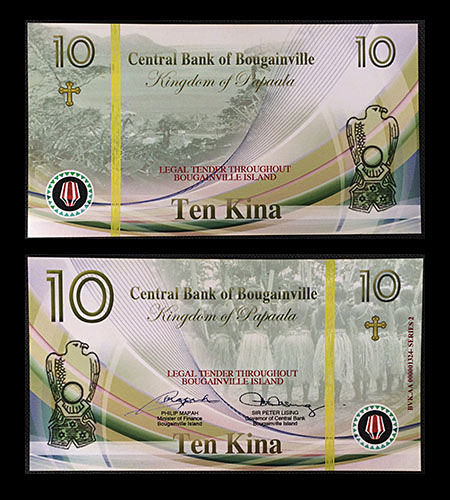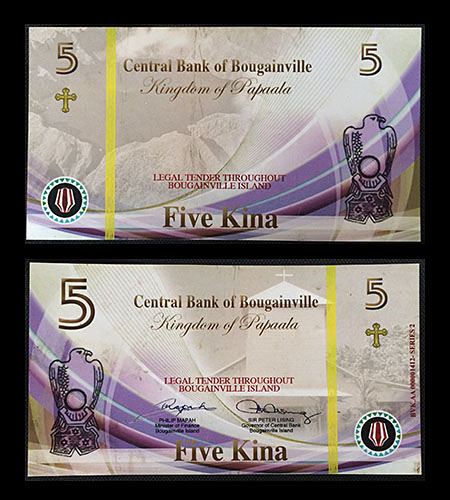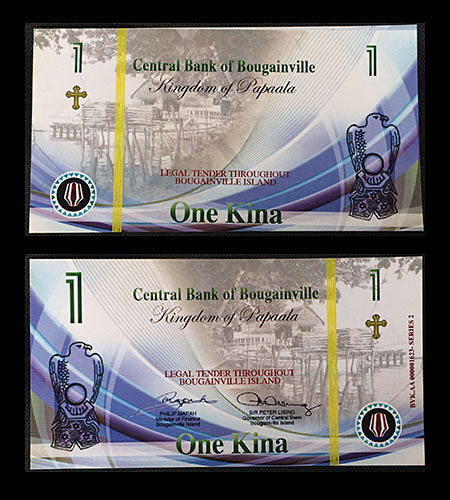 The pictures were made in Southern Bougainville in late July 2014, only a few months after US Citizen Barry Keith Webb was detained at Jackson's Airport in POM attempting to carry a huge slab of the fake currency into Bougainville. I have no idea what version of the notes he was carrying.
The notes shown above are/were the property of a local investor in the scheme. At the time I saw them the 'currency' was claimed to be three times stronger than the Papua New Guinea Kina. Unfortunately its use in the local trade stores is… shall we say… 'limited'…
They are a plastic of some description, not particularly well printed and poorly trimmed.
An earlier print run note (BVK100) that I was shown was paper and rough, but otherwise the same as the later plastic versions (Series 2). I did not see any notes with the face of Jesus, Kabui or Ona on them – reports years ago indicated a series of notes were designed with these faces on them. You can find reproductions of these notes in other places on the www.
The Series 2 notes are reproduced here on KisimP as a simple record for others to compare (or contrast) to various stories heard or objects seen. Kinda like a small part of a larger puzzle.
*it is depressing that I actually have to stress that this post is not an endorsement… but given the track record of super-sketchy-whities in Bougainville and wider PNG… and the danger of the internet spiralling out silly stories that get picked up on the ground… this post is not an endorsement of any of the undertakings of Musingku or his associates.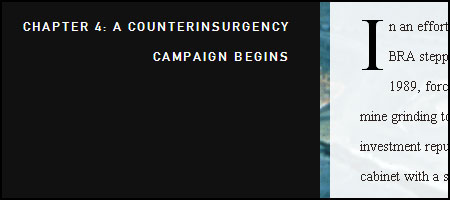 Dr Kristian Lasslett has put together a great multi-media resource over at statecrime.org… with the reference source documents there a click away and some excellent, direct narrative that brings much of it together.
Now obviously this website is identifying (and highlighting) a certain aspect of the crisis. Any arguments about bias or some such should be directed elsewhere coz I'm not interested in yapping on about that… it's great that this exists and hopefully any number of people will be able to access it.
Find the project here
The shit-show that is offshore processing has created anger, heat and frustration since its inception all those moons ago… the Pacific Solution (MkI and MkII)… the Malaysian Solution… the Timor Leste solution… the Cambodian Solution… solutions solutions solutions by the two major Australian political parties.
And now the Manus riot… but it is the weird "PNG is such a violent, uncontrollable place" that has really got me a bit bemused… to think there are people drawing that thread out of all this…
So to take a side step KP will just pause on the case of a man who was killed in the UK by G4S in 2010 (G4S 'had' the Manus contract – start looking around on G4S and start weeping).
Jimmy Mubenga was held down by three men working for G4S inside an aircraft sitting on the tarmac at Heathrow (he was being deported from the UK). They held him for more than half an hour in a position that killed him due to asphyxia. Witnesses heard him at times pleading for it to stop. The inquest found it was an "unlawful killing" by jury verdict. None of the three men who killed him have been charged yet.
Outsourcing cruelty is big business.
*edit: 20th March 2014 – charges of manslaughter have been brought against the G4S guards.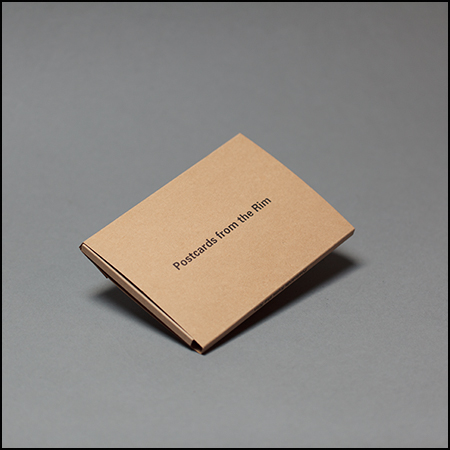 Postcards from the Rim opened on Saturday at the Goulburn Regional Art Gallery to a warm and friendly crowd who enjoyed the wonderful light space, pictures and artefacts.
The crew at the GRAG have done a wonderful job installing the work of six very different workers (and a collector) together in a hang that does not suffer from the disjointed nature of some group shows. From the big dominating pieces of Stephen Dupont all the way through to the quiet colour of Gary Lee; the show flows through the little alcoves and long walls without trouble.
So on Saturday afternoon, with full bellies from a beautiful lunch and a short stroll with the sun on our backs, we wandered into the gallery and saw it all hanging… beautiful.
Laila Kazak put together a magnificent little catalogue for the show, a wonderful and little simple object to hold in your hands and enjoy. It can be stolen from the gallery for a pittance (brilliant little book, brilliant price… don't hesitate).
The show is hanging until 20 October 2012.
There's a group show hanging up at the Goulburn Regional Art Gallery this week… and lil' ol' fat me has got a few small snaps in with everyone else's magnificent pictures on the wall.
The show has brought together a few photographers who have been working in some of Australia's immediate neighbouring patches of ground such as West Papua, Papua New Guinea and Timor Leste (and a few others in-between and close by).
The photographers involved are Ben Bohane, Sean Davey, Stephen Dupont, 'me the tubby one', Gary Lee and Jon Lewis. Should be an interesting show given the quite different backgrounds and approach of the workers.
My exhibited prints are a weird edit of a few pano pictures that I've plucked from out of my wider Bougainville work. It's actually been nice to make the decision to concentrate on a very small sliver of pictures that are at times brought together by aspect alone. So I've been bumping back and forth for a long while with old work prints and contacts…. shuffling…. scribbling… tearing things up… shuffling again… a few more chicken scratches on random pieces of paper… making a final decision and then changing my mind (again)…. and it's always a bit of fun to do…
… anyway we'll see what it looks like once it's on the wall… I've kept my Bougainville pictures right close to my chest and this is really the first time any prints have been out on a wall with other peeps running their eyes on 'em…. so the fact that it is a quiet first tentative edit/step makes it all a little more comfortable. So after the years gone already I'm here to underwhelm…
… and let's be honest… they're my pictures so the stakes are low at best.
If you're interested in seeing the pictures of the other talented peeps who I'm hanging with… well… get along before late October to the GRAG and enjoy enjoy enjoy!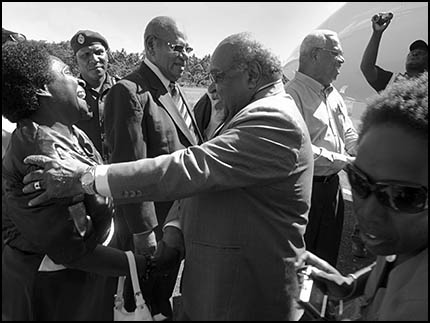 Grand Chief Sir Michael Somare has this evening, through his family, announced his resignation from the seat of Prime Minister of PNG and subsequent retirement from politics. His poor recovery from recent heart surgery was cited as a deciding factor.
The picture above (familiar to readers here – sorry for the recycling) was made a year ago when he confidently stepped off the fancy jet in Buka to participate in the inauguration of President John Momis. I was stunned by how strong his speech later in the day was – for years I had been underwhelmed by the speeches I had seen on tv… and yet he just had everyone hanging on to his amusing stories and asides. When you see old footage of him in the early seventies, full of heat and not short of a rallying speech… hard not to be impressed, and I caught a glimpse.
And yet any number of controversies and questionable undertakings will always hang alongside his title as the PM of independence.
So now he steps away, finished, and the immediate future in domestic PNG politics is going to be a pisser: fascinating.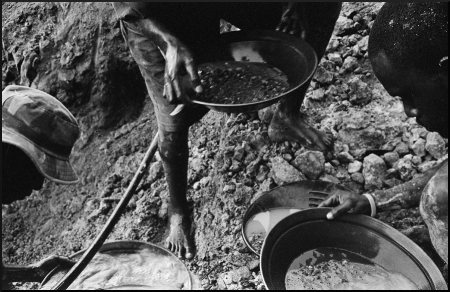 Grand Chief Sir Michael Somare (the Prime Minister of Papua New Guinea) has publicly laid a pretty significant accusation concerning the Bougainville Crisis. It is neither a new claim (nor accusation from the current PM), but SBS's Dateline program has given it some significant oxygen in Australia.
Starts in 20 minutes (2030 Eastern Aussie time).
This could be interesting (or maybe underwhelming). Either way it puts some recent (published) public comments by certain Aussie officials in an uncomfortable context.
A space to watch…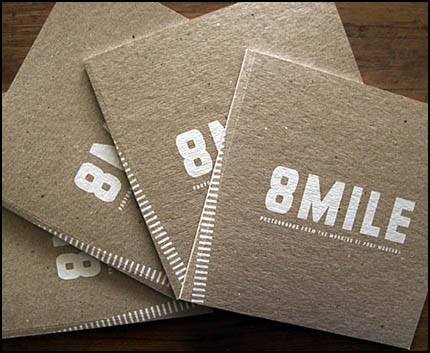 brokenbench has the 8 Mile book available for purchase!
Formerly only found at some of Australia's top galleries, now you can easily grab one with a few easy clicks of your keyboard for the incredible price of Aus$15.00. This international collaborative effort should be on everyone's bookshelf.
Don't hesitate, don't miss out, send a message to brokenbench and secure your copies now!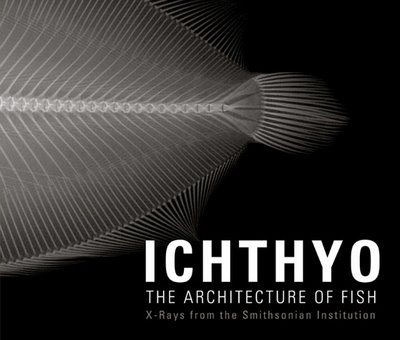 Edwina gave me a beautiful book today. Ichthyo (ISBN 978-0-8118-6192-2) is an awesome collection of x-rays from the Smithsonian Photography Project of… wait for it… fish.
There are a stack of different species shown, from the weird and wonderful like Sea Moths (the Pegasus Fish), flying fish and seahorses all the way through to stingrays, moray eels and jacks. The pages are left to bleed black to the edge, with only the ghostly fish to hold your attention (and a small subtle page number for reference to the plate descriptions in the back).
Essays by Stephanie Comer and Deborah Klochko, Jean Michel Cousteau, Dr Daniel Pauly and Dr Lynne R. Parenti are wonderful additions to the x-rays; brief and without pomp.
Great to see Dr Gerry Allen was associated with the project. He's done some great work throughout Papua New Guinea and Indonesia, and I was lucky to spend a brief bit of time in the water with him searching for a little dottyback in Bootless Bay (near Port Moresby). He is widely regarded as one of the leading ichthyologists working today.
Those of you who enjoy staring at fish should get a copy of this book. Fantastic.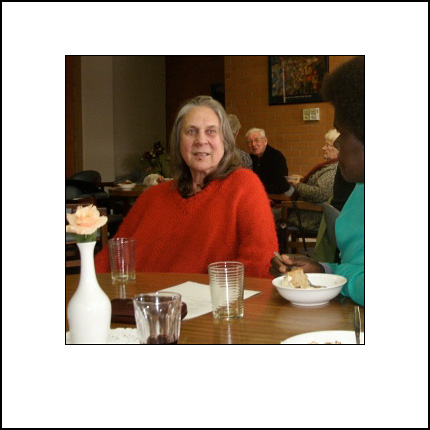 It is now a month since Rosemarie Waratah Gillespie passed away at her daughter's home in Australia. Clive Porabou and Joanne Dateransi had seen her only a few hours before she died from a massive stroke.
Gillespie had a degree of infamy in Australia and PNG/Bougainville. Many were divided over her actions in the Bougainville Crisis and her involvement in the complex political landscape during the tough peace negotiations. There is plenty of material concerning Gillespie's work (as barrister and activist) in Australia and overseas. Interviews, reports and debate over her conduct are easily found.
She had gone on to act as a human shield in the early stages of 'Gulf War Mk2' and written books describing her time in Bougainville and Iraq.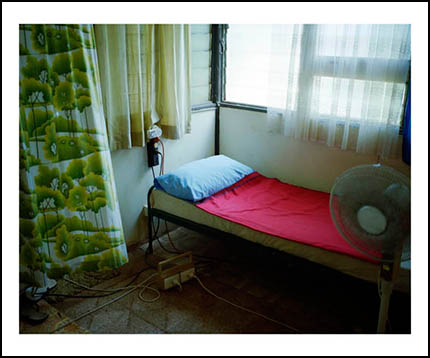 Here is a show in Cairns that all in the north of QLD should get along to at KickArts Contemporary Arts.
Sean Davey is showing recent colour work that has come about from his relocation into the tropics. Some really great things, one in particular that I have my beady little eyes on.
A very different show to the one hanging in Melbourne at present (8 Mile… if you have not seen it, this is the last weekend you've got!). I may be mistaken, but this QLD work might be the rumblings of a new step in the project Limousines and Hearses.
The Cairns Post ran a spread on the show in the Weekend edition with a great little bit of writing accompanying a good selection of pictures.
The invitation can be downloaded here.
9 April 2010 – 29 May 2010