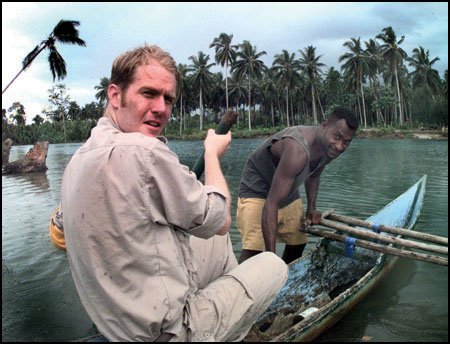 You like music?
You like the Pacific (and most importantly the Magic Boogieville)?
You like a laugh?
(You hate that I've used the word 'like' but can't bring yourself to send me a nasty message?)
Fred Smith is strumming away on his music machine at the The Cat and Fiddle in Sydney tonight and at the Playhouse Theatre in Canberra on Saturday night.
Em nau bulmakau!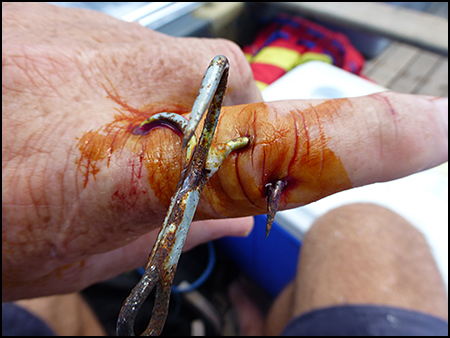 It's funny coz it's not my finger… oh Bougainville you are the island of laughs.
Story goes that late last year a spanish mackerel had made it into the boat and was still a little green… hand slipped… treble went straight into the meat… fisherman squealed.
I've got the video of it being removed… for all those people imagining it now… know that because of the barbs you have to push it through rather than pull it out… good times.
All good in the end. No damage, no tears and just a funny story and some pictures left over.
Well done Muz.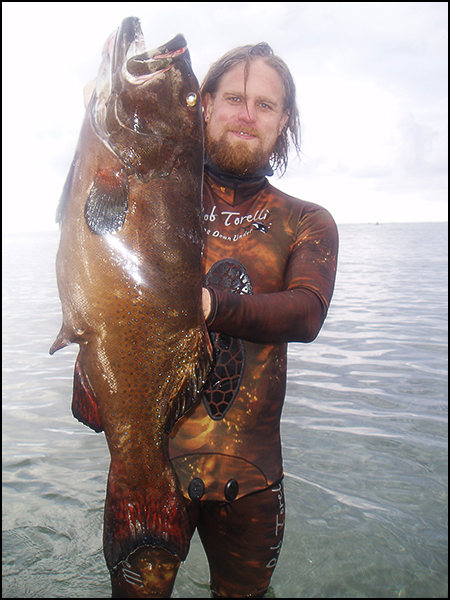 Warm water, good friends, sliding into the sea with a lovely current running and a buch of canoes on the upcurrent edge of an offshore reef…
Sailfish splashing on the surface… dogtooth and tax-collectors rolling down the slope… and well and truly my best coral trout to date… it was a decent fish.
Of course Maro and Rutana were there… who else?!
Been a busy few days back in Aussie.
Little man has grown grown grown… the changes in the short period of time have been dramatic. He's running around, blabbing and telling stories, more energy than a coiled spring and laughing and laughing and laughing.
Missus is almost ready to pop with the #2… not long now. I think the crazy hot weather is taking its toll.
And of course I sit back here as if the last slab of weeks were only a dream… already slipping into foggy, vague memories and a few pictures. It's sad that it is reduced to that.
I'm currently somewhere in transit between Buka and Brisbane… humping gear and crying at having left friends back in the heat.
Camp Slayer opens tomorrow at the Coffs Harbour Regional Gallery and I'm looking forward to seeing the hang and attending the opening. A floor talk is going ahead on Saturday as well for anyone silly enough to want to hear what I have to say.
So for all the peeps waiting on me to respond to an enquiry… if I haven't got back to you within the next week or two then by all means start making those angry calls and sending the nasty messages.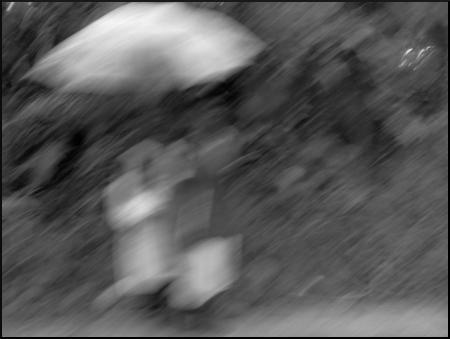 Ta ta 2012… see ya later… it's been fun… but 2013 is upon us all and we gotta make haste. Hope everyone is celebrating new opportunities, new beginnings, new new new (but enjoying the old in equal amounts).
*David is in the Autonomous Region of Bougainville until mid-January 2013. His ability to respond to enquiries will be limited at times. See here for contact details.
Hope everyone is surrounded by friends and family and that the 'festive season' is shaping up full of enjoyment.
Dance a dance for me and sing a song.
*David is in the Autonomous Region of Bougainville until mid-January 2013. His ability to respond to enquiries will be limited at times. See here for contact details.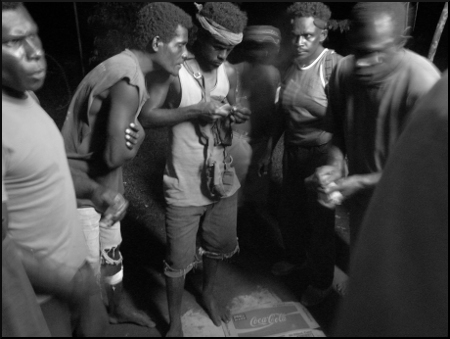 All things running smoothly I'll have landed back in Bougainville this afternoon and will be out of 'easy' contact (through choice, circumstance and expense) until early January. Better for me to simply roll film through my knackered cameras and gossip while sitting in the shade of a roadside tree.
Please please send me an email in the interim… I won't be checking them religiously (if at all) but it's your best chance of me eventually getting back to you properly.
Otherwise you can ring me on my current PNG mobile: +675……. this cell number will work throughout the Autonomous Region, so unless coverage is down due to weather, power or humorous incidents you should be able to find me on it.
OK… so with that I wave to you from the purple-edged-ocean shore with the cloud ringed mountains behind me and slip away with friends to dance into the night.
Stap isi.
*David is in the Autonomous Region of Bougainville until mid-January 2013. His ability to respond to enquiries will be limited at times. See here for contact details.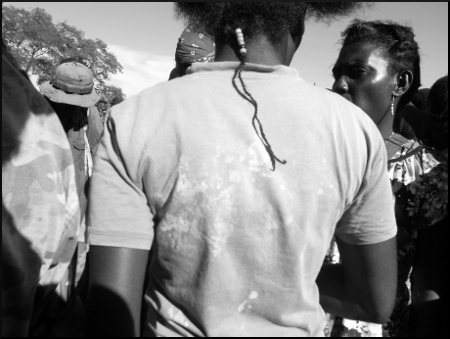 I'm on the plane heading north right now… it has begun… and I'm frothing with excitement over what is to come.
Can't wait to see my great friends again… can't wait for the sweat and the ocean and jungle and the hot insect filled nights… can't wait for the days and days of telling stories, of gossiping, of laughing until it hurts. And in amongst it all I'll lift the little camera to my face and mash down on the go-button to make little snaps.
*David is in the Autonomous Region of Bougainville until mid-January 2013. His ability to respond to enquiries will be limited at times. See here for contact details.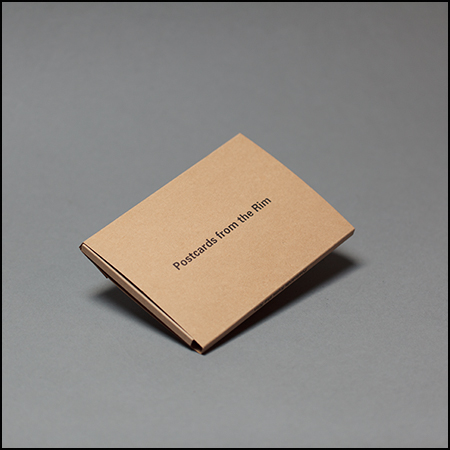 Postcards from the Rim opened on Saturday at the Goulburn Regional Art Gallery to a warm and friendly crowd who enjoyed the wonderful light space, pictures and artefacts.
The crew at the GRAG have done a wonderful job installing the work of six very different workers (and a collector) together in a hang that does not suffer from the disjointed nature of some group shows. From the big dominating pieces of Stephen Dupont all the way through to the quiet colour of Gary Lee; the show flows through the little alcoves and long walls without trouble.
So on Saturday afternoon, with full bellies from a beautiful lunch and a short stroll with the sun on our backs, we wandered into the gallery and saw it all hanging… beautiful.
Laila Kazak put together a magnificent little catalogue for the show, a wonderful and little simple object to hold in your hands and enjoy. It can be stolen from the gallery for a pittance (brilliant little book, brilliant price… don't hesitate).
The show is hanging until 20 October 2012.
There's a group show hanging up at the Goulburn Regional Art Gallery this week… and lil' ol' fat me has got a few small snaps in with everyone else's magnificent pictures on the wall.
The show has brought together a few photographers who have been working in some of Australia's immediate neighbouring patches of ground such as West Papua, Papua New Guinea and Timor Leste (and a few others in-between and close by).
The photographers involved are Ben Bohane, Sean Davey, Stephen Dupont, 'me the tubby one', Gary Lee and Jon Lewis. Should be an interesting show given the quite different backgrounds and approach of the workers.
My exhibited prints are a weird edit of a few pano pictures that I've plucked from out of my wider Bougainville work. It's actually been nice to make the decision to concentrate on a very small sliver of pictures that are at times brought together by aspect alone. So I've been bumping back and forth for a long while with old work prints and contacts…. shuffling…. scribbling… tearing things up… shuffling again… a few more chicken scratches on random pieces of paper… making a final decision and then changing my mind (again)…. and it's always a bit of fun to do…
… anyway we'll see what it looks like once it's on the wall… I've kept my Bougainville pictures right close to my chest and this is really the first time any prints have been out on a wall with other peeps running their eyes on 'em…. so the fact that it is a quiet first tentative edit/step makes it all a little more comfortable. So after the years gone already I'm here to underwhelm…
… and let's be honest… they're my pictures so the stakes are low at best.
If you're interested in seeing the pictures of the other talented peeps who I'm hanging with… well… get along before late October to the GRAG and enjoy enjoy enjoy!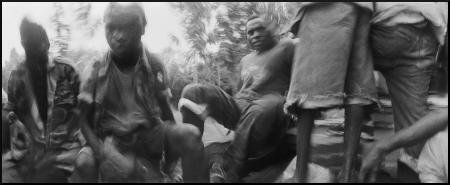 New gig and new digs for the day to day… sad to not sit with friends who have become close over the last eighteen months… and yet exciting to be surrounded by stunning objects and be involved in new relationships.
So off we go!