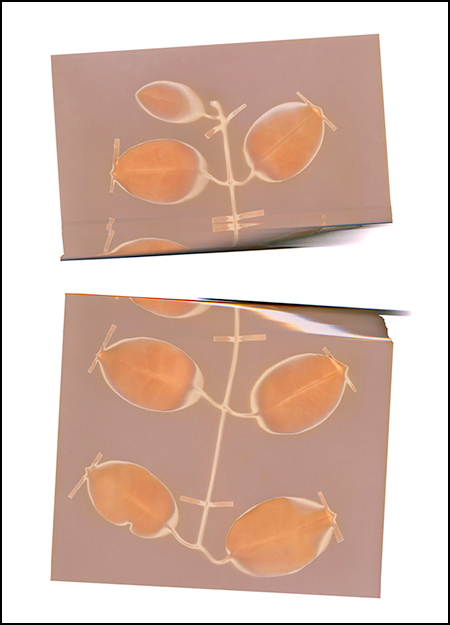 Photographer Kate Robertson is showing her Siwai lumen pictures in Melbourne… opening in a few short days on the 5th May. FANTASTIC.
It's brilliant to see these creative engagements with the AROB. Quite a number of Aussie photographers have made substantial (and very diverse) 'photographic' enquiries throughout those magnificent patches of stone, reef and dirt poking up out of the deep purple Pacific. Robertson has added substantially to it with this body of collaborative and enmeshed work (and no doubt she had other things on the boil at the same time so hopefully the trunk opens again at some point and more pictures creep out). This is exciting.
Anyone within striking distance should HOP in to see the pictures!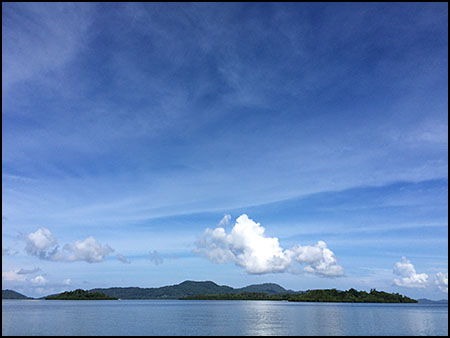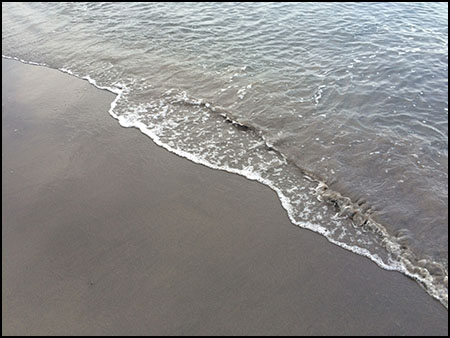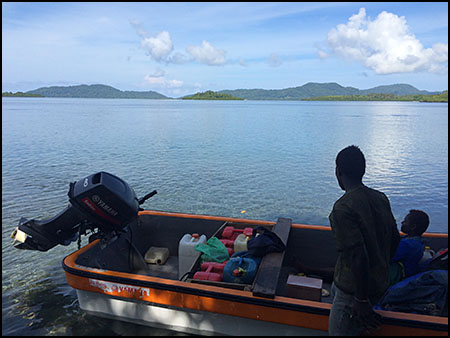 *(I'll be back on the air in less than a week… until then I'm still 'unplugged'… just grabbed a connection to send this up to the KP).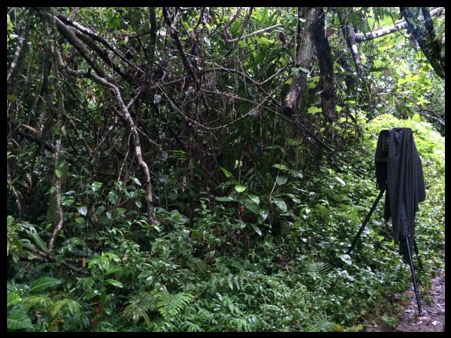 It's been a busy busy few weeks. I've run myself into the ground (again) and will be limping about feeling a bit sore for a while… hauling a heavy pack in the damp hot bush is hard work… no other way to describe it… I've emerged as a dirty scrub monster (again).
I'm on a flight out in the near future… so just tending to my scratches and sores (in sunny Buka) till then. Made it up from Torokina this AM on a glassy run as the sun rose. When the west coast turns it on like that it's magic. Even a lazy pod of dolphins showed up.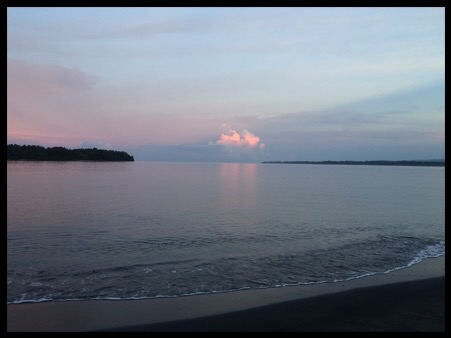 Over the last few weeks the Australian Defence Force has been engaged in Operation Render Safe in Torokina – removing the UXO that litters the place – and I was scampering around in the bush visiting friends and making a few pictures on the side. The multinational force (Oz, Canada, USA, Solomon Is, Bougainville & UK) did some great work and removed around sixteen thousand kilograms of bombs, mortars, grenades, sea mines and all sorts of other stuff. Brilliant work – and hats off to all of those peeps involved in the effort!
In amongst all the activity of the last few weeks I had a moment that made me shit a little.
Back in July I'd walked out of Torokina into Bana/Nagovis in Southern Bougainville. I'd left a friend's house in Torox and rolled down to the coast via a short bush track before doing a stretch of the bay…
… well it's this shortcut track that suddenly took on a very different persona…
For I crossed paths with an Aussie EOD Team as they came out off that particular path. We got talking and it turns out that they had been removing Anti-Personnel land mines from the path itself… yarp… the ol' track goes straight through a rather large US minefield. Awesome. Fuck me. Truly.
That lovely walk in my memory has now been coloured for ever.
Now it's not like my lotto ticket came good… many of the mines are in poor condition with buggered fuses or are buried too deep under 70years of debris to be dangerous… but then again the team assured me that enough of them are ready to go… a mix of the little 'jumping jacks' that spring up waist high before detonating and some other AP stuff (including a few that are booby-trapped with a secondary explosive underneath… so if someone attempts the lift the mine above: boom).
I'd heard of these 'minefields' in the past… but their location & the 'factual nature' of the tales being told were unknown to me (or even questionable)… no longer… I now know where one is and it's confirmed by the experts as a very real risk. Another lies in an area I don't often frequent at this stage.
Terrible. Frightening. Bloody. Things.
Anyhoo… it's now off to chill in airports, to sit and wait and stare at blinking departure boards, to hurry up and wait… to slump into a plane seat and beg for the balus to simply 'hurry up and get there'…
stap isi.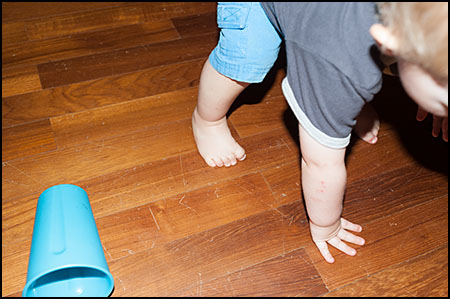 On a jet plane at the mo'… rolling back into the Boogie. Visiting friends and snapping some pictures!
Be back on the radio in mid-November.
Tata until then… send me a message and I'll reply on return.
stap isi.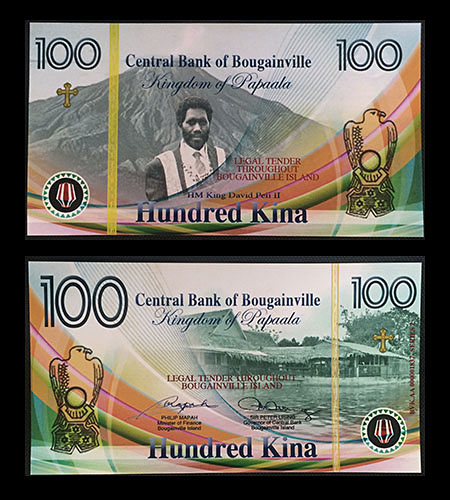 The pictures here are of the famed Bougainville Kina (Series 2) made available by the 'Central Bank of Bougainville'… the long running pyramid scheme of His Majesty King David Pei II (Noah Musingku) that has had a few names, nicknames and evolutions during its tortured history… most people would be aware of the name U-Vistract…
Both sides of each note are shown. Apologies that the photos are a bit rough – I knocked em out quickly on my phone.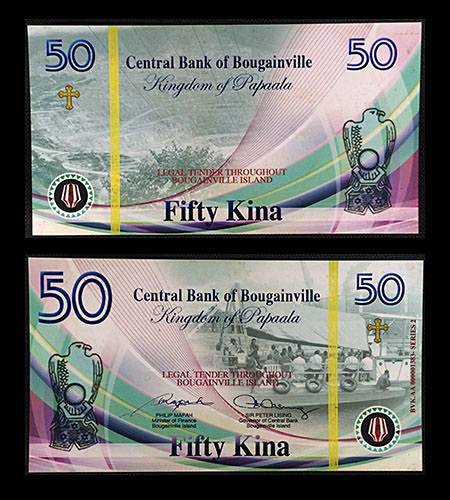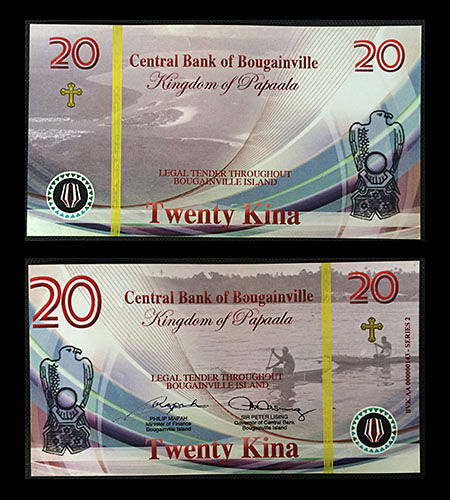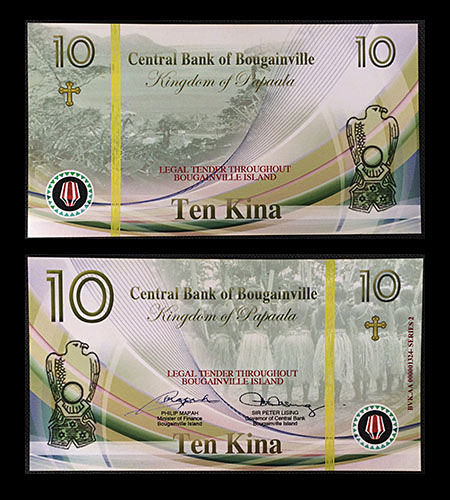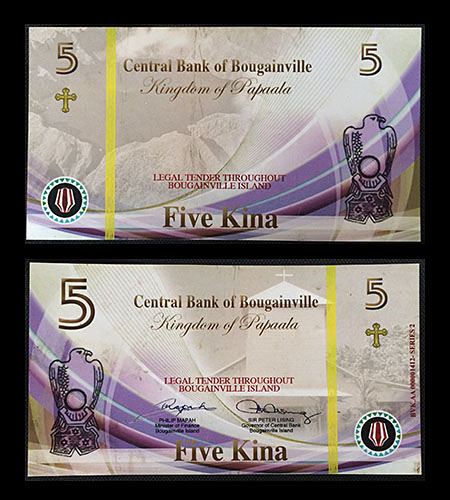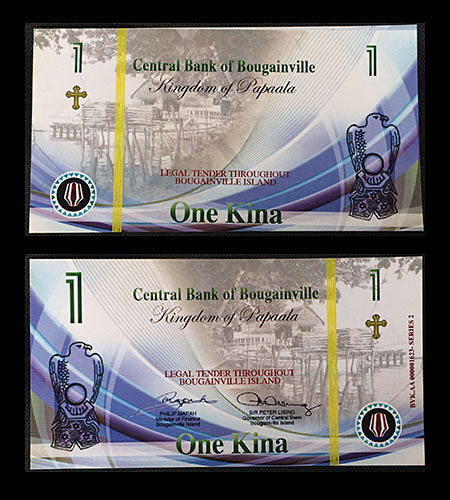 The pictures were made in Southern Bougainville in late July 2014, only a few months after US Citizen Barry Keith Webb was detained at Jackson's Airport in POM attempting to carry a huge slab of the fake currency into Bougainville. I have no idea what version of the notes he was carrying.
The notes shown above are/were the property of a local investor in the scheme. At the time I saw them the 'currency' was claimed to be three times stronger than the Papua New Guinea Kina. Unfortunately its use in the local trade stores is… shall we say… 'limited'…
They are a plastic of some description, not particularly well printed and poorly trimmed.
An earlier print run note (BVK100) that I was shown was paper and rough, but otherwise the same as the later plastic versions (Series 2). I did not see any notes with the face of Jesus, Kabui or Ona on them – reports years ago indicated a series of notes were designed with these faces on them. You can find reproductions of these notes in other places on the www.
The Series 2 notes are reproduced here on KisimP as a simple record for others to compare (or contrast) to various stories heard or objects seen. Kinda like a small part of a larger puzzle.
*it is depressing that I actually have to stress that this post is not an endorsement… but given the track record of super-sketchy-whities in Bougainville and wider PNG… and the danger of the internet spiralling out silly stories that get picked up on the ground… this post is not an endorsement of any of the undertakings of Musingku or his associates.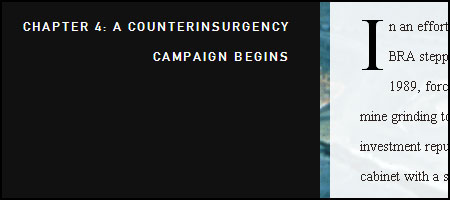 Dr Kristian Lasslett has put together a great multi-media resource over at statecrime.org… with the reference source documents there a click away and some excellent, direct narrative that brings much of it together.
Now obviously this website is identifying (and highlighting) a certain aspect of the crisis. Any arguments about bias or some such should be directed elsewhere coz I'm not interested in yapping on about that… it's great that this exists and hopefully any number of people will be able to access it.
Find the project here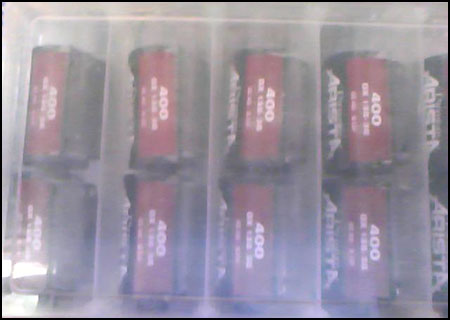 Been chasing chores, settling things back in, reshuffling crap around and dragging stuff up and down stairs.
Time now for shake, shake, rattle and bump… the agitation boogaloo begins as the small rolls I exposed in Bougainville go into the tank for their wash in the sweet liquids of magic and sorcery.
Should be done relatively quickly (me hopes)… I gots some more Myanmar stuff quietly waiting in a box that will go through next… it's important for me to see those pretty soon.
So without delay… tatata!… lights out… GO!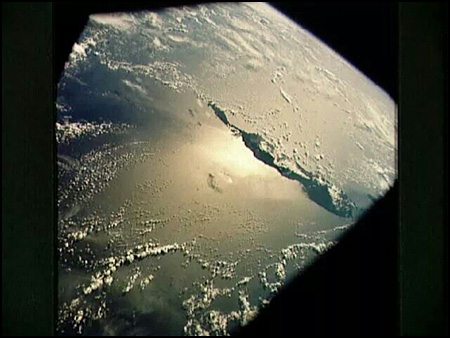 A great friend from the Boogie flicked this through via one of the data-based message apps we're all using (helps get by the restrictions on txt in & out of Myanmar)…
Bougainville from waaaaaaaay out in nevernever… I assume it's from the Space Station… though assumptions seem to backfire a lot…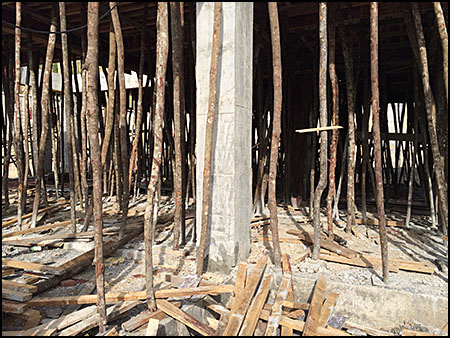 I guess it's ridiculous to talk about losing time through wasted effort… it is used in equal measure whether sitting on the couch or splitting the atom.
But missed events or circumstance through choice sometimes hurt. I've landed back after only a short period of time away from the boys to find them both changed significantly – I am more aware of (and excited by) the changes due to the period apart and yet feel a sense of loss that I missed the ongoing transition that got us to this point.
At the same time the short trip away out to see friends and stomp about on both new and familiar ground gave me great loads of energy (even if it did beat me up a bit physically… note to self: ya ain't a young pup anymore…).
So raising the peak of my 2nd hand trucker cap to the loss and urgency that 'time away' (from anyone – for it is forever a mode within we exist) brings to our daily shuffle – may a heightened awareness of it drive me to the present.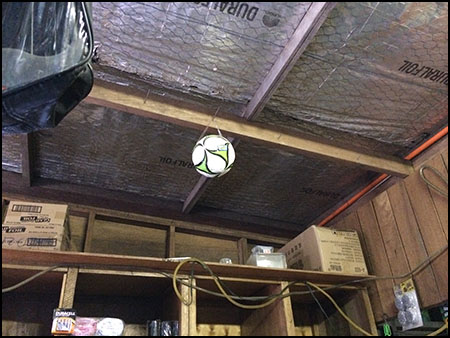 It's not the technical expertise, the pace, the passing, the individual brilliance, the brutal tackles or the long standing grudge match derby's… for the Bougainvillean game doesn't really possess any of that rubbish.
What it does have is those glorious moments when the crowd erupts in laughter as someone falls down, botches a goal or makes an arse of themselves… and often half the players on the park are laughing along with them… and more than likely the subject of the laughter is also giggling away.
I was lucky on the recent trip to play a training game with my old crew in Buka. It was a real gift to see them again and knock a ball around in the fading dusk light. Twisted my guts coz the memories came back. Saw them off for a match at Sohano not long before I flew out… coulda easily dropped my bags and 'missed' the flight for a game…
I also got a run in Torokina with a bunch of friends… let's just say that the old-fat-white-fella in bare feet wasn't keeping up with the locals… I was skiing around and flopping down onto the damp grass more than making any meaningful contribution.
It is The Beautiful Game for any number of reasons… 2014 has served up some glorious moments already (Toby is probably still grinning like an idiot and wearing his German tie to work)… and my contribution this year has been purely for the laughs…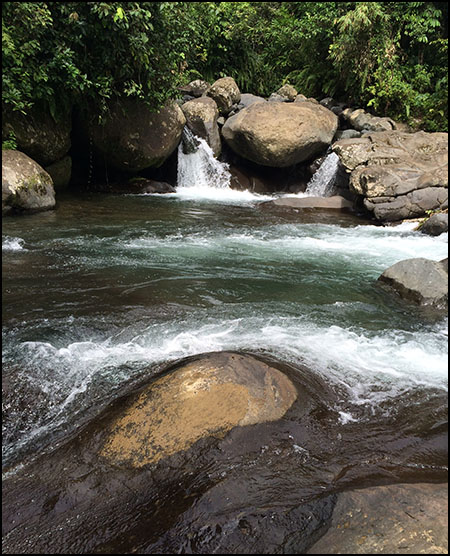 I just (now) landed in Sydney and RAN to the last Murray's bus towards Canberra (thank goodness for the late night Sunday service and only traveling with hand luggage).
Safely onboard with just a few minutes to spare… and I think I'll hang my head and snooze/snore till someone complains!
Been a great trip; it put a lot of energy back in my batteries (or more accurately flattened em out a number of times and cleared out my head a little)… so now it's time to motor along with pictures and more.
Should be in a comfy bed before 2am (me hopes)… looking forward to seeing the two grommets tomorrow!… though no doubt I'll be feeling a wee bit dusty…
*edit: holy shit just landed in Canberra… It's after midnight… clear sky and -3degrees… nasty.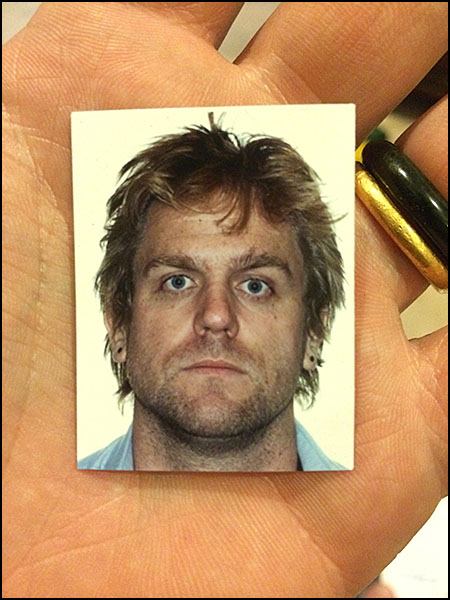 OK people… I'm off on a short trip back to see close friends… and to stroll through the warm nights listening to the bush scream its musical tune… and swim in that deep purple sea. I'll be back in early-ish August.
I've missed it terribly (don't go a day without thinking about the place). It seems that The Boogie crawls under the skin and stays.
Won't have any access to www or email (I'm just unplugging and doing my thing). Apologies but this time it's just a small bag, a camera and a few short weeks of going like hell to see people, laugh and sweat. Chit chat on the airwaves can wait (more than likely a healthy change).
Send me an email and I'll pick it up when I hit Oz again – I'll endevour to reply ASAP.
Until then… have fun.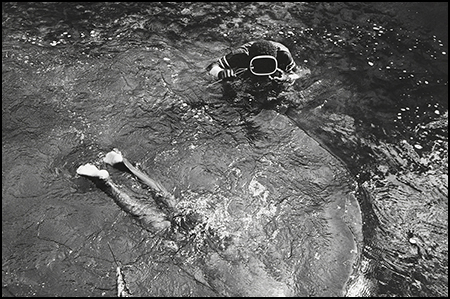 I'm gonna test out the knackered leg this morning… after weeks leaving it alone (and then hurting it again 2mins into my first run) it's time to slowly stretch it out again, hit a few balls with it and see how the thing goes.
Doubt I'll be ever again be racing around trying to keep up with the twenty year olds… might just have to learn how to play a little smarter now that the body can't keep up with the intention…
Everyone cross your fingers… this could end in tears (again).
*edit: of course… it gently popped in the first 20mins after a long slow warmup… so now it's back to limping and feeling sorry for myself…