This will flash up as I'm in the car driving down to the coast. Water-brained-flipper-wearing-crazies are heading off to the Gong to splash around in a pool chasing a lead puck and I'll be doing my damndest to keep up with all the talented players.
The 20th anniversary of the Wollongong 4s Pot Luck Underwater Hockey Tournament is being contested today. People are travelling from all over Australia to play… and quite a few of the Canberra crew are rolling down to compete.
Should be a fantastic day. Trial by fire. I'm gonna need a week to recover after this comp coz training on Thursday night had me pouring blood all over the pool deck from a split nose and a tear in my knee… so competitive play is gonna be a whole different experience.
*edit: 18 March 2012 (early morning) – it was a FANTASTIC event! More than 80 players registered on the morning and the competition was outstanding. I had the opportunity to line up against a team with a number of world champions (Ozzie reps) in it and got thoroughly schoooled in just how much skill the good players have… so much to learn. Massive congrats to the Wollongong UWH club – they put on a brilliant day!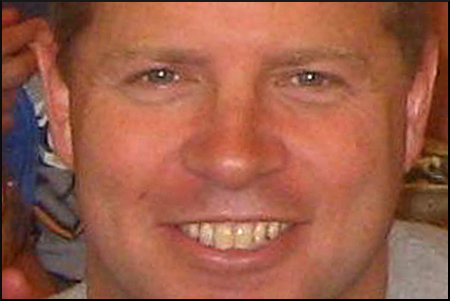 Today people in Canberra are getting together to celebrate the life of Vaughan Solomon. We're meeting at 1pm for a service and then some time to hear stories.
I met Vaughan through underwater hockey here in Canberra. He was always incredibly kind with advice and demonstrations. I'll be happy if I can one day get a puck moving like he did.
James Harris wrote a short piece for the Australian Nationals that were played last week. I reproduce it here as it best says what many would be thinking.
" Vaughan died while walking the Puffer Track in the lower Tararuas Nth of Wellington, NZ, an area he knew well and loved. He had returned with his family to his childhood
home in Whitby, NZ for Christmas. He is survived by his fiancée Susan, Heather 4 and Ryan 2.
Vaughan represented NZ in UWH at an elite level, the ACT and NSW in Masters and was hoping to represent Oz in Masters at the next worlds (despite being a Kiwi at heart).

Vaughan was a very active member in NZ UWH and more recently in Canberra with a strong dedication to developing new (and old) players. He was heavily involved in the NZ schools program. Fitness and Underwater Hockey were strong focuses, competing annually in the Lake Taupo 160Km bike race, and was active in Softball both in NZ and ACT.

He had been training for the upcoming Perth UWH Nationals with a short term goal of being "Super Fit" for the Wollongong 4's.
His legacy and memories will remain, from cracking an underwater window at the Huia Pool in NZ (closing the pool), to losing yet more points while having fun driving, to the love he had for his family and children.
We will all miss him enormously in Canberra, not least his great smile, sage advice, enormous flicks, bristly shaved body and stupid split fins. Vaughan's enthusiasm was infectious and his personal drive inspiring, always thinking of others first.
In memorial of his dedication to assisting and encouraging new and developing players, the ACT Club will establish a memorial award for improved and budding hockey players.
He was a great friend of mine and it's hard to believe he is not there anymore.
I still look for his car in the car park at the pool and think about things we were going to do in the future."
– James Harris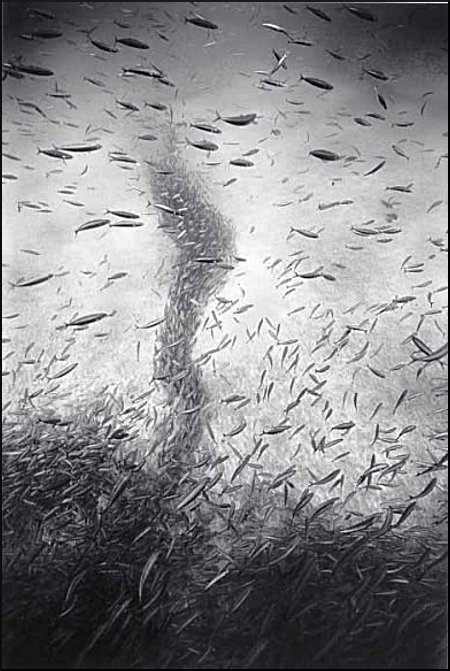 Wayne Levin made pictures a few years back that I regularly go to and marvel at.
His Akule series from Hawaii is magic. Magic.
Look at that snaking, rising wiggle of fish in the picture above and just grin with me. Those of us who spend time in the water will have further associations and emotion we bring to it… but just marvel at that line of fish for a short period of time whether you splash in the ocean or not.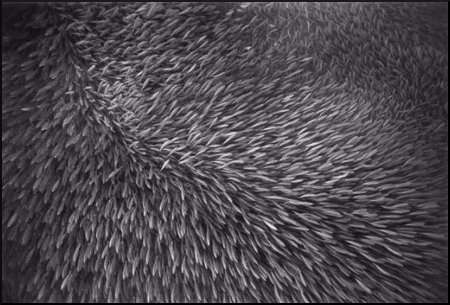 Clicking on the pictures will take you straight to the body of work on his site – otherwise his home page is below.
Check it.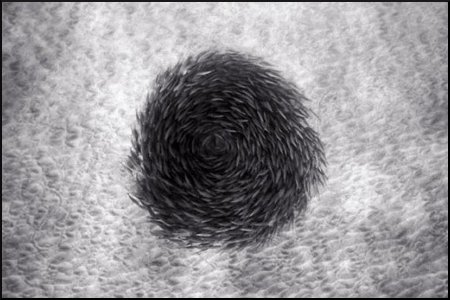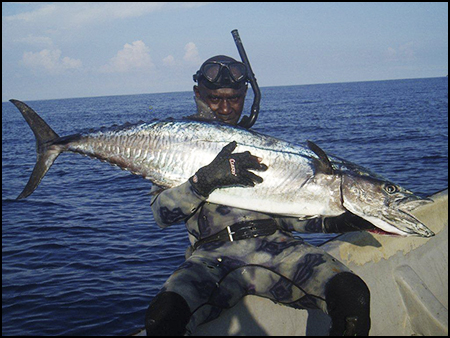 It's just been hectic – that's my excuse anyway. Nest management has stripped the life out of the last few weeks, crushing all at KP HQ under its weight.
But a message through today has pumped the needed oxygen back into the operation. Willis and Rutana have heckled from up in the Boogie by showing off a magic fish that Jamie rolled recently.
So here KP sits, moustache and beanie clad, staring at a fish that would feed twenty people around the BBQ, staring at warm water, staring at a best mate, tearing up just thinking about what that magic place means and what it has changed in KP.
I'll be up with J and the crew as soon as I can, barefoot and sun burnt, dashing around through the scrub, chopping up my skin on the coastal limestone shoreline, snapping a few pictures and maybe eating some magnificent fresh fish.
Until then ol better just stap isi and kick back with a smile. Keep dancing everyone, just keep dancing.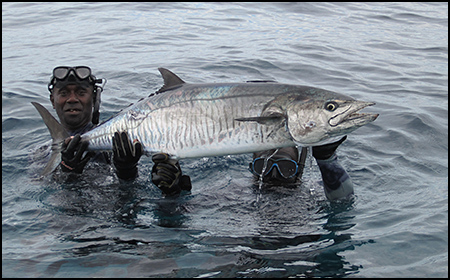 The boys up north in the Boogie just sent me a picture to make sure I knew where I stand (right at the bottom of the pile it seems).
Big M smacked a lovely Spanish the other day. There are much bigger ones out there – but this is a beautiful fish, not all old and busted up (except for the spear hole through it…).
Dreaming of warm water, Anthias covered coral heads and marauding Spanish and Tuna… sob.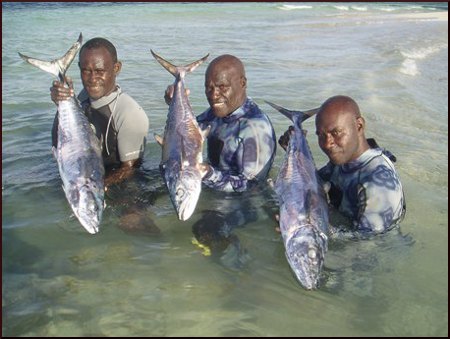 Here's a snap from my last afternoon of fishing in May with close friends in the AROB.
The crew had rolled out and put a chilly bin of Spanish Mackerel together. Great times! The water was a little dirty on Mosquito because of the swell and rain, but they were running – oh were they running. You'd be hanging in the gloom and see the big tails slide by on the edge of the viz (mostly mackerel… and a few noahs sniffing around seeing if they could collect some tax).
I knocked over the first Spanish not long after getting off the boat, and for most of the day it was the biggest log sitting in the chilly… of course Rutana smashed a big fatty later in the afternoon, putting 'old whitie' in his place.
We had a MAGNIFICENT end to the day feasting on big slabs of fresh meat that evening, straight off the hot plate. Nothing beats it.
Now I'm walking around with a fleece and a fluffy beanie jammed onto my rough head to combat the wind and dropping temp once the sun disappears. At least there are all sorts of great things to point the little pocket camera at!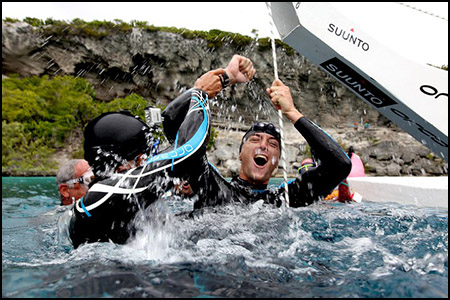 This all happened late last year; but in the blur of baby news, international house moving and all the other bits of getting on with it… I missed Will Trubridge (the NZ fish) swimming out passed 100m of depth! He is truly a stunning freediver, one of a number of talented NZ divers.
Now I was bowled over years ago when Martin Stepanek swam through the 100m with a monofin on… absolutely floored.
But here it is… this guy Trubridge ditched the flippers and breast stroked down till his body was negatively buoyant, continued to quickly sink until he hit that crazy depth, then turned and swam all the way back… UNBELIEVEABLE!
So now he's out beyond that significant mark, and we'll see where the human body can go with this incredible undertaking.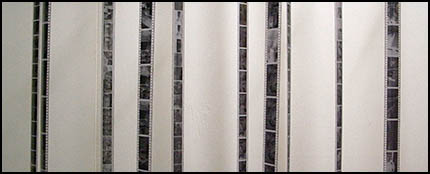 I can safely say that these negatives are not 'worth' over US$200million… never a more accurate statement made!
A lot of the last week has been spent catching up on a few chores and getting some rolls through the tanks.
A quick trip down the island was a laugh a minute with the truck jammed in a bog, issues with the 'breaking system' and chickens with death wishes…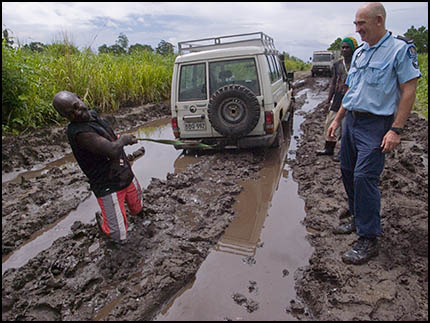 It was worth it though as yesterday afternoon Rutana and I finally got in the water near his home ground… after so much time talking about it. And after a quick look over just one afternoon we'll have to do it again soon.
We launched out of Kieta and just had a snoop around the inside of Pok Pok. With the SE wind still kicking in after a few weeks of blowing its guts out we had fairly dirty vis (the top few metres were that bright yellow/brown soup you get dizzy staring into). Still, we made the most out of it and saw some glorious patches of reef (huge fans, black coral and some magic beds of big red whips). Jamie even came face to face with a fat old dugong, so it was laughs all round. The Friday sunset forced us back to shore due to the start of SDA lotu for J.
We rolled back up the east coast road this morning. Now back to the negatives…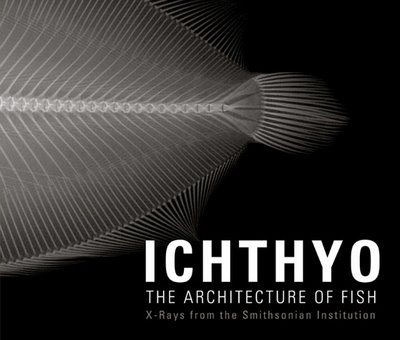 Edwina gave me a beautiful book today. Ichthyo (ISBN 978-0-8118-6192-2) is an awesome collection of x-rays from the Smithsonian Photography Project of… wait for it… fish.
There are a stack of different species shown, from the weird and wonderful like Sea Moths (the Pegasus Fish), flying fish and seahorses all the way through to stingrays, moray eels and jacks. The pages are left to bleed black to the edge, with only the ghostly fish to hold your attention (and a small subtle page number for reference to the plate descriptions in the back).
Essays by Stephanie Comer and Deborah Klochko, Jean Michel Cousteau, Dr Daniel Pauly and Dr Lynne R. Parenti are wonderful additions to the x-rays; brief and without pomp.
Great to see Dr Gerry Allen was associated with the project. He's done some great work throughout Papua New Guinea and Indonesia, and I was lucky to spend a brief bit of time in the water with him searching for a little dottyback in Bootless Bay (near Port Moresby). He is widely regarded as one of the leading ichthyologists working today.
Those of you who enjoy staring at fish should get a copy of this book. Fantastic.