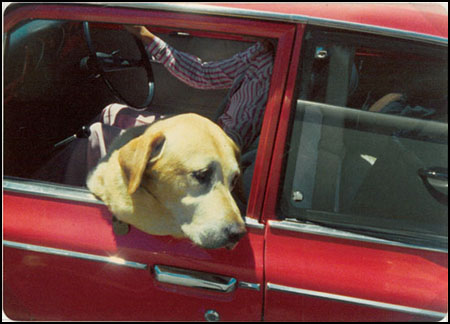 the road.
Photographs. Exhibition.
The Monash Gallery of Art.
A killer panel discussion on the 23rd of August…
Sweeeeet… don't hesitate if you're within striking distance or feel like a drive…
Details here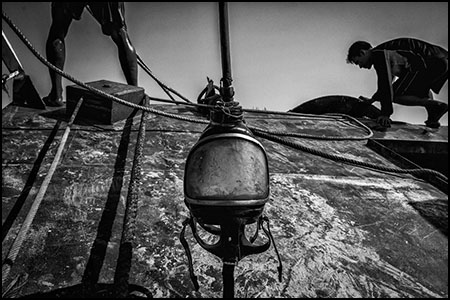 Zarni Phyo, a shooter at the Myanmar Times, is showing People of the River at the Witness Gallery in Yangon – opens this coming weekend.
The bustling jetties, the ships pulled up onto the mud for sale, maintenance or scrap, the divers in the opaque brown water and the raging tide… this will be interesting… very interesting.
I'll unfortunately miss the opening but will be scooting along quick smart to see the show.
*
ZARNI PHYO
PEOPLE OF THE RIVER
Opening Night Saturday 21st June 2014, 7pm.
3rd Floor, Pyan Hlwar Building, 4A Parami Road, Mayangone, Yangon.
+95 (0) 931 736154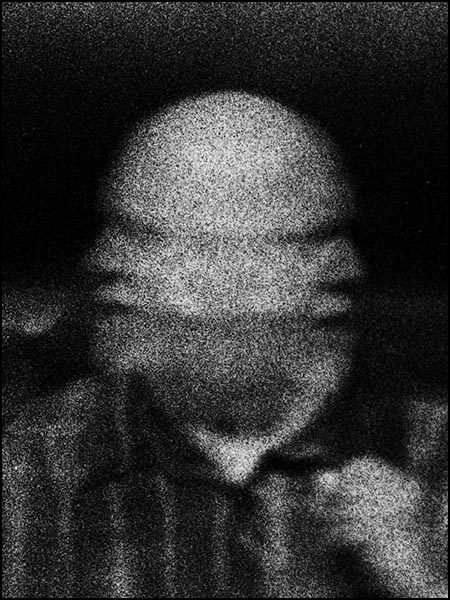 Trent Parke is opening this week at Stills with The Camera is God.
Worth a hustle down for a lazy late weekend breakfast and coffee and a strut about… and then cruise through in to the gallery for a good loooong look.
*Exhibition 26 March to 3 May 2014
Stills Gallery
36 Gosbell Street
Paddington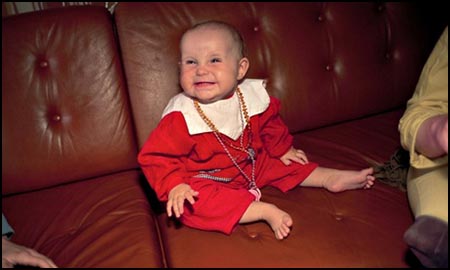 For the third instalment in Our Trilogy of BigNames and articles on the Web… KP is going to latch on to Nan Goldin speaking with Sean O'Hagan from The Guardian…
It's a decent long piece where they go a little wider than The Ballad of Sexual Dependency (not too much wider)… but a whole lot further than most…
So slip on over and have a look.
Find it here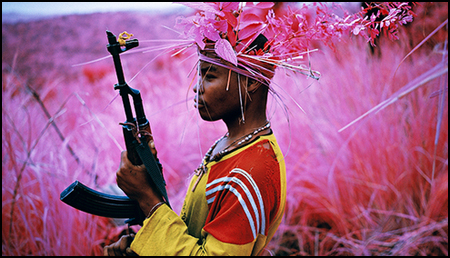 For all the (close to Sydney, Australia) lovers of pictures, of sound, of moving footage and of dark gallery spaces… your lucky days have come.
Richard Mosse's The Enclave opened last week at the UNSW Galleries… so you've got the better part of two months + change to get your bums there to see it.
No excuses on missing this one…
When: Mar 15-June 7
Where: Galleries UNSW, COFA
Cnr Oxford St & Greens Rd,
Paddington
Hours: Tues-Sat, 10am – 5pm
Tel: (02) 8936 0888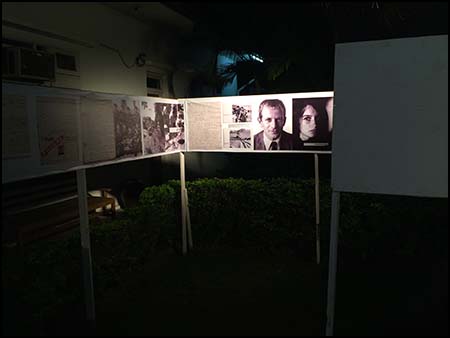 Another slab of pictures were splashed up on the wall this evening… this time as part of the ongoing Yangon Photo Festival… local + international… still + video… discussions, descriptions and questions.
The install of Gilles Caron's work in the garden was a magic mix of pictures and tearsheets… it was great to quietly walk through it by myself as people drifted off for food and booze and gossip.
Of course the wine dragged me back into the fold and I crashed a table of recalcitrant photographers (thank you to you all for your kindness) and slowly worked my way through far too much Myanmar red wine (that might just pay me back ten-fold at 6am when the monsters start yelling at me).
Until then… sleep.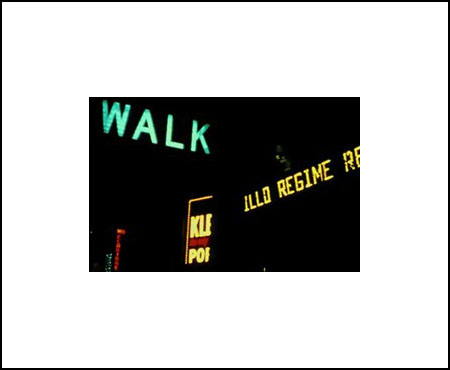 Foam have had a bunch of William Klein's pictures on the wall for some time now… and the reactions to the show have been ragingly positive… and with Mosse's Enclave soon to be shown it is only getting better!
Foam's blog is always a good stop in the surfing hours… and a little piece caught my eye… examining his moving footage work and a pivotal moment in American (and more broadly, world) cinema.
"But I believe that his extended stay in Paris after World War II enabled Klein to look at the metropolis with new eyes. Klein was intrigued by New York as a city selling itself. He saw it as a place where advertising played an enormous role in day-to-day life, where the American dream was being propagated everywhere all the time. But the same American dream was juxtaposed to the harsh reality of life in some of the down and out neighbourhoods of the city. His series is like a stream of consciousness, an endless flow of quick snaps firmly rooted in the moment. Klein initially struggled to get his New York pictures published, since the American publishers he approached all considered it to be too unpatriotic, too grim. It was only thanks to French film maker Chris Marker that the book saw the light of day at all."
Read the entire piece here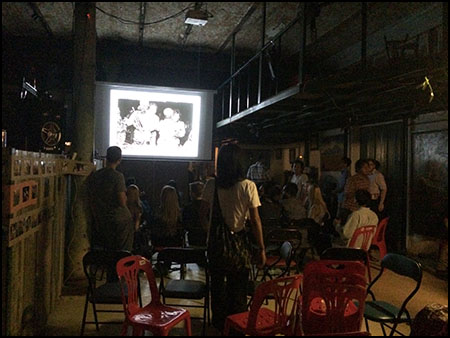 Last night there was a wonderful gathering at the beautiful Pansodan Scene (Yangon) for a projections night.
A bunch of students from Norway and Bangladesh joined with some Myanmar photographers for a workshop under the watch of Philip Blenkinsop, Gareth Bright, Munem Wasif and Per Anders Rosenkvist. They had been sweating for the last week snapping and editing and being grilled and yelled at and encouraged and had now put pictures together to be splashed up on the big screen for the eager audience.
I arrived just in time (for the kids meant being out the door before 6pm was never going to happen) and sat down to quietly watch the pictures appear. Some lovely stuff in amongst it all and the crowd was enthusiastic in their response.
A short break and the tutors showed some work. Munem Wasif's aesthetically romantic pictures were quite stunning up big and as always Blenkinsop's snaps put a lot of people on their butts. The writing and blood spattering has at times raised criticism and sparked debate about what exactly he's trying to do… and I at times have struggled with it… and yet at other times have embraced it and been knocked over by the work. Seeing a longer edit of the Hmong pictures from 2003 was a gift that made the night all the more important. Say all sorts of things… but recognise he's committed to his undertaking.
So best of luck to all the students who participated!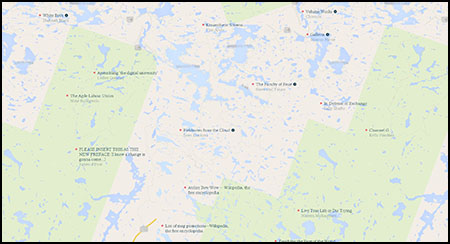 West Space down in Melbourne have the West Space Journal rolling along… the second issue is out for all to tune into and see what's going on…
They're continuing to further the conversation, encourage debate and support many efforts down in the Southern Capital.
Check it.
With the Prudential Eye Awards announced in Singapore it seems the years 2013/14 are continuing to roll in their sweet way for Trent Parke. Congrats congrats!
With the hungry reception for the Minutes to Midnight and Christmas Tree Bucket books as well as a few other happenings he's continuing to push along and there are thousands eagerly watching.
Ben Quilty took the 'overall award'… and in much the same fashion his star continues to rise.
Looking back domestically (to Oz) through the lens of all these awards, prizes, 'competitions'… I'm hitting struggle street a little… not because I'm not featuring (please don't dismiss me that easily)… but because it seems ART has more cups, shields, tournaments and gala dinners than all of world football… and that's saying something… and not something that is particularly healthy. If you started counting photography prizes being run by reasonably large galleries and institutions in Australia alone you come up with a frightening number (hint; you're down on your toes without even touching a few of the 'smaller' prizes)… all for little ol' Australia…
Please please please don't read this as a whinge, a statement against or any such silliness… it's more head-scratching confusion as I quietly watch on. I am a participant in all this… so no clean skin moralising in these words… more an expression of doubt (self-doubt/communal-doubt/doubt about the whole rabbit hole).
Me wonders where all this can go?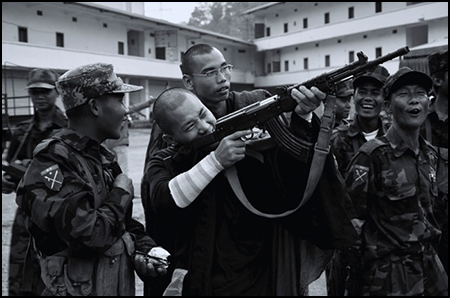 The opening evening of SIX was a raging success… I tell you the turnout was brilliant, the energy high and there were a bunch of pictures on the wall that ran the gamut of approach and enquiry.
Even though I was juiced up on codeine and foggy through most of it I easily counted well out past 100 people in the space at any point and as I stumbled out more and more were climbing the stairs. It seems there is a healthy interest in, and more importantly a hunger for, pictures here in town. I doubt the party ended till some time the next morning. Plenty of people looked like they were settling in. It felt great to be slowly recognising a few faces; to be able to shake hands with new friends and hear what they're up to.
So hats off to the snappers that have pictures on the wall. Well done! And big ups to the crew at Myanmer Dietta… big respect for the initiative, the resilience and for fostering the community and building a space for a continuing conversation.
This will be an exciting thing to watch in the years to come.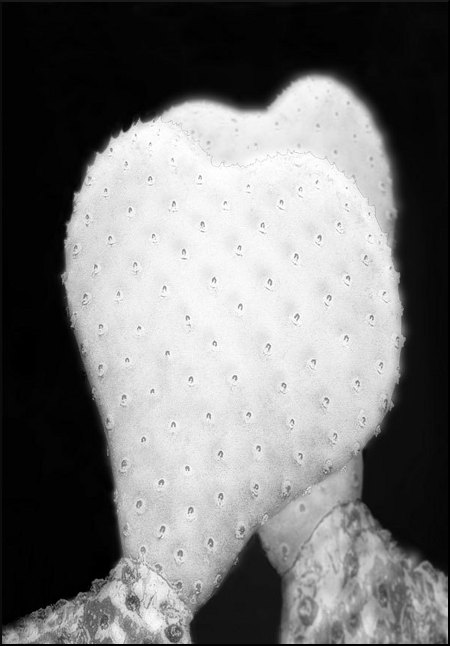 Pat Brassington has won the 2013 Bowness Prize. Big congrats to her for the marvellous award and opportunity it affords for further work and effort and undertakings and pictures and pictures and pictures!